WordPress survey plugins are a powerful way to collect valuable customer feedback and audience insights. Surveys can help you improve your customer service, engage with your audience, and even upgrade the user experience on your website.
There are many amazing WordPress survey plugin tools available for a wide variety of uses. Some are external survey tools, while others are plugins that are powered by WordPress itself. In this article, we'll focus on six of our favorite WordPress survey plugins you can check out today.
Let's dive in!
Top WordPress Survey Plugins
1. WP-Polls
WP-Polls is an open-source, free WordPress survey plugin that's great for creating basic polls. You can customize and tweak your polls' appearance using CSS and built-in templates.
Although WP-Polls only offers checkboxes and radio buttons for answer selection, it allows you to track voters and any duplicate votes. The plugin allows you to schedule poll start and expiration dates, and voters can view poll results right after they submit their answers.
It's quick and easy to create a poll with WP-Polls. From your WordPress dashboard, select the Polls menu. You can create your survey, then use a widget or a code to display the poll on your website.
Why use WP-Polls? If you want to send a simple poll your audience, WP-Polls may be a great WordPress survey plugin choice for you. It isn't ideal for users who want to use forms or a detailed survey to collect specific voter information and responses.
Price: Free | More Information
2. TotalPoll Pro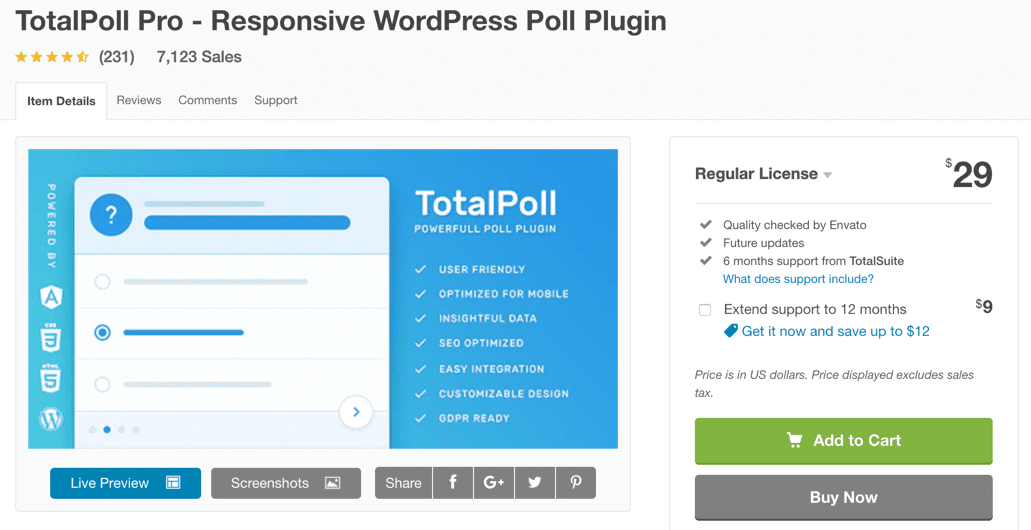 TotalPoll is a WordPress survey plugin that allows you to easily create fully-customizable polls that are simple to incorporate into your website. This plugin is packed with features, and you have complete control over your polls' appearance and content.
TotalPoll boasts a user-friendly, drag-and-drop Customizer tool that allows you to create detailed surveys. You can also add videos, audio, and images. Create a debate questionnaire, collect your voters' opinions, and even set the plugin to display a scorecard your voters can view once they've submitted their answers. You can insert your polls into your website using a code or a widget.
TotalPoll is SEO-optimized, which allows you to include your polls in your sitemap so they'll be visible to Google keyword crawlers. It's mobile-responsive and cross-platform optimized, which allows users to access your surveys via mobile. It's also compatible with SEO plugins like Yoast.
You can limit or restrict users from submitting duplicate votes and responses. TotalPoll also allows you to view insights and graphs that give you a picture of the answers you've received.
Why use TotalPoll? If you want a wide variety
[…]
This article was written by Haley Walden and originally published on Elegant Themes Blog.