Are you looking for an amazing WordPress landing page template? Then you're in luck!
In this guide, 📚 we'll share the best themes and templates available for you to build the exact landing page you want.
We'll also provide some of the essential features offered by each option, so you can choose the one that best meets your needs.
Without further ado, let's get started.
WordPress landing page template must haves
Before we can discuss the specific elements your templates need to have, we must first understand the function of a landing page.
In a nutshell, a landing page 🗏 is a stand-alone web page that's designed to help you sell a product or service.
The reason why selling through a landing page versus the general pages of your website is so effective is simply because your website often has too much going on. On the other hand, a landing page has one main focus – to persuade your visitors to take a specific action.
👉 With this understanding, we can then say that a great WordPress landing page template needs to:
Have a clean and minimal design.
Allow you to customize it to your needs.
Have a straightforward import process.
Integrate with other services you use (e.g., email marketing).
Now that you understand the landing page template essentials, let's get into the five best options on the market today:
Five themes and plugins with real WordPress landing page templates
1. Neve theme – 120+ WordPress landing page templates
Neve is a WordPress theme that has more than 120 templates in the Pro version. They were all built with either the native WordPress editor (Gutenberg) or Elementor.
A great template is Photography. This is ideal for different types of artists (e.g., fine artists, sculptors, etc.) or anyone who needs to represent their work in a visually appealing way (e.g., gourmet chef).
One of the standout features is how customizable it is. You can easily use your chosen editor (Gutenberg or Elementor) to fully customize all of the landing page templates.
All of Neve's landing page templates are also optimized for performance, which will help your designs load quickly. Plus, they are mobile-responsive, meaning they will look good no matter what device you use.
2. Brizy plugin – 150+ WordPress landing page templates
Brizy is a WordPress page builder plugin that offers over 150 landing page templates to choose from.
One standout template you may want to consider is the Startapp design, which is pictured above.
First, it is designed to be easy to use. The interface is very intuitive and navigating it is a breeze – even for beginners.
Second, Startapp offers a wide range of features that makes creating beautiful landing pages simple and straightforward.
Finally, Startapp is responsive and can adapt to different screen sizes and devices. So you don't have to worry about how your landing page will look on other devices. In addition, it comes with a drag-and-drop editor that makes it easy to create a landing page without any coding knowledge.
Brizy is also constantly updating and improving its template offerings, so you can be sure that you're always using the latest and best version.
3. Beaver Builder – 15+ WordPress landing page templates
Beaver Builder is another WordPress page builder plugin that offers 15+ WordPress landing page templates to choose from.
The Small Business landing page template is a great way to create a professional-looking landing page. The template has a drag-and-drop interface, pre-designed sections, and customizable colors and fonts.
In addition, the template is responsive, meaning it will look great on all devices. Beaver Builder offers several resources to help you get the most out of the template, including video tutorials and a detailed user guide.
The template has many features that make it easy to customize and create a landing page that fits your business needs. Some of the features include:
A customizable header that allows you to add your business logo, tagline, and contact information.
A section for displaying your company's Mission and Vision.
Multiple call-to-action buttons that you can customize.
A testimonial section where you can showcase what others are saying about your business.
A footer area that includes social media icons and links to your privacy policy and terms of use.
4. SeedProd – 183+ WordPress landing page templates
SeedProd is a WordPress landing page builder with over 183 landing page templates.
One landing page that immediately caught our attention is Experience Zen Life. It has a visually-centered template, allowing you to let images tell your story. This landing page can be ideal for different types of products or services, including photography, illustrations, food, and anything with strong visual elements.
It is easy to use and very versatile. You can use it to create any type of landing page, from an opt-in page to a sales page. It is also well-designed and modern. It includes all the features you need to create a high-converting landing page.
Like all of SeedProd's landing pages, Experience Zen Life is also very easy to use. You don't need any coding skills to create beautiful landing pages. Just drag and drop the elements you want to use, and in just a few minutes, you will have a visually appealing landing page that meets your needs.
5. Leadpages – 130+ WordPress landing page templates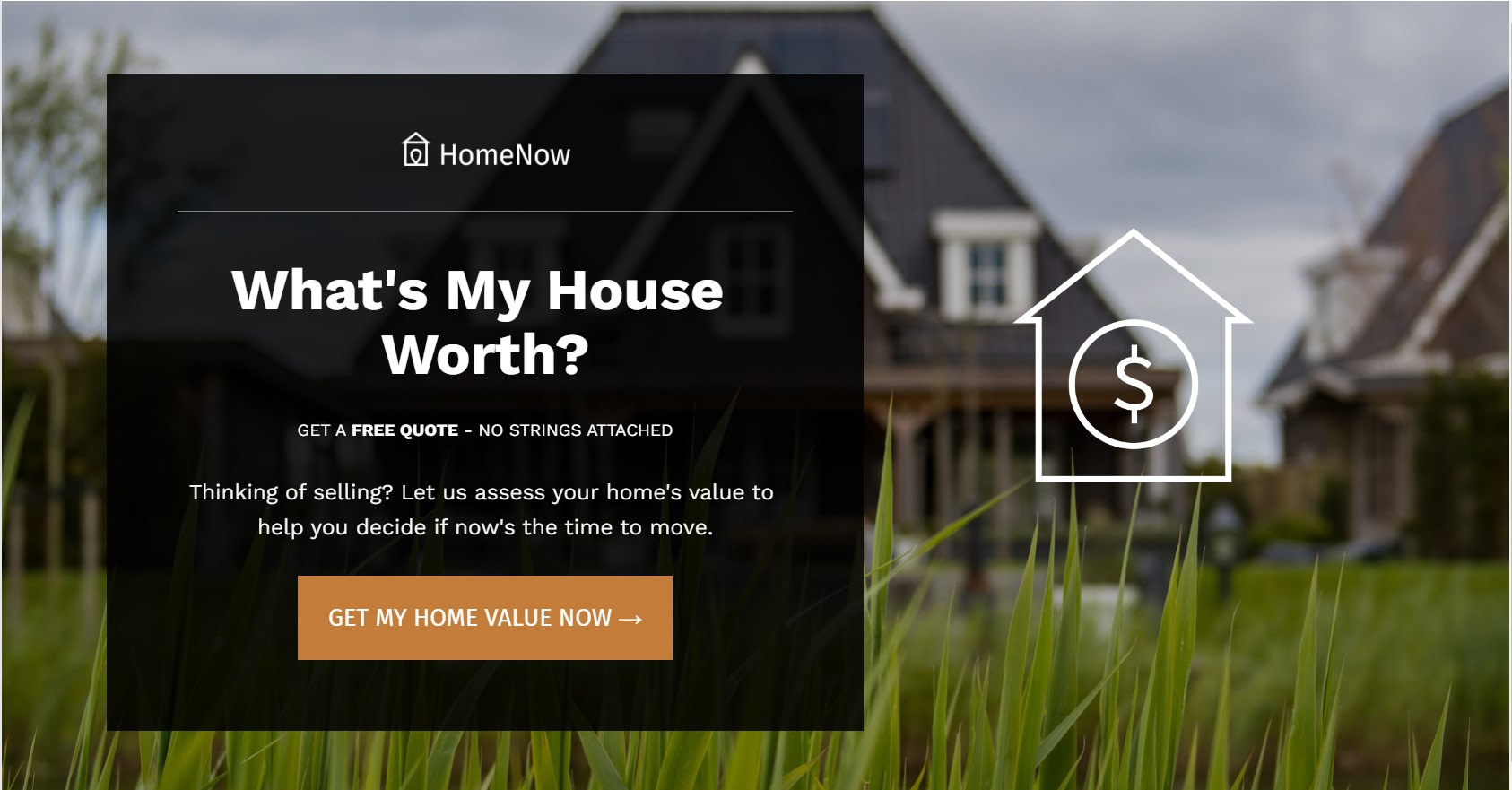 LeadPages offers over 130 powerful WordPress landing page templates that help you create beautiful, conversion-optimized pages in minutes.
It's technically a SaaS landing page builder tool, but you can easily integrate all of the landing pages into your WordPress site using the dedicated integration plugin.
One good template to start with is the Home Value Opt-in Page, which happens to be one of the highest-converting landing page templates.
Just one look at it, and it seems very simple. So why is it one of the higher-converting pages?
Because it ticks all the right boxes.
This landing page has a simple, clean design with no clutter. It offers users one CTA button, so there's no confusion about what they need to do. It's also responsive and looks good on both mobile and desktop.
In addition, LeadPages is packed with features that help you maximize conversions, including A/B testing, email capture forms, and social media integration.
Build your ideal WordPress landing page in minutes ⏰
In today's competitive online marketplace, a well-designed landing page can be the difference between a successful campaign and one that fails to get conversions.
A great landing page should be visually appealing and easy to navigate, with clear calls to action that encourage visitors to sign up, subscribe, or make a purchase. As a marketer, it's essential that every element of your campaigns is unique to your brand. Therefore, your landing page needs to be highly customizable and allow you to make it your own.
☝️ Above, we highlighted five tools that collectively offer hundreds of templates, along with a specific WordPress landing page template from each to help you get started.
So, take your time in studying 👨‍🎓 what each template offers, understand your own goals, and see which one will help you meet them.
Do you still have any questions about finding the best WordPress landing page template for your needs? Let us know in the comments!
Free guide
5 Essential Tips to Speed Up
Your WordPress Site
Reduce your loading time by even 50-80%
just by following simple tips.
Keep reading the article at ThemeIsle Blog. The article was originally written by Khanyi Molomo on 2022-11-09 08:30:00.

The article was hand-picked and curated for you by the Editorial Team of WP Archives.