Considering using WordPress.com to make your website? Our hands-on WordPress.com review will help you decide whether or not it's the best solution for your needs.
We'll also help you understand 🧑‍🏫 WordPress.com's place in the website builder space as compared to other tools, such as Wix and Squarespace.
Along the way, we'll talk about how to use the platform, its pros and cons, and sum up the all-important pricing details.
Introducing WordPress.com
WordPress is the powerhouse behind lots of sites. It's a content management system (CMS) that lets you store all of the blog posts, pages, media, and other data within one platform. On the whole, WordPress powers 42.9% of all the websites on the internet.
Most people 🧑 use WordPress by taking the open-source WordPress software and installing it on their own web hosting.
While that approach gives you a lot of flexibility, the downside is that you're responsible for maintaining, updating, and securing your site.
WordPress.com gives you another way to access the flexibility of the WordPress software, but in more of a "website builder" format.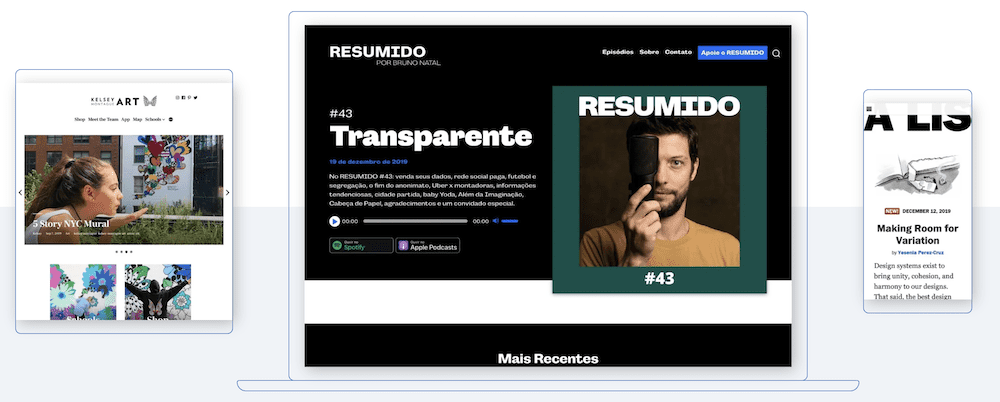 As with website builders like Wix and Squarespace, creating a website with WordPress.com is as simple as registering for an account. WordPress.com also takes care of all the maintenance and such for you, which makes things a lot simpler than creating your own self-hosted WordPress install.
But at the same time, the paid WordPress.com Pro plan gives you access to most of the flexibility of the WordPress software. You can install any one of thousands of "themes" to customize your site's design and you can also access tens of thousands of "plugins" to add new features to your site.
👉 If you want to learn more about this difference, you can read our full WordPress.com vs self-hosted WordPress comparison. In our WordPress.com review, though, we're going to mostly focus on how WordPress.com stacks up to other website builder solutions, such as Squarespace, Wix, and the Bluehost Website Builder.
WordPress.com review: How it works (and what it costs)
Let's start our hands-on WordPress.com review at the beginning with how you create and manage your sites.
🌐 Adding and managing sites
There are a few ways to create a new site. For example, you can head to the Purchases page of your profile and click
[…]
This article was written by Tom Rankin and originally published on CodeinWP.