As a blogger, having a powerful search engine optimization (SEO) strategy can help you attract more traffic to your site. This may, in turn, lead to more conversions, especially if you promote affiliate products and other services in your posts. Therefore, it's essential to learn how to write SEO content that ranks and drives conversions.
Fortunately, this process is not as complicated as it might sound. By doing some research and planning, you can ensure that your content stands a chance of ranking on the first page of Google.
In this post, we'll share some tips to help you write effective SEO content for your WordPress blog. Let's get started!
📚 Table of contents:
Do some keyword research 🗝️
Write informative and high-quality content ✍️
Create powerful titles and meta descriptions 🥊
Use optimized photos 📷
Set up an internal linking strategy 📈
1. Do some keyword research 🗝️
When planning your content, you'll want to make sure that it's tailored to your audience. You'll also need to choose fresh topics relevant to your niche.
If you're stuck for ideas, you could always ask your readers or followers for suggestions. 👉 For example, if you run a blog about digital marketing, you can set up a quick poll to see if there are any new strategies that your audience would love to learn. Additionally, you could look at news sites and other publications to identify trends in your industry.
Once you've identified the topics you want to write about, it's time to do keyword research. We recommend using a keyword research tool like Google's Keyword Planner, which we have a full tutorial for:
You can start by entering some search terms for your topic. Google will then give you some important data about those keywords, including their search volumes and levels of advertising competition: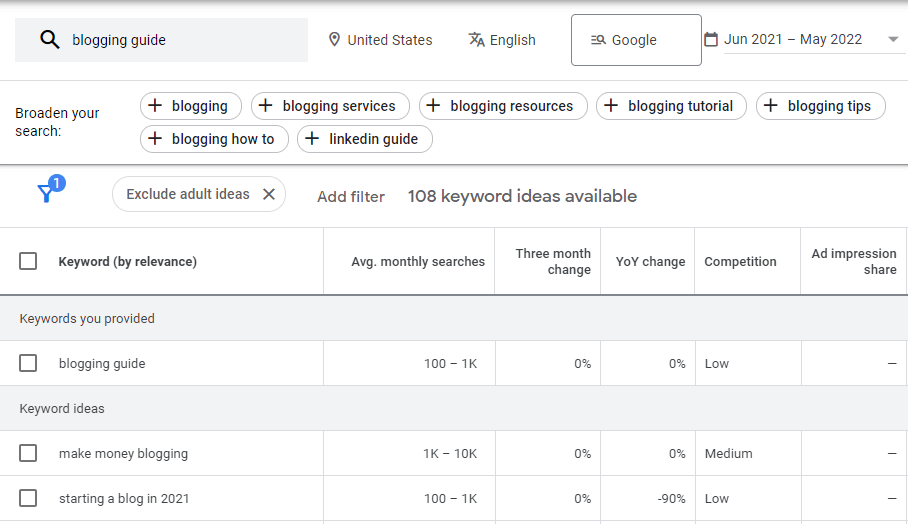 Google will also provide you with some keyword ideas for the same topic. These suggestions can help you identify the search intent for your post. For instance, if a user types "how to create a Facebook ad" into Google, they're likely looking for a step-by-step guide that helps them set up their first Facebook ad campaign.
Ideally, you'll want to target keywords with a high search volume and low to medium competition. These characteristics can help your posts rank higher for those search terms.
[…]
This article was written by John Hughes and originally published on ThemeIsle Blog.