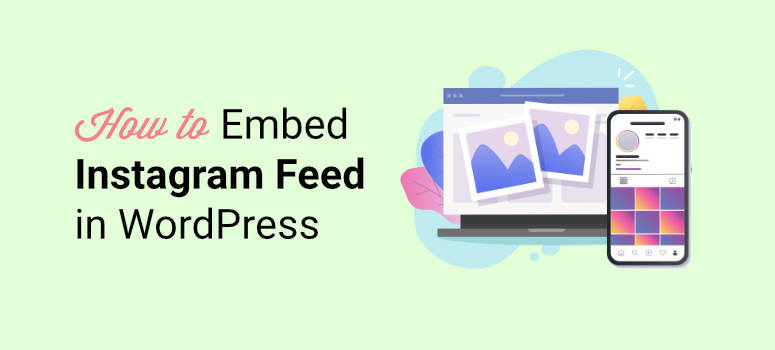 Want an easy way to embed an Instagram feed in WordPress? 
By adding an Instagram feed to your website, you can make the content more interesting and engaging. It is a great way to promote your brand and improve the user experience on your site. 
In this tutorial, we'll show you how to add Instagram feed in WordPress step by step. We'll also show you how to add share and like buttons to increase social media engagement.
Before that, let's learn the benefits of adding your Instagram feed to your site.
Why Add Instagram Feed in WordPress Site?
Instagram is undoubtedly one of the most popular social media platforms in the world. What started as a photo-sharing app, has now become the hub for marketers, influencers, and brands. 
With user-generated content such as photos, videos, and stories on Instagram, your brand becomes more visible and accessible to new people. And when you embed these Instagram feeds on your WordPress website, you can increase the interaction even more. 
For starters, you can use your Instagram content to reach a wider audience than just your Instagram followers.
It also builds trust among your website visitors and acts as social proof for your business. Seeing other people enjoying and loving your products makes new users want to try them out as well.
Because images and videos are more engaging than text content, it helps to increase the session time on your website. This means you can retain the attention of your audience for a longer period of time which is great for SEO too.
So, there are many advantages of embedding an Instagram feed on your site. It is a great marketing tool to grow your online presence and boost conversion rates. 
That said, let's learn how you can add your Instagram feed to your WordPress site in a few simple steps. 
The Easiest Way to Add Instagram Feed in WordPress
Embedding an Instagram feed is usually a very technical task. You'll need to embed code, connect your Instagram profile with an API key, and then use custom CSS to style the feed so that it looks good on your site.
We're going to skip all that and use a plugin that manages everything for you. You don't need to touch a line of code to showcase your feed on your website. 
For this tutorial, we'll be using Instagram Feed Pro by Smash Balloon.