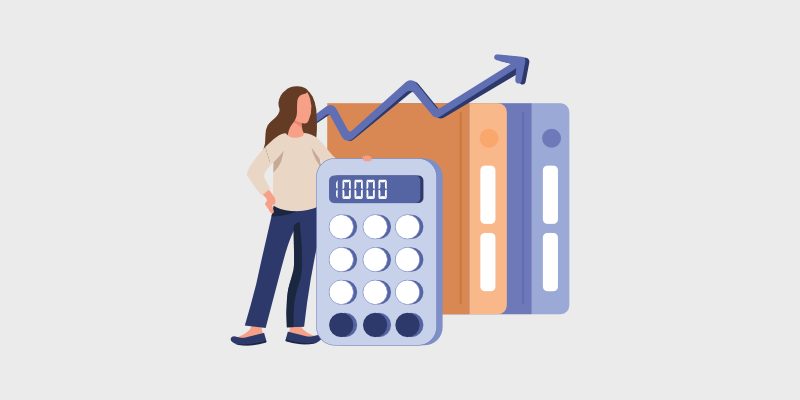 A
re you looking for a calculator plugin for your WordPress blog? Look no further! Here are our picks for the best calculator plugins for WordPress.
Depending on the type of WordPress blog you've created, you may need to add a calculator feature to it. This will make it easier for visitors to calculate prices, measurements, weights, dates, and more.
Plus, a calculator can even help drive more traffic to your blog and boost engagement.
To quickly add a calculator in WordPress, you can install a WordPress calculator plugin.
So, in this article, we'll share our picks for the best calculator plugins for WordPress.
But first, let's go into detail about how a calculator plugin can benefit your blog.
Why Use a Calculator Plugin on your WordPress Blog?
With a calculator plugin, you can easily add an interactive and educational calculator to your WordPress website.
For example, if you have a personal finance blog, you can add a loan calculator to help your visitors estimate their monthly loan payment options. Or, if you're running a gardening blog, you can add a calculator to help visitors figure out how much mulch they need.
Whatever type of calculator you add, here are a few of the biggest advantages of doing so:
Drive Traffic to Your Blog – A specialty calculator, like a BMI (body mass index) calculator, mortgage calculator, or bra size calculator, encourages users to return to your website every time they need to do a calculation. Calculator tools are also highly shareable. This can help you quickly increase traffic and get more repeat visitors.
Boost Engagement – Adding a calculator will increase engagement on your blog. Instead of passively reading content, visitors can interact with your calculator, which keeps them on your site for longer. This can reduce bounce rate and improve your ranking in search results.
Increase Sales – By adding price calculators to your site, you can be more transparent about your store's pricing, and avoid surprising shoppers at checkout. Instead, shoppers can estimate the cost of their items, and then add or remove items to fit their budget, which makes for a better user experience.
Grow Your Email List – Certain calculator plugins give you the ability to require users to provide their email address in order to get their results. This allows you to turn your calculator tool into a lead magnet to get more email subscribers.
Alright, now we're ready to look at the best calculator plugins for WordPress.
Formidable Forms is one of the best form builder plugins on the market. It allows you to easily create interactive calculators for your WordPress website.
It comes with a user-friendly drag and drop builder and over 40+ ready-made calculator form templates to get you started quickly.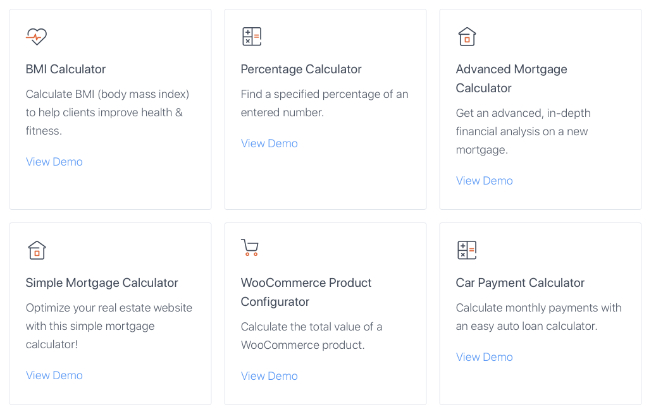 You can choose from calculator templates like:
Advanced mortgage calculator
BMI calculator
Car payment calculator
Debt to income ratio calculator
WooCommerce product configurator
Life insurance calculator
Age calculator
Daily calorie intake calculator
Pregnancy due date calculator
And much more…
You also have the option of creating your own custom calculator from scratch, no coding required. You can easily add toggles, sliders, radio buttons, and more, to build a calculator that suits your specific needs.
Then, you can add a 'calculated field' that will automatically calculate the field entries when a user submits a form. That way, users can see the answer to their calculations in real-time.
Formidable Forms works with all of the top WordPress themes and it's mobile responsive, so you can be sure your calculators will look great on all devices.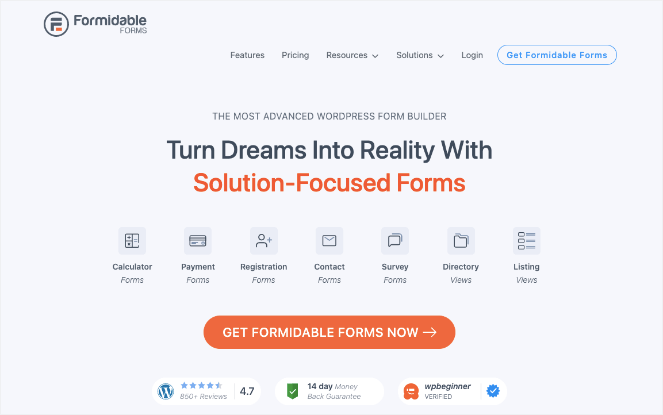 Check out these powerful features of Formidable Forms:
Easy drag and drop builder
40+ pre-built calculator forms
Automatically calculates fields
Smart conditional logic
Visual form styler
WooCommerce-ready
Integrates with popular email marketing services
And more…
Get Formidable Forms today!
Pricing: Starts at $39.50 per year. But, you need at least the Business plan to access calculators, which starts at $179.55 per year.
Calculated Fields Form is another popular WordPress calculator form builder, with over 60,000+ active installations.
It comes with five sample calculator forms you can use. Choose from templates like simple calculator operations, calculation with dates, ideal weight calculator, pregnancy calculator, and lease calculator.
Or, you can build your own calculator from scratch. Using the visual editor, you can easily add fields, assign values to those fields, and then add calculated fields, where the values result from mathematical calculations involving other form fields.
Calculated Fields Form works seamlessly with both the classic WordPress editor and the WordPress block editor (Gutenberg), as well as top page builder plugins like Elementor, Beaver Builder, and others.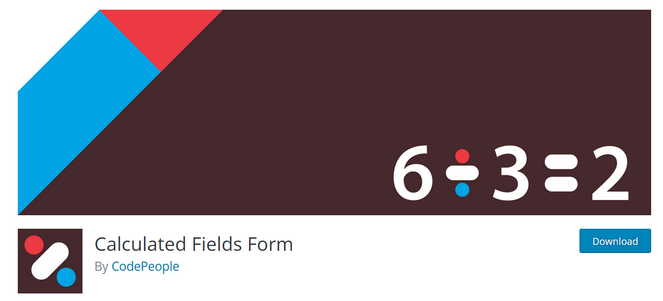 Take a look at these features of Calculated Fields Form:
Visual calculator form builder
5 calculator templates
Includes calculated fields
Advanced formula editor
Supports multi-page forms
And more…
Get Calculated Fields Form today!
Pricing: Free.
Measurement Price Calculator for WooCommerce is a helpful calculator plugin for online stores.
With this plugin, you can add a calculator to your product pages to calculate the price of items based on their dimensions, square footage, volume, or weight. For example, a website visitor can use your calculator to figure out the price of garden mulch by volume or wallpaper by area.
There are two calculator modes: quantity-based and user-defined. This gives you the option to offer unit pricing based on set quantities, such as a box of tiles with a given square footage, or let the user enter the dimensions and purchase the amount they require.
You can easily customize the measurement and pricing labels, and you can use any combination of units you want.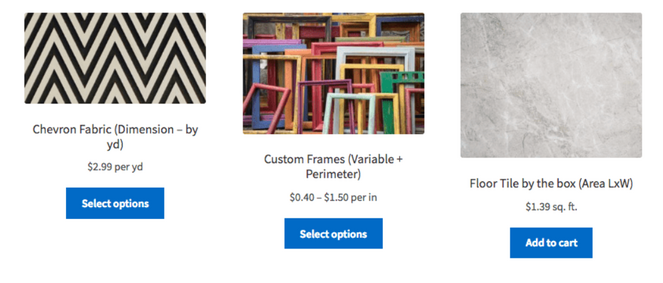 Here are the key features of Measurement Price Calculator:
Easy measurement price calculator
2 calculator modes: quantity-based and user-defined
Pricing table feature
Pricing calculator inventory support
Special 'Room Walls' calculator for selling wallpaper
And more…
Get Measurement Price Calculator today!
Pricing: Starts at $10.75 per month, or $129 billed annually.
Responsive Mortgage Calculator is a free mortgage calculator plugin, with over 10,000+ active installations, that you can easily add to your WordPress website.
Users can get an estimate on their mortgage payments after entering details like the total cost of the home, down payment amount, interest rate (fixed rate), mortgage term, and payment period. Then, a beautiful popup will display that shows a summary with a chart and amortization schedule.
It includes settings to adjust the styling of your calculator and a light and dark theme to choose from. Or, you can remove the styling and use the styling of your WordPress theme.
Check out these features of Responsive Mortgage Calculator:
Simple mortgage calculator
Set the interest rate compounding period for your region
Set a default interest rate
Format currencies how you want
Multiple styling options
And more…
Get Responsive Mortgage Calculator today!
Pricing: Free.
Price Based on Country for WooCommerce is a calculator plugin that allows you to sell the same product in multiple currencies. It automatically detects the location of customers using WooCommerce's geolocation feature. Then, it automatically displays the correct pricing in the local currency.
There are two ways to set the product price. You can automatically calculate the price based on country by applying the current exchange rate, or set the price manually for each currency.
It also comes with a country switcher feature that allows your visitors to change their country from the front-end of your WordPress site.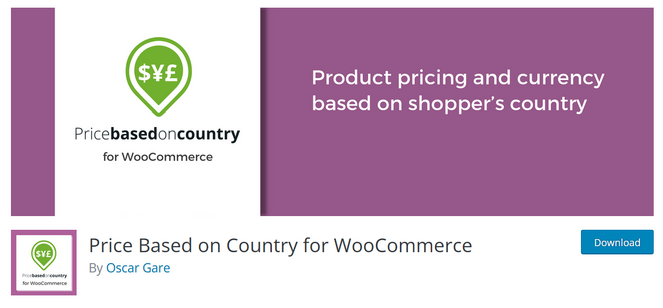 Here are the top features of Price Based on Country for WooCommerce:
Automatically calculates price by applying the exchange rate
Sell and receive payments in multiple currencies
Front-end country switcher
Shipping currency conversion
Compatible with WPML
And more…
Get Price Based on Country for WooCommerce today:
Pricing: Free. There's also a premium version with advanced features that starts at $59 per year.
Product Options and Price Calculation Formulas for WooCommerce is another calculator plugin for online store owners. It allows you to add additional WooCommerce product options and custom price calculations based on any math formula.
The plugin comes with a visual form builder that lets you display more product options by dragging and dropping them into place. It also includes conditional logic and formulas to calculate pricing based on the users' selection.
For example, you can add an option for users to customize products and create a price calculation based on the custom options they selected.
Pricing: Free.
WP Calorie Calculator is a great calculator plugin if you have food website or health and fitness blog.
This plugin uses the Mifflin—St. Jeor formula, which identifies basal metabolic rate (BMR), based on details like age, height, body mass, and biological sex. Users can also add information about their goals, conditions, and types of activities. After plugging those details, the plugin calculates daily calorie consumption for the user.
You can choose how you want to deliver the results to users, either directly in the form or by email, which is a great option if you're trying to create an email newsletter.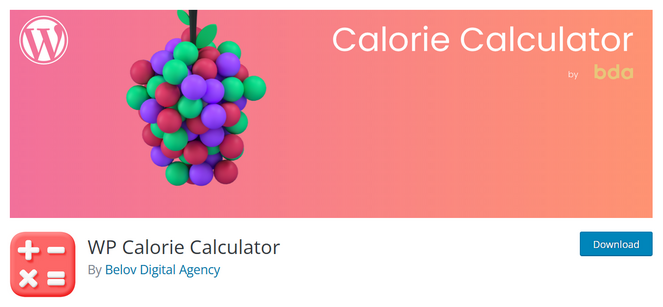 Take a look at the features of WP Calorie Calculator:
Easy calorie calculator
Display results in the form or email results to users
Two color palette options
Use shortcode to display the calculator anywhere on your site
And more…
Get WP Calorie Calculator today!
Pricing: Free. There's also a premium version with advanced features.
Cost Calculator Builder is a simple calculator plugin that lets you build any type of price estimation form for your WordPress site.
Using the drag and drop calculation form builder, you can quickly add calculation elements such as total / subtotal, quantity box, dropdown box, input text box, toggle button, range slider, and more.
You can create an unlimited number of calculation forms and insert them on any post or page in WordPress.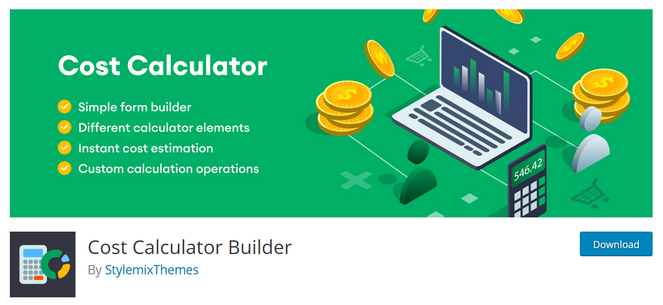 Check out the key features of Cost Calculator Builder:
Simple calculation form builder
Multiple calculator form fields
Create unlimited calculation forms
And more…
Get Cost Calculator Builder today!
Pricing: Free. There's also a premium version available with advanced features.
Stylish Cost Calculator is another great WordPress calculator plugin for running a financial business or website. This plugin lets you easily turn static pricing into interactive calculators for instant price estimates and quotes.
There are 7+ templates to help you get started and you can customize the templates with quantity input boxes, sliders, custom math, variable math, date picker, user input boxes, and other elements.
This plugin will also display an itemized (detailed list) view for your users and you can create branded email invoices with logos, banners, disclaimer notes, and more.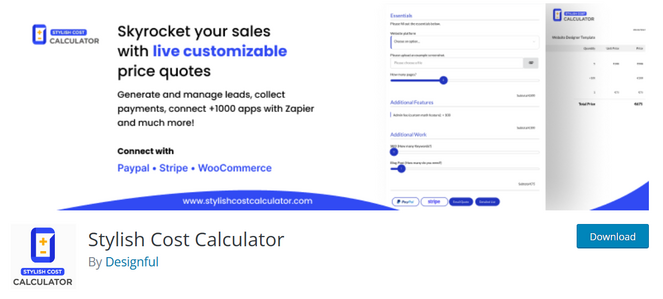 Here are Stylish Cost Calculator's top features:
Easy to use
Instant price estimates
7+ calculator templates
Display itemized detailed lists
Create branded email invoices
Bulk quantity discounts
And more…
Get Stylish Cost Calculator today!
Pricing: Free. There's also a premium version with advanced features.
With that, we've come to the end of this list of the best calculator plugins for WordPress! We hope you found the right calculator tool for your blogging needs.
If you enjoyed this post, you might want to check out our picks of the best Stripe payment plugins. These plugins will help you easily accept credit card payments right from your WordPress blog.
And don't forget to sign up for our email newsletter for more helpful blogging tips!
Keep reading the article at Blog Tyrant. The article was originally written by Allison on 2023-01-31 11:01:53.

The article was hand-picked and curated for you by the Editorial Team of WP Archives.