Sending regular email newsletters is an effective way to increase conversions. Whether you want to promote your latest products or share valuable tips, you can write engaging emails to communicate with your followers directly. To achieve this, you'll want to use one of the best email marketing platforms on the market.
Fortunately, there are many powerful tools to choose from. These typically include features like segmentation and automation, enabling you to build campaigns that target the right people at the right time.
What to look for in an email marketing platform
Your choice of email marketing platform 📧 will likely depend on the type of website that you run, your budget, the specific features that you need, and your contact/sending usage.
For example, if you have an online shop, you'll probably want to choose a tool that enables you to set up automated emails for abandoned carts, upsells, offers, and more. On the other hand, bloggers won't have any need for abandoned cart functionality.
👉 Here's the full list of what to consider when choosing an email marketing platform:
Email marketing features – while all of these tools offer "email marketing," you might need specific features to go with your business. For example, if you want to use marketing automation, you'll want to look for strong automation functionality in your chosen platform.
Email designer and templates – consider how you can build your email designs and what templates are available to you.
Contact limits – check the platform's contact limits and, if you have an existing list, see what it will cost based on your subscribers.
Email sending limits – some platforms allow unlimited monthly email sending while others don't. If you plan to send a lot of emails to your contacts, this is important to consider.
Optimization tools – to get the most from your efforts, you might want A/B testing tools, detailed analytics, send time optimization, and other such features.
Non-email features – some platforms offer digital marketing features that go beyond email marketing, such as landing page builders and live chat. If you think you'll use these extra features, they can add a lot of value to your chosen platform.
Best email marketing platforms in 2022
Driving conversions through emails is straightforward when you choose the right digital marketing solution. Let's look at some of the best email marketing platforms on the market. 😎
Sendinblue
Mailchimp
GetResponse
Constant Contact
ConvertKit
1. Sendinblue
Sendinblue is a comprehensive marketing solution that offers a wealth of tools to help businesses grow.
Beyond its focus on email marketing and signup forms, you also get other digital marketing tools, such as a sales CRM, live chat, and SMS marketing.
With Sendinblue, you're able to automate certain marketing tasks in order to streamline your workflow. For example, you might send a welcome email to a new subscriber and deliver a discount code to their inbox on their birthday.
If you run an online shop, you could create a lead scoring model to help convert leads into customers. Sendinblue also enables you to set up automated campaigns for abandoned carts and purchases.
You can read our hands-on Sendinblue review to learn more about it – it's the actual email marketing platform that we use here at Themeisle.
Key features ⚙️
An intuitive drag-and-drop editor
Integrations with WordPress, Shopify, Google Contacts, and more
A/B testing for subject lines and email content
Sent time optimization, meaning emails are delivered at the best time for each recipient
A landing page builder, so you're able to design dedicated pages for different email campaigns
Who should use it 🤔
Sendinblue is best suited for online shops. That's because its automation workflows are designed to help you drive sales. Additionally, you're able to pair your email campaigns with SMS messaging for higher conversions. This is ideal for promoting offers and seasonal sales.
Sendinblue's pricing also makes it ideal for people who have a lot of contacts/subscribers, as all plans support unlimited contact storage.
Pricing 💰
As we mentioned in the previous section, Sendinblue has a fairly unique pricing model.
Whereas most other tools bill you based on the number of contacts that you have, Sendinblue lets you store unlimited contacts and bases its billing on the number of monthly emails that you send (in addition to some feature differences between the plans).
Sendinblue has a free plan with unlimited contacts and up to 300 emails per day. However, to access additional features like detailed analytics and A/B testing, you'll need to upgrade to a premium plan.
The Lite package starts at $25.00 per month and is perfect for small businesses. Meanwhile, the Premium plan starts at $65 per month and includes features like marketing automation and landing pages.
2. Mailchimp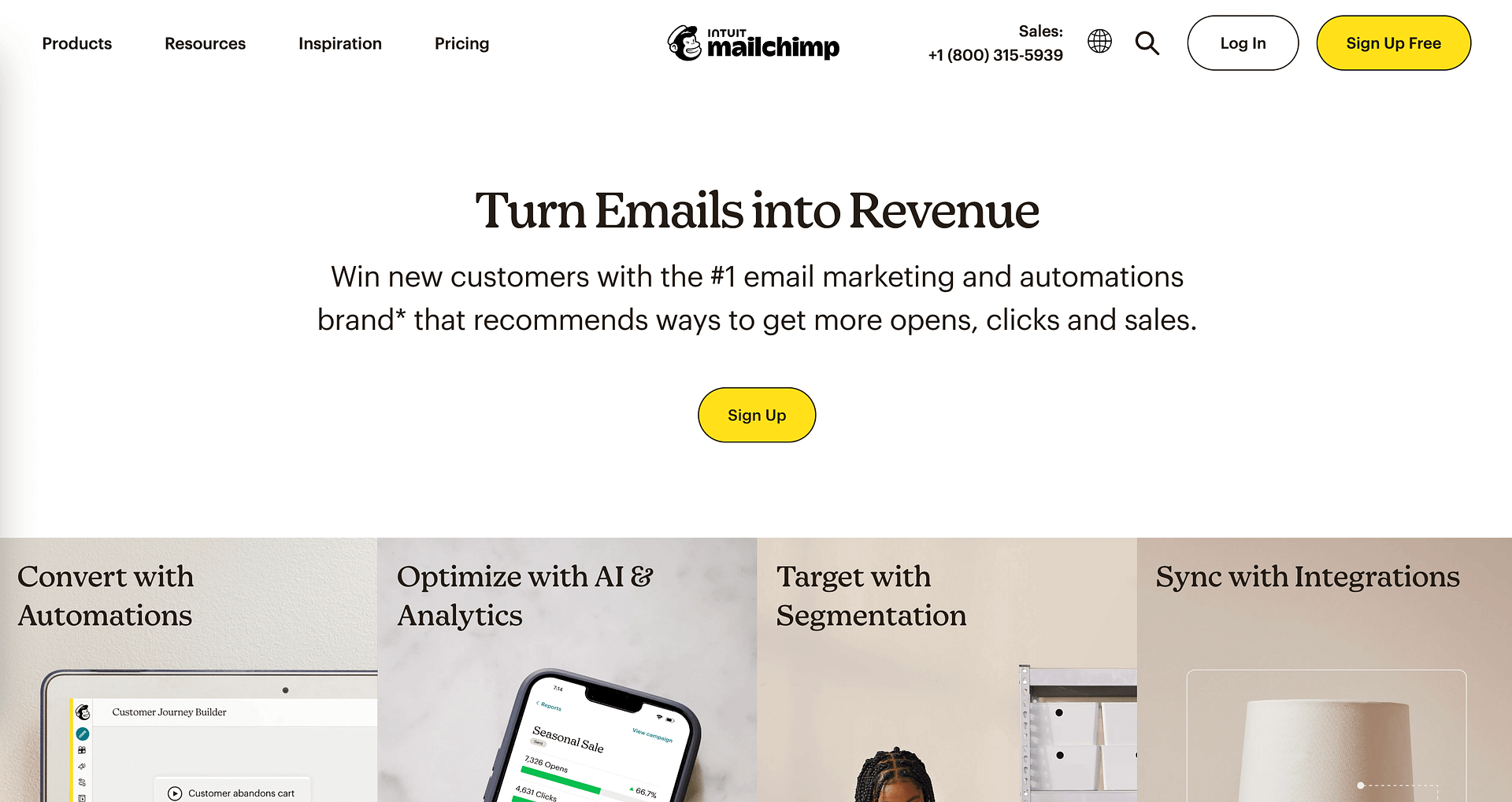 You've probably heard of Mailchimp. This is one of the best email marketing platforms out there. You can use it for a variety of businesses including blogs and eCommerce sites.
With Mailchimp, you're able to design professional newsletters, create high-converting signup forms, and build landing pages for your campaigns. It also enables you to set up personalized and automated marketing workflows for different segments. This way, you can deliver relevant messages to your subscribers based on their actions and interests.
Key features ⚙️
An email builder with a variety of drag-and-drop templates
An optimization tool that gives you personalized suggestions for improving your email copy and subject lines
A customer journey builder that lets you set up automated campaigns based on your customers' behavior and interactions
Integrations with WordPress, WooCommerce, Shopify, Facebook, and many other platforms
Multivariate testing, so you can see how small changes to your campaign affect your engagement and conversions
Who should use it 🤔
Mailchimp is a versatile tool. It can be used to send newsletters to your blog subscribers, drive sales in your eCommerce store, promote your online courses, and more. If you're just starting out with email marketing, Mailchimp has a user-friendly interface that enables you to design and schedule newsletters easily.
Pricing 💰
Mailchimp has a free plan, though it comes with a limited number of contacts and emails. Premium plans start at $11.00 per month for up to 500 subscribers. Prices are determined by the number of contacts on your list, and overages are applied if you exceed the limit.
Additionally, your plan has email sending limits as well. Monthly email sending limits range from 10X-15X your contact limit, depending on the plan.
3. GetResponse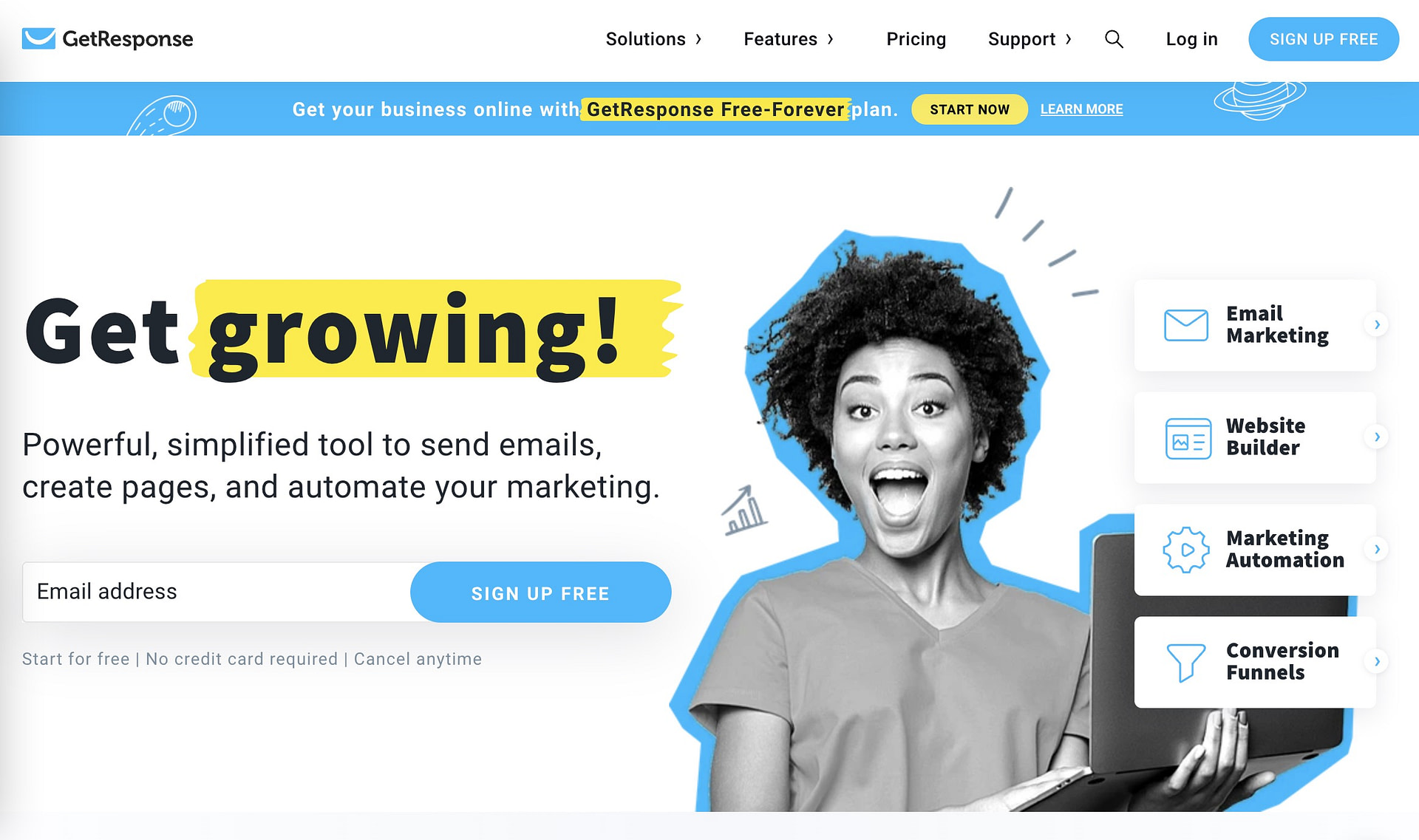 GetResponse offers email marketing solutions for different purposes. It can help you set up campaigns to generate leads, boost online sales, sell knowledge, and more.
Additionally, this email marketing platform lets you program different types of messages, including onetime newsletters, transactional emails, and blog digests. With GetResponse, you're also able to design action-based campaigns to promote your products and drive sales.
Key features ⚙️
A drag-and-drop email creator with a variety of layouts and sections
A library of free email templates, images, and GIFs
The ability to build custom segments based on specific criteria and deliver personalized emails at your audience's preferred time
A/B testing for subject lines, layouts, and call to action (CTA) buttons
Who should use it 🤔
GetResponse is ideal for small businesses and startups. It offers a wealth of easy-to-use tools, many of which are available for free.
Besides email marketing, you also get access to forms and pop-ups to help you grow your email list. Additionally, its marketing automation builder helps you build workflows for abandoned carts, new subscribers, and more.
It also works well for high-volume senders because all plans allow unlimited monthly email sends.
Pricing 💰
GetResponse's free plan includes unlimited newsletters and signup forms for up to 500 contacts. Meanwhile, the Email Marketing plan starts at $10.50 per month for 1,000 contacts and includes basic segmentation, email scheduling, and other features.
To set up automated workflows, you'll need to purchase the Marketing Automation plan, which starts at $59 per month for 1,000 contacts. The Ecommerce Marketing plan costs $119 per month for 1,000 subscribers and includes e-commerce segmentation, transactional emails, abandoned cart recovery, and more.
All plans include unlimited email sending, which is an advantage that GetResponse has over many other email marketing platforms.
4. Constant Contact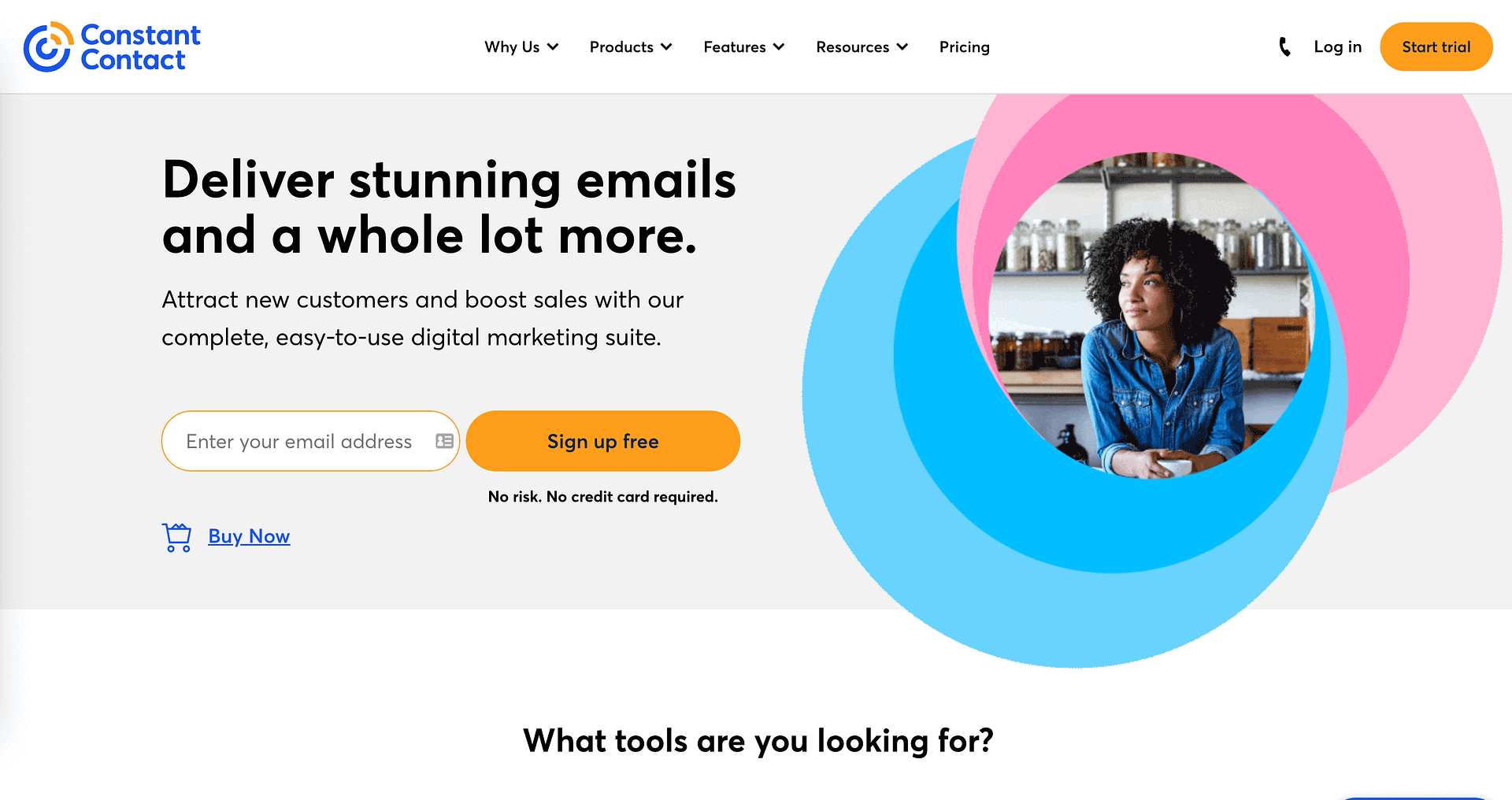 Constant Contact is an easy-to-use marketing platform designed for small businesses. It can help you grow your audience with engaging emails, SMS messaging, landing pages, and more.
This email marketing platform lets you set up automated emails for lots of different purposes. For example, you can send birthday and anniversary offers and target recipients who ignored your previous emails. Plus, Constant Contact boasts an impressive library of 300+ email templates which can help streamline your process.
Key features ⚙️
Visual email builder
Customer list growth tools, including website signup forms and Facebook ads
Real-time reporting on views, clicks, and more
An easy way to store, manage, and view contacts
Auto-generated segments for the most and least engaged subscribers
Different automated emails, including abandoned cart reminders and resends to non-openers
Who should use it 🤔
Constant Contact is a basic email marketing tool, so it's best suited for new marketers and business owners. It also offers a social media solution that allows you create ads and track their success.
Furthermore, it enables you to respond to comments and mentions more efficiently. So, you might consider using this platform if you want to pair powerful email campaigns with social media marketing.
Pricing 💰
Constant Contact has a simple pricing structure that's based on the number of contacts you have. You can opt for the Core Plan, which starts at $9.99 per month, or the Plus Plan, which offers more advanced features starting at $45 per month.
Monthly email sending limits are 24X your contact limit, with a $0.002 per email overage fee.
5. ConvertKit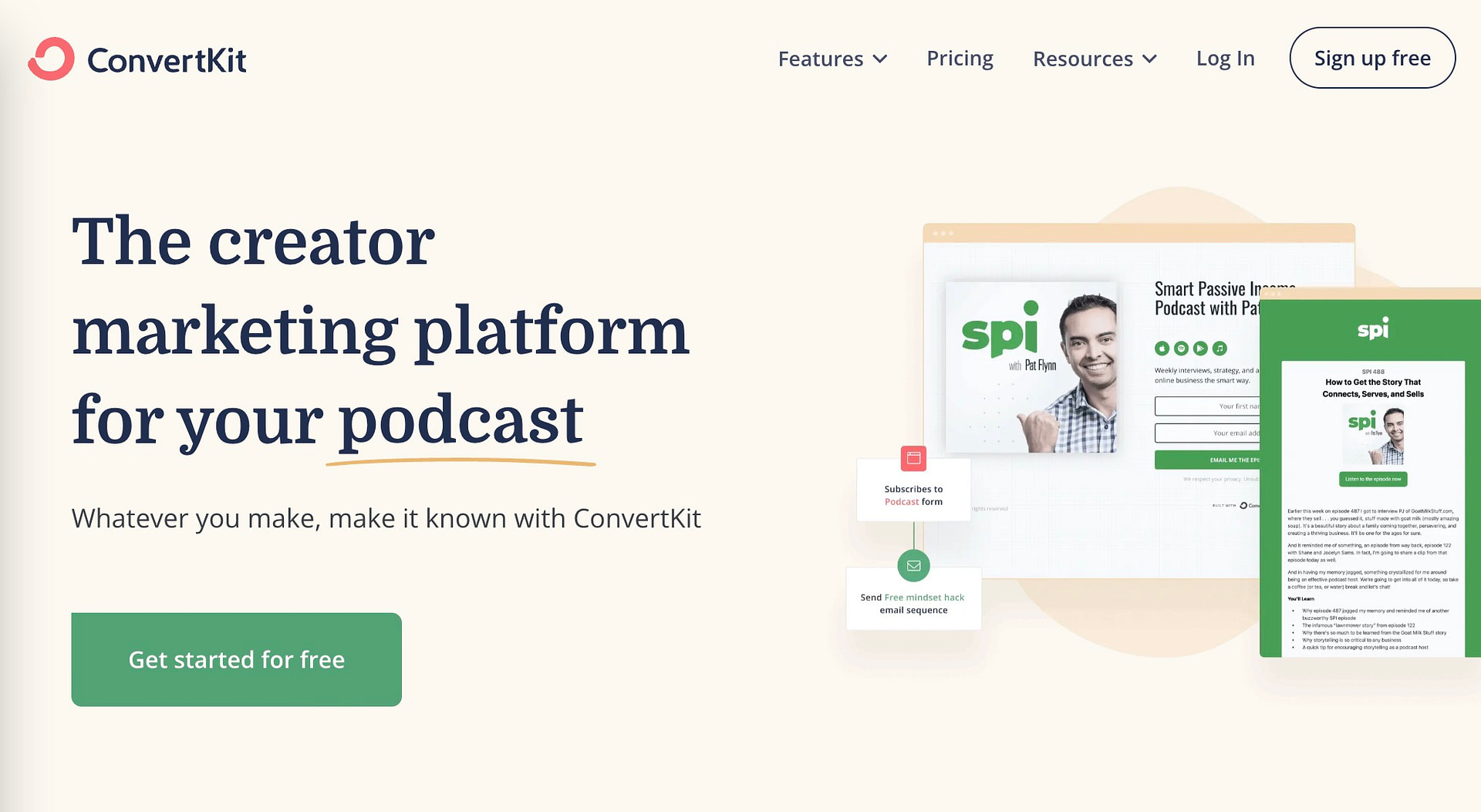 ConvertKit is a powerful email marketing platform that's specifically designed for content creators. It comes with tools such as signup forms, landing pages, and email templates that can help you grow your audience and monetize your content.
Additionally, ConvertKit makes it easy to offer freebies and incentives. For instance, you're able to upload a free download (like an ebook or printable) to your account. Then, ConvertKit will automatically deliver it to your users once they sign up or complete a form on your site.
You can also charge for access to premium newsletter content or other digital products, which lets you mimic the functionality in Substack.
Key features ⚙️
Design beautiful emails with fully customizable templates
Build custom paths based on actions, events, and conditions for a more personalized campaign
Create customizable segments with the platform's easy filtering system
Use smart filters to exclude particular users from certain email campaigns
Optimize your email with A/B testing and detailed reports
Sell digital products and subscription
Who should use it 🤔
ConvertKit offers email marketing solutions for different categories of creators. These include packages for authors, musicians, and podcasters. This makes it the ideal choice if you're looking for an effective way to grow your fanbase and keep people interested in your work.
Pricing 💰
ConvertKit's free plan is quite generous. It offers unlimited forms and emails. Plus, it lets you segment your audience. However, you're only able to use it for up to 300 subscribers.
Like most other email marketing platforms, pricing for ConvertKit is based on the number of subscribers. The Creator plan starts at just $9.00 per month (for 300 contacts), and the Creator Pro option starts at $25 per month. With these premium plans, you get access to automated email sequences, visual automation builders, and more.
All the plans also support unlimited email broadcasts.
Try these email marketing platforms today
Whether you run a professional blog or an eCommerce site, email marketing offers a great way to grow your audience and drive more conversions. For example, you can attract new customers with discounts and incentives, and promote your products with engaging newsletters.
In this post, we looked at some of the best email marketing platforms on the market. Choosing the best tool for you will depend on your specific feature needs, how many emails 📧 you send, how many contacts 🧑‍🤝‍ you have, and your budget.
For example, if you have many contacts that you email infrequently, then Sendinblue's approach of allowing unlimited contacts and billing based on email sends might be optimal for you.
On the other hand, if you have a small number of contacts that you email a lot, you might prefer tools such as ConvertKit and GetResponse that allow unlimited email sending, even if they have stricter contact limits.
For a versatile option that can be used for a variety of campaigns, you can also consider Mailchimp. Its user-friendly interface makes it easy to design emails and set up automated workflows.
Do you have any questions about the email marketing tools featured in this post? Let us know in the comments section below!
Free guide
5 Essential Tips to Speed Up
Your WordPress Site
Reduce your loading time by even 50-80%
just by following simple tips.
Keep reading the article at ThemeIsle Blog. The article was originally written by John Hughes on 2022-09-21 15:38:06.

The article was hand-picked and curated for you by the Editorial Team of WP Archives.