Whether you run a travel blog, a business directory site, or want to build an online store, interactive maps can make it easier for users to find particular locations. These visual tools can also make your contact page and other content more engaging and interesting. Therefore, you may be looking for the best interactive map plugin for WordPress.
In this post, we'll take a closer look at interactive map plugins and how they work. Then, we'll review some of the best options on the market. Let's get started!
What Are Interactive Map Plugins?
An interactive map is a visual element on your site that can highlight particular locations. For example, if you write a hiking guide on your blog, you can include a map of the trail.
Likewise, if you publish city itineraries, you can use maps to mark must-see attractions, restaurants, and more:
If you have a WordPress site or WooCommerce store, you can use a plugin to display interactive maps on your pages. Depending on the tool you choose, you should be able to integrate your site with Google Maps. (If not, you can check out these top Google Maps Plugins.) Also, most will allow you to create custom maps with your own markers and offer different views of your locations.
Using an interactive map plugin can provide more value to your visitors. It enables readers to locate places and plan their trips more efficiently. Additionally, if your online business has multiple physical store locations, a user-friendly map will make it easier for customers to find and visit your outlets.
6 Best Interactive Map Plugins for WordPress
Now, let's look at some of the best interactive map plugins for WordPress. We based our selections on several criteria, including features, ease of use, and customization options.
1. Interactive Geo Maps

As the name suggests, Interactive Geo Maps enables you to create interactive maps of continents and the world. You can also display country maps and highlight different regions.
Key Features for Interactive Geo Maps:
Add colored markers to your maps.
Choose from different map projections, including Mercator and Miller.
Exclude specific regions from the map.
Set click actions and hover color change settings.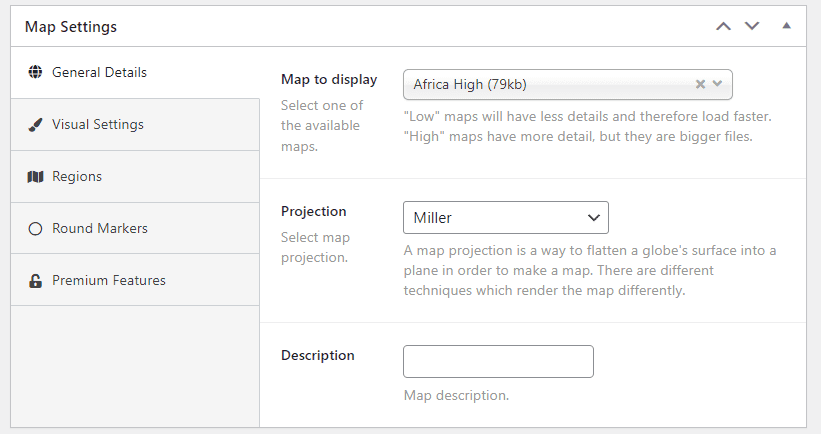 This plugin comes with a user-friendly interface. You can start by selecting the region you wish to display, then customize the appearance of your map from the visual settings. You can also add round colored markers to pinpoint
[…]
This article was written by Will Morris and originally published on Elegant Themes Blog.