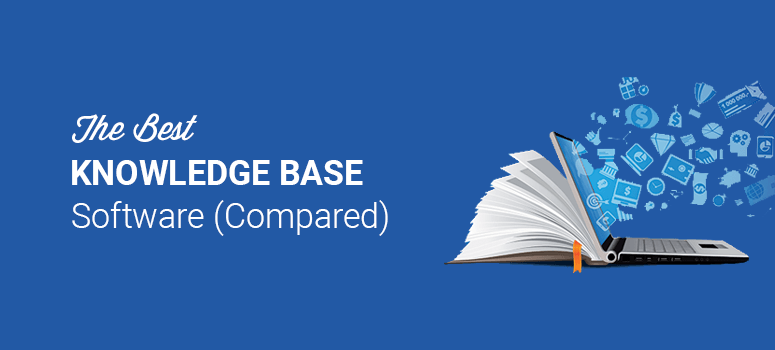 Are you looking for a knowledge base software for your website?
A knowledge base includes answers to any and all questions about your products/services. It saves time for your customer support team so they don't need to manually write replies every time users ask the same questions.
Knowledge bases don't only work for customers, though.
You can also create internal knowledge bases for your team members to continuously help them run the business smoothly.
Your knowledge base is also helpful for improving your site's SEO rankings.
But as your business grows, your knowledge base might increase to a level that requires professional software to manage. These tools come with a content editor, category builder, folders, frontend search system, and other useful features.
In this article, we'll share 9 of the best knowledge base software for your website and eCommerce store.
Best Knowledge Base Software for Websites
Below, you'll find high-quality knowledge management software and tools. Each software may offer a few unique features, so you can select the best knowledge base software for your website.
1. Help Scout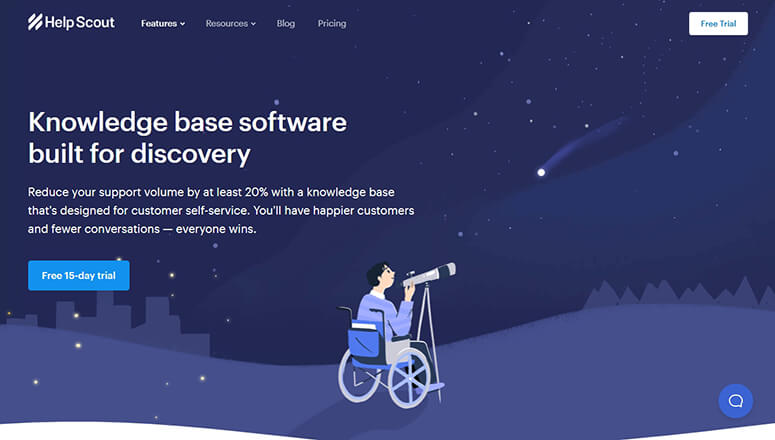 Help Scout is a popular help desk and knowledge base software. It lets you create a self-serving knowledge base for customers to find answers about your products or services.
With a premium text editor, you can add frequently asked questions to the knowledge base. This editor is similar to the WordPress post editor and allows you to add images, links, tables, videos, and more to your post. Select categories and add related articles to provide the best self-support to your customers.
Help Scout claims to reduce your customer support volume by 20% with their knowledge base. Display the knowledge base articles in sidebars, optin popups, modal popups, or anywhere else on your site to engage customers.
This software can create a fully functional help center with topics, categories, and responsive layouts. It generates a sitemap and optimizes your knowledge base for SEO to rank in the search engines like Google.
Get Help Scout today!
2. Freshdesk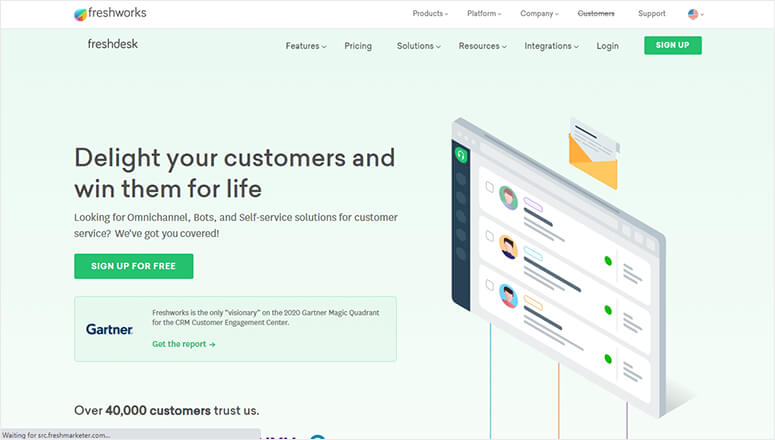 Freshdesk is a premium customer support and knowledge base software. It offers multiple methods to engage with customers and automatically converts agents' answers into the knowledge base for future reference.
A powerful feedback mechanism allows your agents to improve support based on customer feedback. Among other support channels, it lets you create a forum on your website.
This forum is easy to moderate and automatically removes questions that violate your rules.
Freshdesk has a custom help widget to provide solutions based on user activity. This widget can display helpful and relevant support content to users on your website, mobile app, and live chat.
Get Freshdesk today!
3. HelpCrunch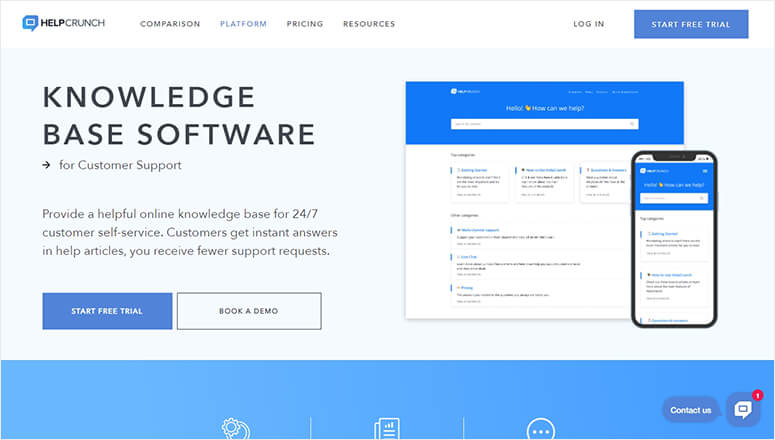 HelpCrunch is an all-in-one customer communication and knowledge base platform. It has a visual editor to create knowledge base articles with images, videos, and tables.
It supports a hierarchical system to add your articles into proper categories and sections. This way, your customers can easily find the answers to their queries and questions. It also offers a Power Search option that starts suggesting articles as soon as the customer types something in the search bar.
From reports, you can find failed search queries, customer reactions, and more. This helps to optimize your knowledge base content.
Get HelpCrunch today!
4. KnowAll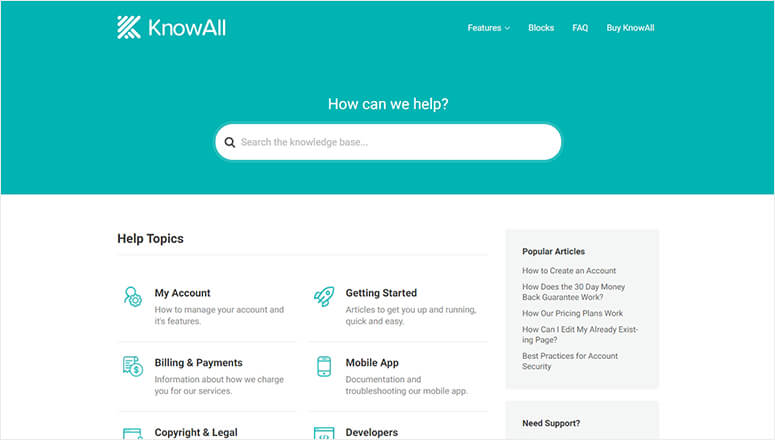 KnowAll is not a software but a modern knowledge base WordPress theme. It comes with a fully functional knowledge base system and supports third-party WordPress plugins to add more options to your articles.
This theme lets you display related content to guide customers with a complete solution. KnowAll quickly suggests knowledge base content to users based on what they're typing in the search bar.
With a frontend editor, you can customize the logo, colors, and other key options easily. Other features include search analytics, article feedback, integrations, and more.
Get KnowAll today!
5. Helpjuice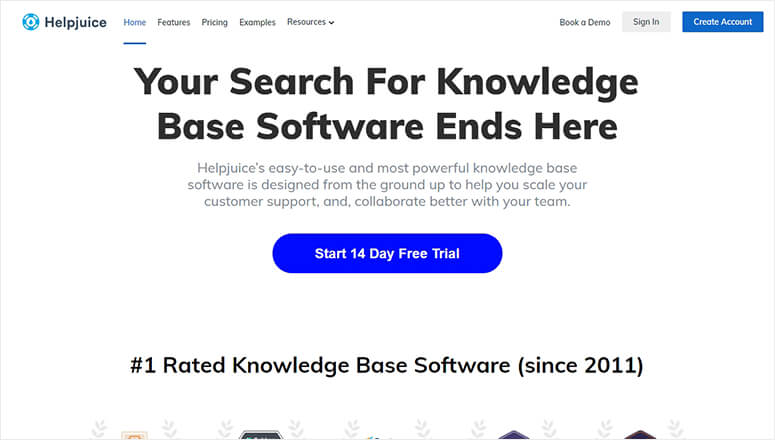 Helpjuice is an ultimate knowledge base software built specifically to create support-based content. It lets you assign an author to your knowledge base content and improve content formatting for better readability.
It has permission and role settings to create internal, public, or private knowledge bases.
The permissions extend to specific people, groups, and so on. These settings are easy to configure from the knowledge base article editor.
Helpjuice comes with smart analytics to measure time-specific impact, identify user searches, find out customers' interest in topics, and more. All this information is available in your Helpjuice account.
Get Helpjuice today!
6. Zendesk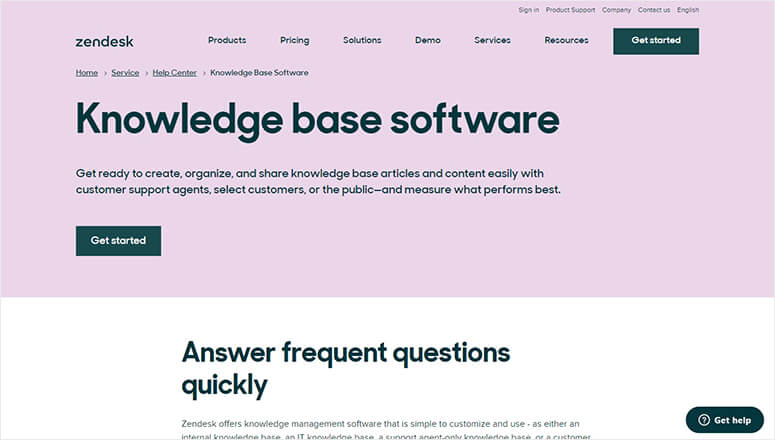 Zendesk is a leading knowledge base software for small businesses. It lets you create, organize, and share knowledge base articles with customers. You can also create an internal or private knowledge base for your team members.
It comes with a self-service portal that's available 24/7 on your website to help customers find answers. This works the same for your internal knowledge base and lets you add restrictions for certain user groups.
The Zendesk editor has rich formatting, built-in templates, draft options, and more. It supports over 40 languages to provide a multilingual knowledge base experience to customers.
Get Zendesk today!
7. ProProfs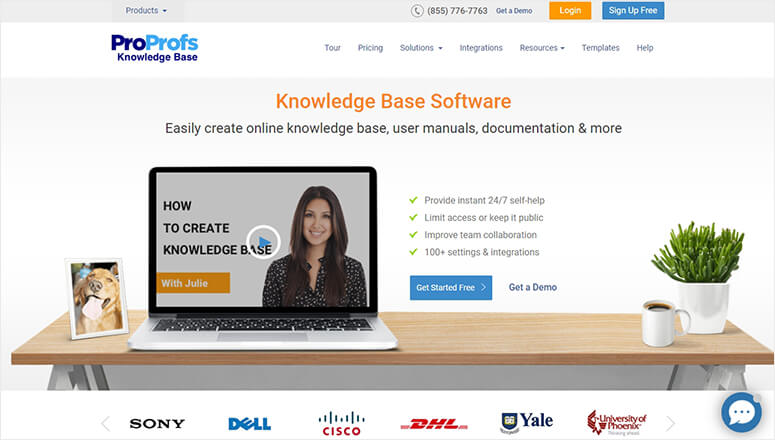 ProProfs is a free knowledge base software. Start by creating a knowledge base, use a built-in template, customize layout, import files, and then publish your knowledge base.
Build a help center to reduce your ticket count and help customers find answers quickly. ProProfs has a powerful search engine for your knowledge base and documentation.
For large teams, it offers a paid solution with unlimited knowledge bases. Create an internal knowledge base for employees and share information about your products for their learning. It lets you create documentation and manuals with visual content, including videos and images.
Get ProProfs today!
8. Document360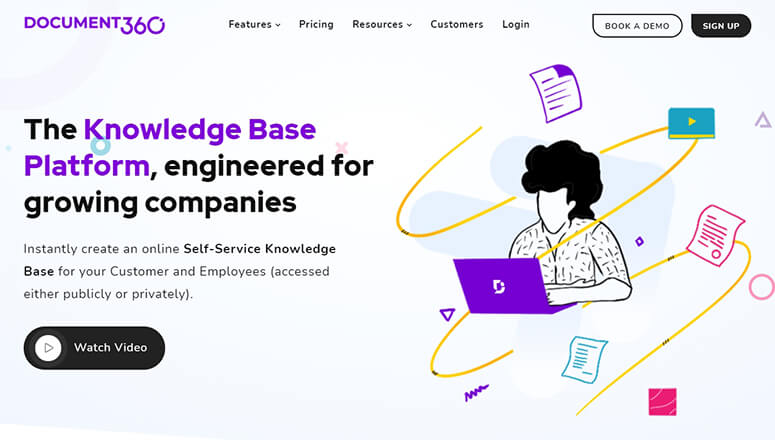 Document360 is an instant self-serving knowledge base software for small businesses. It lets you create public or private knowledge bases easily without writing any code.
The smart editor allows you to optimize your knowledge base articles with headings, bold text, images, videos, and more. You can select the font and color of your text to make it look more appealing, too.
Document360 lets you build product help documentation, technical documentation, online user guides, FAQs, internal knowledge base, SOP's, and employee handbooks. It gives you an upper hand in providing the best customer support to your users.
Get Document360 today!
9. WPForms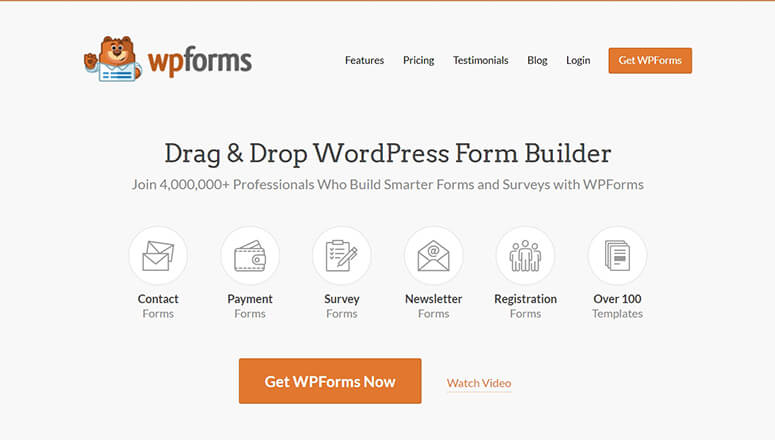 WPForms is the most beginner-friendly WordPress contact form plugin. Unlike other knowledge base software on this article, it lets you build a survey and Likert scale questionnaire forms to help customers understand your product/services.
With a drag and drop form builder and hundreds of templates, it's super easy to create a form on your website. WPForms provides detailed reports about form abandonment and successful submissions. This helps take your customer experience to the next level.
Plus, it integrates with several third-party apps to extend the functionality of your forms and engage website users to convert them into subscribers and customers.
That makes WPForms the perfect tool for learning about your users' pain points. From the information you receive, you can update your knowledge base and address your customers' most frequently discussed problems.
Get WPForms today!
That's all for now. We hope this article has helped you find the best knowledge base software for your website.
You may also want to check out our guide on the best 24/7 support services to manage your website.
These third-party services can provide professional support to customers while you focus on growing your business.
Keep reading the article at IsItWP – Free WordPress Theme Detector. The article was originally written by Editorial Team on 2021-03-30 06:45:21.

The article was hand-picked and curated for you by the Editorial Team of WP Archives.