A
re you searching for the best online grammar checker tools for WordPress? In this post, we'll compare the top options so that you can make sure your writing is free of spelling mistakes and grammatical errors.
When you first start a blog, you need to work extra hard to prove your credibility and convince your audience to engage with your content.
However, that's difficult to do if your posts have a bunch of careless errors and mistakes. Even proofreading your posts doesn't ensure that you'll catch everything. And the more errors there are, the likelier it'll turn readers away.
That's where grammar checker tools come in. In this article, we'll share the top tools available so you can make your blog the best it can be.
Let's get started!
First, let's look at why you should use an online grammar checker for your blog content.
Why Use a Grammar Checker Tool?
There are several reasons why it's a good idea to use an online grammar checker tool on your blog.
Reduce Errors. The most obvious pro of using a grammar tool is that it reduces errors on your website. When new visitors scroll through your content, they don't want to see careless mistakes that can easily be fixed. It's important to eliminate these errors so that your blog comes across professional and reliable. A grammar checker tool should always be a part of your blog post checklist.
Build Brand Credibility. The fewer mistakes your blog has, the easier it is position yourself as an expert in your industry. This will help you boost your credibility, build trust with readers, and drive more traffic to your website.
Save Time. Using spell checking software to go through your text and automatically find errors will save you a ton of time. You don't have to rely on manually reading your content to yourself or waiting for someone else to do it. This allows you to get your posts published faster and focus on other parts of your blog.
Whether you're a new writer, or you've been writing for years, spell checker tools can help you catch mistakes you might miss and make sure you're always writing quality content.
It's finally time to dive into the list. With so many options available for online grammar checker tools, you should know the features and pricing of each to weigh your options and make the best decision for your blog.
Grammarly is by far the most popular online grammar checker app out there. It's free and checks for grammar, spelling, punctuation, sentence structure, and much more.
Grammarly is great at catching common mistakes and offering solutions to fix them. It comes with a tone detecting feature that allows you to choose the tone you want to keep in your writing: informal, neutral, and formal. This allows you to speak to your target audience how they want to be spoken to so you can keep them coming back.
Grammarly offers a browser extension for Chrome, Firefox, Safari, and Microsoft Edge that checks errors in the browser as you type. That means that if you're drafting a post in the WordPress editor, Grammarly's browser extensions can detect errors as you're typing. It also works for email, social media, documents, and more.
It's also available as a desktop and mobile app. So, you can paste your content into the app and it will automatically give you suggestions on how to improve your writing.
Its Premium plan comes with a plagiarism checker that detects any duplicates in your content from billions of web pages in its database. It also highlights passages that need citations and presents you with the sources so it's super easy to give credit where it's due. This saves you from potential plagiarism issues so your content stays original and authentic.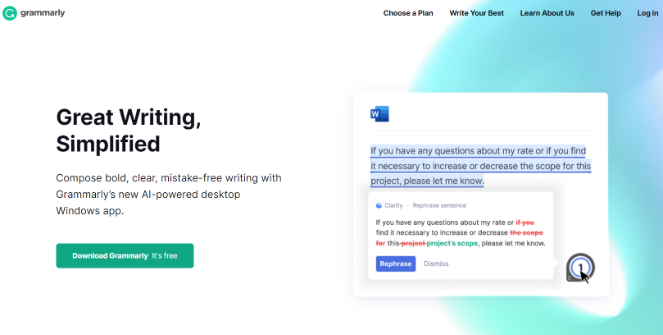 Here are some key features of Grammarly:
Detects spelling, grammar, and punctuation errors
Powerful plagiarism detection
AI-powered word suggestions
Automatically rewrites hard-to-read sentences
Compatible with Chrome, Firefox, Safari, and Microsoft Edge
Works on mobile and desktop
And more…
Get Grammarly today!
Pricing: The free version comes with basic writing suggestions including grammar, spelling, punctuation, and conciseness. For more features and advanced suggestions, the premium plan starts at $12 a month.
Ginger is an AI-powered writing assistant built to help you fix your grammar errors as you type. It aims to improve your writing style to match your goals and can even rephrase sentences that sound out of place.
When you double-click any word on a website, Ginger will show you synonyms relevant to that word for added context. This enhances your reading and learning experience as you browse online.
Ginger works to improve your writing on LinkedIn, Gmail, WordPress, Twitter, Salesforce, Medium, and many others. It's compatible with multiple web browsers.
To use Ginger in WordPress, you'll need to switch to WordPress's text editor, which some users may not like. You also need to click the icon to launch the Ginger editor and find errors.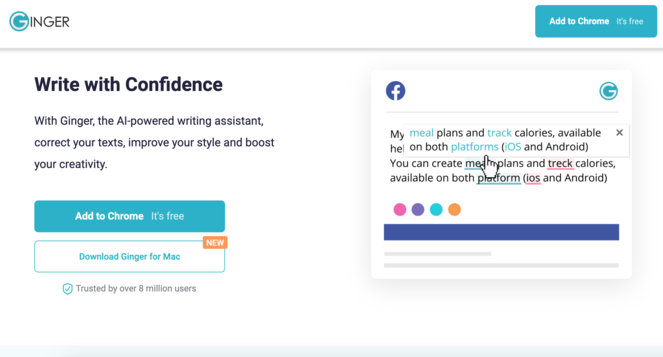 Here are some of the top features of Ginger:
Suggests context-based corrections
AI-based synonyms
Sentence rephraser
Available as a desktop app, browser extension, and mobile app
Compatible with Chrome, Safari, and Microsoft Edge
And more…
Get Ginger today!
Pricing: Free. For advanced features and unlimited corrections, premium plans start at $7.49 a month.
LanguageTool is another online grammar checker tool that's available as a desktop app, mobile app, or web-based. It's also compatible with Chrome, Firefox, Microsoft Word, Google Docs, and LibreOffice.
LanguageTool is beginner-friendly, super easy to use, and fairly accurate. You can check grammar errors in several different languages including Arabic, French, German, Italian, Persian, and more. You can also download LanguageTool for offline use so you don't need an internet connection to correct your errors.
The premium version of LanguageTool comes with advanced features like support of longer text, Microsoft Word add-on, gender and name checks, and more.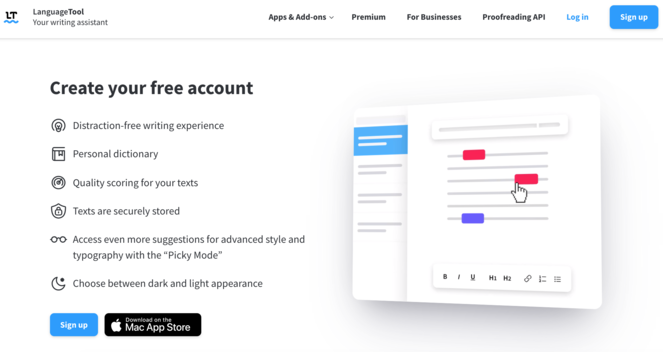 Check out these features of LanguageTool:
Proofread text in 20+ language
Light and dark mode
Assigned scores
Distraction-free interface
Compatible with Chrome and Firefox
And more…
Get LanguageTool today!
Pricing: The free version comes with basic features. Premium plans start at $4.99 a month for individual users and $8.99 a month for teams.
Hemingway is another popular grammar checker software that you can use as a web editor or a desktop app. It's a simple solution that checks the overall readability of your writing.
Hemingway uses color codes to show where your writing contains passive voice, lengthy words, weak phrases, and common errors. Once you paste your text into its software, it'll instantly show you how and where to improve your writing. You can format your text with bold, italics, headlines, or bullet points, with the click of a button.
Hemingway also provides you with a readability score to grade how easy it is to read. You can use it while offline so you're able to edit your text even without access to WiFi or an internet connection.
The desktop version has one-click integrations that allow you to publish content directly to your WordPress blog right from the editor. This makes it easy to publish a draft or live post without having to navigate elsewhere. You can also export to Microsoft Word, text, and PDF.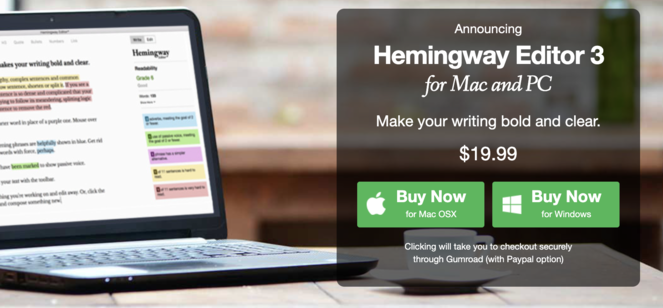 Here are some key features of Hemingway:
Detects spelling, grammar, and punctuation errors
Formatting options
Readability score
Available in web and desktop version
Use both online and offline
Third party integrations and browser extensions
And more…
Get Hemingway today!
Pricing: The web-based editor is free. The desktop app is $19.99 for both Mac and PC.
WhiteSmoke is a premium spelling and grammar software for WordPress. It comes in a desktop version for Windows and a web-based version that works with browsers like Google Chrome, Firefox, Microsoft Edge, Safari, and Opera.
WhiteSmoke will help you detect hundreds of previously undetected errors in your content. It detects everything from simple spelling mistakes, grammar, word choice, and style mistakes.
It also has a user-friendly layout that can help improve your productivity and increase efficiency.
It's great for bloggers, professional writers, students, English learners, and more.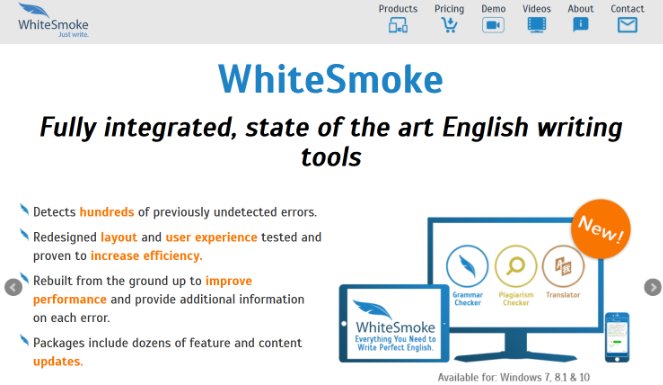 Take a look at these features of WhiteSmoke:
Detects hundreds of spelling and grammar errors
User-friendly interface
Plagiarism detector
Translator
Compatible with all web browsers
And more…
Get WhiteSmoke today!
Price: The basic web version costs $5 per month. For the desktop version and advanced features, plans start at $6.66 per month.
OnlineCorrection is a free online grammar checker. It's pretty basic but it gets the job done. You can use it to find spelling mistakes, basic grammar errors, and stylistic mistakes in your writing.
Simply paste your text into the box on the website and submit it. The tool will mark the errors it finds so you can easily fix them.
There's also an option to correct all errors automatically when possible.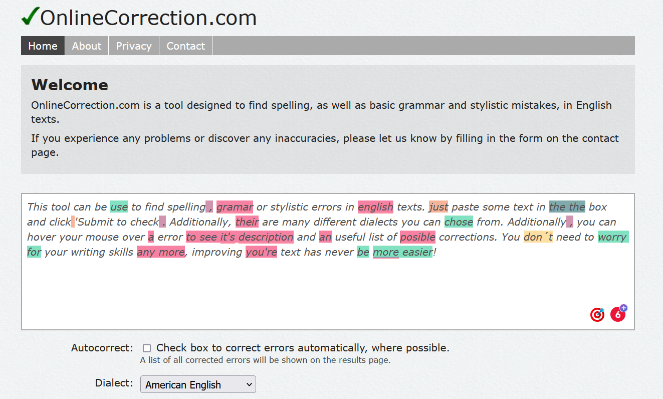 Here are OnlineCorrection's features:
Free online tool
Finds basic spelling and grammar errors
Correct errors automatically
Multiple dialect options
Get Online Correction today!
And that wraps up this list! We hope this article helped you find the best online grammar checker tools for WordPress. Now, you can make sure that every blog post you published is completely error-free.
If you like this post, you might also be interested in our guide on how to write faster. It includes clever hacks to speed up the blog writing process.
And don't forget to sign up for our email newsletter so you can get useful content like this sent right to your inbox!
Keep reading the article at Blog Tyrant. The article was originally written by Zakiyah on 2022-02-17 14:34:25.

The article was hand-picked and curated for you by the Editorial Team of WP Archives.