A charming online presence is one of the requisites for running a successful business today. One of the best ways to achieve a substantial following is by building a website that represents you.
Thankfully, there are now website builders that let even the average Joe boast about building their website. Most of them work with an easy-to-use drag and drop feature. They also come with built-in templates, making the job a breeze.
If you're wondering what the best website builders are, we've broken it down for you here.
1. Wix
Unparalleled in its templates and available features, Wix is one of the frontrunners for the title 'best website builder.' It has built-in SEO tools that ensure your website gains traffic. Websites built on Wix are responsive to be viewed on other screens without any extra edits.
However, there is also a mobile editor that lets you personalize the user experience. Moreover, Wix has industry-specific solutions. For instance, if you're a restaurant owner, you can build a website suitable for displaying your menu and making reservations online, without having to use a single line of code to achieve this.
2. Shopify

Selling is made more accessible with Shopify's eCommerce website tool. You can transform any website into an eCommerce store, which will be backed by tools, including inventory management and payment gateways. Shopify has more than 70 professional themes with which you can start building your website.
The editing can be done with drag-and-drop or with HTML and CSS if you know the code, giving you complete creative freedom over your website. And, if you think you need assistance, you can work with Shopify experts who will help you build the website of your dreams.
3. Weebly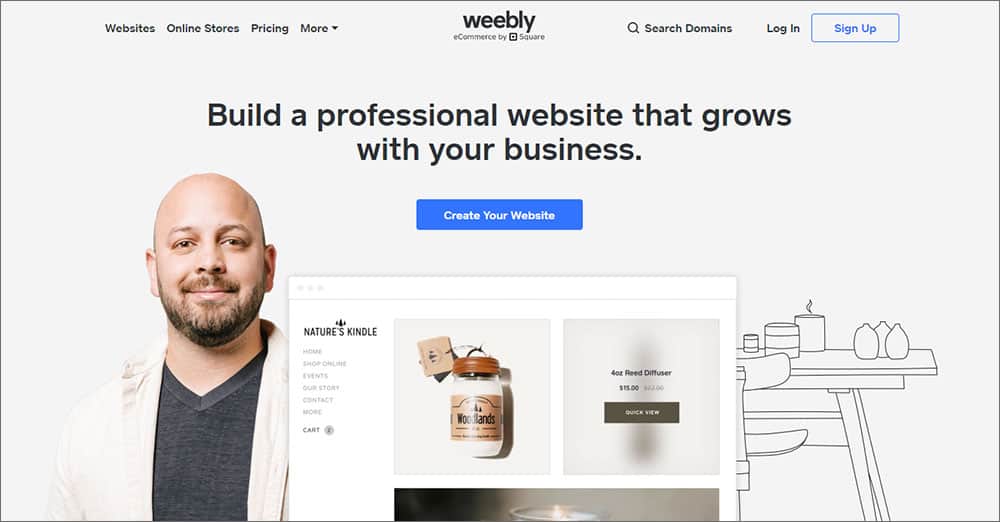 Weebly is a free website builder that helps you create a business website. Weebly will provide you with step-by-step guidance on how to design the best website. You can optimize it for search engine ranking to ensure you get successful leads. Also, your website will come integrated with marketing tools to assess the competition and see how you can grow.
In addition, you can manage email campaigns and Facebook ads right from this platform. The tool lets you add user-interactive elements like a gallery or blog. The professionally designed template, which is customizable, is the best way to get started on your website.
4. SITE123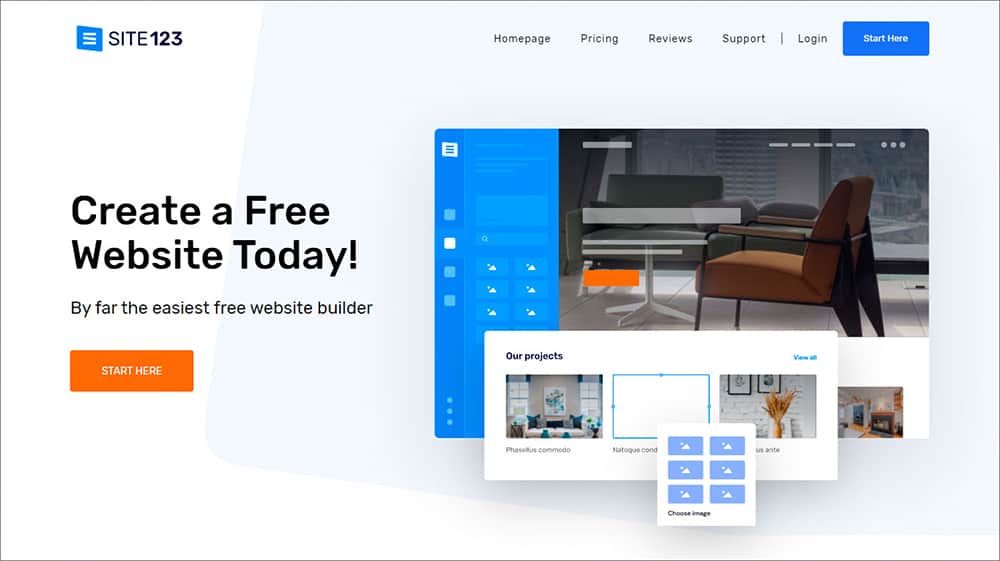 Did you even think a website could be built in just three steps? With SITE123, it can! All websites are mobile responsive and come with features to improve your site traffic. SITE123 is an intuitive builder that handles the design and website structure, allowing you to focus only on the content.
The dynamic editor is more efficient than traditional drag-and-drop editors. One of the best features of SITE123 is that you can get custom domain names free of cost, which is excellent for small businesses with lesser budgets. You can also avail free website hosting that is completely secure and fast.
5. Webnode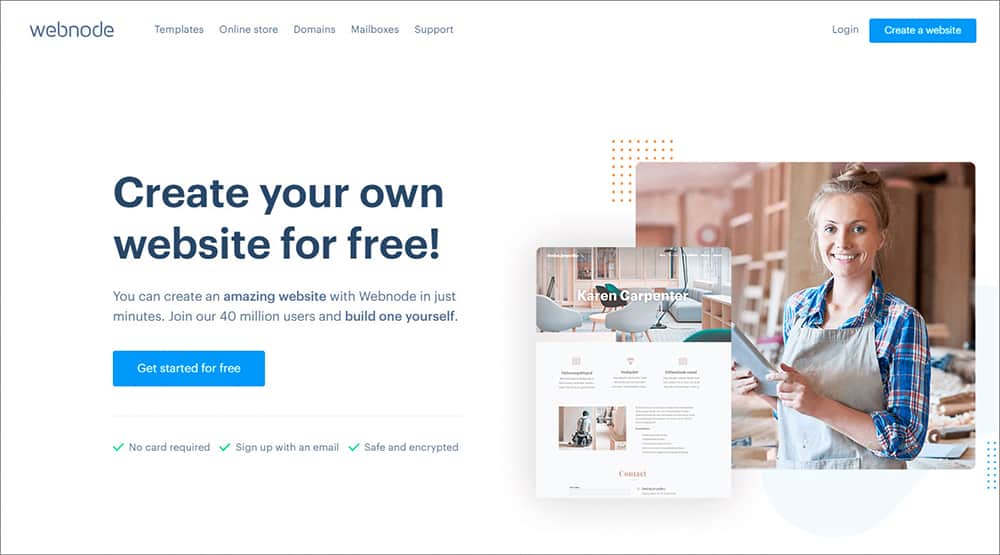 Sometimes, you need to make urgent edits when you're not in front of your PC, which is where Webnode will save you. This website builder lets you build and edit on the go with your tablet or mobile phone, saving you a ton of time. It also has a terrific support team with over 20 years of website building experience who are on standby to help you.
But, there's a high chance you won't need it because designing a website with Webnode is just that easy. Your website will have a unique mailbox that makes communicating with your customers a breeze. This type of branding helps give you more authenticity in your customers' eyes.
6. Squarespace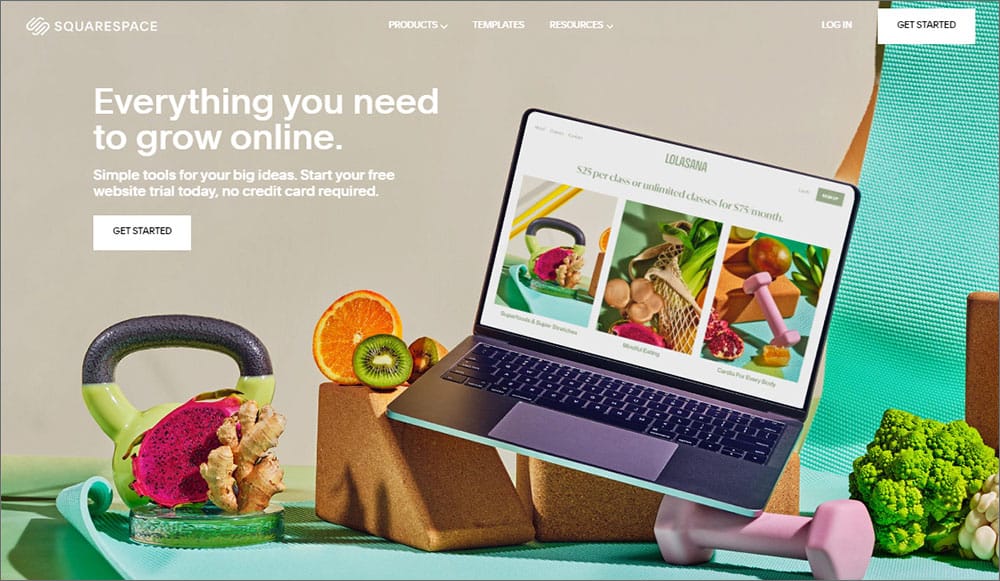 Building a brand identity is a crucial part of success for a small business. One of the best tools to give yourself that brand identity is with a custom logo. Squarespace has an easy-to-use design tool and pre-made icons provided by The Noun Project, helping you make a mark on your customers and keep them coming back.
Squarespace has award-winning templates that help you get started on your website. The drag-and-drop editor is a breeze to use. And you can add blocks like audio, video, or gallery to help increase the engagement levels of your site. You can also purchase a custom domain. And Squarespace seamlessly registers it for you.
7. BigCommerce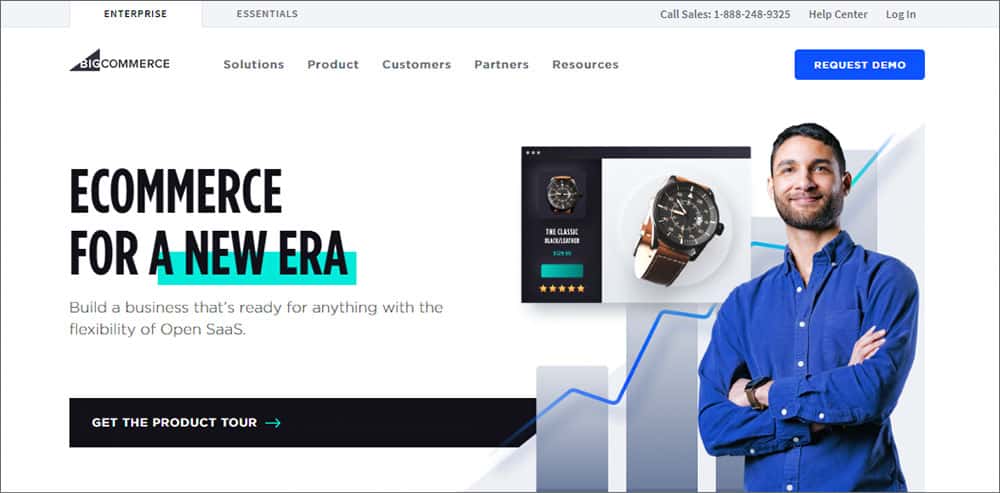 One of the biggest must-haves of an e-commerce website is customer interaction. BigCommerce helps you achieve that on your website. You will not be restricted to any design when using this builder. You have complete creative freedom, even over templates.
You can get easy store-front conversions with tools like Coupons & Discounts, Digital Wallets, and Faceted Searching tools, improving your customers' experience on your website.
This small business website builder helps you keep track of all aspects of your business. You can manage Refunds & Returns, Shipping, and Inventory right from your seat. The management tools provided by BigCommerce are precisely what busy store-runners need.
8. WordPress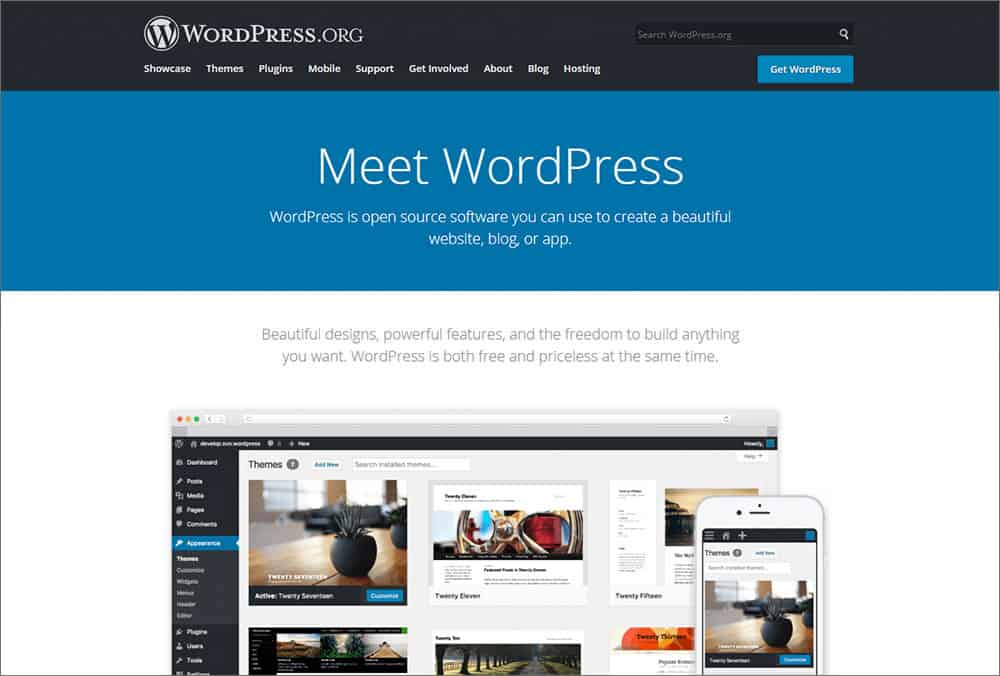 WordPress does not need any introduction. 41% of the web is powered by it. WordPress themes take the worry of 'website design' out of your mind. It comes up with color schemes that will suit your business.
The best part of WordPress is the endless possibility for expansion. You can install multiple add-ons to your site to make it truly unique. These add-ons are meant to improve user experience and help your website work seamlessly.
The block editor is the easiest way to build a website. This result is that you will get a professional-looking website, even though it was created by an amateur.
9. Jimdo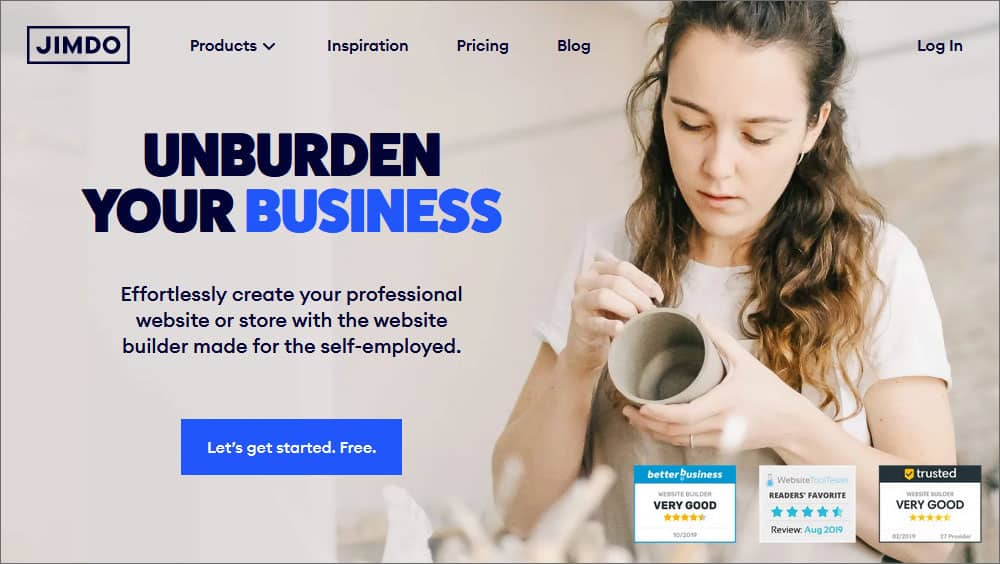 Having your online retail store no more has to be a distant dream. You can make your website with the help of Jimdo. This builder makes it easy to take your shop online with the many tools that it offers. Jimdo does not charge any commission fee on your sales. It offers multiple payment options, so managing money will not be a hassle.
The best part, you won't have to worry about any of the legal requirements that haunt e-commerce websites. Jimdo has a GDPR-compliant legal text generator, so your policies will be covered. It will also send you automatic notifications about any updates in the legal procedures.
10. GoDaddy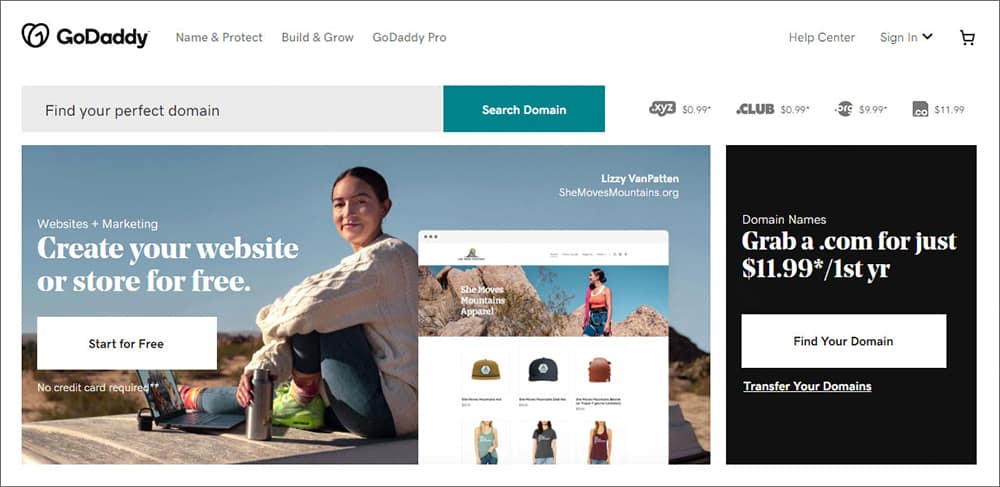 Secure hosting is one of the biggest struggles of owning a website. GoDaddy takes this out of the picture and provides one of the cheapest but most secure hosting solutions. GoDaddy-hosted websites also have very fast loading times.
GoDaddy's website builder is easy to use and a formidable tool amidst competition. The many unique templates will make your website stand out. The website will also have a built-in SEO and email marketing tool so your customers will know where to find you.
A typical website can easily be transformed into an online store with GoDaddy's store builder. And you can manage all business details from one place.
11. COREUI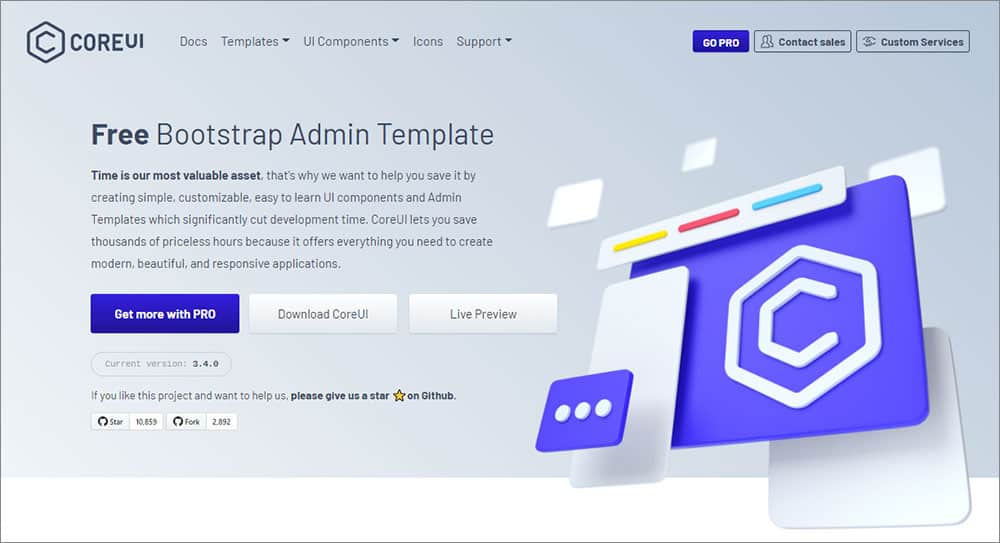 A small business owner is not a person with a lot of time on their hands. They need to manage the business, inventory, and website. That's why website and application builders need to be as helpful as possible.
COREUI has easy-to-use UI components and Admin Templates that help save time. The templates are crafted by experienced designers, giving your application a professional look.
The UI is mobile responsive and cross-browser compatible, saving you time during the testing phase and jumping right into deployment. Having an application that works across browsers will also help you cultivate the most customers. COREUI supports most of the popular frameworks, including React.js, Angular, and Vue. So you don't have to fret over the framework setup.
Which Website Builder Should You Choose
A small business needs a tool that they can afford and can also get the job done. These 11 best website builders for small businesses have their advantages.
We recommend BigCommerce or Shopify if you want to build an online store. If domain hosting is your main concern, then GoDaddy or SITE123 is the way to go.


Latest posts by Editorial Staff (see all)
Where Should We Send
Your WordPress Deals & Discounts?
Subscribe to Our Newsletter and Get Your First Deal Delivered Instant to Your Email Inbox.
Thank you for subscribing.
Something went wrong.
Keep reading the article at WP Newsify. The article was originally written by Editorial Staff on 2021-10-18 11:38:29.

The article was hand-picked and curated for you by the Editorial Team of WP Archives.