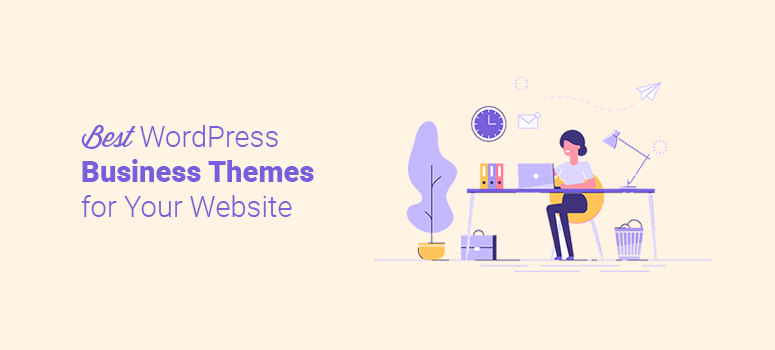 Are you looking for the best WordPress themes for a small business? For a small business website, you'll need a theme that can showcase your products and services professionally.
In this article, we'll share the best WordPress business themes for small businesses.
Choosing a WordPress Business Theme
WordPress is the best website builder in the market. Choosing the right WordPress theme for your small business website is an important task. But with so many paid and free WordPress themes out there (tens of thousands), it can be hard to choose the best WordPress business theme for your needs. Before spending money on a WordPress theme or investing your time designing your business website, you need to make sure you're picking a WordPress theme that's right for you.
Let's take a look at the features you should be looking out for in the perfect WordPress business theme:
1. Simplicity:
You may be tempted to choose the flashiest WordPress theme you find, but instead, you should focus on simplicity. Choose a sleek and simple WordPress business theme that allows you to put focus on your business and helps improve usability for your website visitors.
A complicated WordPress theme not only will distract users but it can also slow down your website.
2. Responsive:
Users will be visiting your business website from a number of different devices such as a desktop, tablet, or mobile phone. So, you need to make sure your WordPress theme will look good across all devices. Make sure you choose a WordPress theme that is mobile-friendly in order to boost your traffic and SEO.
3. Plugin Support:
The beauty of using WordPress is that you can access to 50,000+ WordPress plugins that add extra power and features to your website. Make sure you choose a WordPress theme that supports all of the popular plugins such as Yoast SEO, W3 Total Cache, WPForms, and more.
4. SEO Friendly:
Even if a theme looks good, it can still generate poorly coded HTML, which can result in poor SEO for your website. Make sure the theme developer for the theme you choose has said that their pages are optimized for SEO.
5. Support:
You also want to choose a WordPress business theme that offers you plenty of support if you need it. Many premium WordPress themes offer documentation and 1 year of email support.
Don't forget to take a look at the reviews for a WordPress
[…]
This article was written by Editorial Team and originally published on IsItWP – Free WordPress Theme Detector.