A
re you looking to build the best Contact Us page possible on your website?
A contact page might seem simple enough on the surface, but there are actually a lot of important factors to consider before you create your own!
The perfect contact us page will help you…
Get more – and BETTER – leads
Reduce spam in your inbox
Save time on back-and-forth emails
Cut down on irrelevant sales pitches
Looking for the best contact us page examples for inspiration?
Whether you're just starting a blog for the first time or have had a website for a while, it's never too late to create the perfect contact page.
We'll jump right into those contact page examples, but if you want to skip ahead to tips and best practices you can use this table of contents:
Let's begin!
The 10 Best Contact Us Pages on the Web
Sometimes, just by examining a good Contact Us page, you can get some inspiration to tweak your own, so you can increase conversions or prevent losing a potential client. 
So let's take a look at 10 of the best Contact Us pages from around the web.
1. Grammarly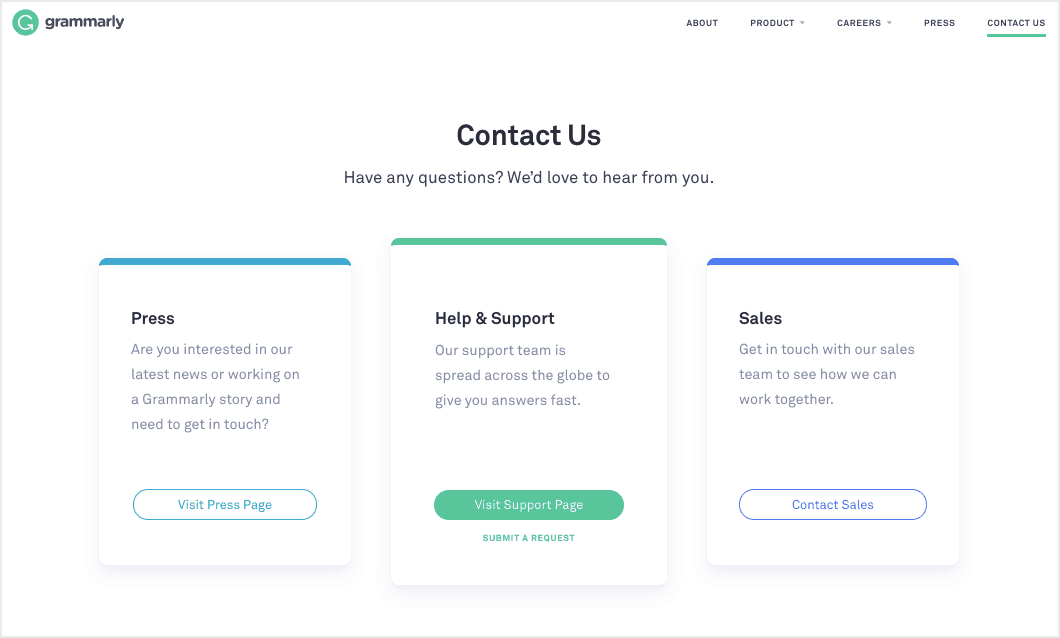 The Grammarly Contact page is at the top of our list of best contact us pages because it's clean and uncluttered and makes it obvious you have 3 options to choose from: Press, Support or Sales.
Press takes you to a selection of press and media releases that may address your inquiry. If not, there's a specific press email address to contact.
The Support option directs you to the support portal where you can search for answers in the knowledgebase, contact specific teams like Accounts and Billing, or go to a general contact us page.
Clicking Sales leads you to a new page where you have to complete a contact us form: