Hate them all you want, but popups are quite useful for business owners trying to build a list of loyal potential consumers and readers.
Increasing the repeat visits and building an email list of visitors/potential consumers is perhaps one of the best ways to make your WordPress website popular in a shorter period of time (provided you do not bombard their inbox with emails).
Since most of the visitors do not make the effort of filling in the contact form or leave behind their contact details on their own, popup plugins come in handy for extracting the user details such as name, email and phone number by offering them something valuable in return.
When a visitor comes to your website, they might not find personalized content or offers. However, by landing in their inbox, you can get them to consume more content and provide personalized content/offers for better conversions. From simple free popups to heavy-duty exit popups – there are several plugins available for WordPress to help you build your consumer list.
Let's have a look at our pick of top 12 best WordPress popup plugins using which you can use and increase your website conversions and generate high quality leads for your website and business.
1. OptinMonster
OptinMonster is perhaps one of the most popular popup plugins for WordPress. Trusted by several big brands, it is an all in one solution that not only displays a popup for your consumers but allows you to do a lot more. This includes testing different communications, making real-time adjustments, design great looking lead forms and what not!
With over 1 Million websites trusting OptinMonster and the plugin having optimized over 4 billion user sessions, this had to be on the top of our list of recommended popup plugins.
It would be safe to say, with the features that it has, that OptinMonster is not just a plugin, it is a conversion optimization toolkit that you should have for increasing the number of leads and eventually, your sales revenue.
With OptinMonster, you can go for advanced targeting – build page level popups, dive deeper into analytics to understand the effect and even retarget repeat visitors with a different set of communication/offers.
With its exit- intent technology (event-triggered) that allows you to show popups when the user is about to exit your website page, OptinMonster can help you in expansion at exponential rates.
2. Popup Builder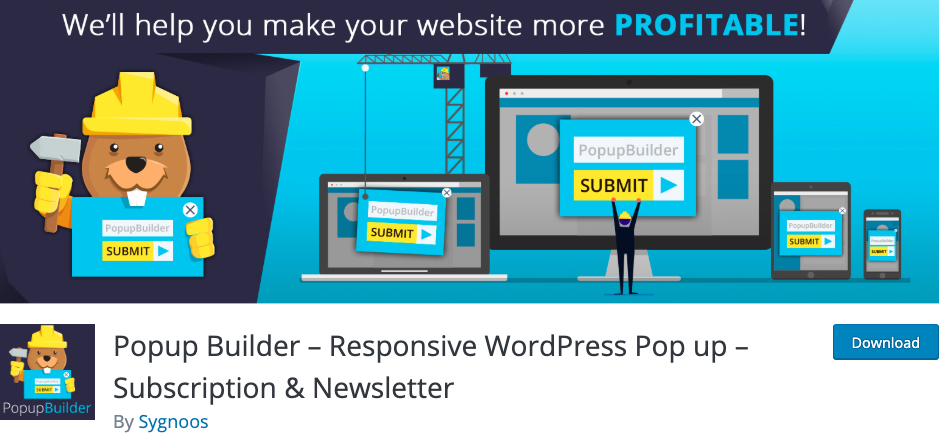 We tried over several popup plugins to come up with this list and out of all of them, Popup Builder was the easiest to use. Sticking literally to what they say, you can build easily on the go popups with this plugin and popup almost anything – from discount offers to contact forms and watch your conversions and email list grow.
There are several inbuilt themes to choose from and you can customize your popup as per your own design or color choices. Not only that, you can time your popup and choose the functionality with just a click to display.
Whether you want to go for a simple popup, exit popup, countdown timers, or any redirection popup, the Popup Builder WordPress plugin makes it look very easy to implement so that you can grow your customer list without any hitch.
3. Thrive Leads
Combining several email opt-in forms into a single plugin and promising more number of leads, the next name on our list of best WordPress popup plugins is ThriveLeads.
The plugin might call itself a lead generation tool, but it is actually far more than what it claims to be. Apart from the usual functionality, it allows the business owners to create their own popups and customize the settings as required.
Not only that, you can do A/B Testing with the communication and view advanced actionable reports to take the right steps forward.
With over five different form types and several built-in design options, Thrive Leads also offers you the opportunity to target your consumers with surgical precision – target them on the basis of the content consumed, geolocation, specific pages visited, and the time spent on the website.
From welcome popup to exit popup, the Thrive Leads kit provides you with different strategical options which can be used to build your audience list faster than ever before.
4. OptiMonk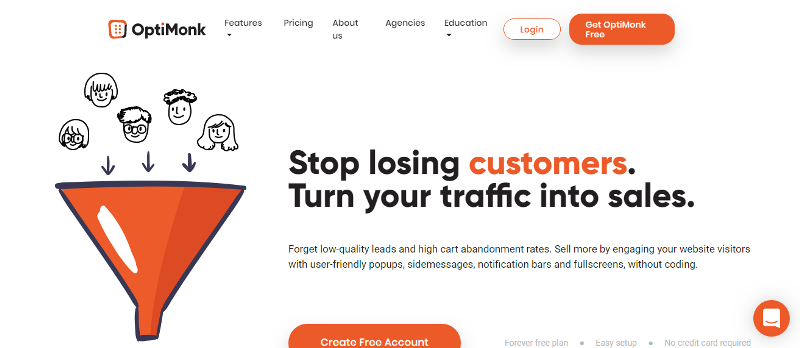 Designed specifically to boost sales for eCommerce portals, OptiMonk is an easy to use popup plugin for WordPress websites.
It not only gives you the freedom to design from its inbuilt templates, it also allows you to show customized communications to different segments of your visitors to ensure that your cart abandonment rate decreases and the average cart value grows over time.
Controlling the complete buyer's journey, OptiMonk is more than just a popup maker or plugin. It is a handy tool that allows even the technical novices to understand reports, take new steps and provide your users with a human-friendly communication and popup experience.
Combining the strengths in technology, sales as well as marketing, OptiMonk ensures that each visit that you get, counts and is pushed more towards conversion.
It is even compatible with mobile devices. With OptiMonk, you can grow your email subscribers in no time.
You can initiate the popup or sidebar messages as per the scrolling events, clicks and user behavior. At present, the plugin is trusted by over 20k users from over 150 countries.
5. Bloom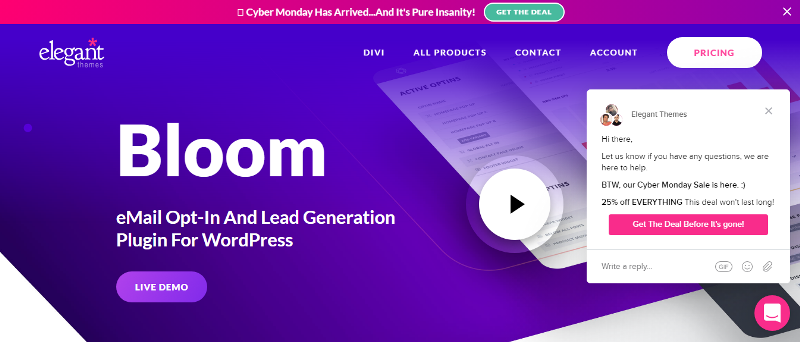 If you are looking for an opt-in form plugin that can help you increase your website visitors and subscribers, Bloom is the plugin that will solve most of your requirements.
With six different display types, Bloom offers a great way for you to target your website visitors and convert them into loyal followers who will get access to personalized offers, great discounts and deals, including regular updates from your side.
Not just targeting, you can even exclude some of the pages, posts, or products while displaying messages to the visitors.
Bloom lets you design some of the best looking yet simple and user-friendly messages from its in-built library of popup templates.
Not just that, Bloom provides a seamless, integrated platform where it can receive data from 19 leading email marketing tools. Thus, you get real-time data of subscribers and much more.
With an easy to use dashboard that provides intuitive assistance as well as easy access to all the necessary details, Bloom is available for purchase at an annual plan of $89 or a one-time fee of $249.
6. ConvertPlus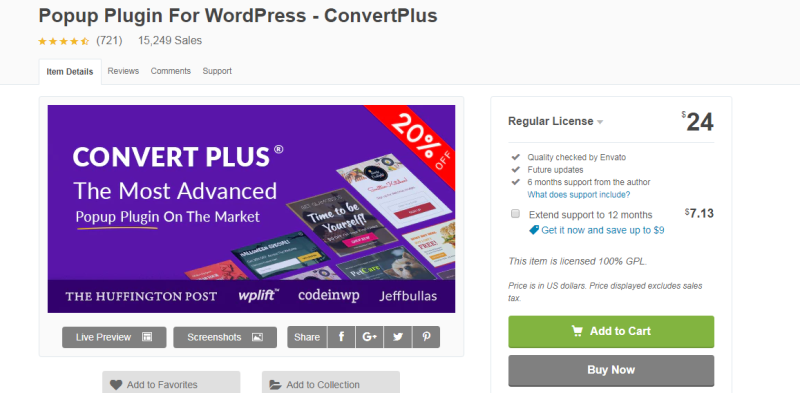 Your website can turn into a lead generation and management powerhouse and that can be made possible with the help of a plugin like ConvertPlus.
Not only does the plugin give you the advantage of designing your own popups and forms, but you are also able to use its detailed and precise page-level targeting to ensure that the right communication reaches to the right consumer groups.
From visitors to social followers, subscribers and finally customers, the complete journey can be initiated, mapped and achieved with the help of Convert Plus and its advanced features.
Whether you are planning to show your visitors a wide popup, an opt-in popup, exit popup, social popup or any other, ConvertPlus can make it possible and the best thing about the kit, you get to design these popups from the inbuilt design templates.
Like any other top-rated plugin, ConvertPlus allows you to target your website visitors and potential consumers with precision, on the basis of their source, behavior on your site, etc.
The plugin can be purchased for a price of just $24.
7. Ninja Popups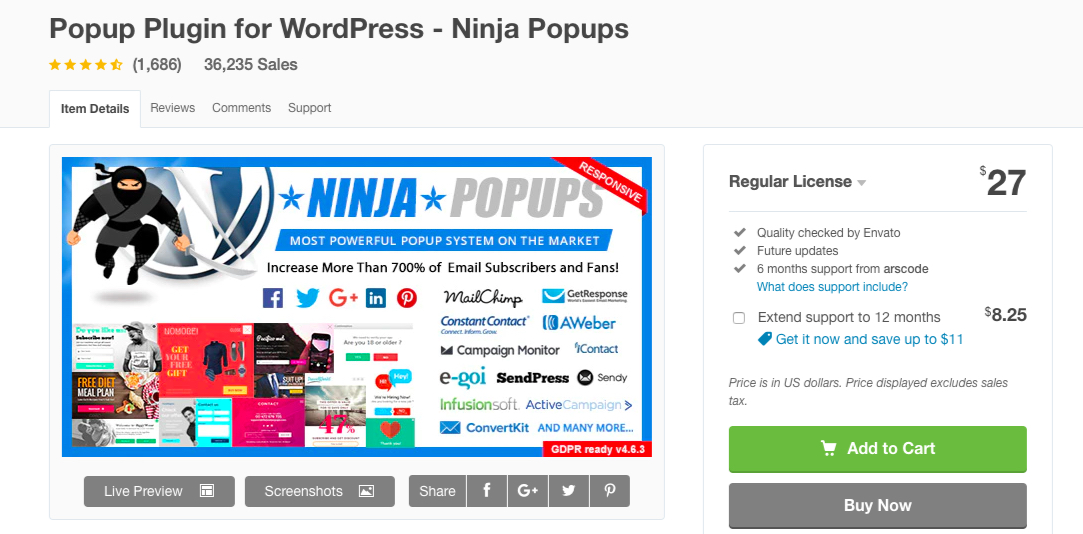 Take the best of every popup plugin that we have covered and combine that into one, that is Ninja Popups for you. With an aim to increase the opt-ins and leads for your business, Ninja Popups provides you with the freedom to design the complete popup theme.
This could be done by using its drag-drop visual popup builder and editor, which includes templates as well as animation effects to improve the user engagement and experience.
The plugin is WPML ready and integrates with more than ten leading email marketing services platforms like MailChimp, GetResponse, InfusionSoft, JetPack, ConvertKit and others to allow easy management of leads and data on a single dashboard.
Ninja Popups allows you to send across professionally designed pop up messages to your users which do not hamper the user experience but instead provide customized offers and communication to push for better conversion rates.
Apart from all the features, the support and updates for Ninja Popups prove to be quite helpful, as well.
Ninja Popups is available for purchase at a price of $27.
8. MailMunch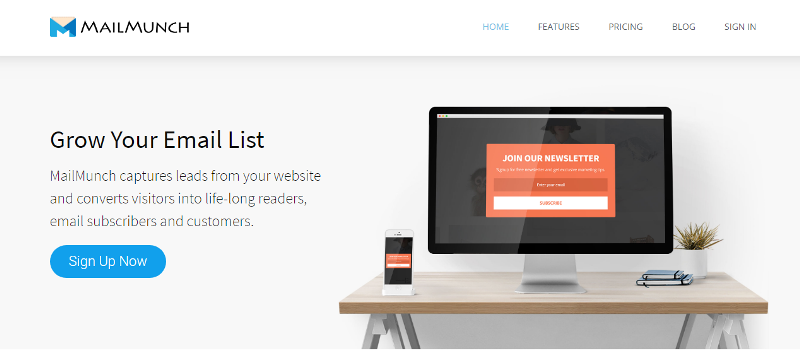 If you are looking for a simple opt-in form and plugin, then MailMunch is surely the best pick. Keeping it simple yet precise for the best possible targeting for your business, MailMunch allows you to build your own forms and pop-ups with its inbuilt themes and also provides you with detailed analytic reports to understand your audience's behavior and interactions (clicks, scrolls, etc.).
The plugin will also allow you to use different triggers while displaying different popups types.
You can use the detailed targeting feature of the plugin to ensure that a specific segment of the visitors is targeted while using the A/B testing feature to check the communication response.
Even though we were checking the plugin out for WordPress, it was quite impressive that MailMunch has not limited itself to only WordPress and provides seamless integration services with other platforms such as Shopify, Blogger, Magento, Woocommerce, and Drupal as well.
The plugin is available for free. However, the free version has limited features. The premium version has advanced features and extended support. The plans are starting from as low as $12 per month.
9. Yeloni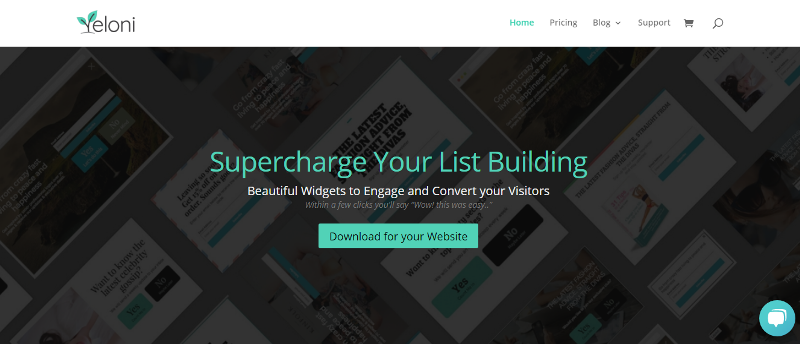 Yeloni is a plugin with attractive looking widget sets that deliver a premium experience to your users while engaging with them.
No, it is not just limited to displaying a form on your website to capture leads, it is best known to take the user experience for both you as well as your website visitor to another level.
You are provided with premium support to help you out at every step of the process whenever required. Also, your website visitor receives only the precise customized communication or message to increase the chances of conversion.
Not only building email lists, but Yeloni can also help create the right impact for branding as you can use its different design templates.
Apart from its design and feel that we are still drooling over, the plugin offers integration with leading email marketing platforms like MailChimp and Aweber to help you get real-time detailed insights and reports.
Yeloni is available for free, but you can unlock its premium version and advance features by paying just $4.99 a month.
10. Sumo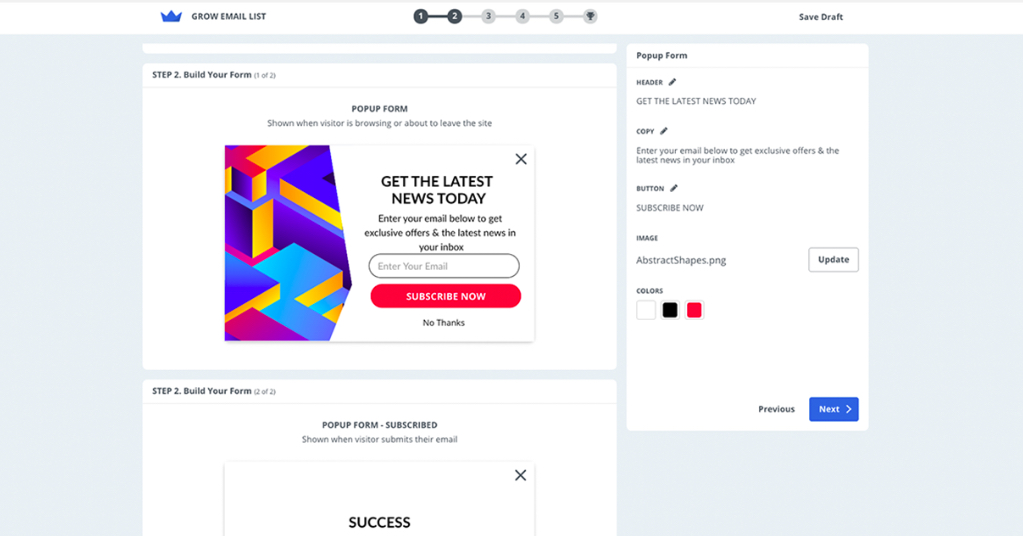 Email drips along with automation with time delay popups that help you build your subscriber list. This is what first caught our attention when we checked the Sumo popup plugin.
Not only simple WordPress websites and content marketing initiatives, but Sumo can also be used for eCommerce portals as it helps in minimizing the cart abandonment rate.
The level of detailing in the reports what Sumo offers is phenomenal. You can check the number of popups, subscribers, sale as well as the ROI on each subscriber. This would help you in setting up the life cycle value of your subscriber and consumer.
Because of its unique features as well as brilliant delivery, it is currently being trusted by over 100,000 websites.
Available for free, Sumo combines analytics, advanced targeting, email marketing and timely engagement into one powerful lead management kit that can make your conversions skyrocket.
11. Icegram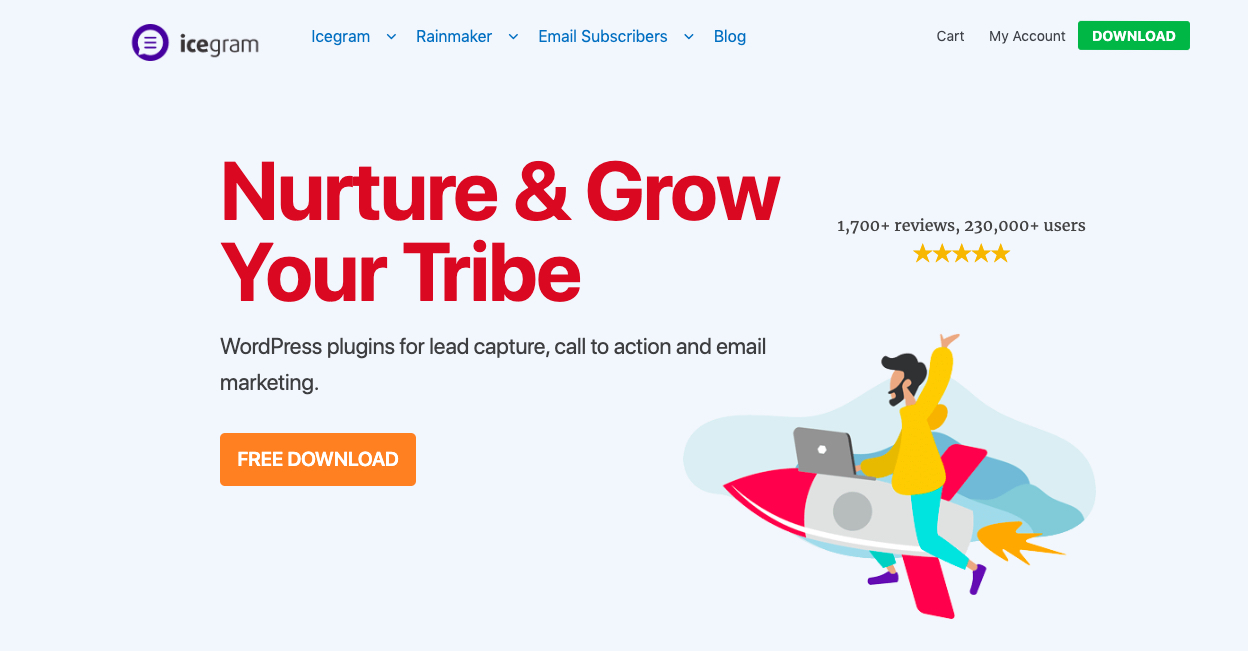 Keeping it simple, Icegram allows you to create beautiful looking opt-ins to easily convert your visitors and readers into loyal subscribers and customers.
Trusted by over 40,000 websites for their growth, Icegram can display powerful CTAs for pushing your visitors towards conversions while at the same time, keeping the popup experience non-intrusive and subtle.
You can easily customize the CSS to design custom templates. This would help you to come up with beautiful popups to match your WordPress themes design.
Icegram has easy to use interface and it also turned out to be one of the easiest to install and run. We had started recording data as well as insights within a few minutes.
The plugin offers integrations with leading email marketing tools like MailChimp, Aweber, MadMimi and is GDPR compliant. It also allows A/B testing using which you can find out your most converting popup template.
The plugin is free to download.
12. HubSpot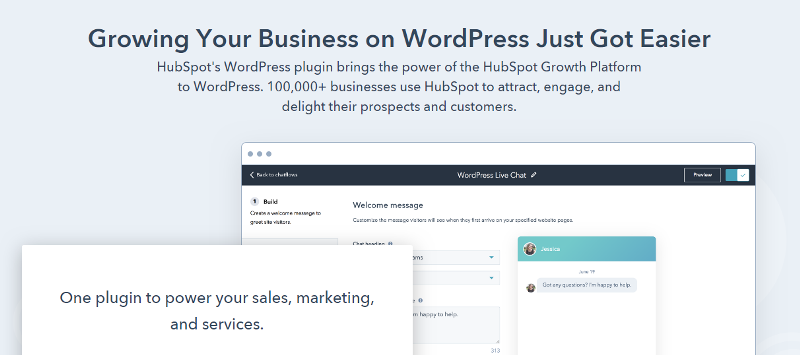 Lastly, we have a power-packed plugin from perhaps one of the most recognizable names, Hubspot. Over 100K businesses trust Hubspot for engaging and managing clients, something that really drew us towards checking their WordPress popup plugin.
Hubspot allows you to not only make popups and forms but go beyond with chatbots and automated conversations to acquire data from a website visitor.
You can automate the emails to your subscriber list and make the content distribution easier than ever by tracking the progress of your efforts with detailed reports.
Like any other top pick on the list, Hubspot has a lot to offer – and when we say a lot, it actually turns out to be more than any other plugin on the list.
From complete dashboard management to landing page design, element management, chatbot to SEO friendliness, advertisements and social media, the complete end to end management can be handled with the help of Hubspot.
Final Thoughts
It must be quite a confusing experience to look for the best WordPress popup plugin and then get surrounded by great plugins trusted by thousands of business owners.
If OptinMonster provides you with overall balanced experience, Hubspot has the most powerful process management that eliminates the need for any other tool to be used on the side.
Hence, it is not about choosing the best popup plugin but choosing the plugin that suits your needs. Whether you want a plugin that offers an Elementor like drag-and-drop builder or a plugin that keeps it simple with its inbuilt design library, opting to go for a popup plugin for WordPress will surely help you build your subscriber mailing list and increase your conversions exponentially over a period of time.
Which popup plugin did you choose finally? Do share your thoughts in the comments section below.
Keep reading the article at Blog – MyThemeShop. The article was originally written by MyThemeShop Editorial Team on 2019-12-13 23:26:56.

The article was hand-picked and curated for you by the Editorial Team of WP Archives.