Managing multiple sites can be time-consuming and confusing. Unless you are really good at organizing and writing down what needs to be done on what page, it is likely you will get confused or do something that is not necessary for that specific site.
WordPress is quite a simple system for managing sites, but even WordPress can get difficult to manage if you have multiple admin panels and dashboards. You would have to update your sites, plugins, and themes individually, as well as keep track of everything else happening on your sites.
Wouldn't it be amazing if you could access all of your sites and check your analytics, plugins, or extensions from one dashboard? Just think how much easier it would be to navigate your sites and see what needs to be updated or removed.
Luckily for you, that is now possible with the new feature that has been added to the Coming Soon and Maintenance Mode plugin!
The new feature that has been added gives you access to remote control. Basically, you can control, edit, customize, activate or disable from one dashboard all coming soon sites (hopefully, you know that coming soon sites are very important and a must-have if your site is under development or will soon be ready to launch) that are connected to the plugin.
On top of all that, you can also check your site statistics from there to see how your site is performing.
Since this is a new feature, we will take you, step by step, and show you how the plugin's dashboard and its other features look like. So, let's get started!
The Coming Soon and Maintenance Mode Plugin
The first thing you will see after downloading and activating the plugin is the dashboard. From there, you can access all of the features intended for remote control.
This is how the dashboard looks like: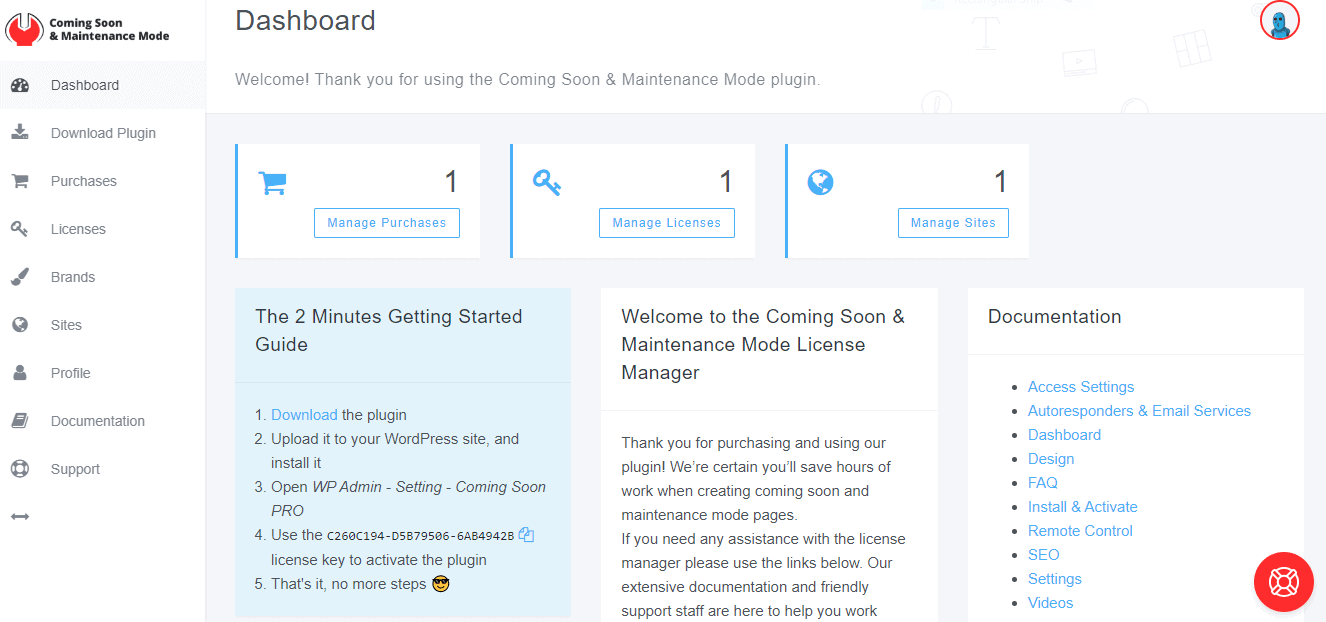 At the bottom of the dashboard, you have a short 2-minute guide for getting started that you can follow in order to activate the plugin.
Basically, after downloading it, upload it to your WordPress site, install it, open WP Admin, go under Setting, and then under Coming Soon and Maintenance Mode Pro. Here you need to use your license key to activate the plugin, and after that, you are good to go.
If, however, you are having issues, you can click on Contact Support and ask for help. The team behind the plugin will respond promptly.
As you can see above, at the top of the dashboard you have 3 boxes (manage purchases, manage licenses, and manage sites). Clicking on one of those will take you to another page where you can check out your products, sites, and do some actions.
On the left side of the dashboard, you have a menu with multiple options to click on (dashboard, download, purchases, licenses, brands, sites, profile, documentation, and support).
If you click on manage purchases, that will take you to another page. Below is a screenshot of how that page looks like. There you can see every product you have purchased, as well as any recurring payments.
On the left side of the table, you can use the action buttons to create an invoice, cancel a subscription, or change your credit card information.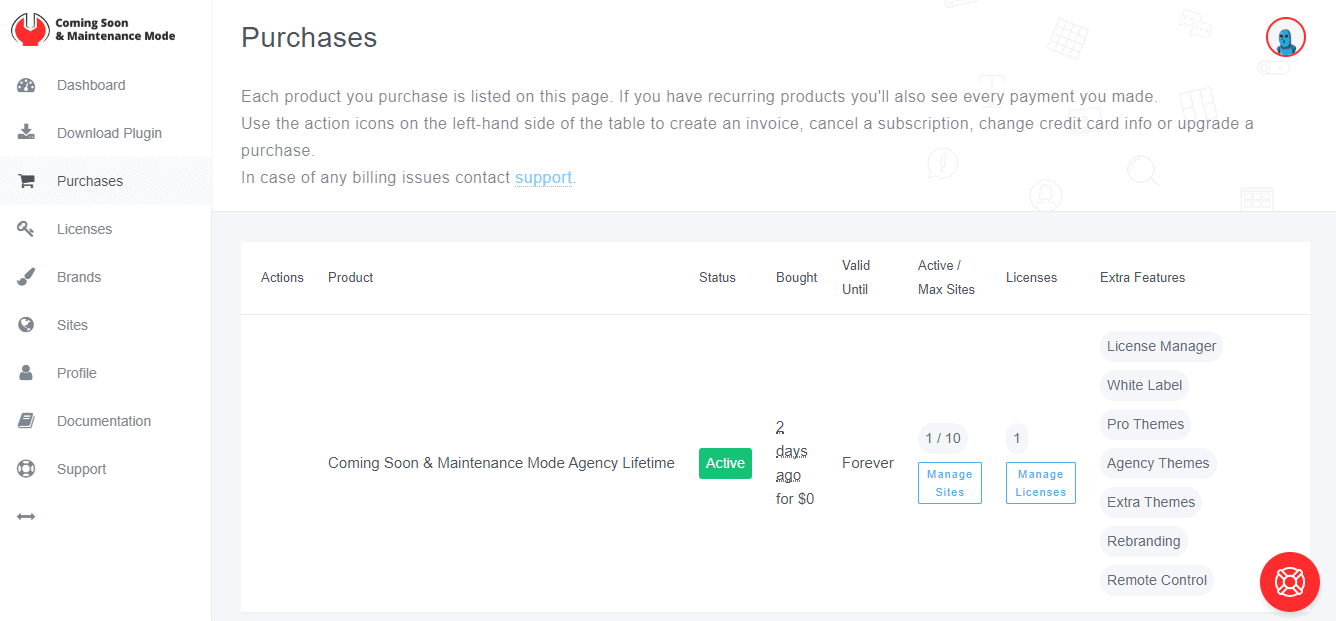 This is how it looks like if you click on manage licenses: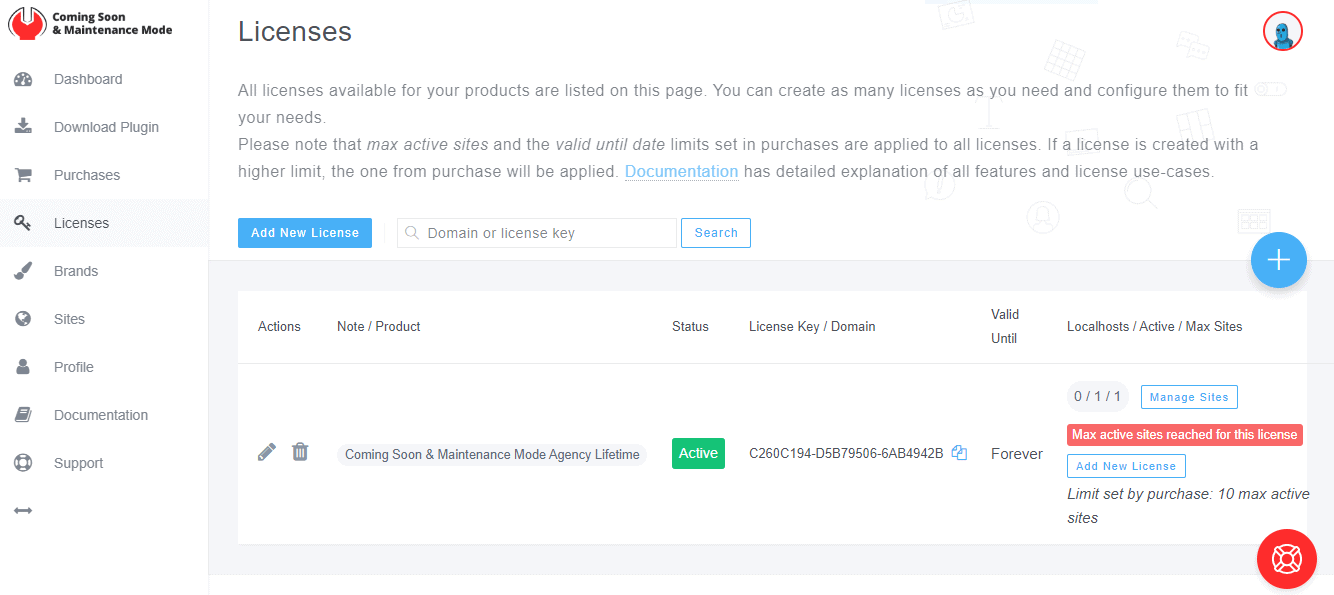 This is how it looks like when managing sites: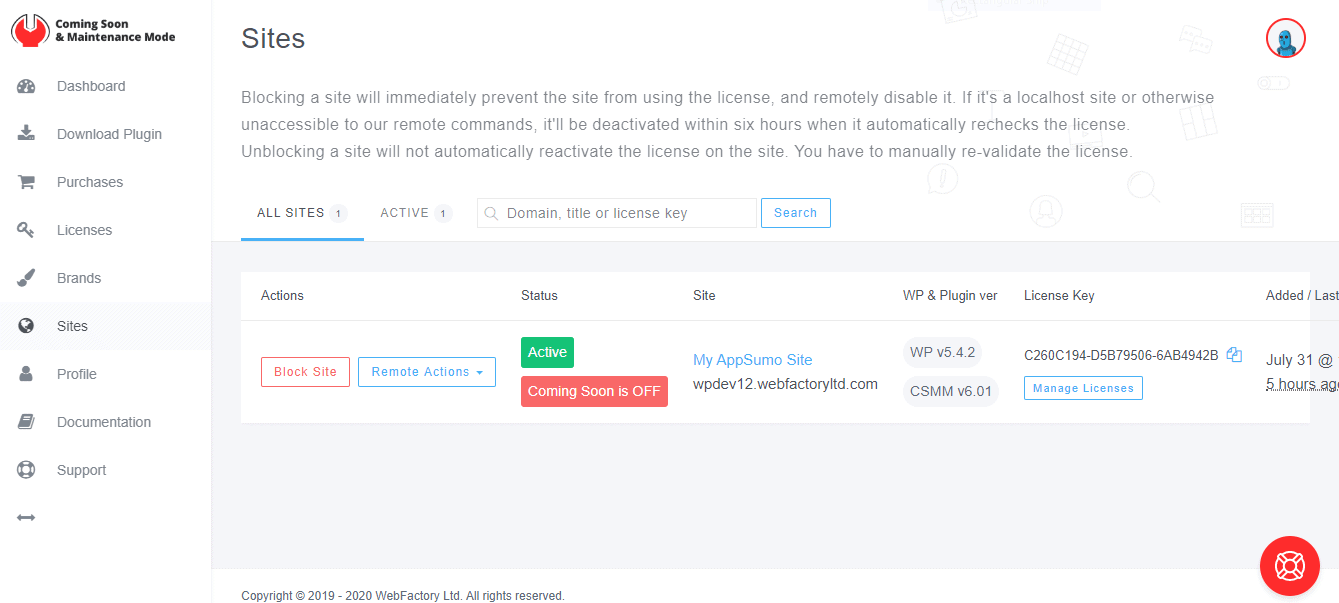 Under sites, you can also access your site analytics page. There, you will have access to some statistics that show you from which countries your visitors mostly come from, what browsers and devices they use when visiting your site, and a graph showing a daily summary of the number of visits.
Here is a screenshot so you can see how it looks like in action: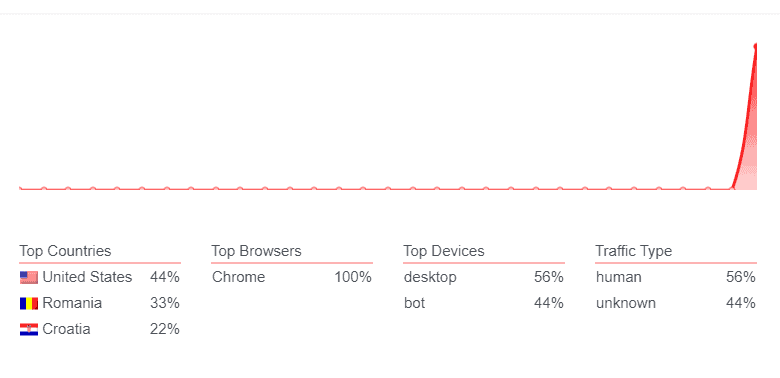 If you wish to use your remote control feature, click on Manage sites, go to Actions, and click on a blue button that says Remote Actions. Then, you will get a drop-down menu from which you can choose what you wish to enable or disable.
The status bar next to it shows you if your site is active or if there are some features that are disabled. If you wish to block a site, it will immediately stop that site from using your license key and will disable it.
If it is localhost or is inaccessible to remote commands of the plugin, the site will be deactivated within six hours of you clicking on the block site button. However, if you unblock the site, the license will not be automatically reactivated. Instead, you need to do it manually by re-validating the license key.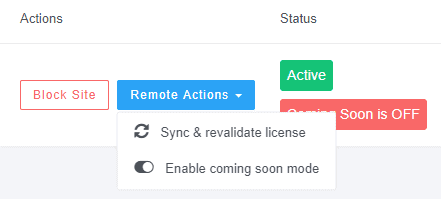 In case you or your visitors care a lot about the design of your site, you can also rebrand this plugin to make it seem like a normal part of your website.
So if you wish to rebrand your Coming Soon and Maintenance Mode plugin, click on Brands on the left side of your dashboard. There, you can create your own customized version of the plugin with your own name, logo, colors, and description so it can seem like a natural part of your site and your business.

To do this, click on Add New Brand and fill out the input fields. You will need to enter your plugin name, short name, URL, company name, and company URL.
There is also a section for editing your plugin's visuals, such as color, logo, and support tab content and text.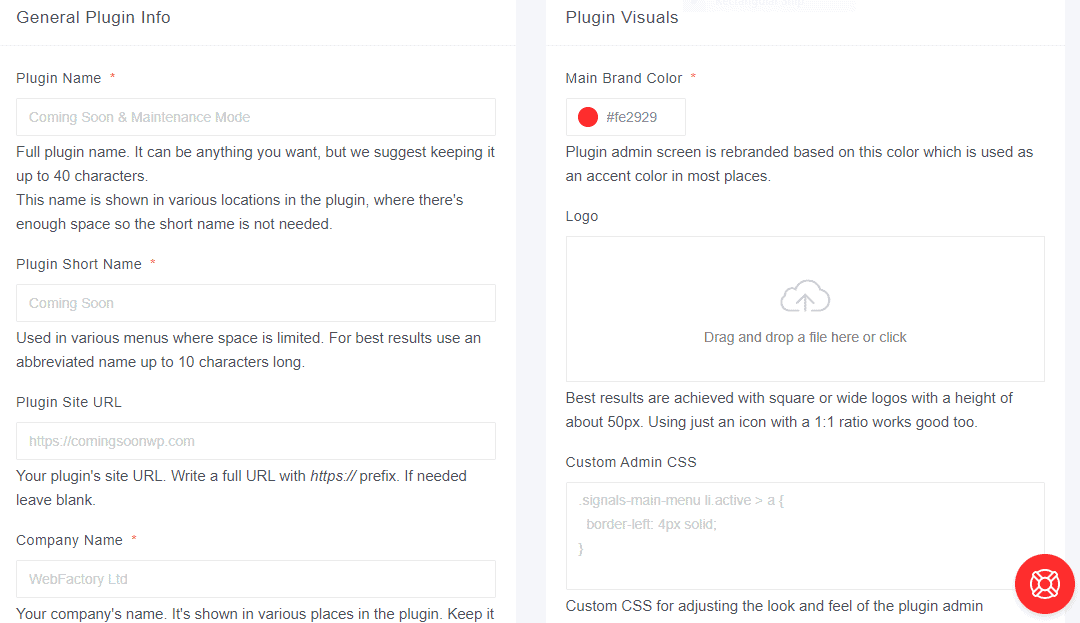 Lastly, we come to the profile section of the dashboard.
If you click on it, there will be some basic information about your account such as the account ID, the email address you used, your name, and the password you used.
Other features of the plugin
Naturally, this plugin comes with some other, pretty cool features, not just the new remote control one.
Besides being very easy and intuitive to use, you can integrate this plugin with Depositphotos so that you can search for background images directly from your dashboard and set them up directly from the dashboard, too.
This makes the whole process a lot easier and quicker, meaning you don't need to spend extra time browsing for pictures, then saving them, and finally uploading them to the plugin.
Moreover, you can choose from 100+ themes that are professional and can be easily adjusted and edited to fit your brand and vision.
Also, your clients can have easy access to their site with the Secret Link feature. That way they can see what is being done with their site, but without giving them the ability to change anything.
And even while your site is still under construction, you can collect emails from your visitors and set up customer relationship management software so that you can start building a relationship with your potential clients before your site is ready to launch. That way you will not lose any valuable leads or interested visitors.
Lastly, with this plugin, you will get modules using which you can set up 2 column text and add dividers that will help make your site look more visually appealing.
Price
When it comes to the plugin's pricing, there are several different payment plans you can choose from based on what you need.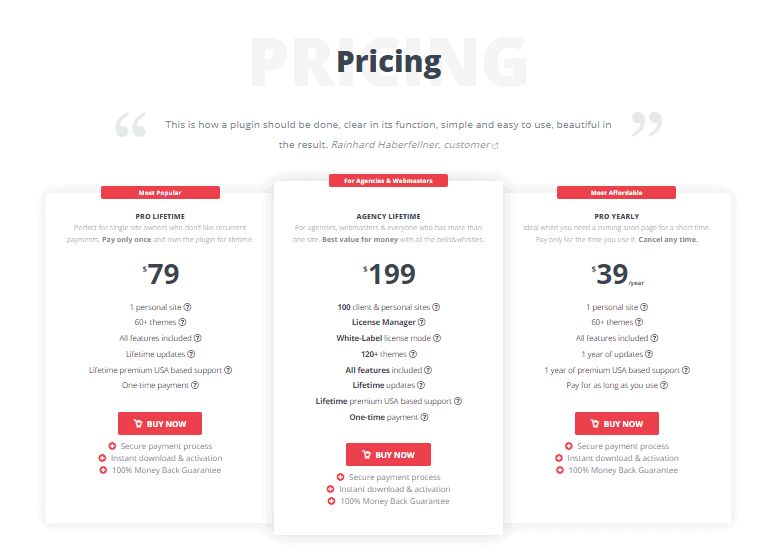 A great thing about the plugin is that it comes at a small price of $79 (one-time payment). With this purchase, you get the plugin for 1 site with all the features included and a lifetime of updates.
There is another payment plan of $199 where you get the plugin for 100 sites (both client and personal) with all the features included and a lifetime of updates as well. However, if you wish to use this plugin for a limited time only, then it will cost you $29 per year and you can cancel the subscription anytime.
In the subscription, you get a license for one personal site with all the features and one year of updates.
Conclusion
In this article, we told you about the cool new features that this plugin has. Trust us, it will definitely be helpful to you, especially if you have to manage multiple sites and pay attention to all the updates and stats related to those sites.
All in all, this plugin allows you to manage WordPress sites easier and quicker. And what is really good about it is that once you click on any of the options on the dashboard, you will get a short description of what the site contains and what can be done on that site and how. This makes it easier for you to use the plugin, especially in the beginning.
Just an over-stressed student trying to learn new things. Major coffee-addict and sports-lover; I either play tennis or drink coffee!
Also, probably going to spend my honeymoon traveling across Asia.
Latest posts by Marija Blazevic (see all)
Where Should We Send
Your WordPress Deals & Discounts?
Subscribe to Our Newsletter and Get Your First Deal Delivered Instant to Your Email Inbox.
Thank you for subscribing.
Something went wrong.
Keep reading the article at WP Newsify. The article was originally written by Marija Blazevic on 2020-08-04 11:33:47.

The article was hand-picked and curated for you by the Editorial Team of WP Archives.