Camille Cunningham
Camille is content manager at Yoast. She writes and optimizes blog posts and enjoys creating content that helps people master SEO.
'It was a bright cold day in April, and the clocks were striking thirteen'. The first line of George Orwells's book titled 1984. Kind of pulls you in right? That's the idea of storytelling anyway. Creating content that people won't want to put down until they've read the very last letter. Nowadays, storytelling isn't just done by authors like George Orwell. It's also a big part of marketing and getting your message across online. Are you interested in creating a digital story on your WordPress site? It's easier than you think if you follow the steps in this post!
What is a digital story?
Before we dive into how to create one, let's talk about what a digital story is. A digital story can have many forms, but Wikipedia nicely puts into words what digital storytelling entails:
Digital storytelling is a relatively new term which describes the new practice of everyday people who use digital tools to tell their story. Digital stories often present in compelling and emotionally engaging formats and can be interactive.

Wikipedia
Essentially, digital storytelling is the practice of using online tools to tell stories. The digital story is the result that you end up with, a story that is created and told through the use of an online tool. What makes them different from more conventional online pages or blog posts is the fact that they're often presented in the form of a story to immerse the reader into a topic. And to immerse the reader, digital stories are often presented in visual and engaging formats that also have interactive elements.
Let's take a look at a few examples
Snow Fall by the New York Times
An earlier and quite elaborate example of a digital story that won a Pulitzer prize in 2013 is Snow Fall. This New York Times multimedia story by reporter John Branch tells the story of the 2012 Tunnel Creek avalanche. By using video, interactive graphics, character stories, and even chapters, this piece became one of the most talked-about online articles of the year. Some even called it the future of online journalism.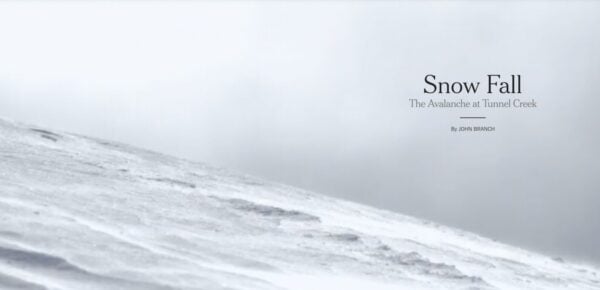 To be fair, this New York Times feature had a graphics and design team working on it for more than six months to get it to look as great as it does. We don't all have this kind of time (and amount of people) on our hands to create a digital story. And you probably don't even want to spend
[…]
This article was written by Camille Cunningham and originally published on SEO blog • Yoast.