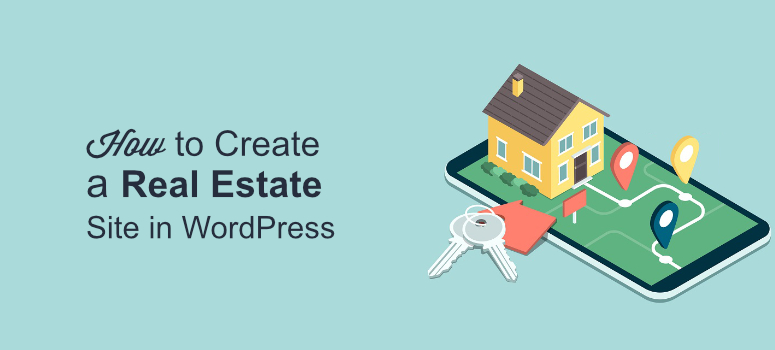 Want to create a professional real estate website that converts?
Studies show that more than 51% of buyers find their dream home through the internet. This goes to show how important it is for every realtor to have a real estate website.
Creating a real estate website has several advantages for your business:
It helps you establish credibility in the market
It's easier to create brand awareness
Users can easily contact you and get in touch for an appointment
You can entice your customers with great pictures of listed properties
These are just a few benefits of setting up a real estate website. There's a lot more that your website can do to improve your business.
In this tutorial, we'll tell you how to set up a real estate website for your users without needing to use a single line of code. But before that, let's take a look at what makes a good real estate website.
What Makes a Good Real Estate Website
Creating a website is super easy with WordPress. But you probably knew that already. What's more challenging, however, is creating an impressive real-estate website that has the power to convert.
But if you have a well-laid plan for your website design, you can easily come up with a site that converts. For that, you need to know what makes a good real estate website. Here are some factors that every visitor looks for when searching for a home online:
Ease of Navigation: No one like sites that are difficult to navigate. If you want to retain users on your website, make it easy to navigate.
Responsive Design: Your website should look equally good on bigger screens as well as on smaller screens. So make your real estate website responsive enough to look great on desktop, tablet, and mobile devices.
Map Listing: Viewing the property on a map lets prospective clients get an idea about the property's location. You can also use it to highlight key information about the area around the property to boost engagement.
Image Gallery: Before visiting a property, visitors definitely want to view pictures of what they'll see. Images make the most impactful content on a real estate website and lead to more in-person visits.
Contact Details: If your visitor likes your website content, they will want to contact you. Create a page that makes it easy for them to get in touch with you when they see a property they love.
Appointment Page: An appointment page makes it easier for visitors to book appointments with you. This simplifies a tedious administrative task and keeps your phone
[…]
This article was written by Editorial Team and originally published on IsItWP – Free WordPress Theme Detector.