Every stunning website, big or small, requires an appealing yet notable domain name. However, coming up with a remarkable domain name is not an easy task and requires a lot of inspiration.
Once you come up with a domain name, you'll need to register it before you can use it online. And that's where the domain name registrar comes in.
But how do you know which domain registrar is the best for your site?
Best Domain Registrars – Detailed Reviews
With so many domain registration companies available online, it's easy to get lured and tricked into attractive introductory plans only to find yourself paying a fortune when the time for renewal comes. You certainly don't want to end up with such a registrar.
To save you from such trouble, we have evaluated hundreds of domain registrars and come up with this article that covers the 12 best domain registrars of 2019. Read on.
1.1 Domain.com
Founded in 2000, Domain.com is one of the best domain registration companies available in the market today.
Owned by EIG (Endurance International Group), Domain.com has more than 2.4 million registered domains and a market share of around 0.7%.
They currently offer domain name registration, VPS hosting, WordPress hosting, web design, and SSL certificates.
One great benefit of using this registrar is that regardless of the hosting plan you choose, you receive a free domain name. Along with that, you get an SSL certificate, marketing tools, e-commerce solutions, and unlimited disk space.
Prices are considerably average and with an annual subscription of $9.99 you can create your .com or $12.99 for a .net website. You can also choose to pay an extra $8.99 to privatize your domain, which is pretty awesome.
The company also has great 24/7 customer support. If you have any questions, you can reach customer support via chat, email, or phone.
1.2 Bluehost.com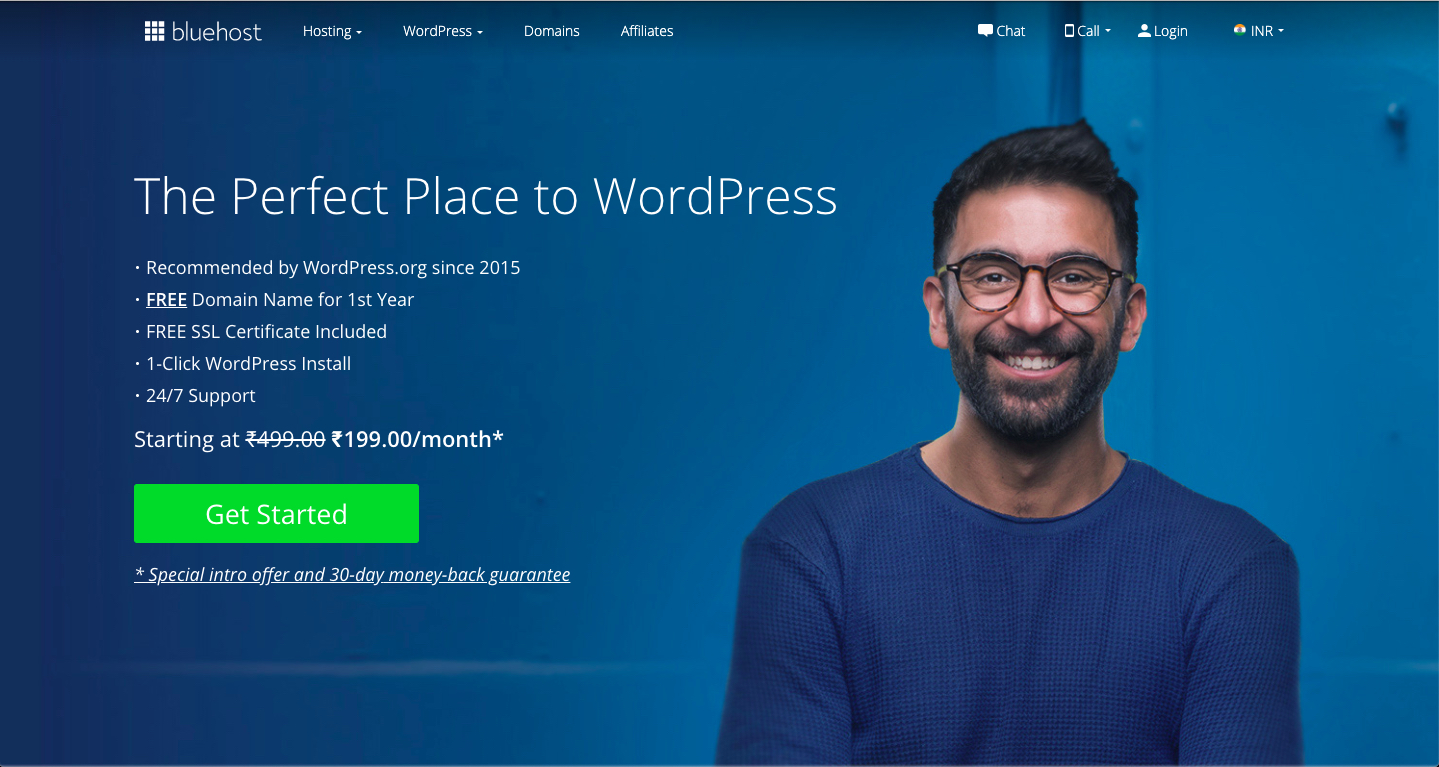 Founded in 2003, Bluehost is one of the largest web hosting companies in the world.
The company currently hosts over 2 million domains and is also owned by Endurance International Group (EIG).
Bluehost is taunted by many as an industry leader when it comes to both hosting and domain name registration.
So if you are just getting started online, you can register your domain name as well as host your site with Bluehost. In fact, it's endorsed by WordPress.org as the best choice for WordPress hosting.
As the name suggests, Bluehost is more engrossed in offering hosting plans as opposed to domain registration. Regardless, Bluehost offers an array of services ranging from shared WordPress hosting, VPS hosting, domain auto-renewals, and free SSL certificate, among others.
What makes Bluehost so appealing is its reputation for offering affordable packages, which are appreciated by both veterans and novices. For just $11.99 per year, you can get your .com, .net, or .org domain name.
An extra $0.99 per month will give you domain privacy protection bringing the total cost to 23.87 per year for both domain and privacy protection. Alternatively, you can also opt for a shared hosting plan for just $2.95 a month and get a free domain + email.
What's more, Bluehost offers extra incentives such as unlimited emails, free domains, and marketing credits, making it a favourite in the hosting community.
The company also offers excellent customer service. You can get the much needed support via email, live chat, and over the phone. This factor alone has made Bluehost a better choice for many.
1.3 Hostgator.com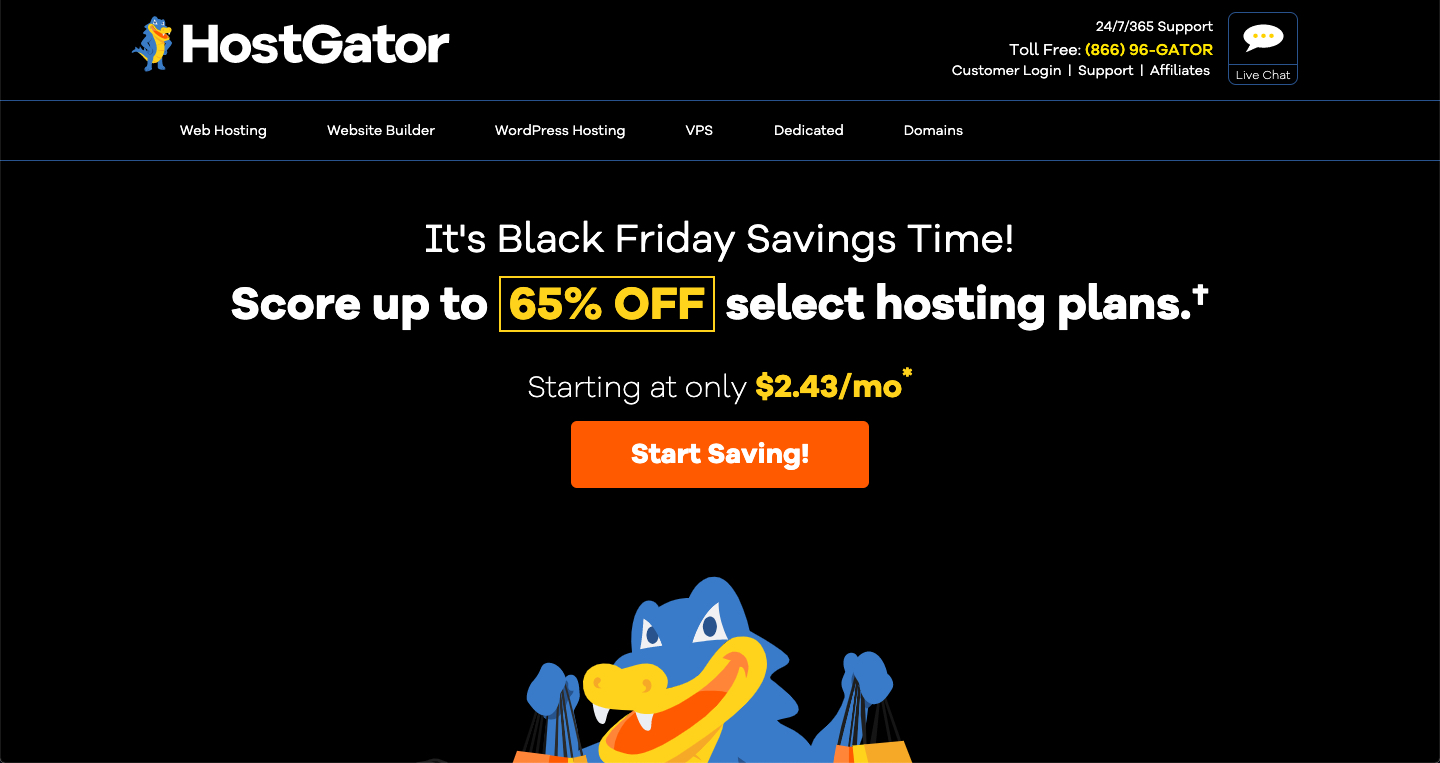 Founded in 2002, Hostgator is owned by one of the largest conglomerates in the world, Endurance International Group.
The company has over 9 million domain registrations making it one of the most coveted and the best domain registrar and hosting company today.
Just like Bluehost, Hostgator is predominantly focused on offering hosting services. It offers a number of hosting options that include WordPress, cloud, VPS, web, dedicated, and windows hosting.
What makes Hostgator so appealing is the 99.99% uptime and loading speeds. This means that your website will rarely be down. They also have a decent pricing plan but slightly expensive than Bluehost. To register a .com domain, you'll have to pay an annual fee of $12.95.
For WordPress Hosting, we vouch for Hostgator. With each of their WordPress hosting plans, you'll get a free domain and free SSL certificate.
They have three WordPress hosting plans that include the Starter Plan, which costs $5.95/month, Standard Plan $7.95/ month, and the Business Plan $9.95/month.
Hostgator's control panel is clean and easy to use. It more focused on usability and minimization of complexities offered on traditional web hosts.
They also have responsive customer support via email ticketing and live chat. There's also a ton of resources on their website to help you solve any issues.
1.4  Namecheap.com
Namecheap is an Arizona based web hosting and domain registration company founded in 2000. The company is accredited by ICANN (Internet Corporation for Assigned Names and Numbers), making it one of the most trusted companies.
The company manages over 7 million domains and has a client base of over 3 million customers. They offer some of the best prices in the industry and have great customer support through 24/7 live support.
To register a .com domain name via Namecheap, it will cost you just $8.88 per year. The good thing about Namecheap is that once you register a .com domain with them in the first year, they'll throw in WhoisGuard privacy protection for free. After the first year, you'll have to pay an extra $2.88.
Apart from domain registration, Namecheap also offers free domain email forwarding, web hosting, managed WordPress hosting, VPN services, private email, G-Suite, and more.
Namecheap's website is pretty intuitive and they have a very simple check-out process. They also have a ton of resources where you can find guides and tutorials in the event of any setbacks.
1.5 GoDaddy.com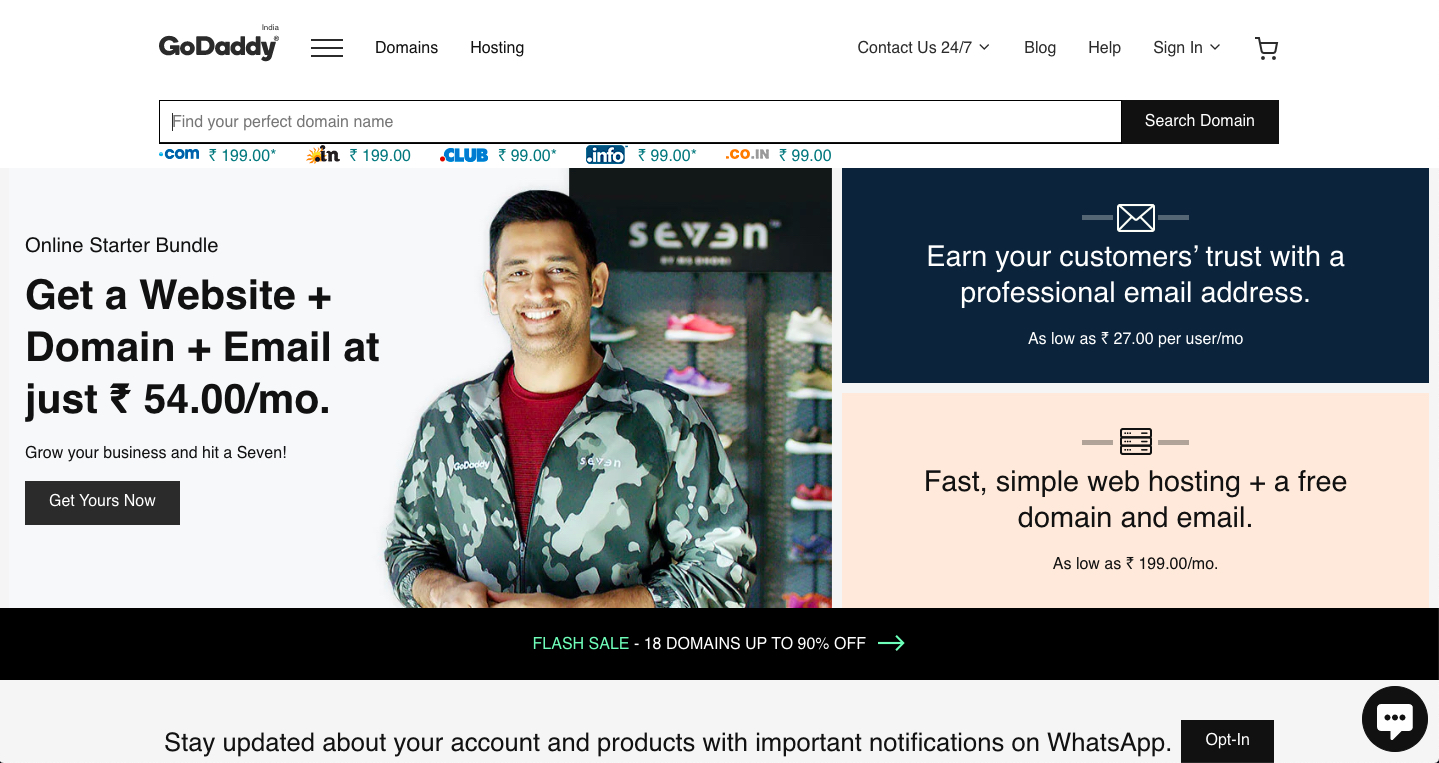 Founded in 1997, GoDaddy is one of the most established and the most reliable domain registrars on the planet. The company has more than 77 million domains to its name a customer base of more than 18 million.
The company is ICANN accredited and offers a wide array of domains and extensions ranging from .com to new-fangled extensions like .club. You can also bid on pre-owned domains through GoDaddy auction or buy an already taken domain through GoDaddy's brokerage service.
Apart from domain registration, GoDaddy offers a pack of other services. These include web hosting, online marketing tools, domain value approval, domain transfers, professional email, and more.
To register a .com domain with GoDaddy for the first year, it will cost you a paltry $0.99. After the first year, you'll be required to pay an annual fee of $14.99.
However, the rate does not include WhoisGuard privacy protection. To get personal WHOIS privacy protection, it will cost you a minimum of $7.99/year and $14.99/year for business privacy protection.
Overall, GoDaddy offers stellar support via phone and live chats. The only drawback we found with this domain registrar is the complicated check out process that's coupled with lots of upsells.
1.6 SiteGround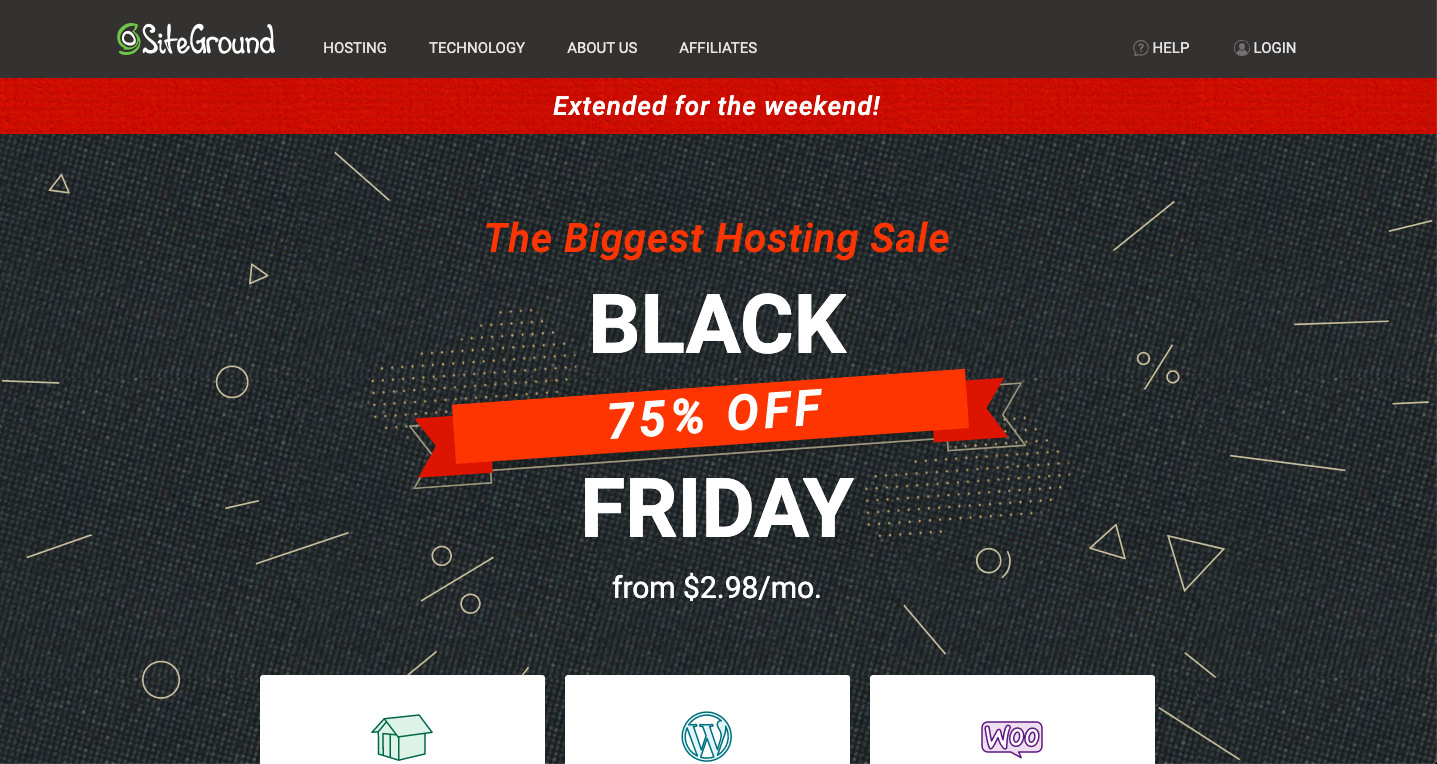 Launched in 2004 by university students, SiteGround is a one-stop shop for both domain registration and web hosting. The company has grown, and up to date, they have registered more than 2 million domains.
The company is officially endorsed by WordPress.org for web hosting. It offers classic domain name extensions, country-specific extensions, and a wide range of generic TLDs. For a .com or .net TLD, it will cost you $15.95 for the first year.
It's, however, important to note that this cost does not cover Domain Privacy. To get domain privacy, you'll have to pay an extra $12/year.
The check-out process is pretty simple and straight forward, thanks to their intuitive and neat domain management panel. This means you won't face any trouble when purchasing your domain.
Other services offered by SiteGround include Shared hosting, WordPress hosting, Cloud hosting, Reseller hosting, Enterprise hosting, Email hosting, and more.
They also have a 24/7 customer support that you can reach via phone, live chat, or email-ticketing.
1.7 Name.com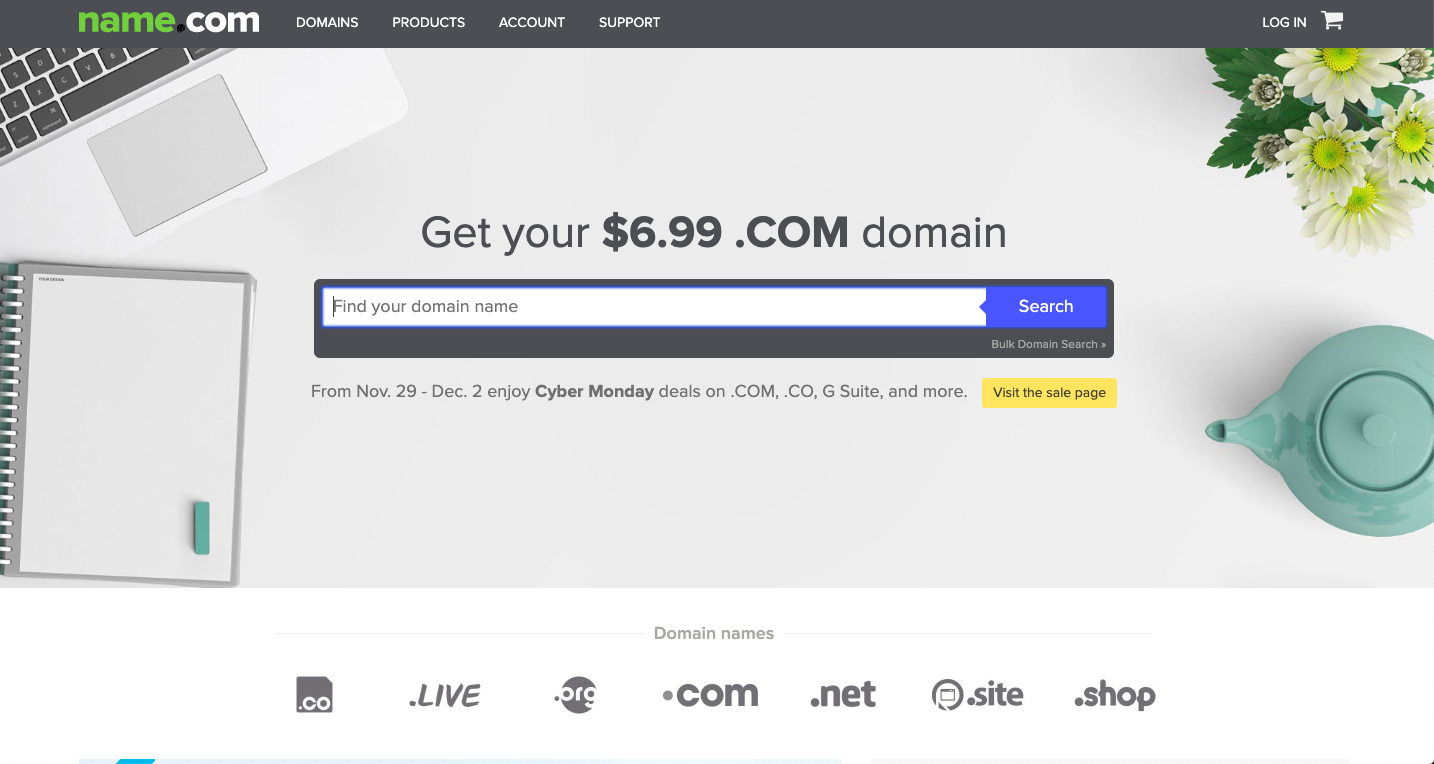 Established in 2003, Name.com is owned by Right Side Group and is one of the best domain registrars in the industry.
With more than 300,000 customers, the company is ICANN accredited and has over 16.5 million domains registered to its name.
Away from domain registration, Name.com also offers hosting services, email, and web design. So if you are looking for a one-stop shop for all your website needs, Name.com is certainly a great place to start.
One great aspect that gives Name.com an upper hand is its great and straightforward pricing structure. They simply have no hidden costs.
For a .com domain, it will cost you an annual fee of $9.99. You'll also have to pay an additional fee of $4.99 per year to get WHOIS privacy. However, this feature is not available for all domain extensions
Name.com also offers great customer support via live chat (10 AM – 5 PM MST), phone (Mon-Fri 8 AM – 6 PM), and also through the website contact form.
1.8 1&1 IONOS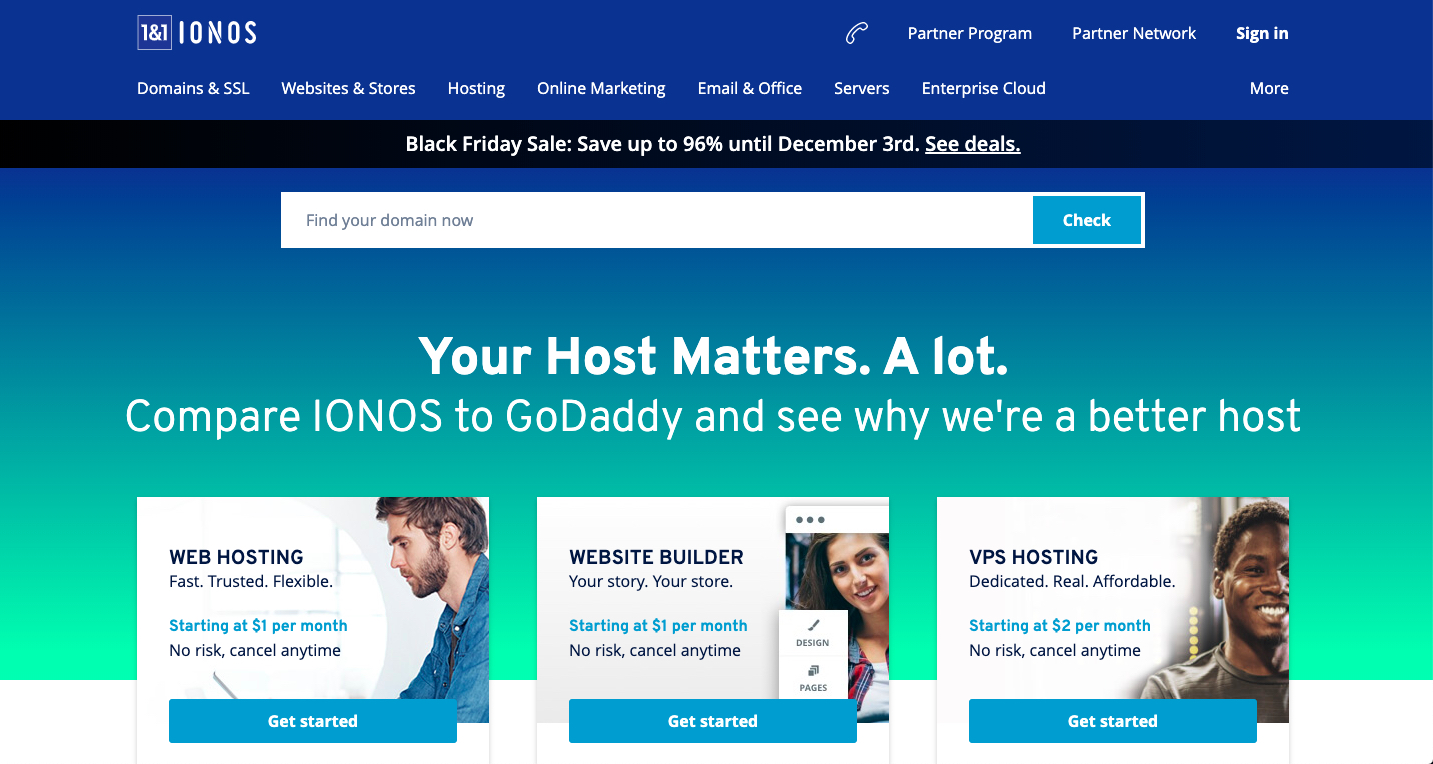 1&1 Ionos is one of the oldest and also one of the best domain registrars in the world.
Established in 1988, the company is owned by a German internet services company christened United Internet.
The company offers services to users all across the world. They offer a wide range of features ranging from domain registration, web hosting, managed cloud hosting, business email management, VPS hosting, WordPress hosting, website building, and more.
SSL certificates and email marketing tools are also available. Compared to most other domain registrars, the prices at 1&1 Ionos are fairly low.
With only $1, you can register your .com domain and $15 per year for renewals. You also get a free WHOIS domain privacy protection.
While their website is not that pretty to look at, it is worth to note that they have a very responsive customer support that available 24/7 via phone, live chat, email, and social media.
1.9 InMotion Hosting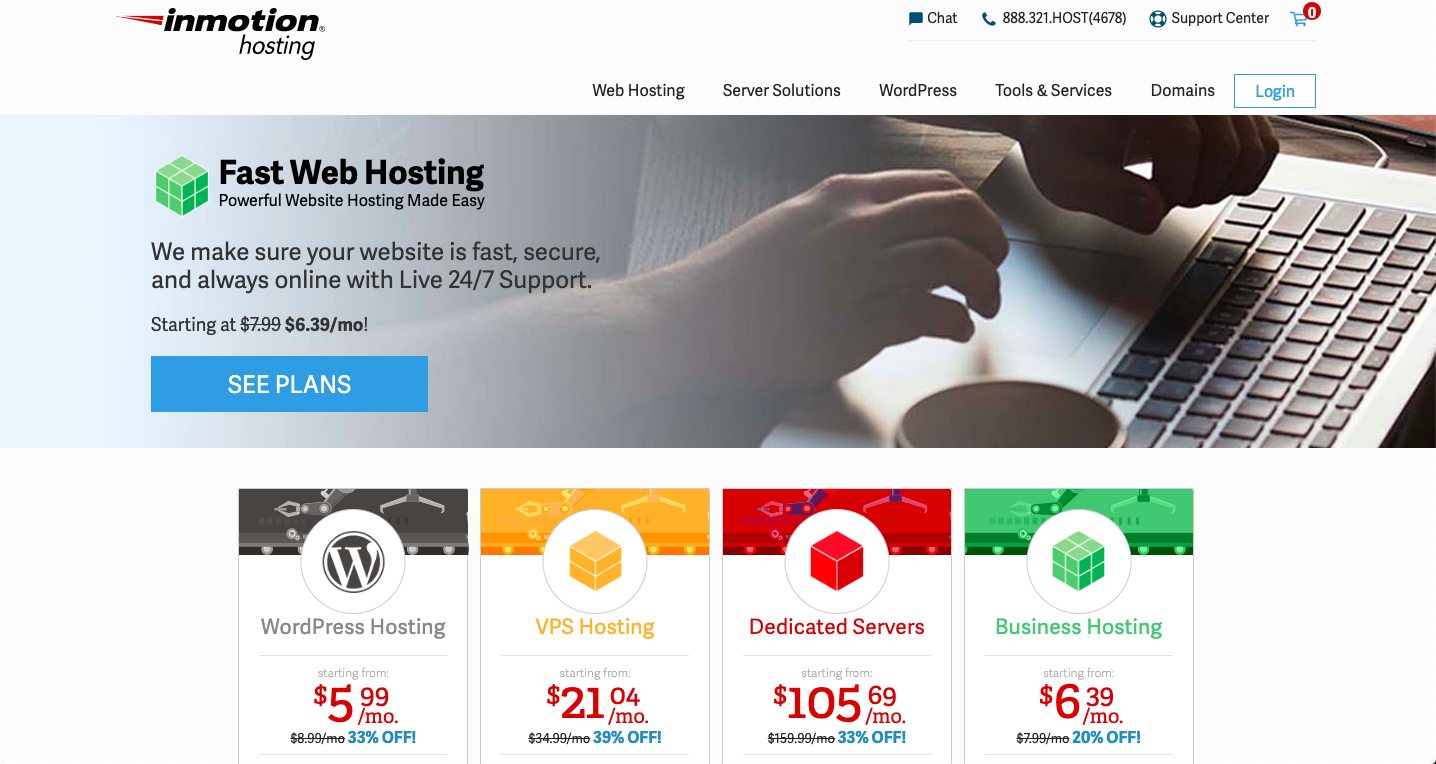 Inmotion hosting is a Los Angeles, CA-based private company that was established in 2001. Its data centers are based in Ashburn, VA.
The company owns a Web Hosting Hub and has over 300,000 domains registered to its name.
Inmotion is best known for its fast servers and great uptime, which has seen it being referred by many as a "web hosting powerhouse."
The company offers various hosting services such as WordPress hosting, VPS hosting, shared business hosting, and reseller hosting. They also offer web design services and enterprise hosting solutions.
With only $15.99/year, you can register a .com domain with Inmotion. The same applies to .info, .net, .org, and .us domains.
However, you'll need to pay an additional charge of $12.99 to get domain privacy protection, bringing the entire cost to $28.98/year.
If you run a small business or blog on WordPress, Inmotion offers free domain registration when you opt for one of their many WP hosting packages. Their cheapest WP hosting packages is called WP-1000s and costs just $6.99 per month.
They also have a very effective and responsive customer support that works around the clock to ensure that all your issues are attended to. Customer support is available via Skype, email, live chat, and phone.
1.10  Hover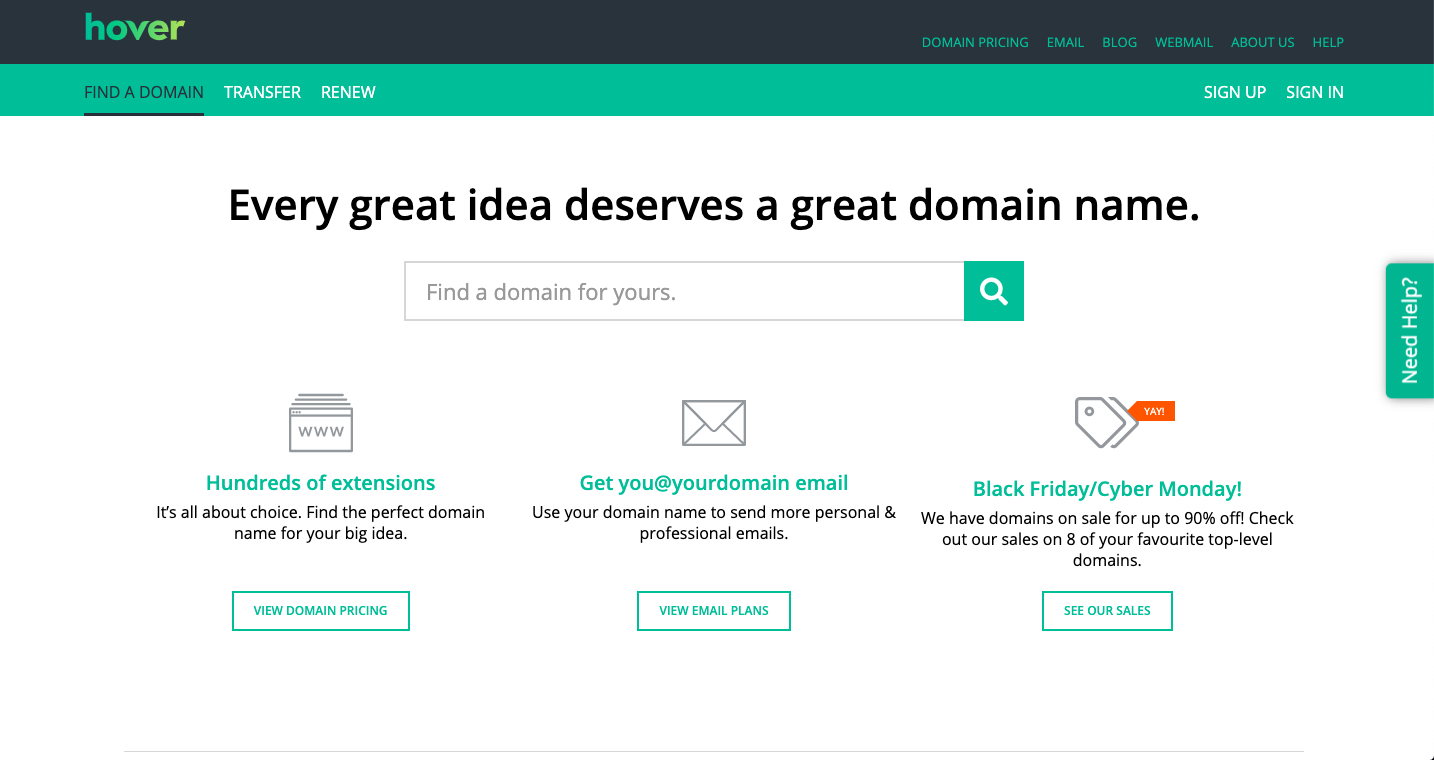 Founded in 2008 by Tucows Inc., Hover is a merger of three industry domain registrars, namely Domain Direct, NetIdentity, and It's Your Domain (IYD).
The company is headquartered in Ontario, Canada, and incorporated in Pennsylvania, US.
Hover is currently the second-largest ICANN domain registrar across the globe. The company only deals with domain registration and nothing more.
They have a very candid domain registration process, and their back-end is very intuitive. Given the fact that they only do domain registrations, you won't have to worry about upsells or other services being advertised.
Their pricing is pretty decent and not to mention affordable. For a .com domain, it will cost you $12.99/year for registration and transfers, and $14.99 for renewals.
They have a wide range of TLDs to choose from including .co, .co.uk, .info, .io, .design, .us, .online, .tech, .net, and many others.
They also have friendly customer support that promptly handles all your requests.
1.11  Porkbun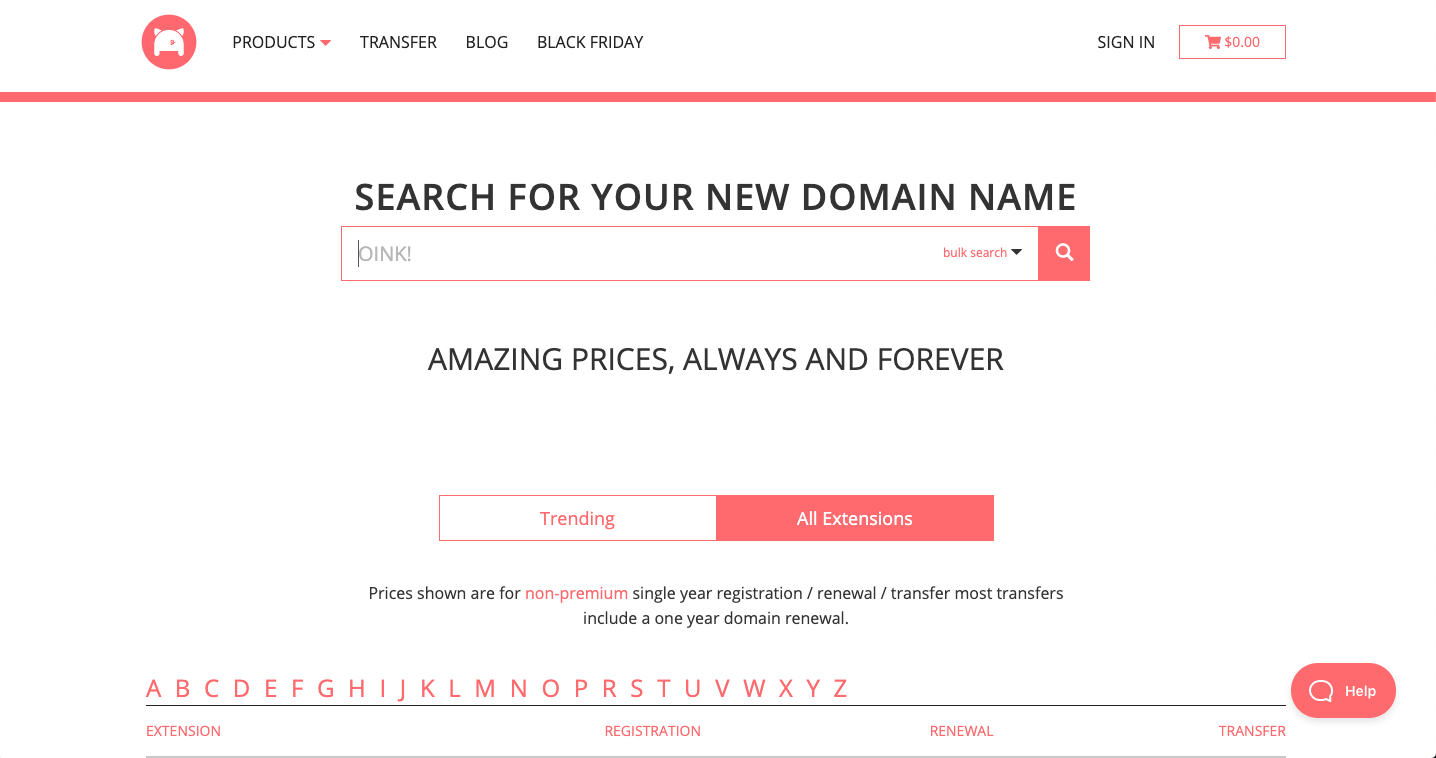 Porkbun is a US-based internet domain registration company that was founded back in 2014. The company is one of the youngest internet domain registrars to receive accreditation from ICANN.
Although the company has no huge following like GoDaddy or Bluehost, they offer amazingly better services based on most of the reviews.
Their user interface is simple, straightforward, and easy to navigate. Their domain search functionality is incredibly easy to use, and it allows you to search for domains in bulk.
In fact, you can do a bulk domain search of up to 1000 domain names at a go then add the available ones automatically.
Despite Porkbun offering other services such as web hosting, email hosting, and email forwarding, their design has no cross-sells or upsells. They also have a quick and simple checkout process.
What impressed us most was their transparency when it comes to pricing information, which is displayed extensively on their pricing page.
For example, to register a .com domain, it will only cost you $4 for the first year and $8.56 for renewals. Other TLDs are also included on the page.
Porkbun also has great customer support that can be reached via email, chat, or phone. They also have an extensive knowledge base that includes articles, tutorials, and guides.
1.12  NameSilo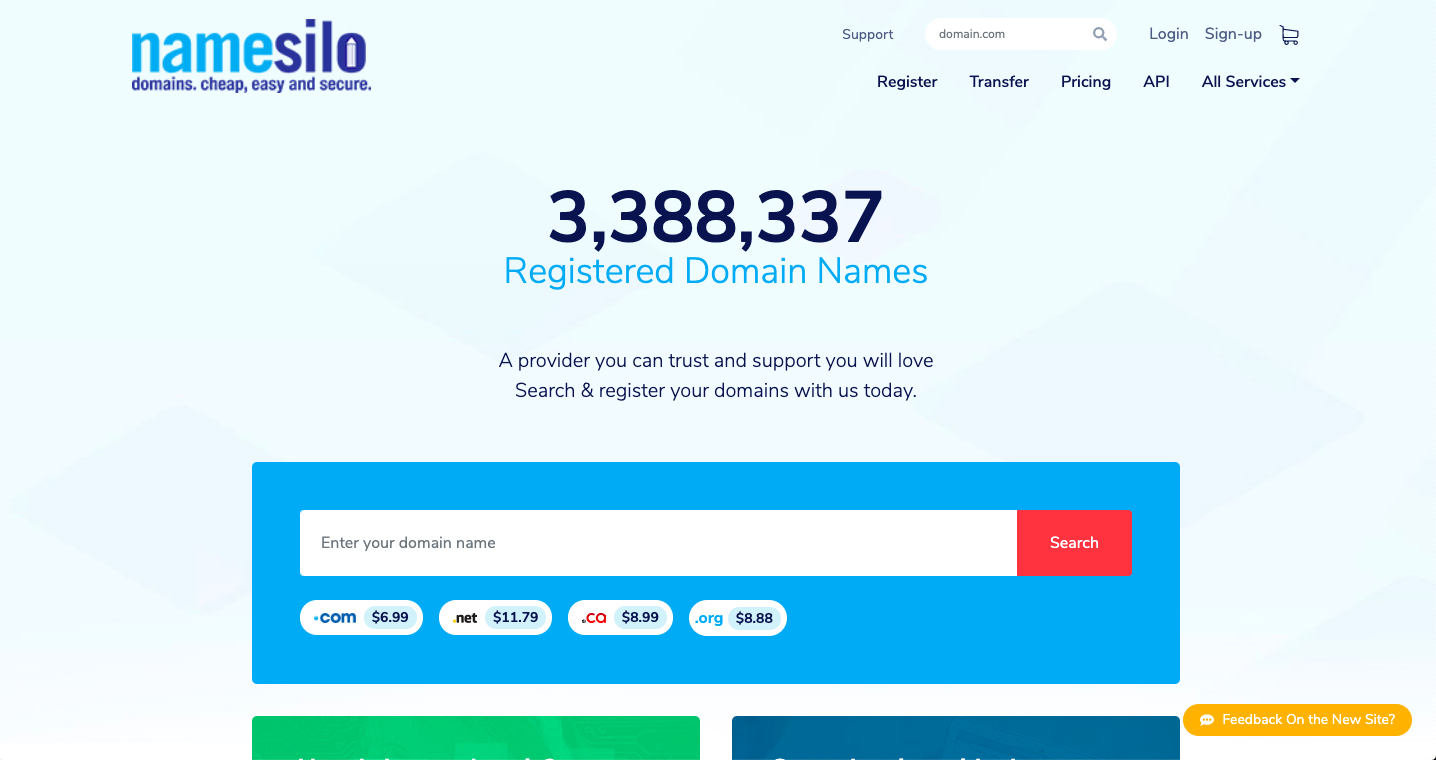 Founded in 2009, NameSilo is a subsidiary of NamePal LLC. The company is ICANN accredited and offers easy, cheap, and secure domain registration management.
The company is among the fastest-growing registrars in the industry, with more than 3 million domains registered to its name.
The company strictly focuses on domain registration and nothing more. Their domain registration fees are quite cheap compared to Namecheap or GoDaddy. They also have no hidden fees or upsells.
For example, registering a .com domain will cost you $8.99, while a .net domain will cost you $11.79. These costs are all-inclusive of features like WHOIS privacy. They also have a full-blown discount program if you purchase domains in bulk.
In a market where misinformation is the order of the day, we find NameSilo's clarity and transparency to be refreshing.
They also have responsive customer support via live chat and a rich, vast knowledge base.
Pro Tips for Registering a Domain Name
Before you settle for a domain registrar, there are some vital factors you need to keep in mind. Here are our pro tips.
Pro tip #1. Avoid bundling up domains and web hosting
In most cases, you'll find domain registrars providing hosting services or vice versa. While there's nothing wrong with bundling up, it's best to avoid this practice. Bundling up denies you the flexibility when you need to transfer your domain or change hosts.
We only recommend bundling up if you have no future plans of buying other domains. Bluehost is, by far, the only domain registrar and web hosting service provider that has, by far, been able to nail both of these services.
Pro tip #2. Consider WHOIS protection
It's easy to search for any domain information using the WHOIS Lookup tool. And given the fact that most individuals and businesses are not fond of displaying their information to the general public (such as name, contact details, email, and mailing address), most domain registrars include the WHOIS privacy protection feature for free or at an added cost.
This feature keeps this information from being listed in the WHOIS public database and thus protecting you from spammers.
Pro tip #3. Consider automated renewals and reminders
Most rogue businesses use auto-renewals to charge you for a service you have not used deceitfully. However, when it comes to web hosting and domain names, automated renewals and reminders are highly recommended.
Besides, you do not want your site to go down or your domain name to get scooped forcing buy it again. In fact, there are times when the domain name could be gone for good just because of a simple mistake.
Pro tip #4. Don't prioritize your registrar over your URL
Whenever you have settled on a domain name and is not already taken, you can purchase it through any of your preferred domain registrars. However, there are some domain registration sites that offer limited options when it comes to Top-Level Domains (TLDs).
This is especially common with domain registrars that offer domain registration as a secondary service. These registrars usually have access to specific TLDs only. A good example is Inmotion hosting, which has .info, .us, .net, .biz, .net, and .com domains. Namecheap, on the other hand, has a wealth of TLDs, and a quick search will give you exactly what you are looking for.
If you are after more unique domains or niche-specific domains, go for a registrar with unlimited TDLs. You are more likely to get your preferred URL with such a registrar.
Pro tip #5. Don't ignore customer support
Customer support is one of the most crucial factors when it comes to hosting and domain registration. Most reputable registrars have a huge employee workforce. This means they can offer direct phone support or online chat support at any time of day. Check out for online reviews from trusted sources.
Wrapping Up
The process of having a successful online business starts with domain registration. As such, you need to be careful when selecting the best domain registrar that you can rely on. We hope that this guide will give you the required insight before you take the plunge.
In this review, we highly recommend Namecheap. The simple reason is that they have an excellent customer service, have an excellent price, and have a wide range of top-level domains.
Which domain registrar did you use to purchase your domain? Do share your views in the comments section below!
Keep reading the article at Blog – MyThemeShop. The article was originally written by MyThemeShop Editorial Team on 2019-12-04 07:05:10.

The article was hand-picked and curated for you by the Editorial Team of WP Archives.