Website footers have always been one of the most difficult elements of web design to get right. And WordPress footers are no different. Whether you're just hoping to figure out how to remove "Proudly Powered by WordPress" in the footer or trying to completely redesign your footer, knowing how to edit your footer in WordPress is essential.
In this post, we'll go over the most helpful ways of editing the WordPress footer so you can choose the right one for you.
Here's what we'll cover:
How to Edit the Footer Using the WordPress Theme Customizer
How to Edit a Footer Using Full Site Editing (and Patterns) in WordPress
How to Edit a Footer with a WordPress Plugin
How to Edit a Footer with the Divi Theme Builder
How to Edit the Footer in WordPress (4 Ways)
Footer customization comes built-in to WordPress so every website will have some way of editing and designing it. With the new WordPress Block Editor and Full Site Editing capabilities of WordPress, editing a footer is getting easier for WordPress users (especially for WooCommerce sites). But not all themes are the same, and some of the classic themes will rely on older methods.
With that in mind, here are 4 ways to edit your footer in WordPress.
1. How to Edit the Footer in WordPress with Theme Customizer
The WordPress Customizer is a great tool that allows you to change the look and feel of your WordPress site. With the Customizer, you can change footer (and theme) colors, fonts, and other styling options. You can also add custom widgets and menus to your footer.
Just a note, the traditional customizer experience is being used less and less in themes as the Block Editor gains more and more features and adoption. If the "Customize" button takes you to a Block Editor, you'll learn how to handle that in the next sections.
In your Admin Dashboard view, click on "Appearance" and then "Customize".
This will open up one of WordPress' visual site editing experiences. The options within this area will vary greatly depending on your theme. For this example, we are using the popular Twenty-Twenty Theme.
How to Add New Blocks to Footer Area
To edit the footer widgets in the customizer, click on Widgets and then scroll to the bottom of the page. Look for the Footer Widget areas to see the parts of the footer that are editable in the Customize View. To get there quicker, you can also click on the blue pencil icon to get there quicker.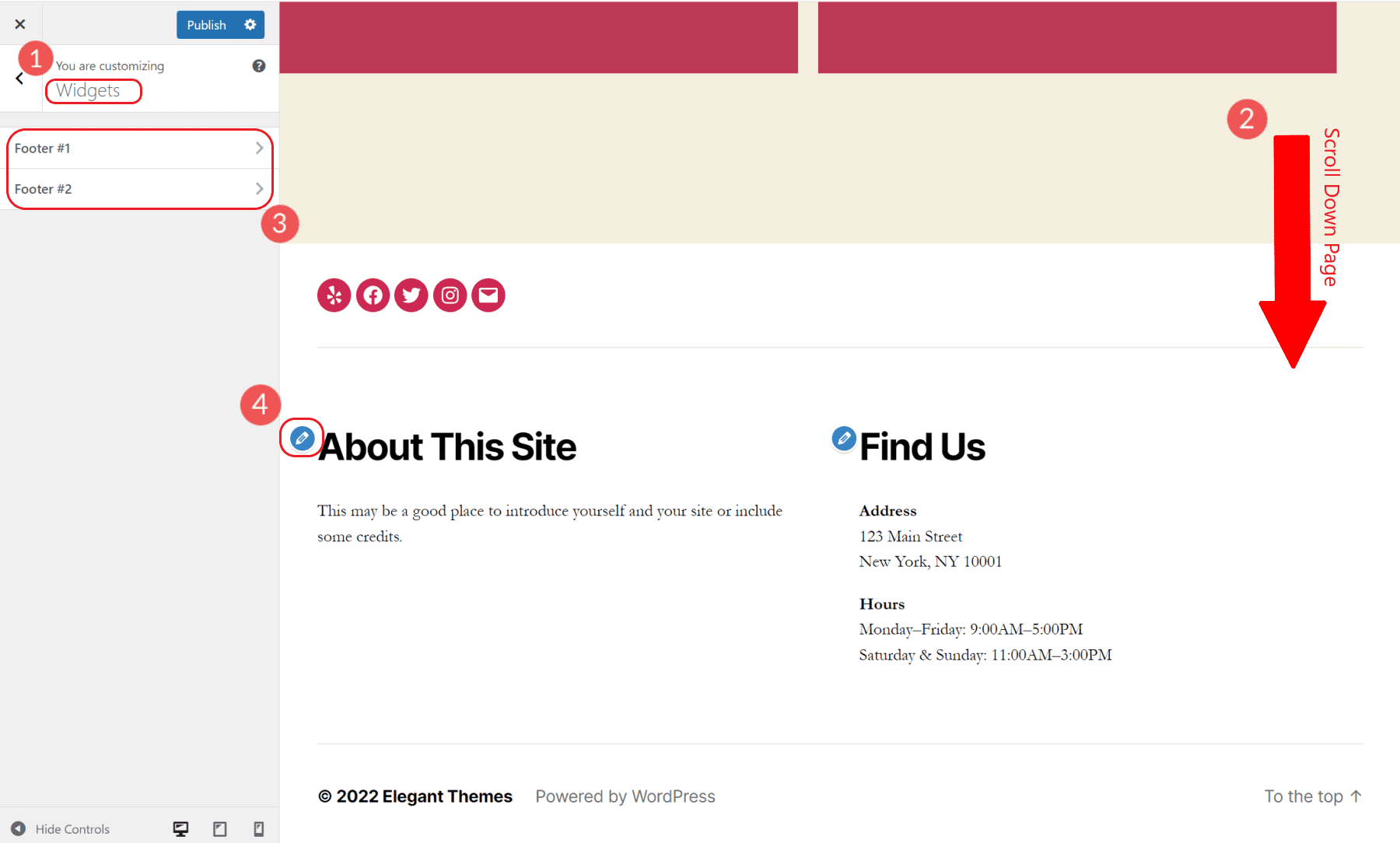 You can edit these widget areas with a paired-down Block Editor. You can add or remove blocks to that widget area. Keep in mind that the theme defines where the widget area ends up.
To add a footer navigation menu, add the Navigation block to one of
[…]
This article was written by Christopher Morris and originally published on Elegant Themes Blog.