If you work with a WordPress website, you might already know the community is buzzing about the latest version. This updated WordPress core promises performance improvements and huge modifications. If these claims are true, it may be helpful to explore these changes before bringing your site up to date.
With the release behind us, we can now confirm that WordPress 5.9 showcases some significant changes. From Full Site Editing (FSE) to an advanced Navigation block, the core software has a lot to offer WordPress users.
In this post, we'll review the current state of WordPress 5.9. Then we'll explore five of its most notable new features. Let's get started!
The current state of WordPress 5.9
The anticipation for WordPress 5.9 was heightened due to several delays in its release. These setbacks were caused by a few unresolved bugs, but the core software finally went live on 25 January 2022.
WordPress 5.9's code name honors Joséphine Baker:
As promised, this new software version features drastic changes compared to WordPress 5.8. It continues to move toward simple site design for all WordPress users. Overall, the WordPress development team remains on track with its long-term roadmap, which is currently in phase two of the Gutenberg Project.
The changes in this stage are driven by 'Customization'. These monumental modifications will impact both newbies and experienced developers alike.
5 important new features and updates in WordPress 5.9
When you decide to transition to the latest WordPress version, you'll likely be discovering new functionalities for quite some time. In any case, today, we will review five of the most important updates.
Remember, if you want to explore these new features safely, we recommend using a staging site or creating a backup.
1. Full Site Editing (FSE)
For many, FSE may be the most striking update. The majority of users have had some exposure to the flexibility of the Block Editor, but WordPress 5.9 provides a Block Builder.
An entirely new interface enables you to create and edit every element of your website on the same screen. You can adjust headers, footers, layouts, and more.
This interface makes it easy to swap out the different elements on any page. For example, changing your header logo and an Image block side-by-side wasn't possible in the past.
There is one major caveat regarding this change. You can only use FSE with a block theme. At the moment, there are few available.
However, the new default – the Twenty Twenty-Two theme – is a block theme:
There is vast potential for site-wide customization with any block theme. You can now use a laundry list of new elements that edit structural elements of your site.
New blocks include Next Post, Previous Post, Post Comments, and many more. To access any of these elements, click on the + icon in the top left corner of your screen: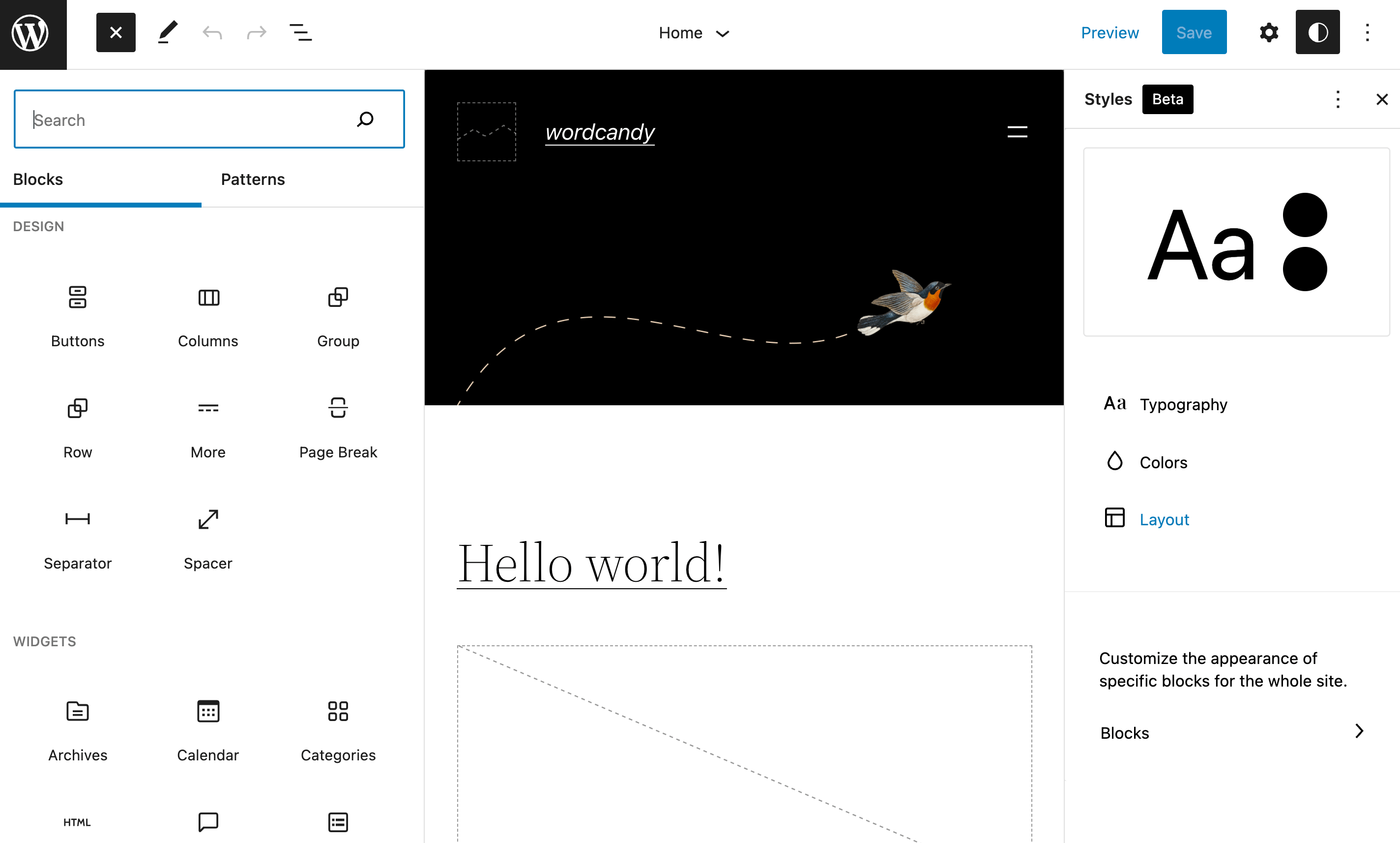 Additionally, you can create unique templates across your website with the new Template Parts Block.
To access Template Parts from your Full Site Editor, click on the WordPress symbol at the top left of your page: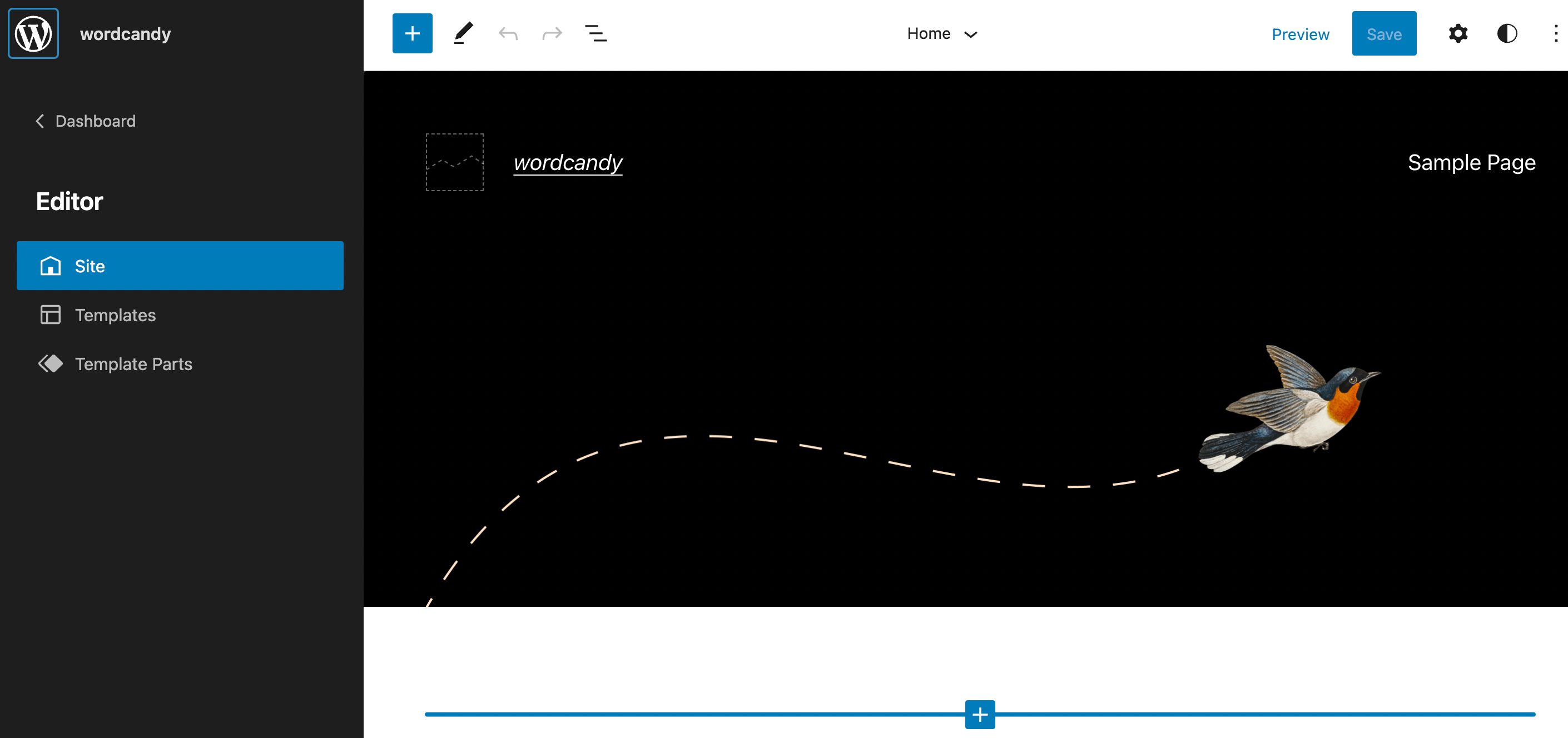 Then, you can add or modify your site-wide Template Parts on the following screen. You can also click on Add New at the top right of your page to create a fresh template: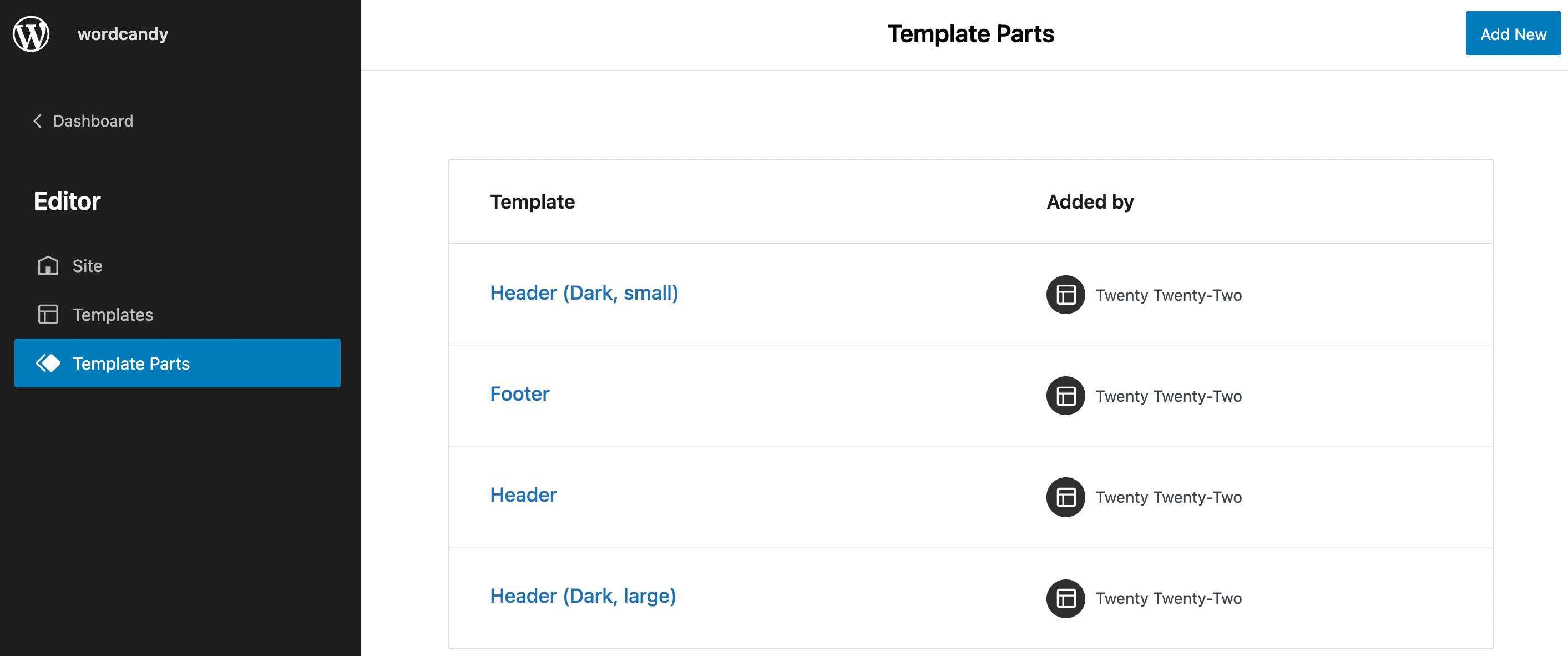 All-in-all, FSE offers some radical adjustments, so it might take some getting used to. If you're not sure about updating yet, you can always skip changing your theme and simply take advantage of WordPress 5.9's other new features.
2. Global Styles
You'll likely also notice another significant structural change in your WordPress dashboard. When you navigate to Appearance, the Customizer has vanished. This is because Global Styles have essentially replaced it.
With Global Styles, you can personalize your site even more. You can find Styles in a new sidebar. Simply click on the duotone circle symbol at the top right of your page: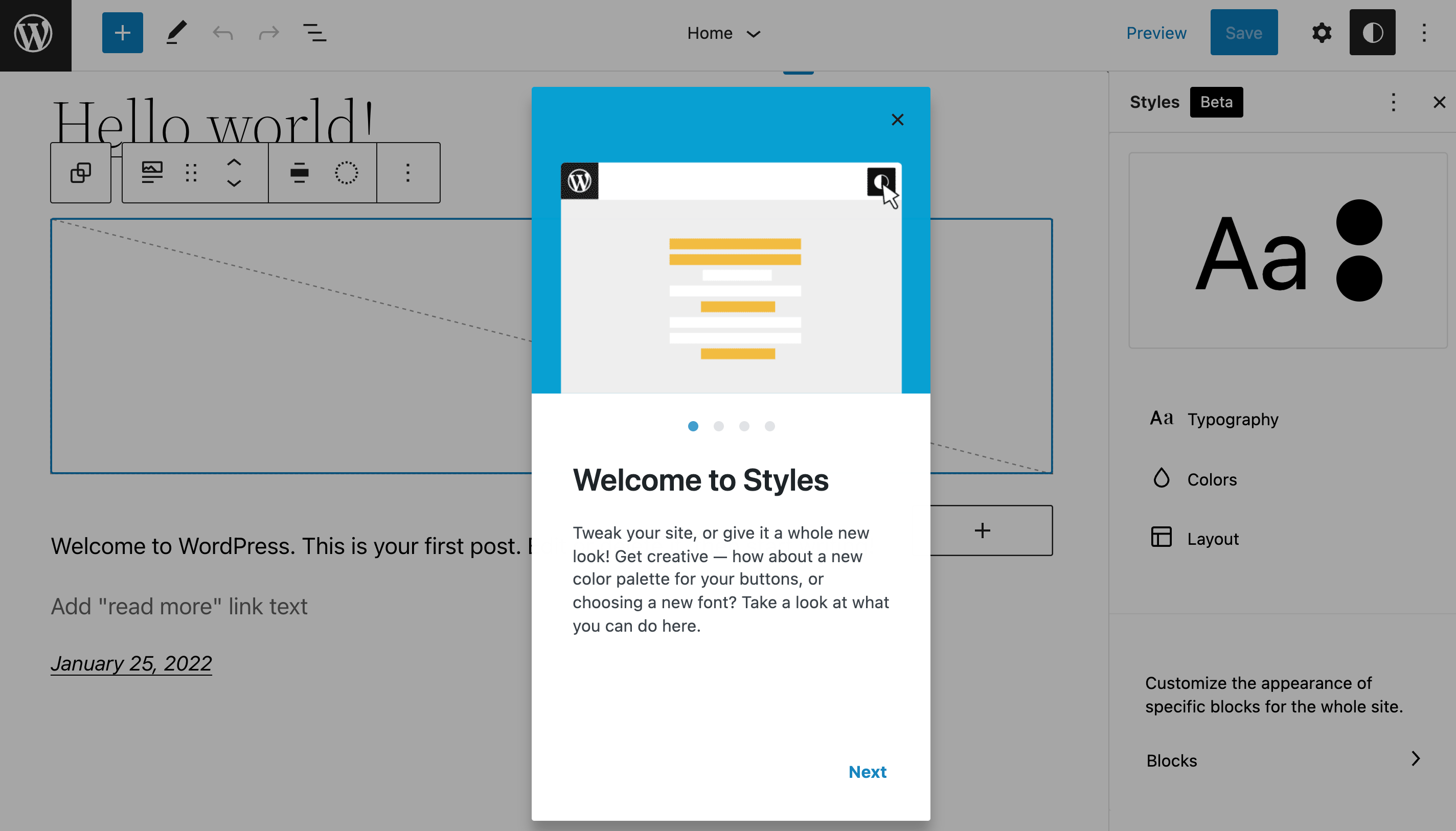 Within this new panel, you'll see that you can easily change Typography, Colors, Layout, and Blocks.
Similar to the new FSE functionality, this Styles menu is revolutionary. In the past, most developers would edit a theme by modifying its theme.json file. Now, you can change settings and styles directly in this new graphic interface.
Within the Typography tab, you can easily manage the style and appearance of all your site's Text and Links: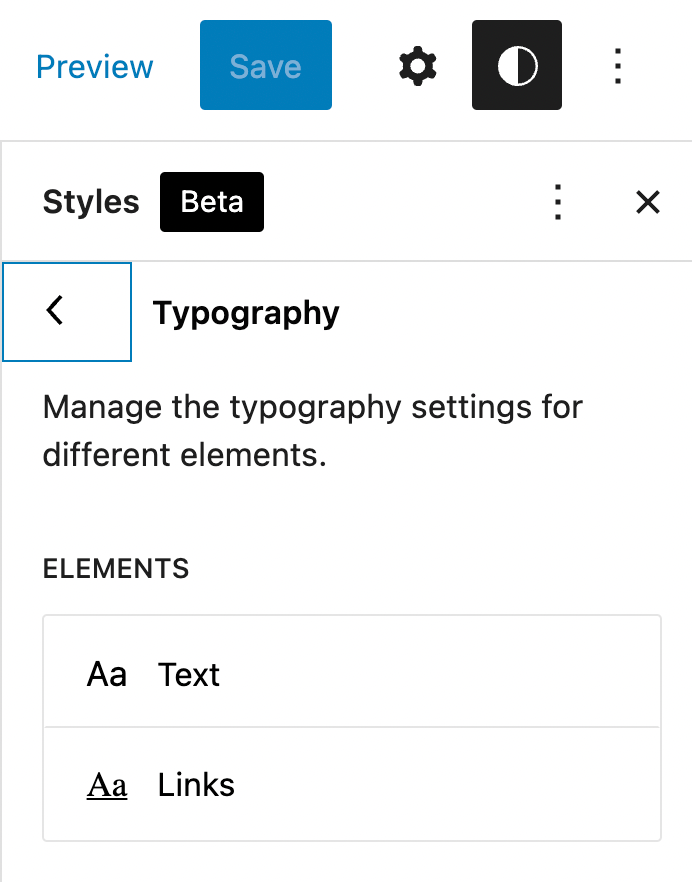 In the Colors section, you can experiment with different Palettes or select individual shades or duotones for every part of your site:
Under the Layout section, you can further tweak your page by adjusting the Dimensions as well as the Padding: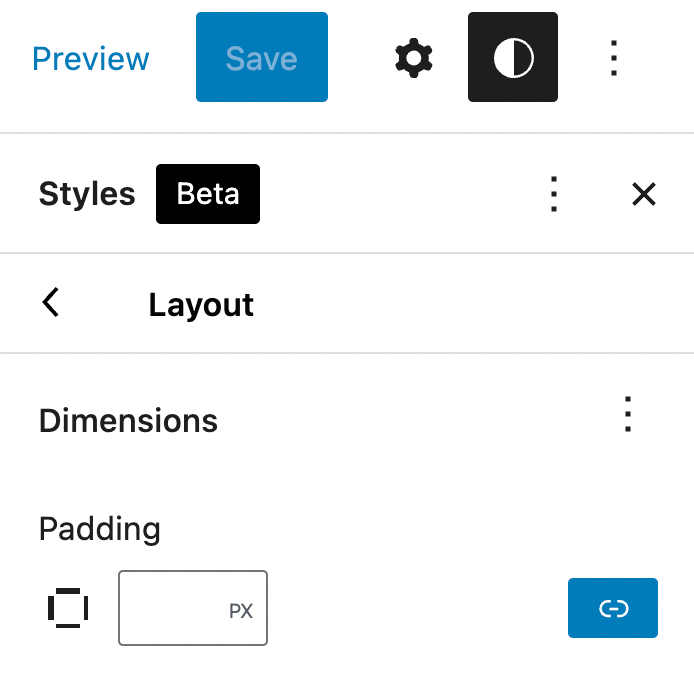 Finally, in Blocks, you can edit the style and appearance of distinct elements across the entire site: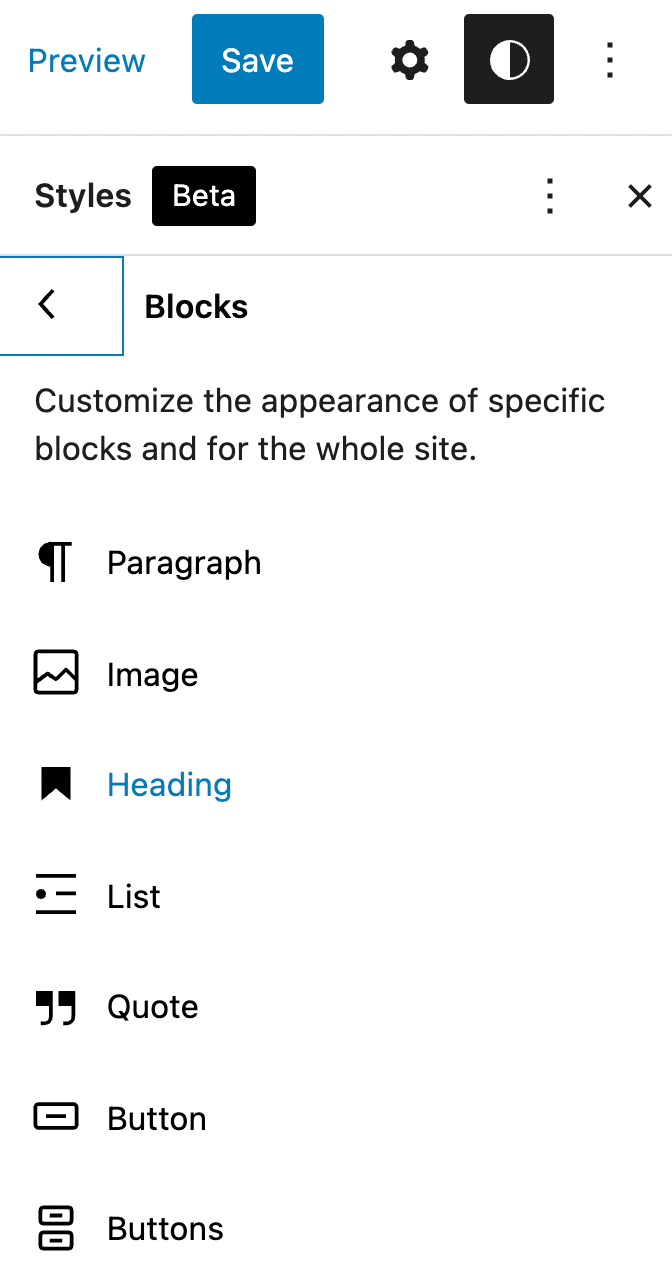 Additionally, the Styles menu can show a big picture preview of your changes: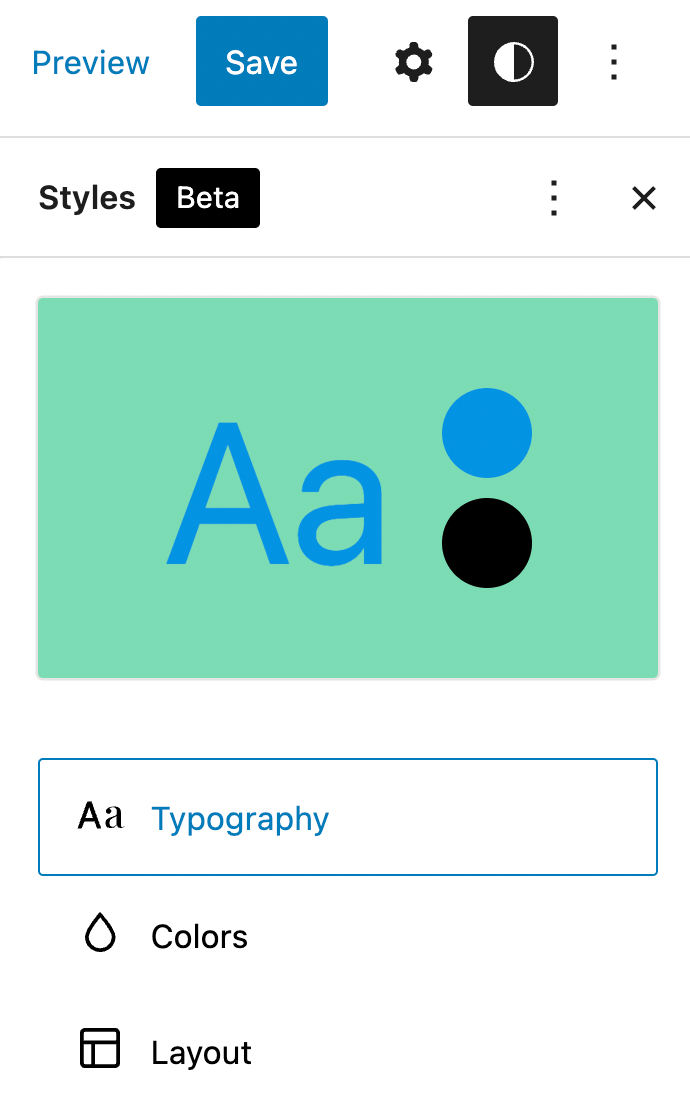 Before, each of these slight adjustments needed custom CSS code. With this new simplified menu, you have increased control of the look of your site.
3. Image updates
In addition to site-wide customization, WordPress 5.9 also enables you to leverage images more efficiently. Let's cover a few critical updates.
One major plus is a new user-generated Photos directory: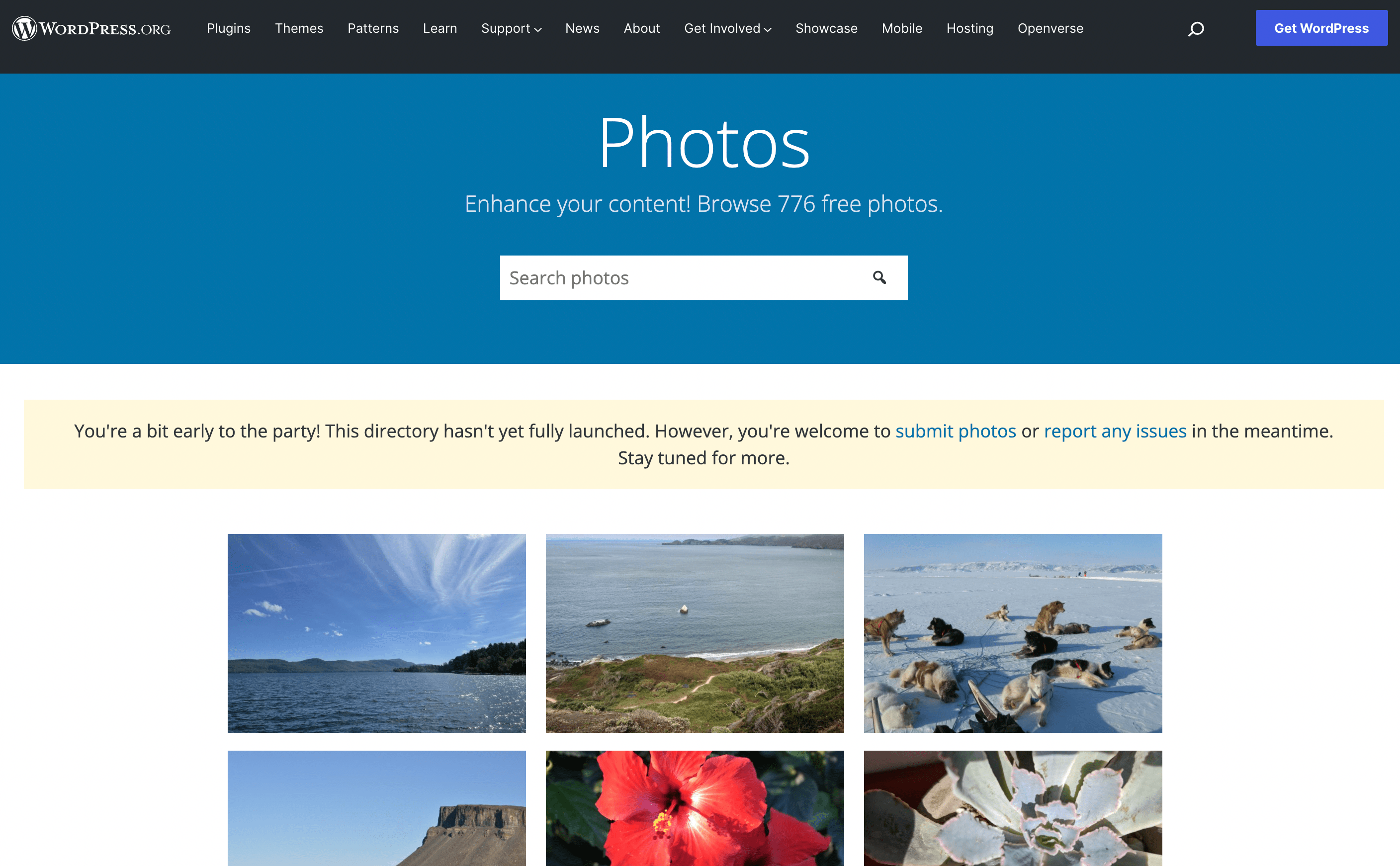 All images in this library are CC0 licensed. This means that you can use these photos anywhere, for any purpose, without attribution.
Additionally, there have also been improvements to the Featured Image controls. Now, with the Post Featured Image block, you can modify this photo's appearance: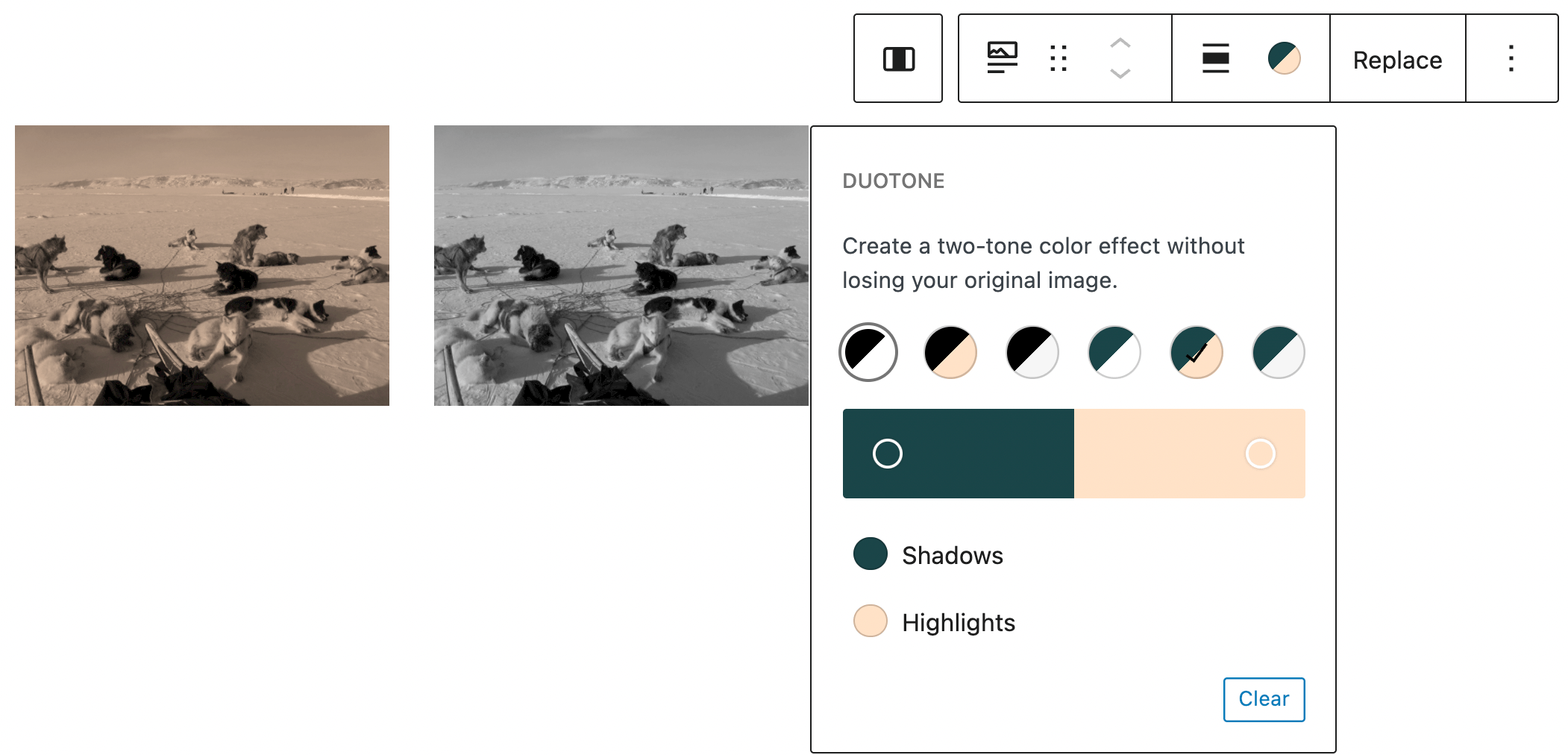 You can use duotone filters or easily edit any of the basic elements. For example, you can change the Dimensions: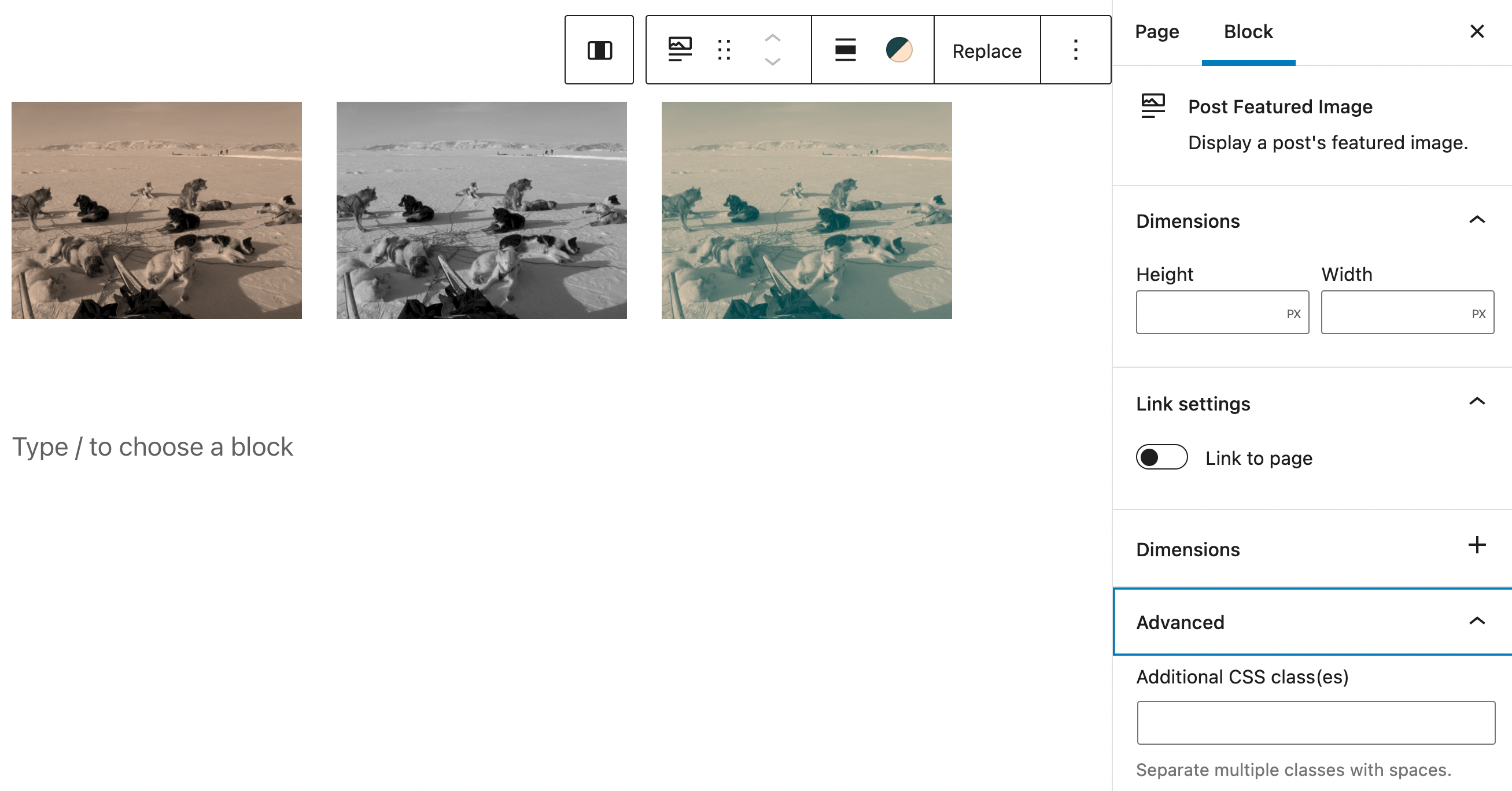 Lastly, the Gallery block has received a significant makeover too, making it more intuitive and accessible: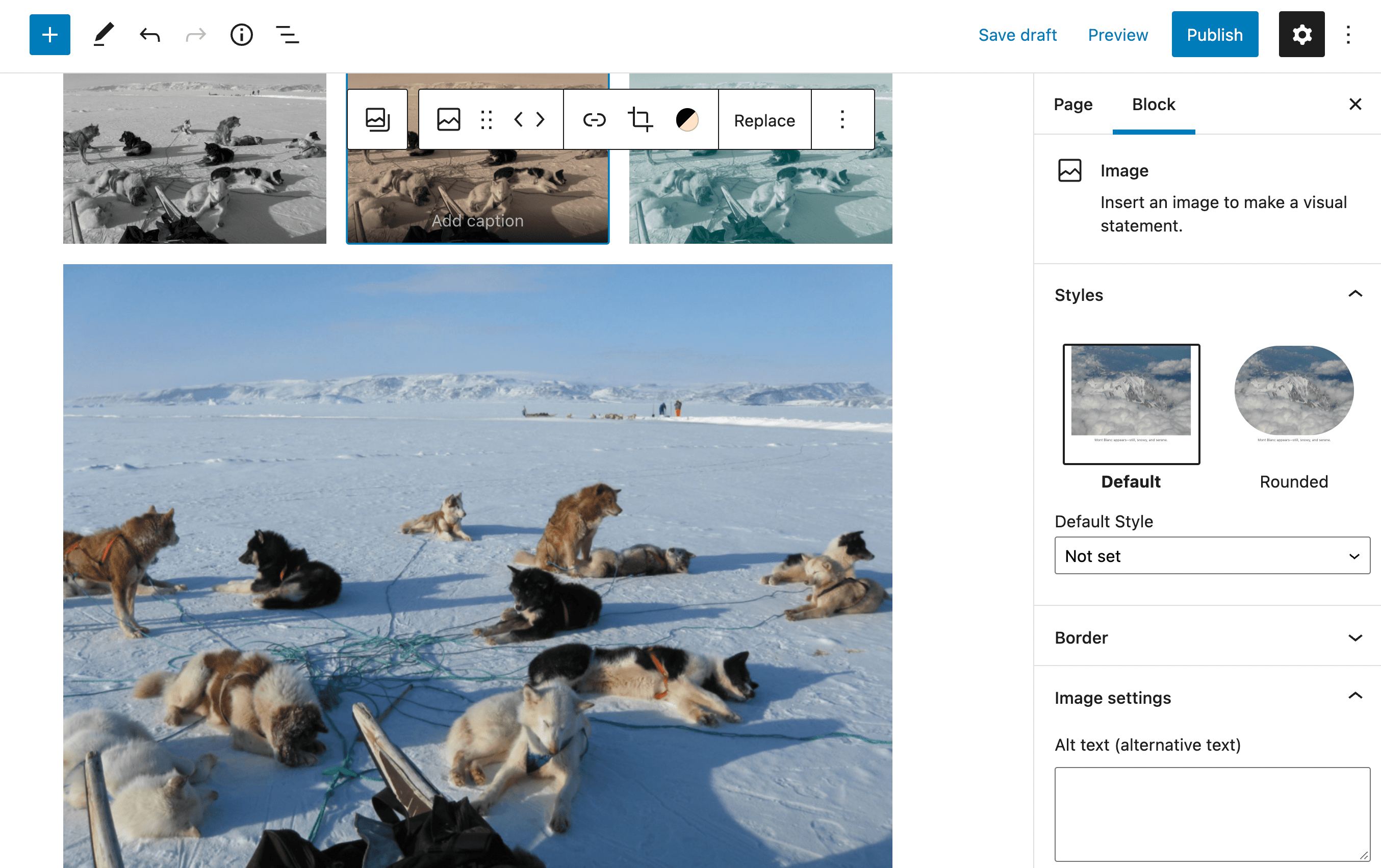 With this updated block, you can add custom styles, modify individual images, and navigate your galleries quickly and efficiently.
4. The Navigation block
The advanced Navigation block is also making waves. Before, you had to modify your navigation menus in the Appearance section of your dashboard.
Now, you can do it in your Editor. This offers a more visual experience because you can preview your changes as you go:

You can make big changes in just one click. For example, when your navigation bar is on the right, you can select the arrow to make the block swap to the other side:

If you don't like the adjustment, you can easily switch it back with the same process. You can also use the other buttons in the horizontal toolbar to make further changes.
However, you may prefer to access navigation settings in the right panel. In addition to the new Styles settings, you'll see options for Display and Submenus: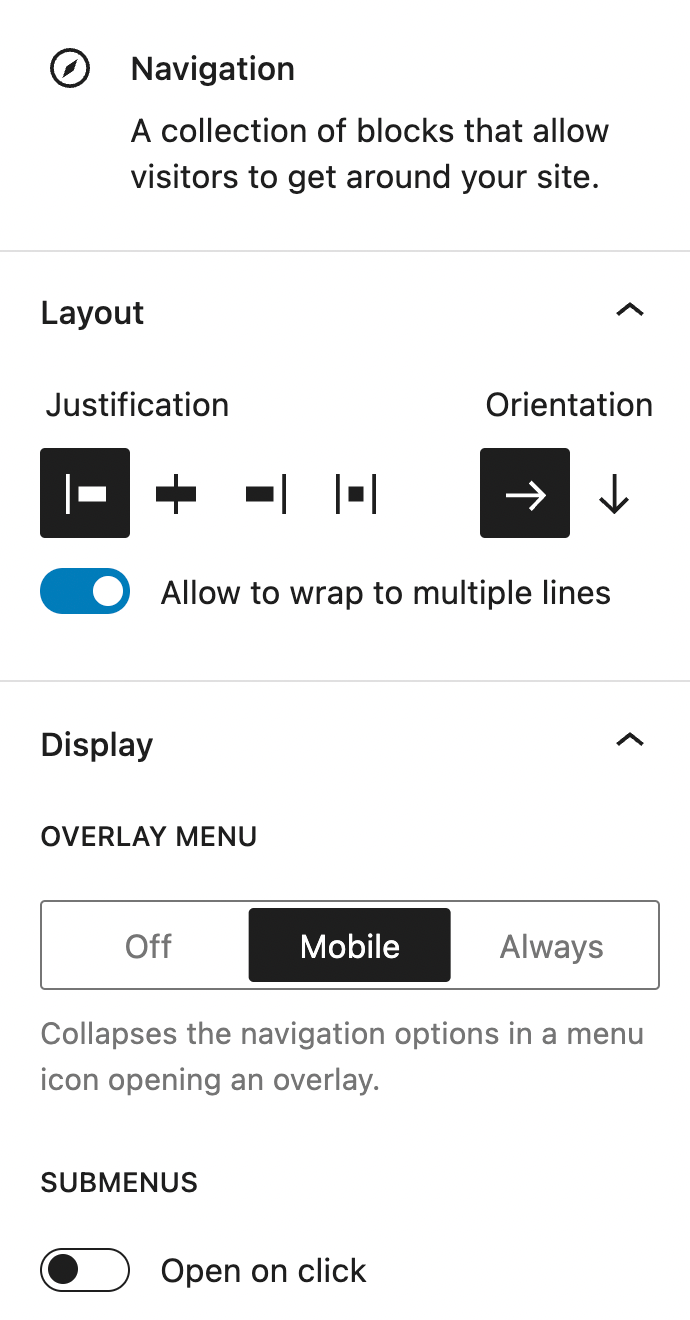 What's more, you can use this block anywhere on your site: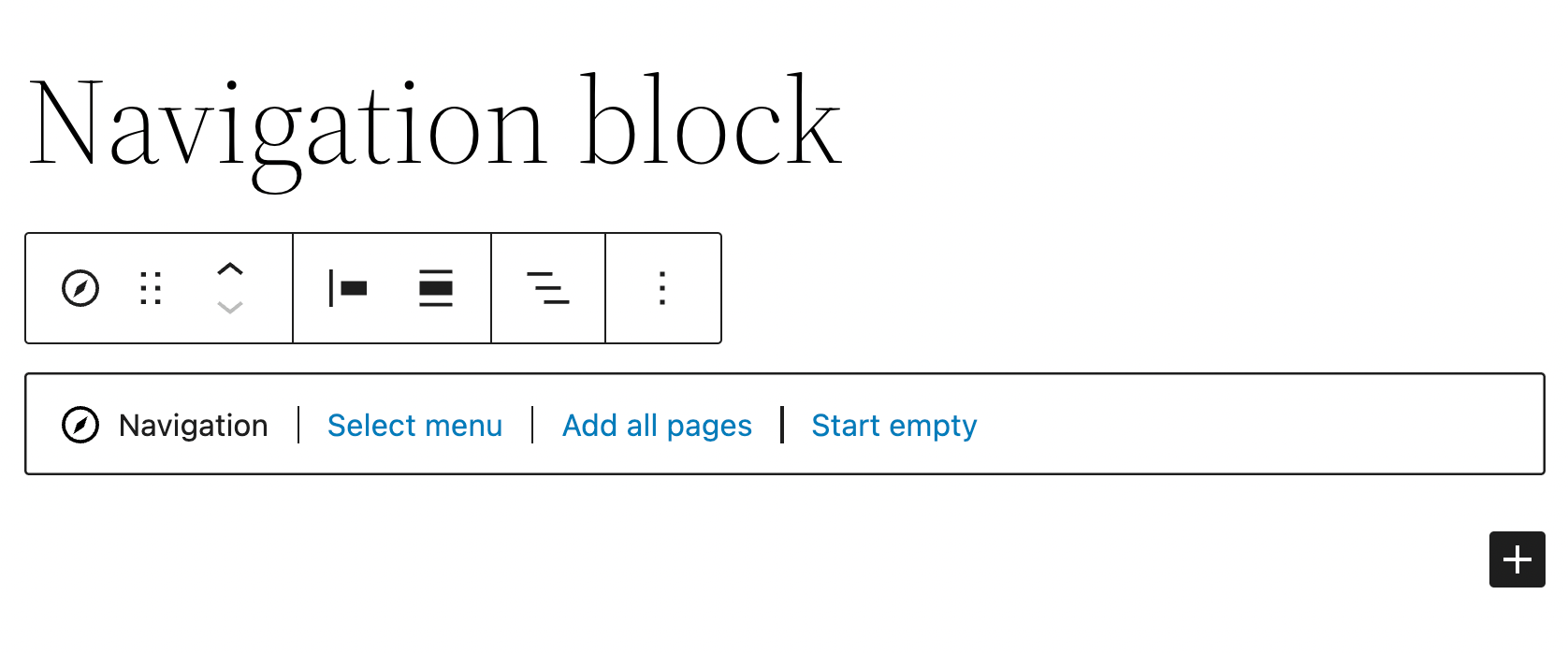 You can create new navigation bars by selecting a menu, adding pages, or starting from scratch: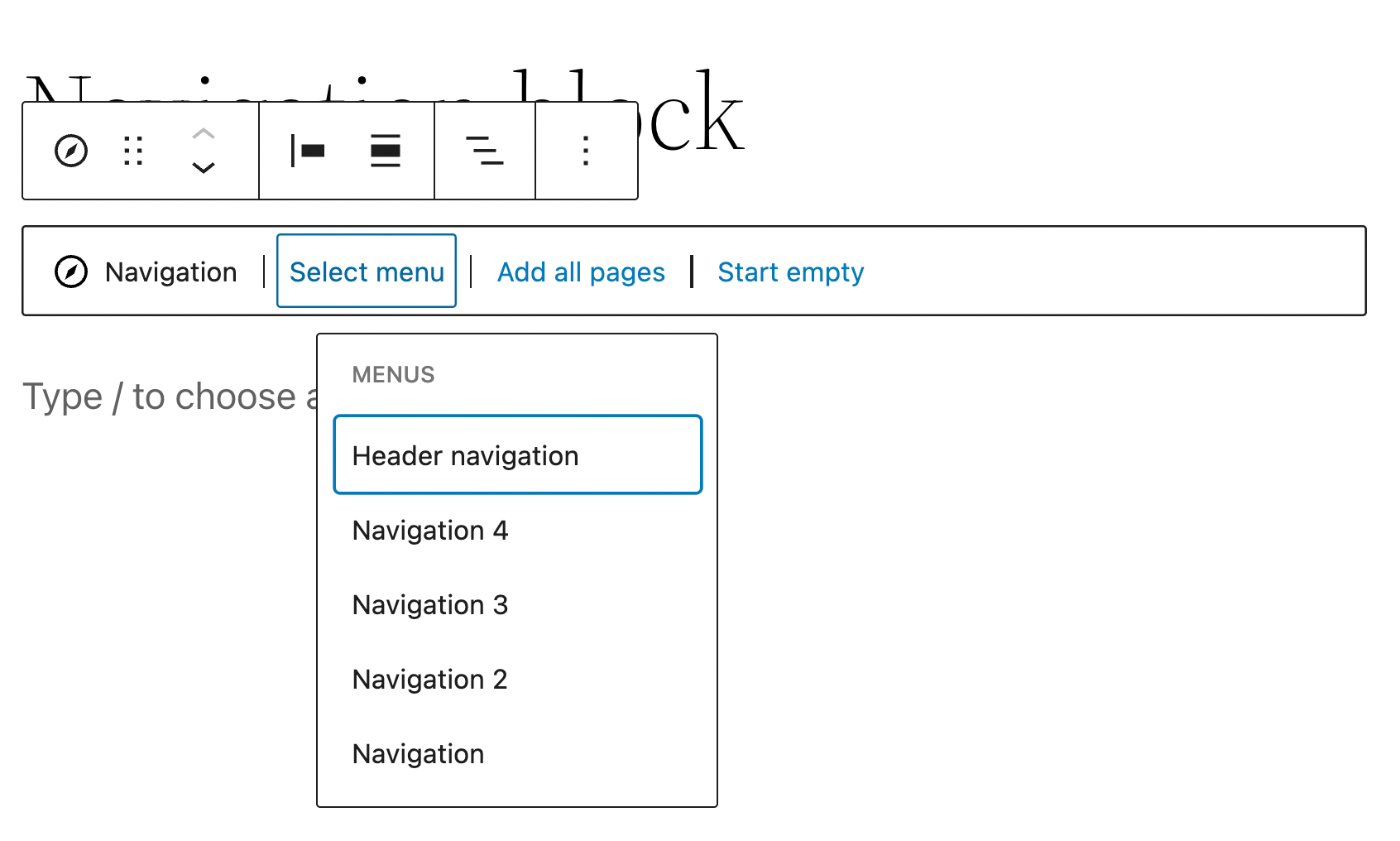 This tool offers great potential for unexpected uses. For instance, the block can create a content index for text-heavy pages or complex, multi-column navigation options in your footer section.
5. Enhanced List view functionality
Expanded List view functionality is perhaps one of the most practical updates in WordPress 5.9. If you work on pages with lots of content, you'll likely use this new feature frequently.
This new List view offers collapsible sections, the ability to add HTML anchors, and a drag-and-drop editor. You can access it by clicking on the three horizontal lines in the toolbar at the top of your screen: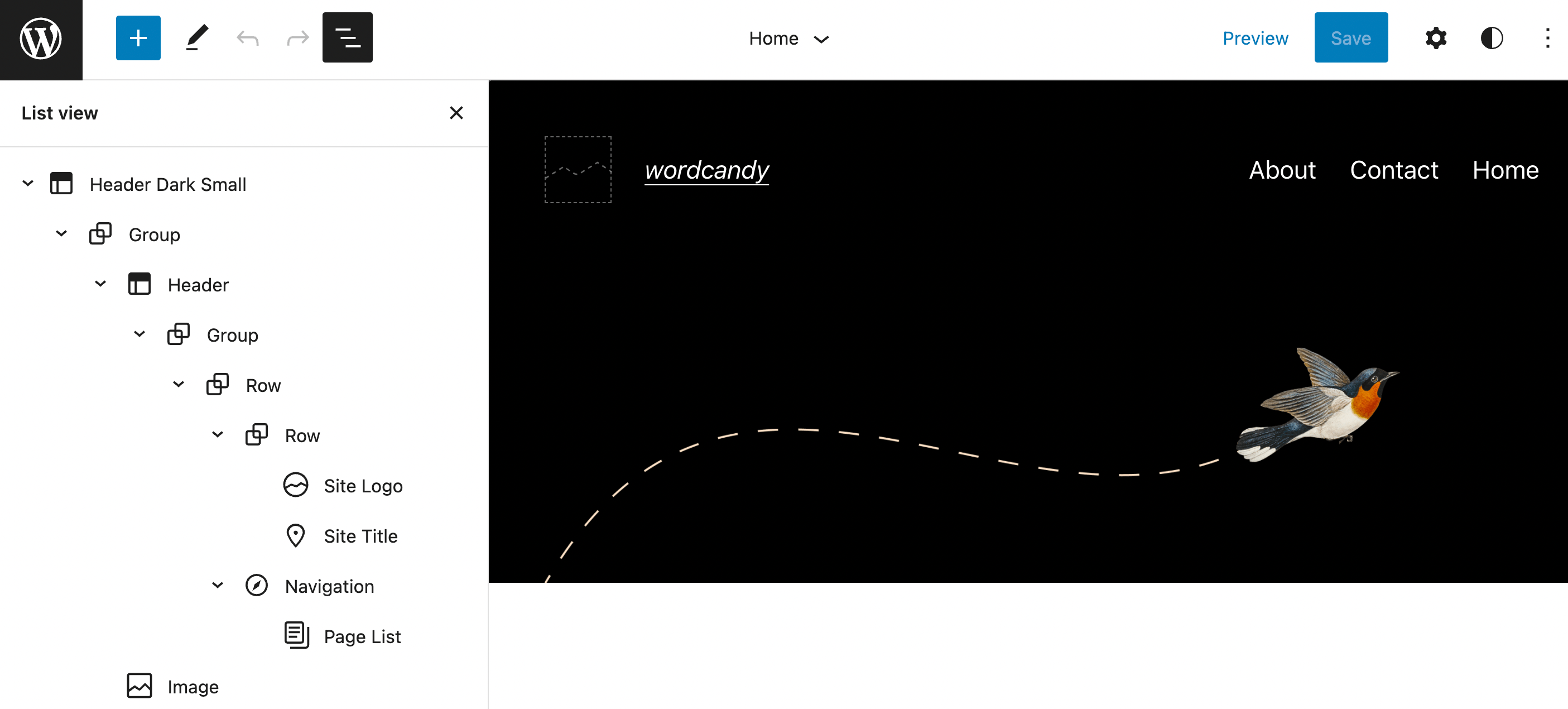 Previously, you could use the up and down arrows to move sections directly on the page. This new interface is much more user-friendly. Now, you can move any page element in the left panel.
This means you'll never need to grab an element on your page, then scroll endlessly to drop it in the right place. Additionally, when you're working with many blocks, the collapsible sections can make the editing process more manageable:

You can collapse and expand sections using the arrows next to each group of blocks. Although this new feature relies on text for organization, it also creates a more visual experience when editing.
Conclusion
As WordPress users, we all likely have our favorite tools and tricks. However, new WordPress core releases typically bring updated features and functionalities. Therefore, it's essential to stay up-to-date on any new software upgrades.
To review, here are WordPress 5.9's most significant new features:
Full Site Editing (FSE)
Global Styles
Image updates
The Navigation block
Enhanced List view functionality
Do you have any questions about WordPress 5.9? Let us know in the comments section below!
Keep reading the article at ManageWP. The article was originally written by Will Morris on 2022-02-08 11:00:22.

The article was hand-picked and curated for you by the Editorial Team of WP Archives.