Google Domains vs GoDaddy: which domain extensions does each offer? ⚙️
Domain extensions – also known as top-level domains or TLDs – are the parts of web addresses that your domain name ends with. The most popular TLD on the web is still the classic .com. However, as you probably know, there are loads of these things to choose from these days. Beginning with .com, .net, and .org to much more original TLDs like .car, .art, or even .dog. A good domain registrar should give you access to a large catalog of TLDs overall.
Right off the bat, you'll be happy to know that both Google Domains and GoDaddy provide access to the three most popular TLDs in use today: .com, .org, and .net. But there's a lot more waiting under the hood. Here's what we found:
Top-level domains available from Google Domains
Google Domains offers over 300 top-level domains including .com, org, and .net, along with some rather unique alternatives like .international, which serves as a substitute for the more exclusive .int (intergovernmental organization) TLD.
Here are the most popular TLDs you can find on Google Domains:
For industry-specific and unique domain extensions, we found:
.church
.farm
.marketing
.cafe
It's also worth noting that country and region-oriented domain extensions are prevalent on Google Domains, with options like:
Top-level domains available from GoDaddy
GoDaddy promotes access to hundreds of domains, with a little over 500 to choose from at the time of this article. That beats out the 300 from Google Domains, so you have a wider selection with GoDaddy.
GoDaddy also provides a complete list of available TLDs, including a "Coming Soon" section and dozens of categories to find a suitable match: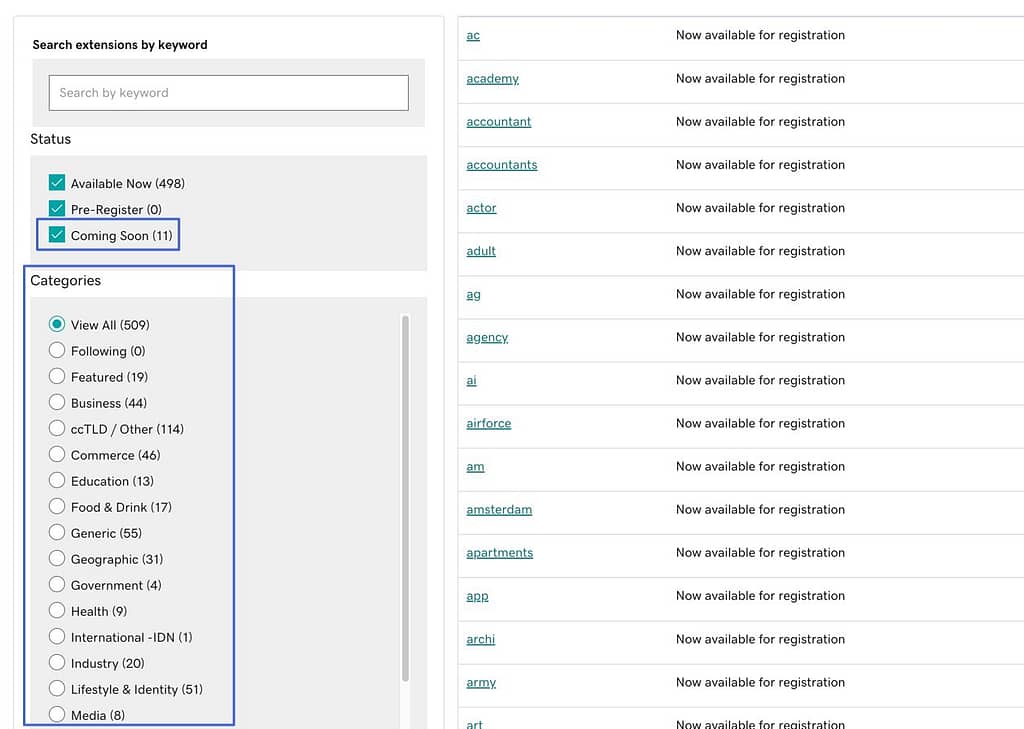 They don't list the most popular TLDs but notable options appear during your search. Among others, you have access to:
They're also not lacking in industry-specific domain extensions, with options like:
.space
.accountant
.marketing
.press
.insure
.clothing
.app
.travel
.apartments
.cricket
.golf
Finally, geographic essentials are covered as well, for regions, countries, and cities:
? Winner:
[…]
This article was written by Joe Warnimont and originally published on CodeinWP.