Google Domains vs GoDaddy: which domain extensions does each offer? ⚙️
Domain extensions – also known as top-level domains or TLDs – are the parts of web addresses that your domain name ends with. The most popular TLD on the web is still the classic .com. However, as you probably know, there are loads of these things to choose from these days. Beginning with .com, .net, and .org to much more original TLDs like .car, .art, or even .dog. A good domain registrar should give you access to a large catalog of TLDs overall.
Right off the bat, you'll be happy to know that both Google Domains and GoDaddy provide access to the three most popular TLDs in use today: .com, .org, and .net. But there's a lot more waiting under the hood. Here's what we found:
Top-level domains available from Google Domains
Google Domains offers over 300 top-level domains including .com, org, and .net, along with some rather unique alternatives like .international, which serves as a substitute for the more exclusive .int (intergovernmental organization) TLD.
Here are the most popular TLDs you can find on Google Domains:
For industry-specific and unique domain extensions, we found:
.church
.farm
.marketing
.cafe
It's also worth noting that country and region-oriented domain extensions are prevalent on Google Domains, with options like:
Top-level domains available from GoDaddy
GoDaddy promotes access to hundreds of domains, with a little over 500 to choose from at the time of this article. That beats out the 300 from Google Domains, so you have a wider selection with GoDaddy.
GoDaddy also provides a complete list of available TLDs, including a "Coming Soon" section and dozens of categories to find a suitable match: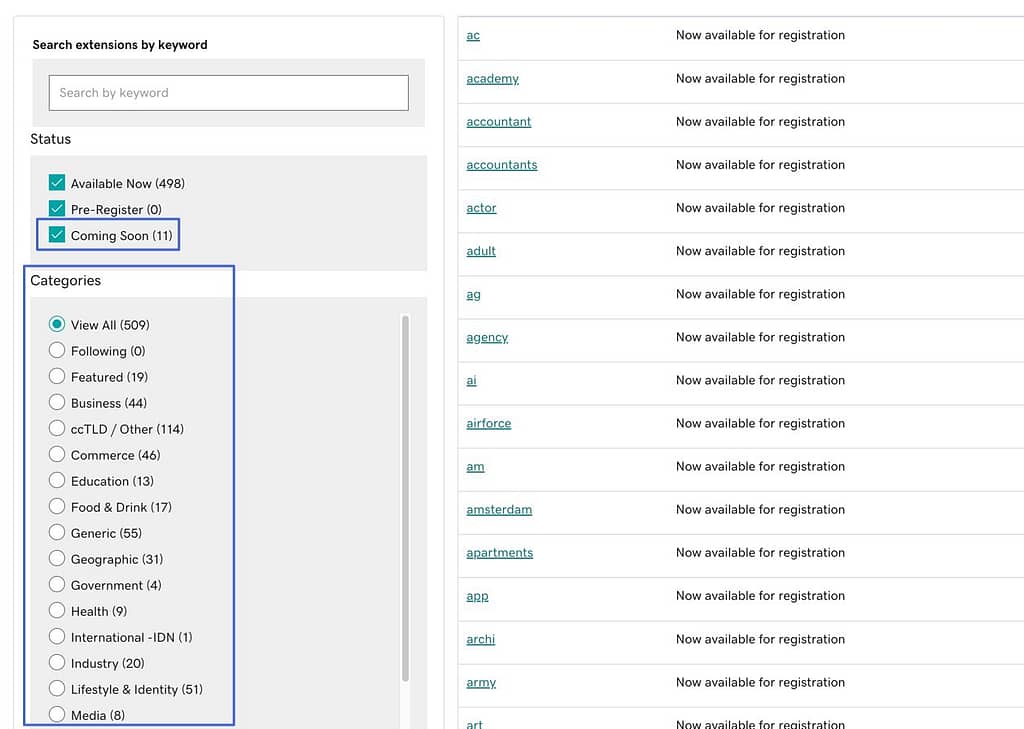 They don't list the most popular TLDs but notable options appear during your search. Among others, you have access to:
They're also not lacking in industry-specific domain extensions, with options like:
.space
.accountant
.marketing
.press
.insure
.clothing
.app
.travel
.apartments
.cricket
.golf
Finally, geographic essentials are covered as well, for regions, countries, and cities:
? Winner: GoDaddy
With about 200 more domains to choose from and many industry and geographical domain extensions, GoDaddy definitely beats Google Domains in this section.
Google Domains vs GoDaddy: best interface for finding and buying a domain ?‍?
It should be easy to research and purchase domains online. So, I tested the process on both websites and took several factors into consideration:
Intuitiveness of the search module
Quality of search results
Time taken to purchase the domain
Hindrances like upsells and popups
With those in mind, let's take a look at how Google Domains and GoDaddy performed:
Google Domains interface
To find a domain on Google Domains, you land on the website and get pointed right to the primary search bar. There's also a smaller link to transfer over a domain, along with menu items to learn more about Google Domains or log into your account. It's an uncluttered, simple homepage that's acceptable for all skill levels.
After searching for a top-level domain, Google retrieves relevant results, displaying the most popular extensions at the top.
You get pricing information, filters to sort the list, and a link to view All Endings. We also like that Google Domains doesn't try to sell you $100 or $1,000 domains, which no one should buy.
Users click on a domain extension to reveal advantages and considerations for the extension and domain name in question. This is a nice bonus for those unfamiliar with buying domains.
Then, there's a quick Shopping Cart icon to add a domain name to your cart.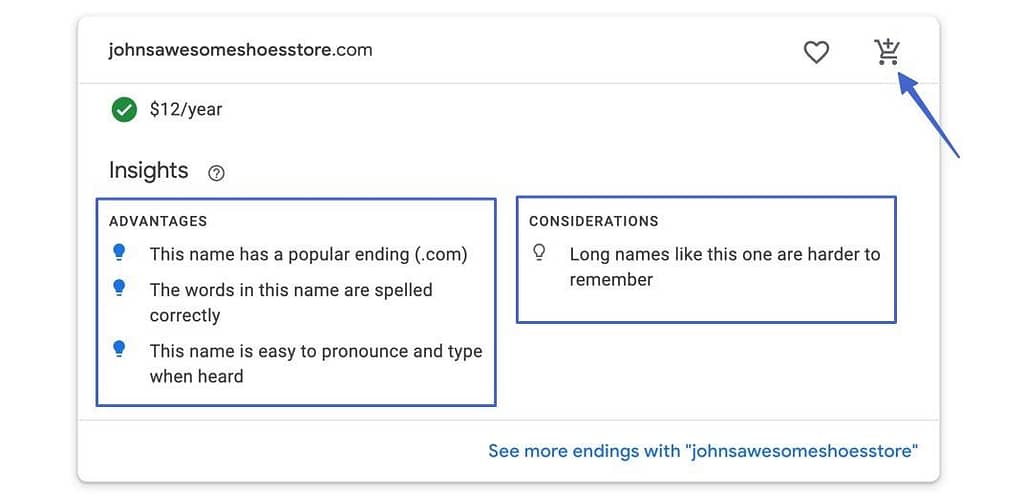 There's a quick step before checkout that automatically opts users in for free privacy protection and auto-renewal. I noticed one upsell for custom Google Workspace email, but it wasn't automatically checked.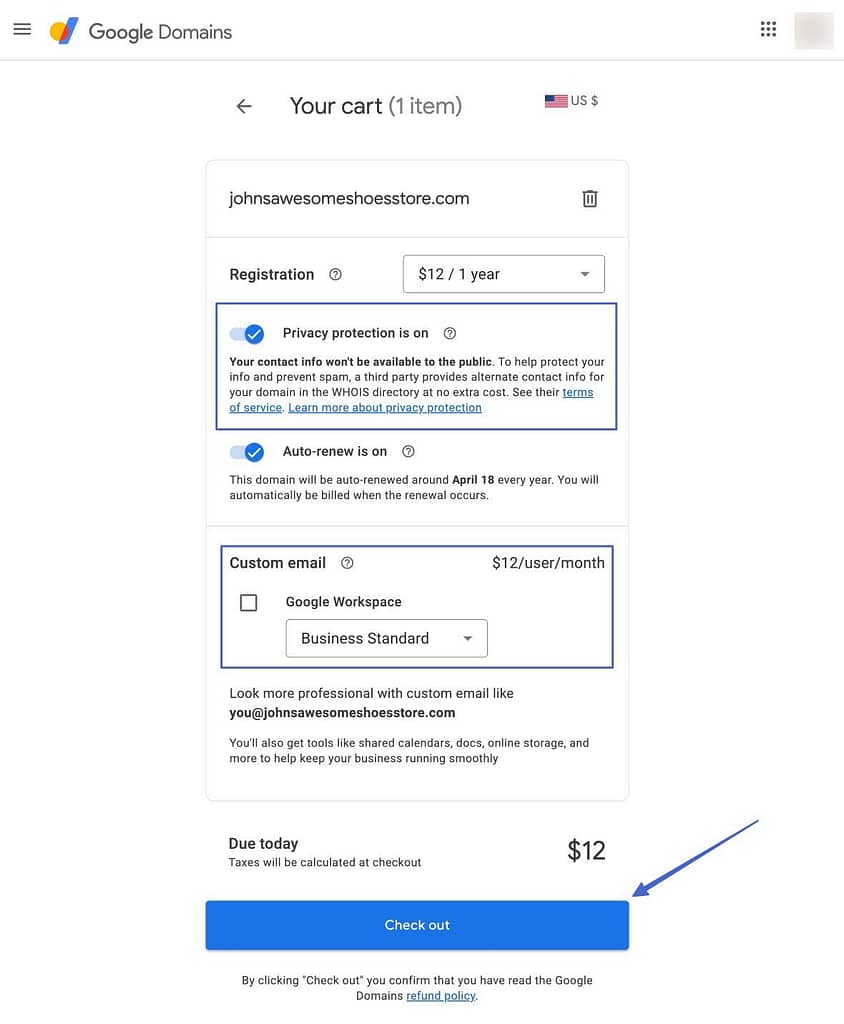 Finally, you type in contact and payment information. It's a clean form without much else on the screen, after which, you click the Buy button to finish.
You can't get much faster than that! And Google Domains provides relevant results without irrelevant upsells.
GoDaddy interface
GoDaddy, on the other hand, has a history of pushing upsells and other (often needless) promotions on its users. Yet, after many site redesigns, we're seeing simpler steps for buying domains.
However, it's still not as user-friendly as the Google Domains interface.
On the homepage, you can quickly type in a domain search, or click one of the many buttons to "Find Your Domain." But they already show plenty of annoying banners, upsells, and sales jargon. And it gets worse…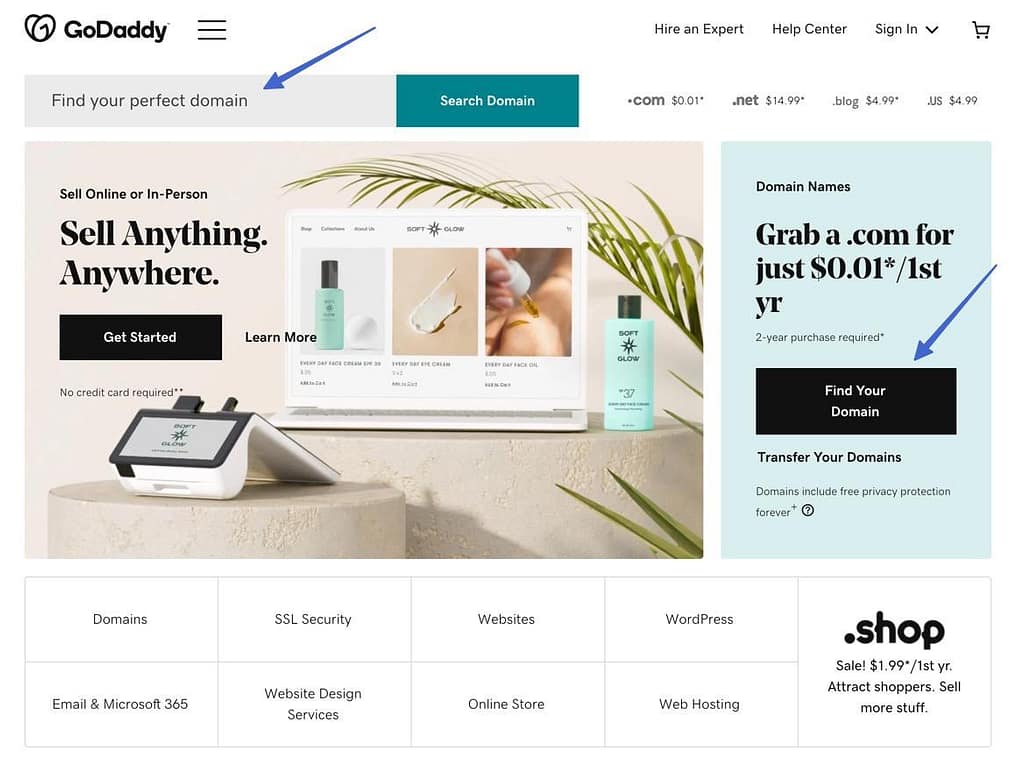 The results page itself looks fine. Users receive the most relevant results at the top, and suggestions for popular TLDs like .com and .co before anything else.
Unfortunately, GoDaddy already jammed an email and security bundle upsell into this area, making it more confusing and cluttered for the user. There are also several "Promoted" (aka stuff we didn't ask to see) domain listings, and one domain that's selling for close to $2,000 (again, no registrar should be recommending these types of domains).
Before the checkout is where it really gets troubling. Not only are there three upsells, but some are already checked off, forcing users to uncheck boxes just to get their domains.
Here are the upsells:
Paid domain protection: This should be free (like it is with Google Domains), since no site owner deserves to be subjected to malicious spam due to public site information.
Website building: This is relevant, but should not have the checkbox marked by default.
Email address with your domain: Also relevant, but let users purchase their domains before hammering them with upsells.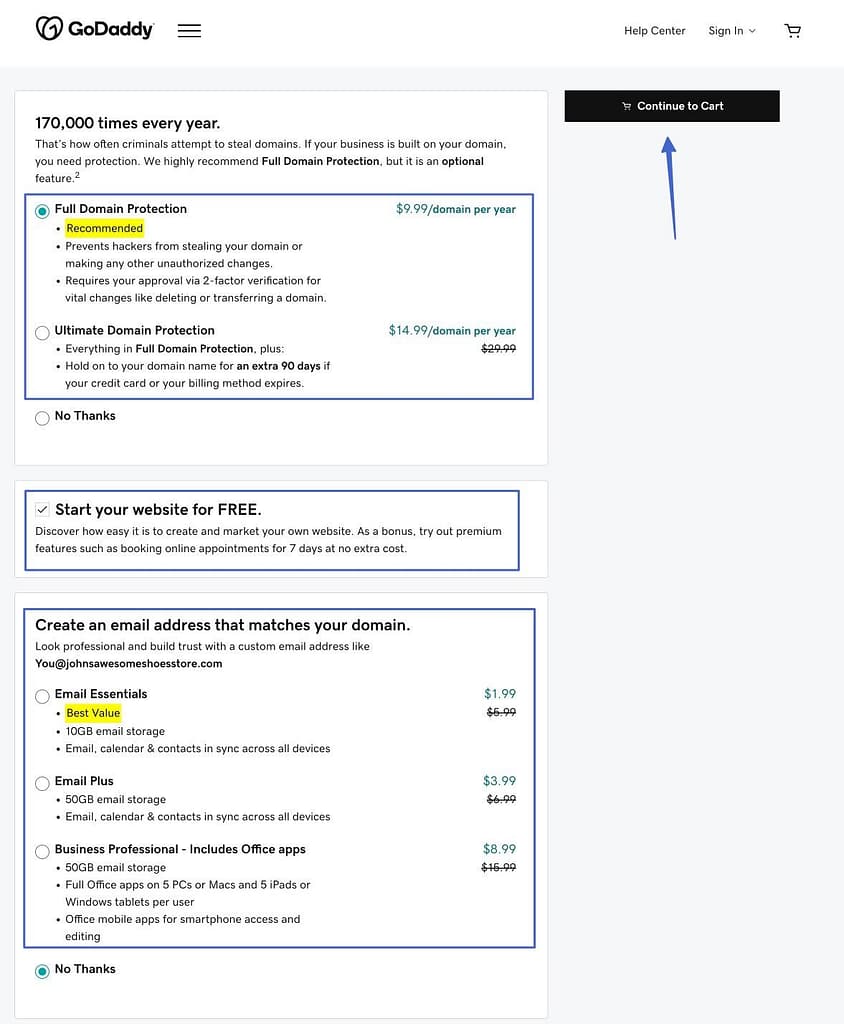 The last step lets you purchase the domain. But wait! Not before you see that GoDaddy was bold enough to choose a two-year registration for you. That's another step that many users must remove before checking out. And they're still promoting other domains to the right. Why not just let me buy this first domain before promoting others?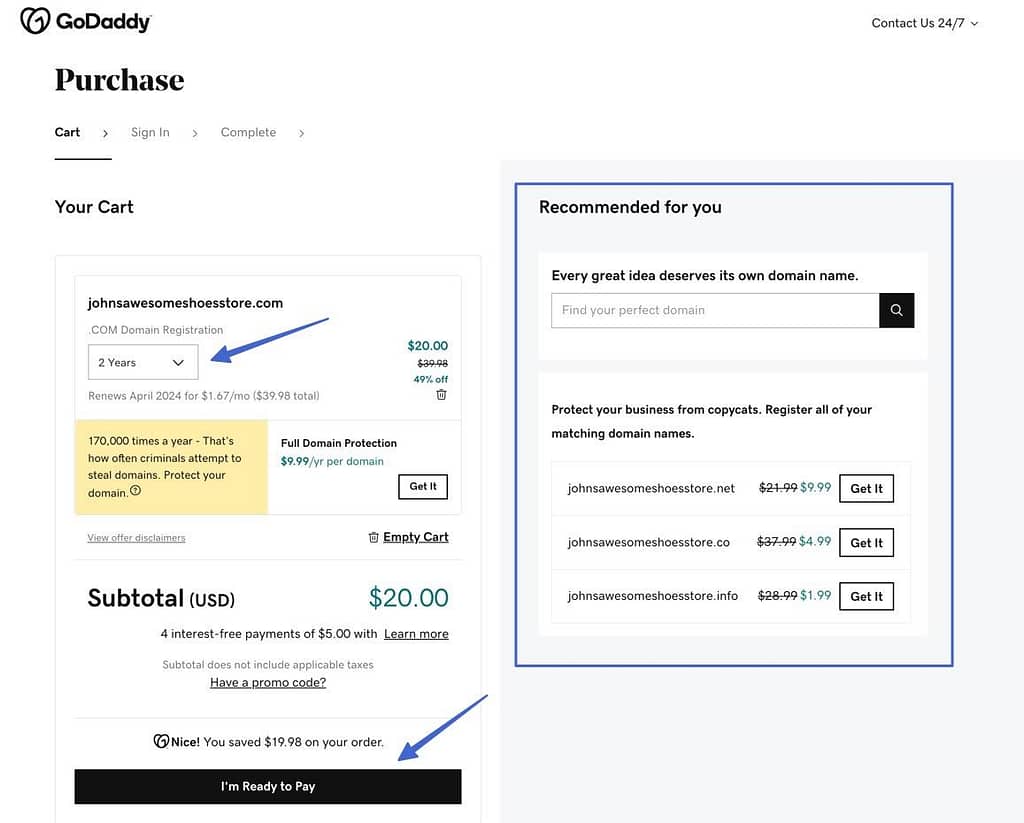 ? Winner: Google Domains
GoDaddy has always been plagued by promotions, but they've at least made them less invasive recently. However, Google excels with its quick search tool, free domain protection, and virtually no upsells throughout the process. They also get you to the payment page in just a few clicks.
GoDaddy still needs some work on its interface, and to cool it with the constant (sometimes forced) upsells.
Google Domains vs GoDaddy: which has better domain pricing??
Domain pricing is a tough topic to compare because you'll never get identical domain results from any two registrars. However, we can run a handful of tests with available domain names to figure out if either Google Domains or GoDaddy has consistently cheaper pricing.
Google Domains pricing
Domain name pricing from Google Domains is straightforward and without many add-ons or forced upsells.
With all of my tests, I noticed a consistent $12/year base cost, and the occasional increase for specialty TLDs; I only saw prices get as high as $50/year.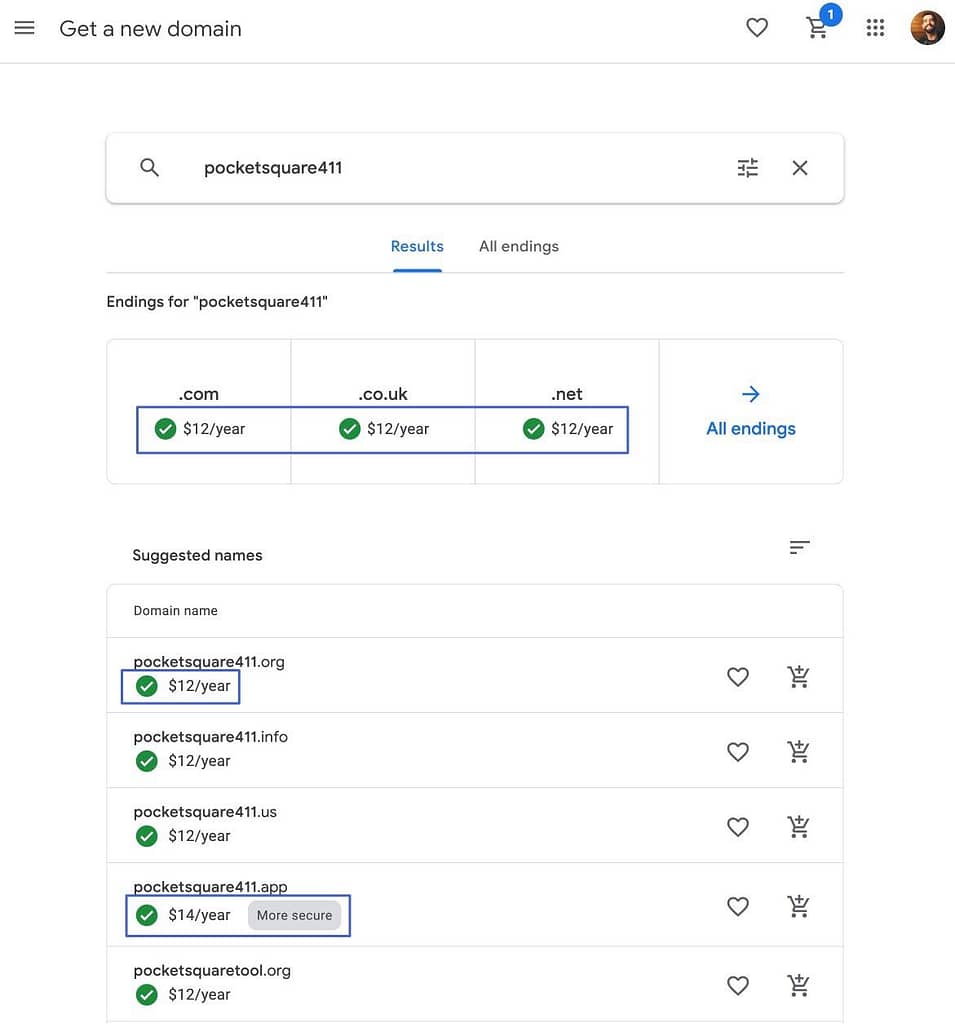 You get privacy protection for free, with the option to add custom emails for $12/user/month.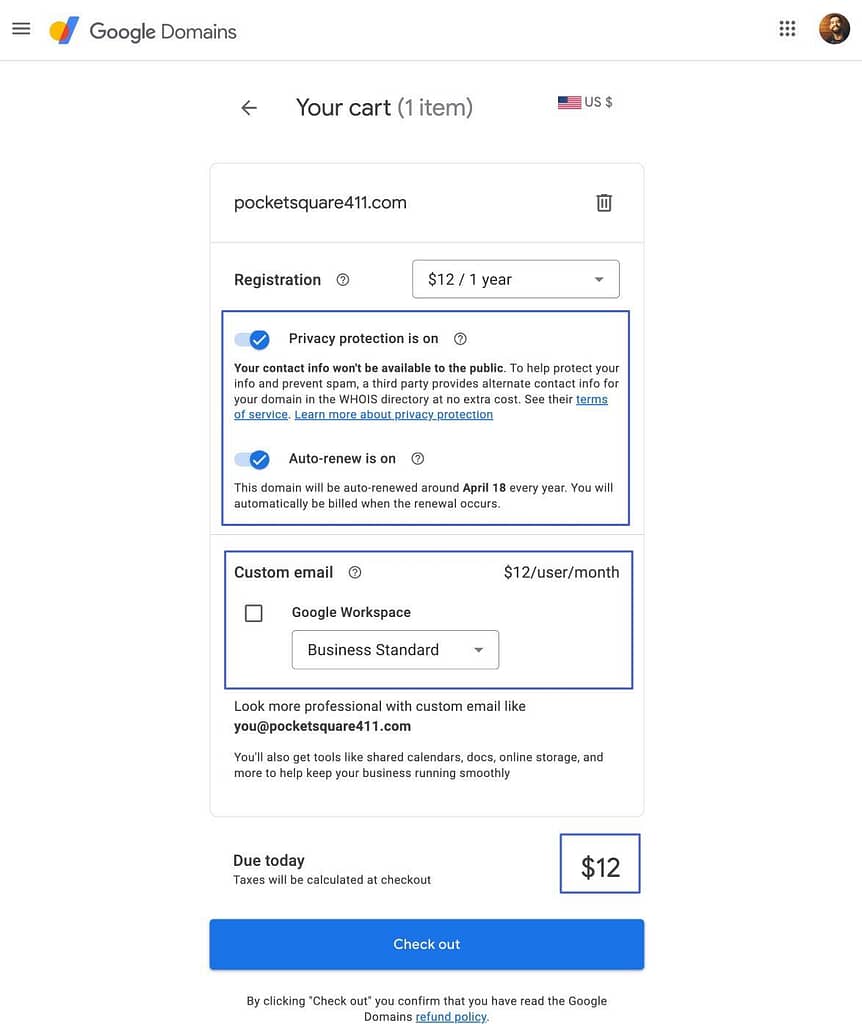 Unfortunately, there aren't any longterm signup discounts.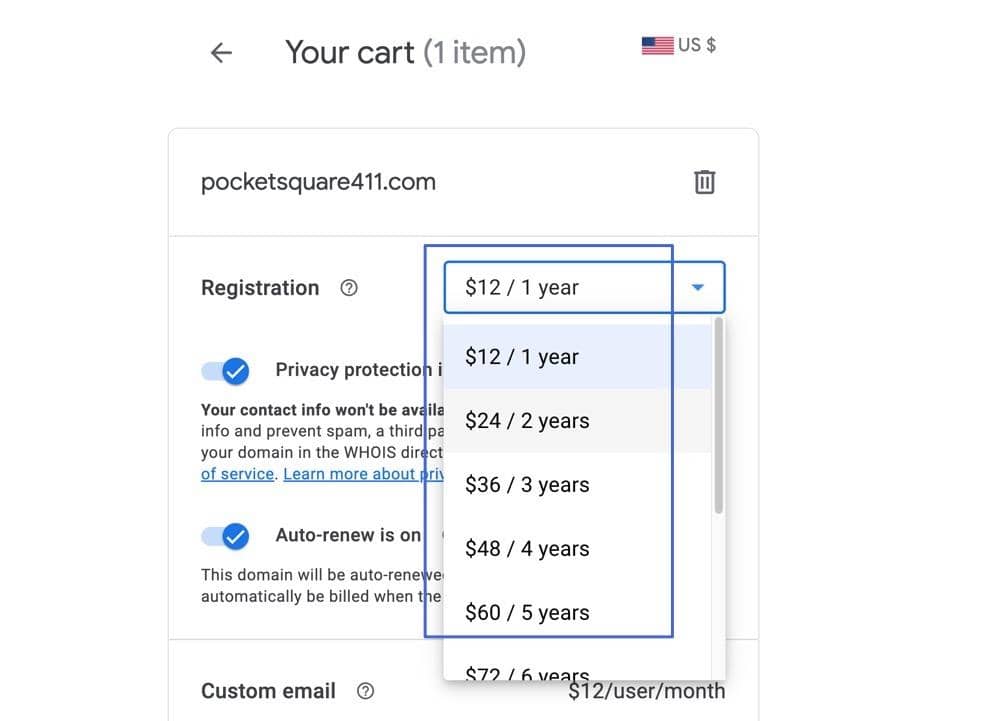 So, users should almost always expect to pay $12 per year when buying through Google Domains. Or $24 per year if they add custom email for one user.
GoDaddy pricing
GoDaddy's pricing is more confusing and less consistent than Google's, but you can find some excellent deals if you sign up for multiple years.
Most searches produced a myriad of pricing for different domain extensions, ranging from $0.01 to $2,700/year. Yet, the standard starting price sits around $9.99 to $19.99/year.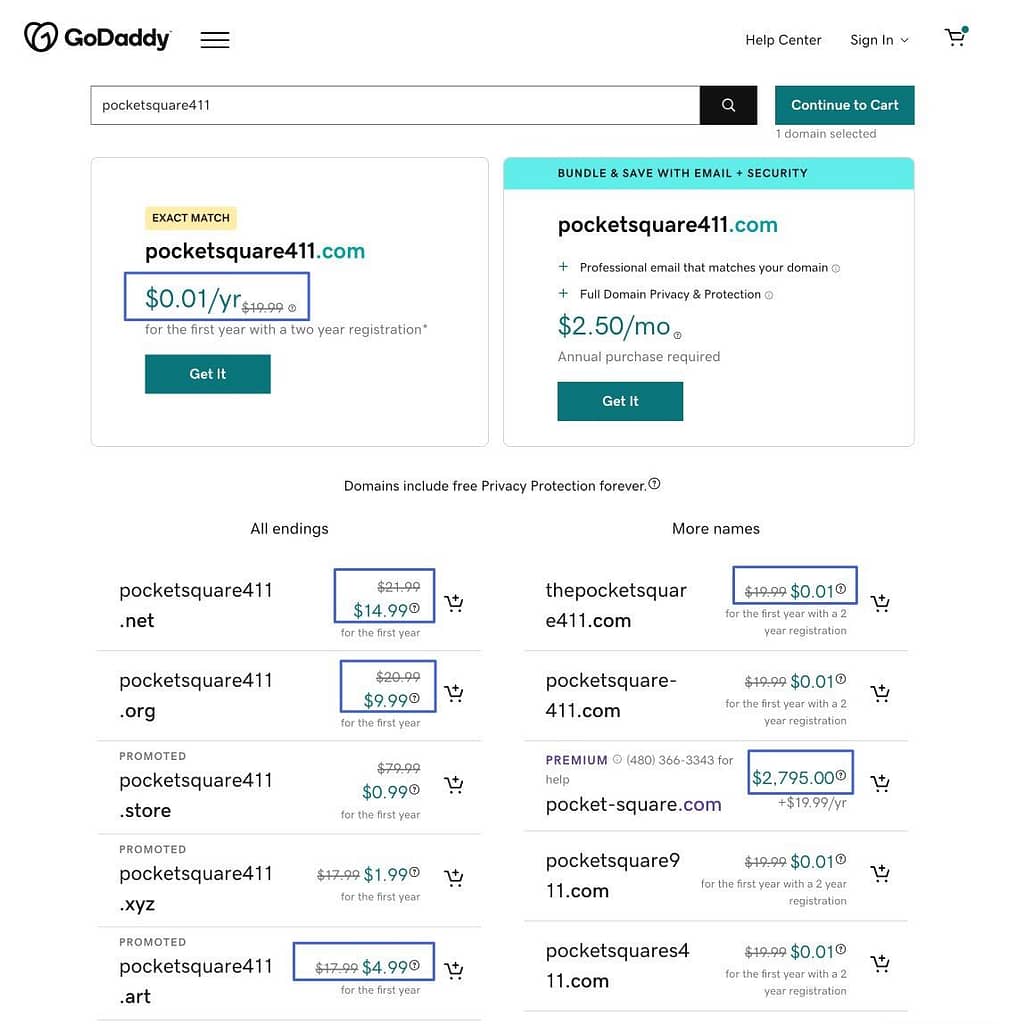 In fact, most renewals after longterm commitments cost $19.99/year, which is higher than Google's regular price.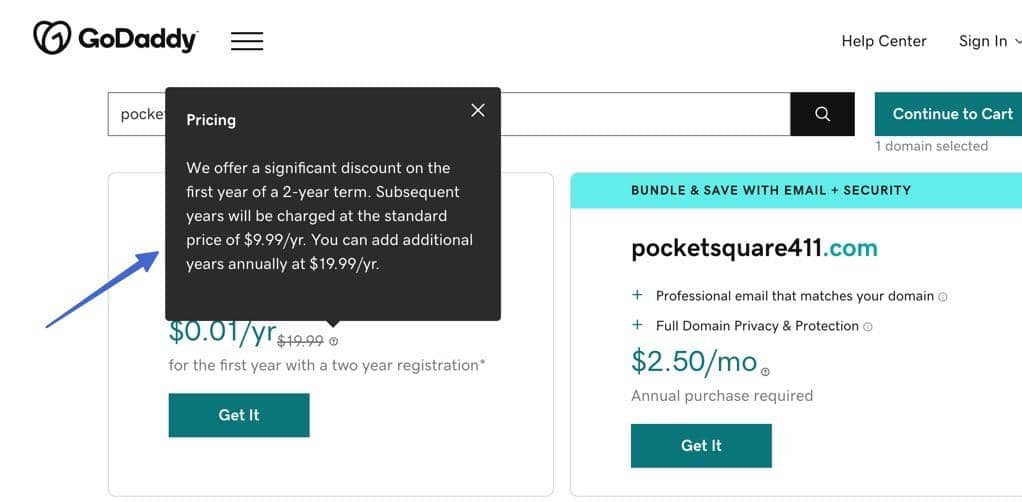 In addition, you must pay at least $9.99 per year for domain protection. The website builder is free, and custom email addresses start at $1.99/month with a $5.99 per month renewal increase.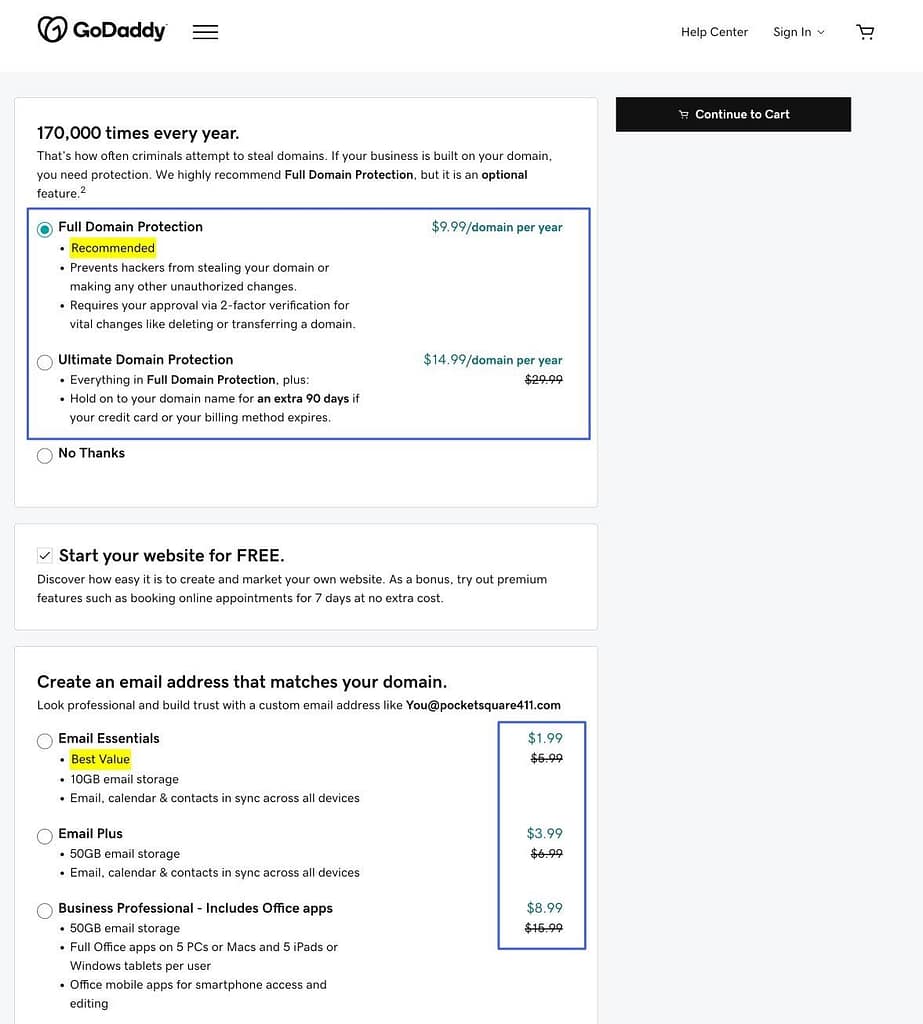 So, you can grab a deal if signing up for more than one year, but our experience showed those deals aren't much cheaper than Google to begin with.
And once renewal comes around, you're definitely paying extra.
We estimate most domain names from GoDaddy cost anywhere from $5 to $10 per year with a multi-year agreement. Then, tack on about $1 per month for domain protection. And your promotion will run out, so eventually you will pay $19.99 per year for as long as you own the domain.
? Winner: Google Domains
The pricing from Google Domains is more transparent, predictable, and eventually cheaper, since the steep discounts from GoDaddy don't last forever, lack privacy protection, and require extended agreements.
Email with a custom domain is cheaper through GoDaddy, though, but not by much.
Google Domains vs GoDaddy: customer support ?
Customer support for domain names is simple. You want someone to talk to in real-time (not just email) when completing tasks like transferring domains, changing DNS settings, and linking to email clients.
Google Domains customer support
Google does everything they can to make you figure out problems by yourself. You have immediate access to a Help and Support popup module, but even selecting the Direct Contact button sends you to documentation.
It's a resource-rich knowledge base, but I'd rather see a phone number or chat box. Luckily, you can keep clicking through to find a 24/7 chatbox and an option for email.
The chatbox is run by real people who seem friendly, responsive, and knowledgeable.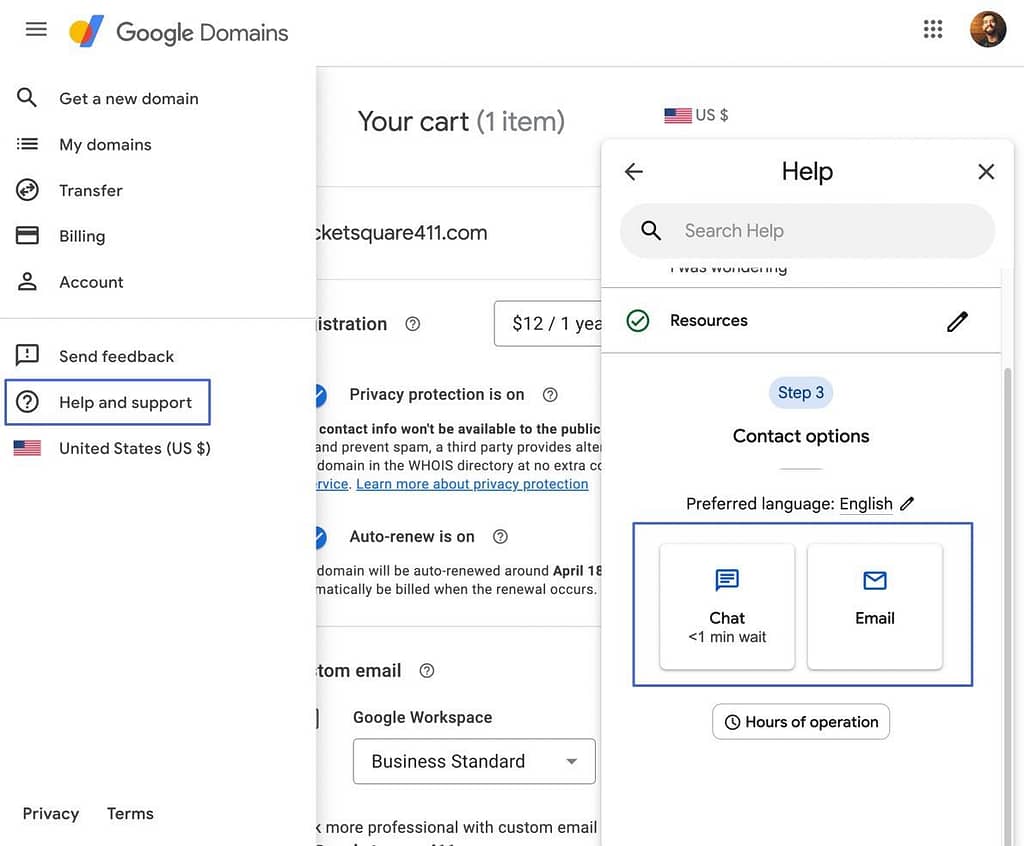 GoDaddy customer support
GoDaddy offers a knowledge base with excellent domain tutorials. There's also a 24/7 chatbox and phone number to call.
I tested both.
The chatbox is predominately controlled by a bot. It struggled to answer basic questions, and when prompted for a real person, continued to struggle answering, without sending me to a representative.
The phone number sends you through a series of automated messages. You can eventually get to a person, but the ones I spoke to clearly read off scripts and, again, struggled with basic questions. It seems like the entire operation is outsourced.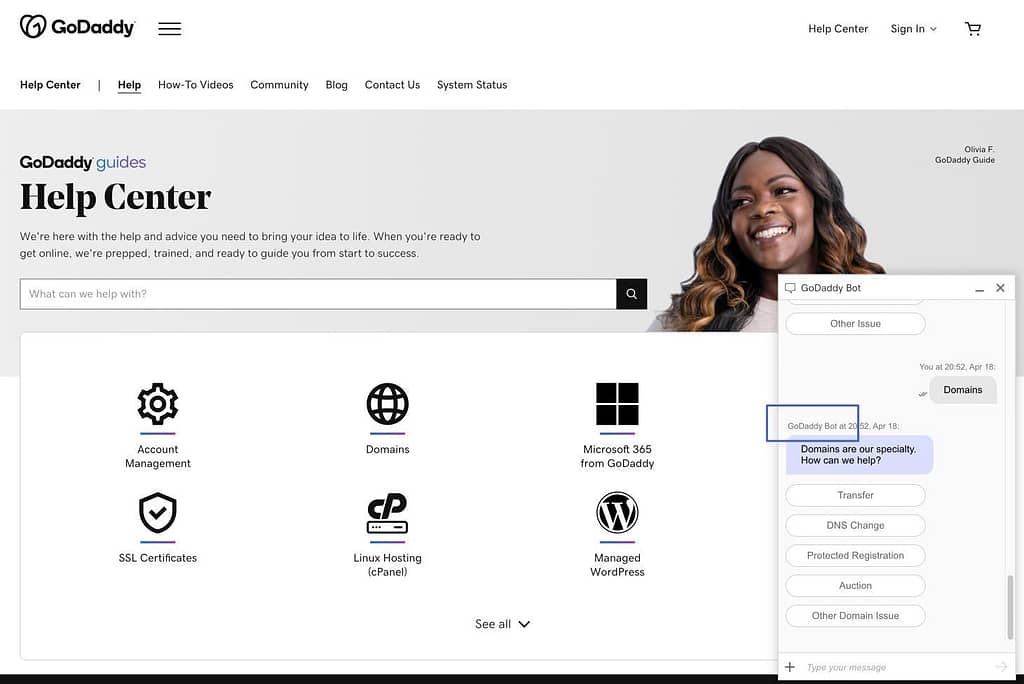 ? Winner: draw
It sounds great that GoDaddy provides phone and chat support, but, after testing, you're better off searching for your solutions online. You can't call the folks at Google Domains, but their chatbox does the trick for getting quick, quality answers about domain issues.
Google Domains vs GoDaddy: extras and bonuses (like web hosting and email accounts) ?
You'll often want to buy additional tools and services after getting a domain name, so it's nice to have those options from your registrar. What else can you buy (or get for free) from Google Domains and GoDaddy?
Keep reading the article at CodeinWP. The article was originally written by Joe Warnimont on 2022-04-26 12:47:52.

The article was hand-picked and curated for you by the Editorial Team of WP Archives.