Running an online store is no easy task, especially if you're starting from scratch. You need to establish your brand on the market, make sure your service is impeccable, and always keep coming up with new ways to reach out to potential new customers.
There is no doubt that the best way to run an online shop is through WooCommerce, but to keep track of data concerning your clients you need Google Analytics. The question is – how do you combine the two? Fortunately, the answer is very simple, as you shall soon see.
Actionable Google Analytics for WooCommerce
That's right, all you need is Actionable Google Analytics for WooCommerce, a plugin for this particular kind of online store that can make your life a whole lot easier. First and foremost, it is very easy to install it, which means that the user doesn't have to waste time with the complicated Google Analytics code. As a matter of fact, you don't need any coding skills at all to operate this product!
But that's just the beginning because there are so many upsides to using this plugin that's really hard to figure out where to start. For example, you can compare the performance of different devices when they are used by the same user to see how the outcome will be affected. You can also see how your customers prefer to pay and how much time they need to decide on the purchase.
On top of that, it is possible to analyze the discounts you offer and see what attracts people the most – it's not just the size, it's often the type of discount you offer, too. However, the features that are most important can be separated into two main groups. Let's take a look at them, one by one.
9 Enhanced Ecommerce reports
Actionable Google Analytics for WooCommerce will provide you with easy access to nine Enhanced Ecommerce reports, something that is otherwise found in the Conversions tab of Google Analytics. With this plugin, you will have easy access to all this data, and that fact is one of the main selling points, so it's important to know exactly what each report gives you in order to extract as much value as possible from it.
Overview
Simple enough, the Overview report gives you some general information about the state of your online shop through some general metrics. It's a good starting point for analysis because you can see with one glance if the numbers are satisfactory. Things like revenue, conversion rates, and transactions are all covered, so you can see where you are and compare that to where you want to be anytime.
Shopping Behavior Report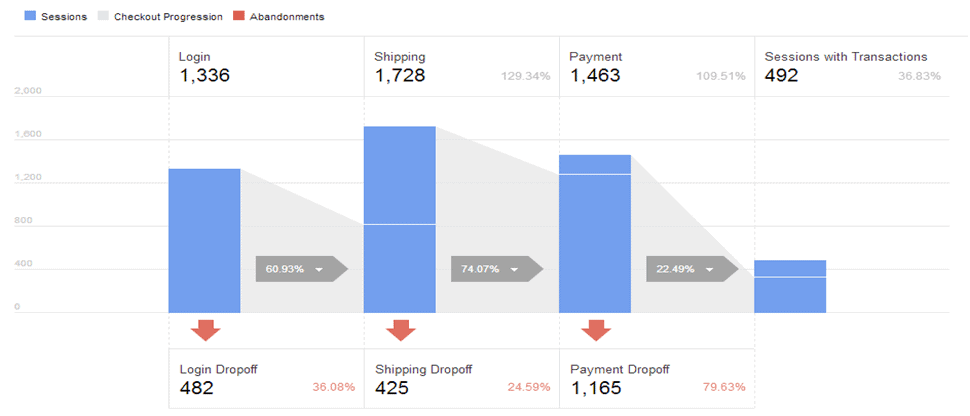 This is all about your purchase funnel. As you know, each funnel is composed of a series of steps a buyer needs to go through in order to make a purchase. The Shopping Behavior Report shows you how each step of the funnel
[…]
This article was written by Marko Domljanovic and originally published on WP Newsify.