A
re you wondering: How long does it take to make money from blogging? You aren't the only one!
The first thing any blogger thinks about when they start a blog is how long it will take them to earn their first buck.
The good news is, if you're focused and determined, you can make money from your blog in one year or less.
In this article, we'll discuss how long it takes to make money from blogging and we'll also share some tips to speed up the inflow of money.
So, let's get right into it.
How Long Does It Take Make Money Blogging?
You can quickly start making money within the first year of blogging if you have a solid strategy in place. 
There are two main factors that dictate how fast you can make money from your blog: 
How much time you put in
How you monetize your blog
Let's take a look at each factor…
How much time should you put in?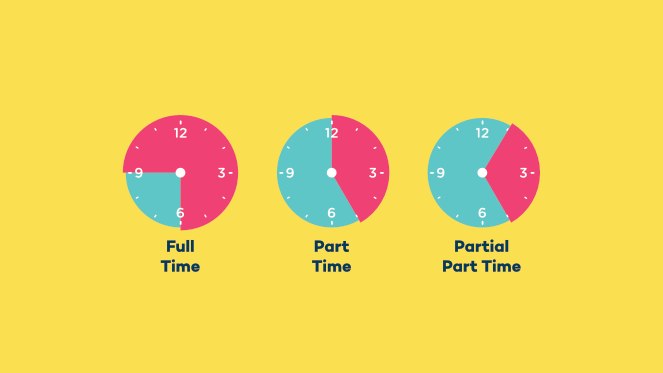 How much time you spend blogging depends on your situation and how focused you are. If you've quit your job, then working 40 hours a week would be ideal.
And if you're looking to build a source of passive income on the side, you should focus on putting in at least 15 hours a week.
The more focused time and energy you put into your blog, the faster you'll start making money.
But at the same time, blogging is a business you can build in your spare time.
If you're a mommy blogger taking care of kids, you probably won't have a lot of time to commit. But, even if you have 1-2 hours to spend each day, we're here to tell you that you can build a solid blogging business.
And you need to ask yourself a straightforward question, how committed are you to create a profitable blog?
A lot of people think that blogging is easy, and all bloggers do is type on their laptops throughout the day and watch the money roll in.
But that's a far cry from the truth. Blogging is hard work and it's not just about writing. You have to focus on email marketing, affiliate marketing, creating groups on social media, responding to comments and emails, sending out newsletters, and so much more.
You're going to need to be in love with your blogging business and the marketing side of things if you really want to make a profitable blog.
How do you monetize your blog?
How you monetize your blog is another important factor that determines how fast you can make money through blogging. 
Picking the right way to monetize your blog is essential, you need to do your research and look for a monetizing channel that is profitable.
Initially, for bloggers who are just starting out, the best way to earn money is through selling ad spaces on your blog. With ad spaces, you can start generating income but it might not be enough to kickstart your blogging career. 
You should focus on building your audience and when eventually you start generating traffic, you should move to better sources of income like affiliate marketing.
But don't just stick with one source of income for your blog, look for different options to maximize your profits. 
Let's look at some examples of how bloggers earn money and how much money they make.
Lloyd runs a blog called The Extra Income Project, where he has shared his income reports. His main source of income is through selling ad spaces, Google Adsense, and Mediavine.
Here is a screenshot of his first year of blogging: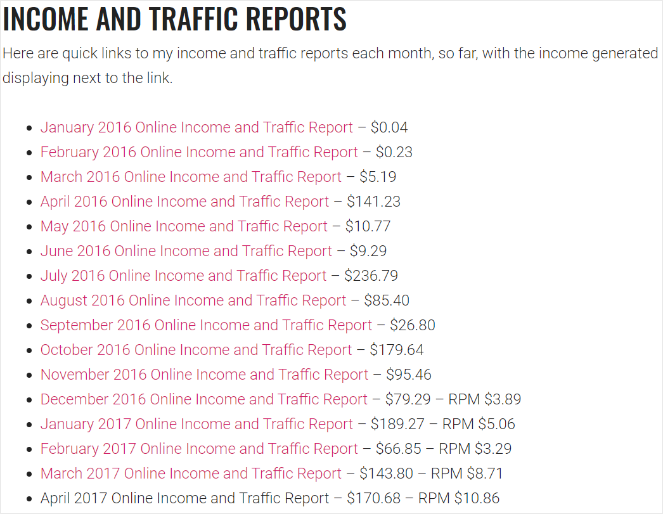 You can see how he has gradually increased his income from $0 to more than $150 a month. That's a great start!
And with time and other monetization methods, you can make even more money.
Abby Lawson is a famous blogger that runs a blog called Just a Girl and Her Blog. She has shared in her income report that she makes the most money through affiliate marketing and selling her courses and ebooks. 
Here is a snapshot of her income: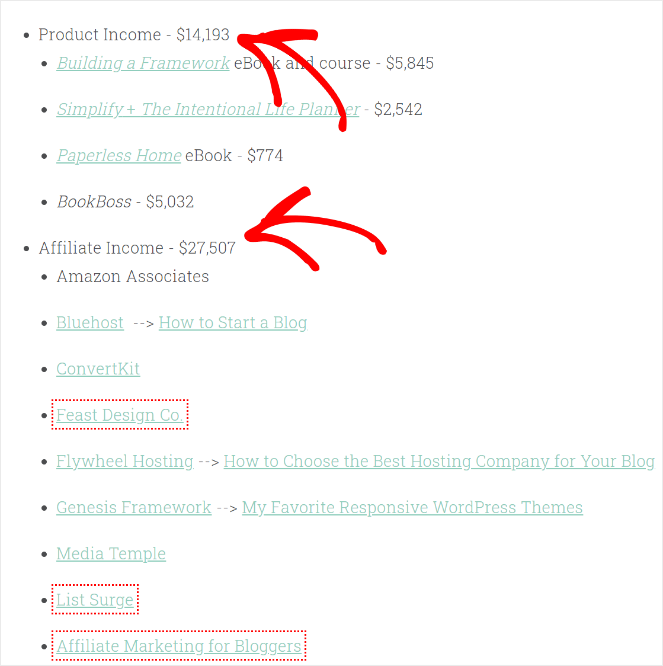 In another example, blogger Adam Enfroy shared in his income report that the most money he makes is through affiliate marketing.
According to Adam, he made $44,626 in March 2020 through 56 different affiliate programs.
Here is the screenshot of the summary:

There are countless other examples, and almost all of them show that affiliate marketing is the biggest source of a blogger's income.
We will touch on affiliate marketing more in this guide below, so make sure you read through.
Overall, you need to have realistic expectations of how and when you are going to start earning money. Most bloggers start earning in a period of 6-12 months of when they start blogging. But that largely depends on the time and effort they put in, and how they monetize their blog.
How To Make Money From Your Blog Faster
So we've talked about how long it takes to earn money from your blog. You can quickly start making money in a year, or if you've put in the effort, you can start earning in 6 months.
In this section, we'll share tips on how you can speed up the process of earning money through blogging.
1. Write for Your Audience
As a blogger, it should be your top priority to write for your audience.
This will help you create content that they love and trust. And when you have a loyal audience, they'll be more likely to click on your affiliate links or buy your products.
But first, you need to drill down to your ideal reader/customer.
More often than not, I've seen bloggers targeting the wrong audience because of shiny object syndrome. Just because a particular audience likes to spend more money, doesn't mean that they would spend more for you.
To find out who your exact audience is and what they're interested in, you can do a little research online.
For example, if your blog is about online gaming, then check out online groups where your target audience hangs out. By joining these groups you will get a good idea of what your target audience talks about, what topics interest them, and how you can help them out.
Once you write a blog post on the topic your target audience was talking about, share it with them and watch the traffic and engagement on your blog grow.
2. Pick a Niche and Stick with It
You can't find a dedicated audience if you can't decide on a niche!
Let's say that you love traveling. So, you start a travel blog to appeal to a similar audience. Since you've decided on a niche, it'll be much easier to attract a loyal audience and promote relevant products to them.
But if you decide to stray away and start blogging about tech, your content won't be as successful with your original travel audience. Instead, you'll have to attract a whole new audience and you won't be a trusted source for travel tips anymore.
And when choosing your niche, don't pick one just because you think it will make money.
Make sure that you have a passion for it.
More often than not, bloggers struggle writing for something that they don't have an interest in. Sure, the niche may be profitable but if you have no knowledge or interest in it you're going to exhaust yourself.
3. Stay Focused
Blogging can be very overwhelming. Bloggers often go crazy making a to-do list while trying to focus on a hundred things at once!
Here are some tips to help you stay focused so you can reach your goal of making money.
First, instead of learning everything about blogging, SEO, and social media marketing, focus on one platform at a time. Once you've mastered the one platform that you love, you can then move on to learn the next one.
If you love writing, then put all of your focus on that and make sure that you put the best content out there. Then, you can work on growing your traffic with SEO and promoting your blog on social media.
Next, the best way to stay focused is to get rid of distractions. We are a huge fan of Pomodoro technique. 
This technique requires you to work in short bursts of 25 minutes and then take a short break of 5 minutes. 
There are many apps available online that can help you with this technique. Our favorite is a free tool called TomatoTimer.com.
You should definitely check it out if you want to stay focused while working.
4. Create a Content Calendar
A content calendar is your best friend that can help you stay focused and on track. It will help you treat your blog like a business from the first day.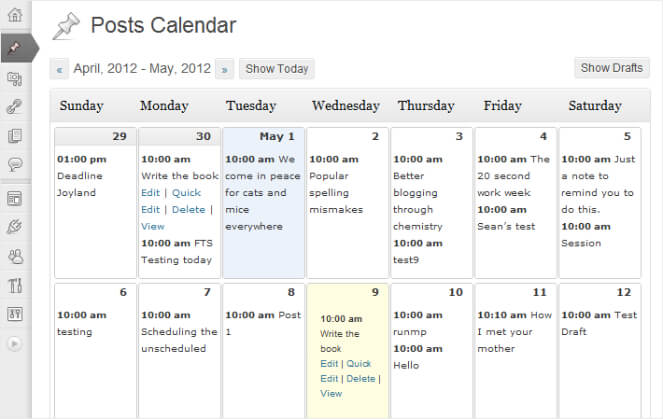 You will have a written plan of action and the content calendar will help you stick to that plan of action. 
The biggest downfall of any blogging site is that they aren't regular in posting or are reluctant to make the sacrifices to make them go full time.
Sticking to a schedule also means that you get to make proper investments in yourself and your blog. And like we've said before, the more effort you put into your blog, the faster it will yield results.
To create a content calendar, you can use:
The Editorial Calendar WordPress plugin
An online calendar with Google Docs, your smartphone, or tablet
A good old fashioned calendar near your desk or computer
You should also check out our guide on how often you should blog. It will help you get more organized with your content scheduling and planning.
5. Focus on Evergreen Content
Evergreen content is content that is forever fresh. It holds a lasting value, and people will always want to read it.
When you're planning out your content calendar, divide it into evergreen content and trending content. 
Trending topics tend to bring in a lot of traffic, but they die down fast. You could write something on top trending travel products and get a boost of traffic for a month or so, but it won't be there for the long run.
But if you focus on writing evergreen content like how to travel on a budget, you will get a lot more traffic over time.
Evergreen content is also good for your blog SEO. It helps you earn many backlinks, which then allows you to rank on search engines like Google and generate more traffic.
The more traffic you can attract, the better your chance at increasing your revenue.
6. Learn Affiliate Marketing
Affiliate marketing has been the go-to source of income for the majority of bloggers. We even shared a snapshot of some blogging incomes to prove our point. 
If you want to earn money fast, you need to learn and understand how affiliate marketing works.
With affiliate marketing, you promote the products of other businesses. Every time someone purchases the product via one of your affiliate links, you earn a commission.
So, say your commission is $6 for every sale. If 100 people buy the product by clicking on your affiliate link, you will make $600.
You can easily find products that offer affiliate commissions by signing up for affiliate programs.
The three most popular ones are:
ShareASale
Amazon Associates
Commission Junction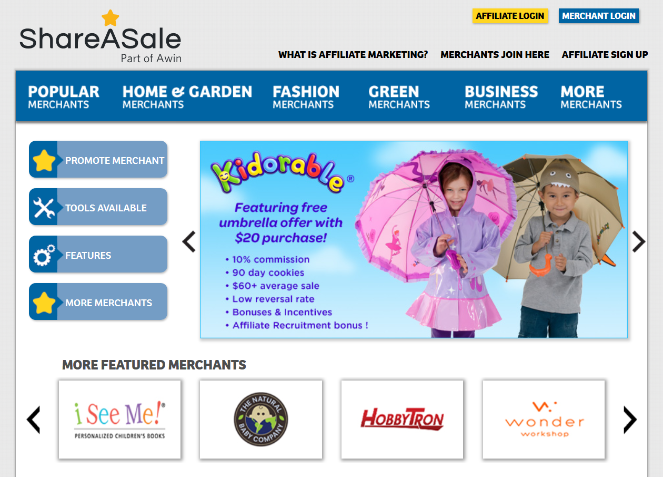 Just signup for these affiliate programs and you will find a list of products to promote on your blog. Just make sure to choose affiliate products that are relevant to your niche and your audience.
A Word of Warning: Never recommend an irrelevant or poor quality product just because they offer a high commission rate. This will hurt your brand reputation, and your readers will lose trust in you.
We've got a detailed guide on how to do affiliate marketing. Go check it out for more information.
7. Find More Ways to Monetize Your Blog
Finding more ways to monetize your blog can also help you make money faster.
If you build more than one source of income you can easily get more money sooner than you think. 
Here are some more ways you can monetize your blog:
Write Sponsored Posts: With sponsored posts, you are sent a product by a company. After trying out the product, you then write a post about it on your blog and get paid. But you need to write sponsored posts that are relevant to your niche. If you have a travel blog, then reviewing the best travel bags would make sense instead of writing sponsored posts on the best vacuum cleaners.
Use Google Adsense: Google Adsense is an advertising platform by Google that lets you show ads on your blog. And every time someone clicks on an advertisement banner, you'll get paid.
Sell Ad Space: You could also sell ad space directly to other companies. There are a lot of companies that look for maximum exposure for their brands or services. You can display their ads on your blog and get paid for increasing their brand's visibility.
Create a Membership Site: When you've built a good fan following, you can lock your content and only allow users that a paid subscription fee to read your blog. You can easily set this up with a plugin called MemberPress.
We could go on and list other ways through which you can make a lot of money with your blog.
But, you should check out our guide on how to monetize your blog for more tips.
8. Grow Your Email List
Email marketing is yet another essential part of making money through your blog. But unfortunately, bloggers who are just starting out often ignore it. 
Building an email list is critical if you want to succeed in the long run. Your email list comprises your most dedicated readers who can't wait to hear from you.
Every time you send them a message promoting your blog or a product, there are high chances of them making a purchase and bringing in revenue for you.
This is why we recommend getting a lead generation tool like OptinMonster. With OptinMonster, you can easily grow your email list and increase sales.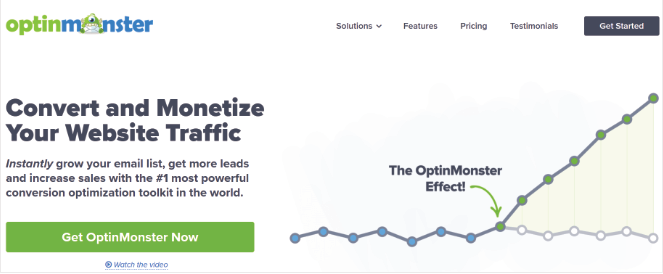 Using the drag and drop builder, you can create email popups to grab the attention of your blog visitors and encourage them to join your email list.
Here's an example of one: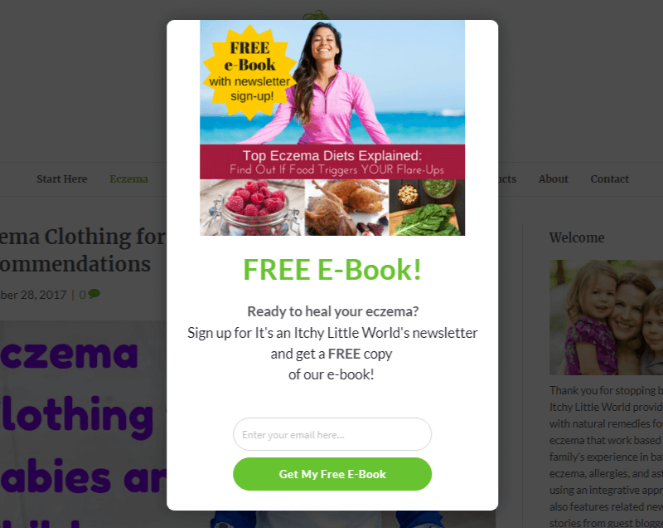 If you've used an enticing lead magnet, like an ebook, you will definitely get more subscribers.
These high-converting optin forms will help you build your email list quickly.
For more information, check out this post of quick and easy hacks to get more email subscribers. 
If you want to make money from your blog faster, you'll also need the right plugins.
Here's a quick list of WordPress plugins that will not only improve your blog overall, but can help you boost traffic, generate leads, and boost your income.
Check them out:
MonsterInsights (Free) – View your website analytics right from your WordPress dashboard. You can find out how much traffic your blog is getting, where people discover your site, who your visitors are, and more.
All in One SEO (Free) – Easily optimize your entire site for SEO so that you can improve your search engine rankings and grow your traffic.
SeedProd (Free) – Create beautiful landing pages for your blog with this drag and drop builder. If you want to collect email addresses on your landing pages, you'll need to upgrade to the Pro version.
WPForms (Free) – Build contact forms, feedback forms, payment forms, and more. This lets your readers or potential clients easily contact you.
RafflePress (Free) – Run giveaways on your WordPress blog to drive more traffic, boost engagement, grow your social media following, and more.
As you start to earn money from your blog, you can upgrade to the premium versions of these plugins to boost your earning potential even more.
Frequently Asked Questions
How Long Does it Take to Make a Profitable Blog?
For most bloggers, even if they're complete beginners, it took them 6 months to a year to start generating income from their blog. This time period varies on how good a strategy you are following and how much time and effort you put in a week.
How Long Does it Take to Make $500 Per Month Blogging?
This depends on the niche, competition, and Google sandbox period. Google sandbox period is the time Google or any other search engine takes to index your website. If you're working on a high-profit, low competition niche, then you can start earning your $500 in 6 months, but if you're working in a very saturated niche, then it might take you more than a year.
How Do Beginner Bloggers Make Money?
The easiest and the fastest way for beginner bloggers to start making money is with Google Adsense. We've talked about this before, Google Adsense lets you display Google Ads on your blog, and when a reader clicks on that ad, you get paid.
Is it Hard to Make Money From a Blog?
This is a tricky one. Generally speaking, making money is hard in all aspects, not just blogging. It may be hard, but it's not impossible. Sure, millions of bloggers out there never made a single penny and called it quits. But don't let the failures of others guide you. If you've got a passion for writing and you're willing to put in the time and effort, then you can make money from your blog.
Sure, it might take you a while, but you can achieve great things with your blog if you are focused.
That's a wrap!
We hope that this article answered your question about how long it takes to make money blogging and that the tips we shared help you speed up your income.
Also, check out our guide on how to make money online, it's best for bloggers who are just starting out.
And don't forget to sign up to our email newsletter so you can get useful content like this sent right to your inbox!
Keep reading the article at Blog Tyrant. The article was originally written by faizan on 2021-03-18 11:10:30.

The article was hand-picked and curated for you by the Editorial Team of WP Archives.