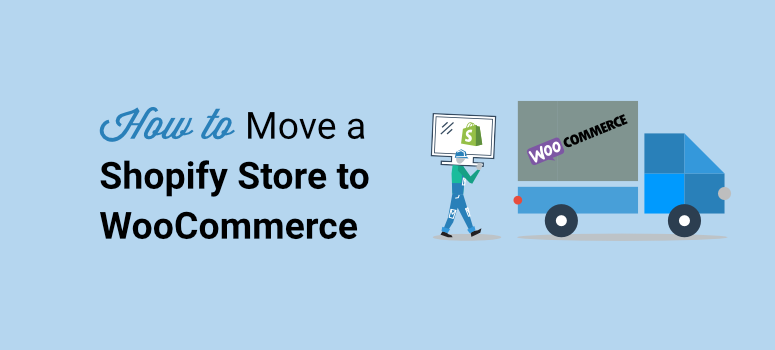 Do you want an easy way to move from Shopify to WooCommerce? Want to make sure your online store and its contents stay intact while you move?
One of the biggest issues in migrating your website is that you can break your site. You'll end up spending hours trying to fix issues.
But don't worry, this guide will take you through the process step by step. Simply follow the steps below to properly move your site from Shopify to WooCommerce.
Before we start the tutorial, let's be 100% sure you want to make the shift.
Should You Migrate from Shopify to WooCommerce?
Shopify is an all-in-one solution to build your eCommerce store. It takes care of hosting, security, caching, etc., so you'll never have to worry about these technical aspects. It's super easy for beginners and those who don't know much about website building.
You just have to pay a monthly or annual fee. Their basic plan starts at $29 per month, and you can upgrade to the Shopify plan for $79 or the Advanced Shopify plan for $299 per month.
Aside from this cost, with Shopify, there's a bigger price to pay. Since they handle all the technical aspects for you, this means you lose a lot of control over your site's customizations.
Now WooCommerce gives you full control over how you modify your site but you need to have your own web hosting plan. Other than that, the WooCommerce plugin is free to use. All you have to do is install WordPress and the WooCommerce plugin to get started with your online store.
So making the switch will be beneficial in the long run as you'll save on costs and you'll get more flexibility with how you customize and manage your store.
For more on this, read: Shopify vs. WooCommerce – Which Is the Best eCommerce Platform.
What you need to know before we get started is that Shopify does not have an easy way to export data that's in a file format supported by WordPress. So you may be able to export your website but you won't be able to use the file with WooCommerce.
To solve this problem, our sister concern WPBeginner has built a plugin that helps you migrate from Shopify to WooCommerce with ease. It works like a charm with importing Shopify to WooCommerce.
With that said, let's get right to the tutorial.
How to Move from Shopify to WordPress
Step 1: Set Up Your WooCommerce Site
You might be wondering why setting up WooCommerce is first on the list. Well, think of moving to a new house, you first need to have a new home to move into, right? That's what we'll be doing in this first step – setting up a new home for your website.
[…]
This article was written by Editorial Team and originally published on IsItWP – Free WordPress Theme Detector.