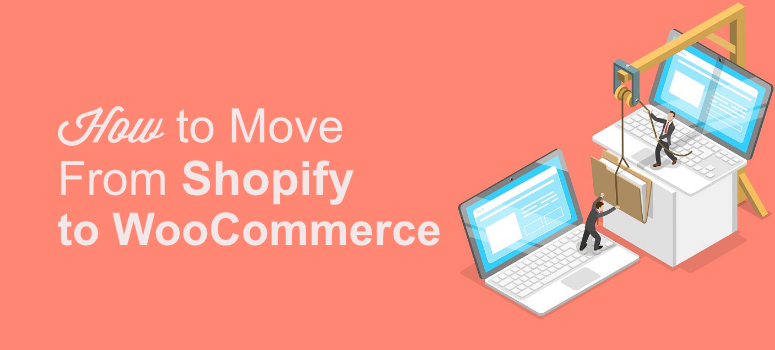 Want to move your online store from Shopify to WooCommerce?
Both Shopify and WooCommerce are great options for beginners to start an online store.
Many website owners start with Shopify, realize that it comes with a lot of limitations and then they decided to migrate their online store to WooCommerce.
This migration process might sound like an intimidating task if you're not a developer. But don't worry. In this tutorial, we'll show you how to migrate your store from Shopify to WordPress easily in a step-by-step manner.
But before that, let's look at some of the reasons why you might want to move your Shopify store to WooCommerce.
Why Move From Shopify to WooCommerce?
The reason for this may vary depending on your business requirements.
Since Shopify is a hosted platform, it doesn't allow you to fully customize your online store the way you want. WooCommerce, on the other hand, gives you full control over your site.
Shopify needs you to opt for a monthly payment plan. As your site grows, you'll need to keep paying more. But WooCommerce is a free plugin that doesn't charge you based on your site growth. However, you need to have a reliable WooCommerce hosting provider, which costs less than a Shopify store.
You have to pay a transactional fee to Shopify for each transaction. WooCommerce doesn't charge you for transactions made on your store.
These are just a few reasons why many users choose WooCommerce as a Shopify alternative. To know more about these two platforms, check out our detailed post on Shopify vs. WooCommerce and find out which one is the best for you.
Let's now move ahead and check out how to move an online store from Shopify to WooCommerce.
Moving From Shopify to WooCommerce Made Easy
There are a few different ways to migrate your online store. In this article, we'll use Next-Cart, which makes the entire store migration process super easy.

Next-Cart is an amazing platform that helps you migrate your Shopify store to
[…]
This article was written by Editorial Team and originally published on IsItWP – Free WordPress Theme Detector.