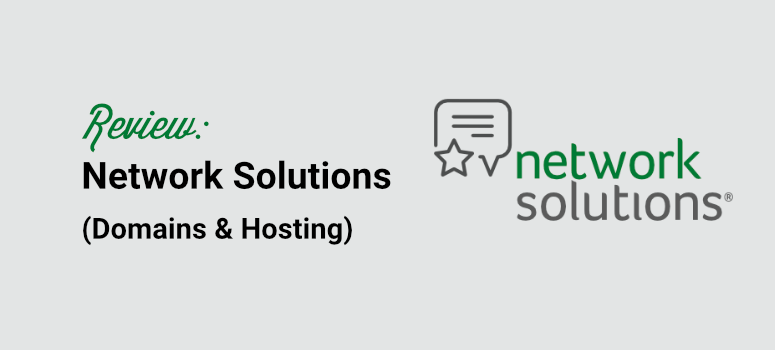 Do you want to know if Network Solutions is a good domain and hosting provider?
Network Solutions is one of the most reliable hosting solutions. It offers affordable web hosting plans with the flexibility to scale when you need.
But is it the right option for you?
In this review, we'll reveal everything you need to know about Network Solutions including their hosting plans, domain offers, pricing, and more.
Here's a table of contents to help you navigate the post easily:
Let's get started.
Overview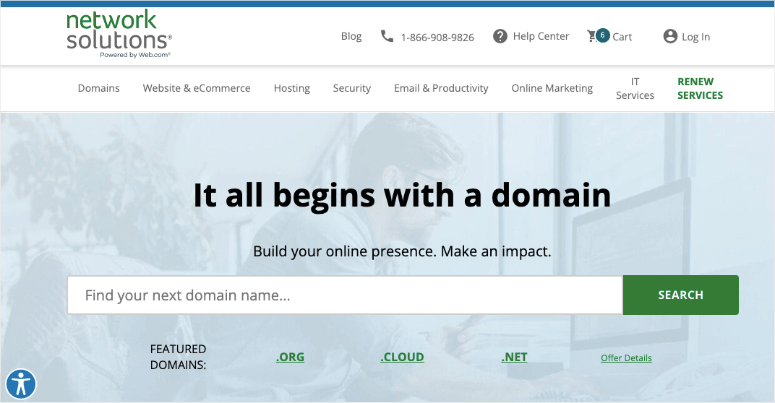 Network Solutions is not just one of the most popular web hosts in the world, they're also one of the oldest Internet companies that's still in operation. In fact, their origins go back to 1979.
They're also a well-known domain registrar with an impressive portfolio of domain-related services.
Over the years, Network Solutions has grown into a one-stop shop for your website needs. You can get a domain, hosting plan, email, marketing tools, security, and website builder all under one roof.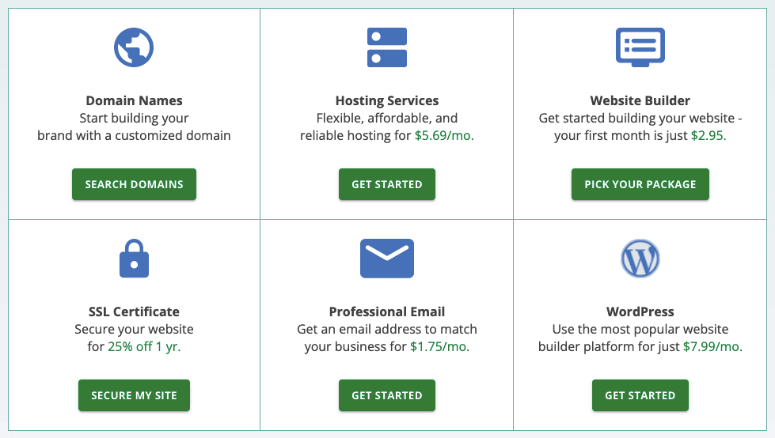 For small to large businesses, Network Solutions covers everything to help you build your online presence. 
If you're looking for a good deal to get started with Network Solutions, we've worked out a plan where you get 25% off on domain registration.
Grab the Exclusive Network Solutions Deal »
Web Hosting Plans
Network Solutions web hosting is one of the most reliable services in the market with a 99.9% uptime guarantee. When you host your website with Network Solutions, you can be sure that your website stays online with very rare downtime, if any.
There are 2 kinds of hosting services you can choose from:
1. Web Hosting
Network Solutions uses cloud hosting which stores your files across multiple servers, so if one goes down, they'll automatically route to a different server.
Added to that, every server is scanned every day for malware. If anything malicious is found, it'll be removed immediately to protect you and other customers.
There are four professional web hosting service plans:
Starter: $3.79 per month for 1 website
Essential: $9.96 per month for 3 websites
Professional: $15.78 per month for unlimited websites
Premium: $21.62 per month for unlimited websites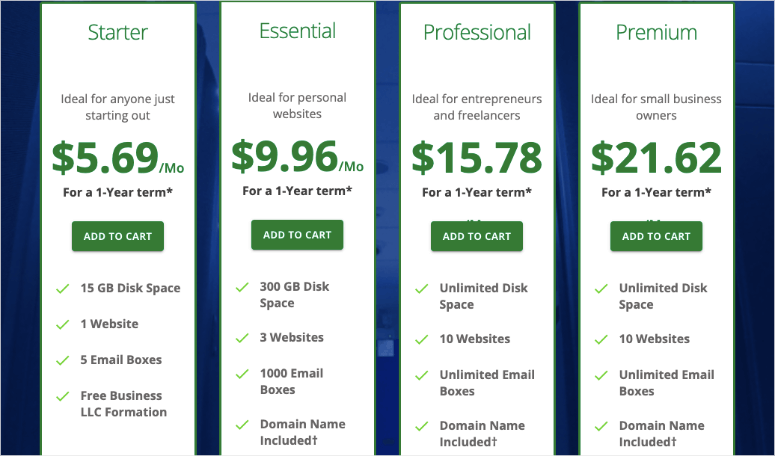 Their cloud packages with an annual term come with a free domain included.
Added to that, you'll get email accounts, free business LLC formation, malware scanning, and an SSL certificate depending on the plan you choose.
Coming to apps and tools, Network Solutions hosting has easy access to tools like Joomla, Drupal, PHP, Python, WordPress, Rails, MySQL, Ruby, and Perl.
2. WordPress Hosting
Designed specifically for WordPress sites, Network Solutions delivers blazing speeds with their WordPress hosting plan.
If you plan on building your site with WordPress, then you'll want to consider getting this plan. There are different packages you can choose from depending on your needs.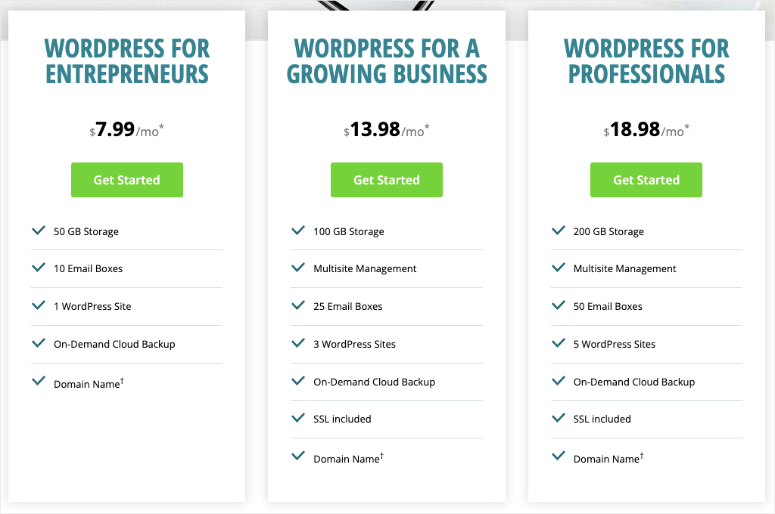 WordPress for Entrepreneurs: $7.99 per month
WordPress for a Growing Business: $13.98 per month
WordPress for Professionals: $18.98 per month
Every plan with an annual term comes with a free domain, email boxes, and on-demand cloud backup.
With the business and professional plans, you'll get a free SSL certificate. There's also the multisite management feature. This lets you manage a network of WordPress sites with ease.
That's Network Solutions hosting solutions. It's simple and straightfoward and gives you exactly what you need to get your site online. No complicated jargon and unnecessary addons, just powerful features with transperant pricing.
You might also want to see our comparison of the Best WordPress Hosting Companies (Real Reviews, No B.S).
Now, let's see what Network Solutions has to offer when it comes to domains.
Domain Registration
Network Solutions is the first domain registrar in the world. Until 1999, they operated the registries for the com, net, and org top-level domains (TLDs).
Today, they have 6+ million domains under their wing and offer a wide range of domain services that includes:
Domain Name Search
Premium Domain Names
Domain Transfer
Domain Forwarding
Private Domain Name Registration
Domain Expiration Protection
WHOIS Search
Trademark Protection
Domain Management
Let's take a look at each one in detail.
Domain Name Search
Being the old domain registrar, Network Solutions offers one of the most powerful domain name search. You can find domain names with the top domain extensions including .com and .net. You'll even find not-so-popular extensions like .guru, .xyz, .now, and so much more.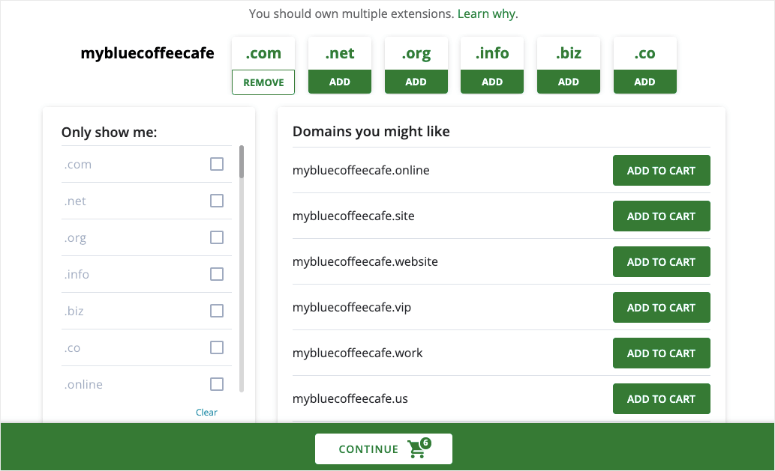 To use this tool, all you have to do is enter your keyword and hit the Search button. Then, you'll see a list of available domains that best matches your search.
You can select the one you want and even choose which extensions you want to register together.
Premium Domain Names
Most of the time, just when you've found the perfect name for your blog or business, you'll find that the domain name is already taken.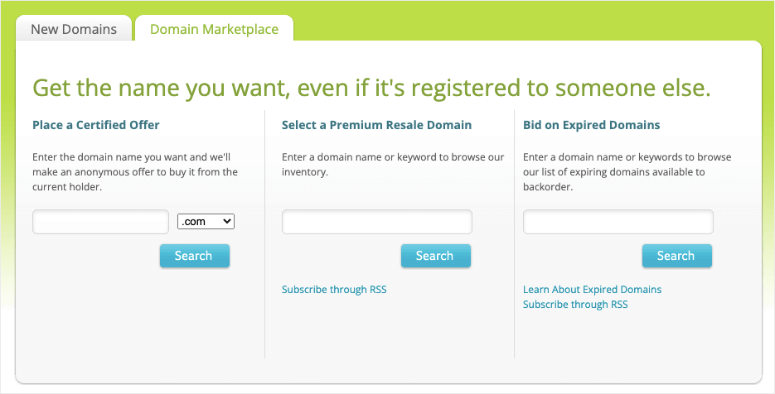 Now there are ways that you can get your hands on it. With Network Solutions, you have 3 options:
Placing a certified offer: They will contact the current domain holder on your behalf and make an anonymous offer. This will help you get the domain at a fair price if the owner is willing to sell.
Selecting a premium resale domain: For domains where the owner is ready to sell, you can buy it right away at the seller's quoted price.
Bidding on expired domains: You can place a backorder a domain that's set to expire soon. Then when the domain expires, Network Solutions will give you priority to register it.
Domain Management
As you grow your portfolio of domain names, it can become hard to manage them all. You could miss renewal dates, addons, and even security issues.
With Network Solutions domain management service, you'll get a dedicated account manager. You can consult with them on how they should manage your domain portfolio on your behalf.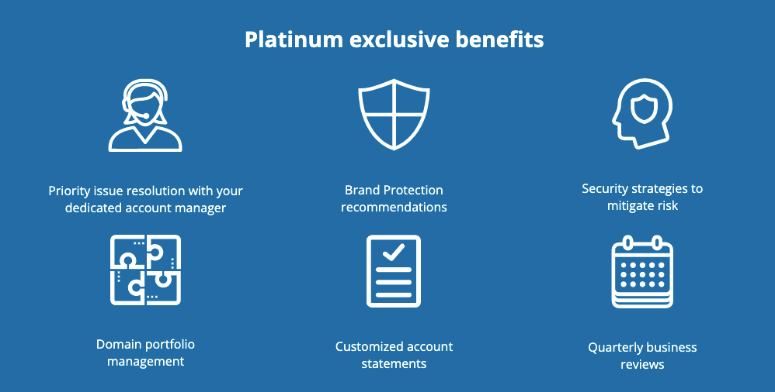 This basically gives you access to priority support so that any issues you face are quickly resolved. Added to that, you won't have to worry about domain security as they'll monitor for vulnerabilities and fix them immediately.
To make sure you're in the loop, you'll get customized account statements and quarterly business reviews.
Private Domain Name Registration
When you register a domain name, you'll have to disclose personal info like your name, address, phone number, and email.
This is made publicly available in the WHOIS database. If anyone wants to see who owns your domain name, they can search for it using the ICANN Lookup tool and find all your personal details.
To prevent spam and unwanted calls, you can safeguard your information with Private Domain Registration. Network Solutions will hide your details and display their generic company details.
You can get started for free for the first month. After that, it renews at $1.99 every four weeks.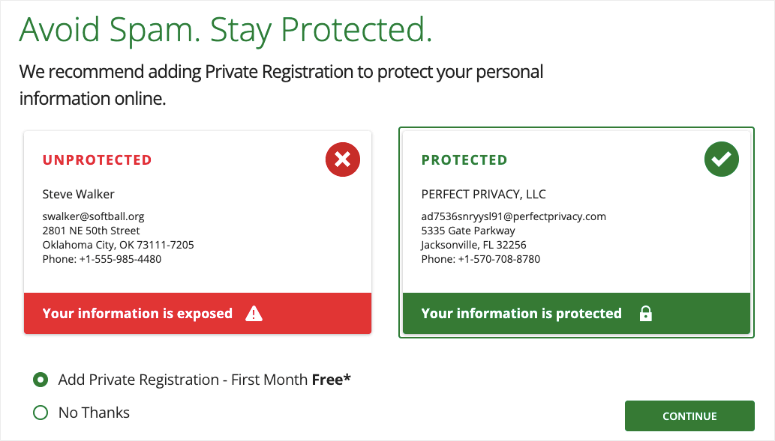 Learn more about this: Should I Buy Domain Name Privacy Protection?
Domain Transfer
You may want to transfer your registered domain to Network Solutions if you find that their pricing and service is better, or maybe you just want all your website assets under one roof.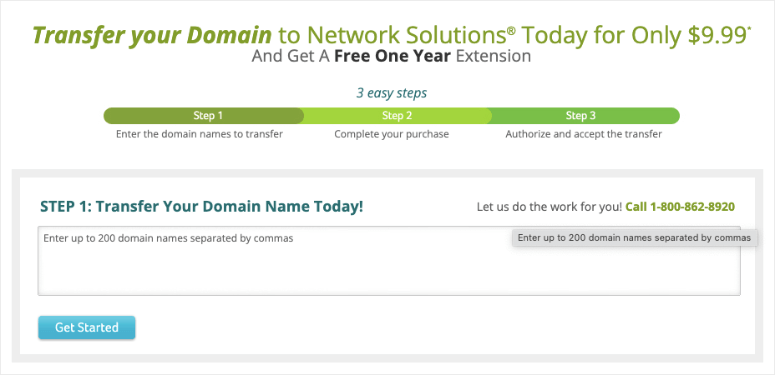 You can even bulk transfer up to 200 domain names.
And when you switch to Network Solutions, you'll get a 1-year extension on your domain's validity for free.
Domain Forwarding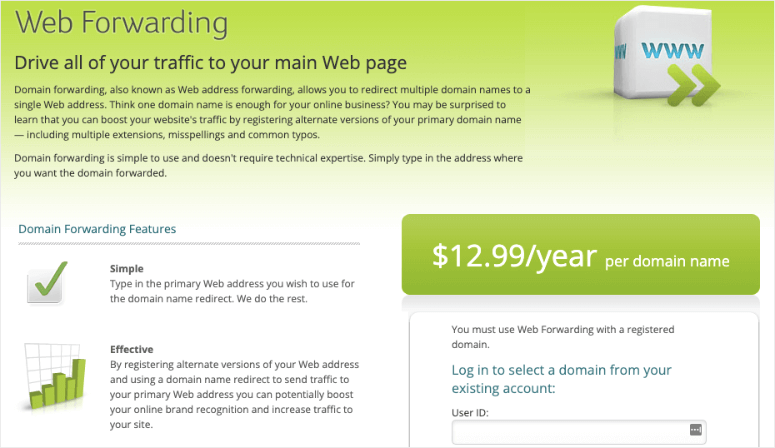 You may want to buy multiple domain extensions like example.com, example.net, example.biz, and so on. This will help you prevent others from creating websites with the same name.
Now you'll want to direct all traffic from other extensions to your main website. Network Solutions lets you automatically forward traffic from multiple domains to a single web address. They charge $12.99 per domain name.
Domain Expiration Protection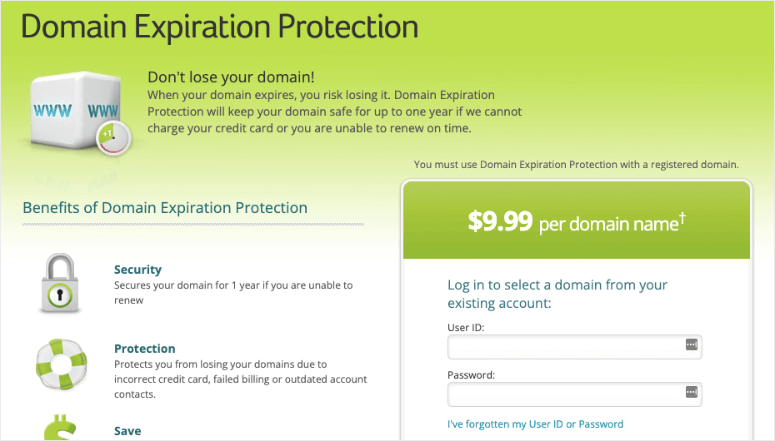 Every domain name is registered only for a limited period like 1 year to 10 years. Once that period expires, it goes back on the market where anyone can buy it.
If you want to prevent your domain from accidentally expiring, Network Solutions offers Domain Expiration Protection at $9.99 per domain. If you are unable to renew your domain name, this service will make sure it stays registered in your name for up to a year.
You'll also be protected against incorrect credit card details, failed billing, or outdated account contacts.
And usually when you want to reinstate an expired domain, you'll have to pay hefty fees. This service will protect you from that.
Trademark Protection
Worried about people stealing your domain name or accidentally using your brand name for themselves? Or worse, riding the wave of your brand's popularity to steal traffic and divert them to malicious or adult websites?
Then you need to trademark your domain name. You can also buy Trademark Protection from Network Solutions. This will block the registration of your domain name with any of the known adult extensions and ones that are often used for malicious activity.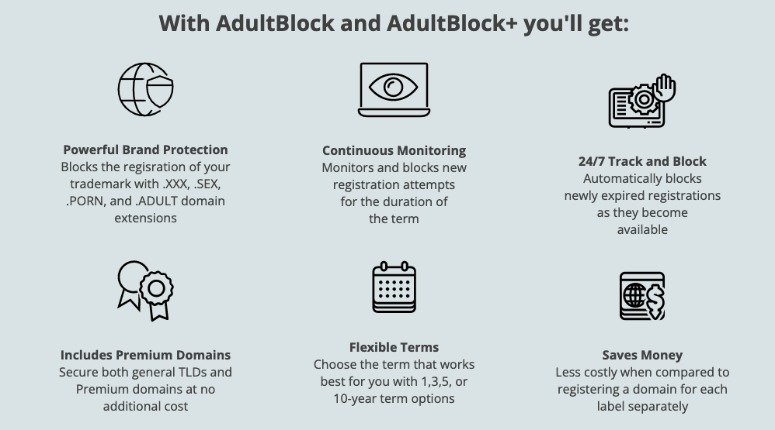 You can choose from 1, 3, 5, and 10-year terms to protect your domain. Network Solutions will continuously monitor and block new registration attempts for the duration of the term.
WHOIS Search
If you want to find out who owns a domain name, you can use the WHOIS Search tool from Network Solutions.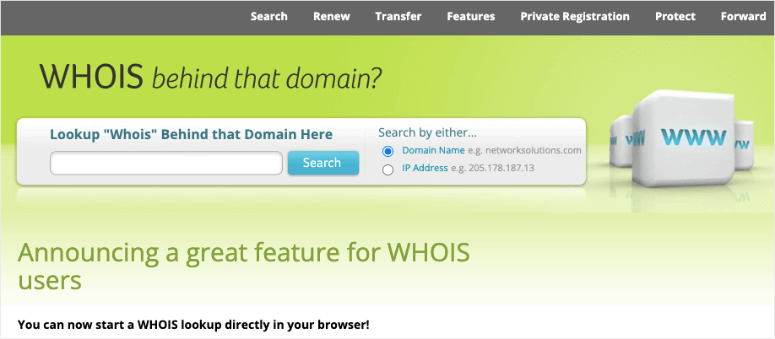 The WHOIS Search tool is mostly used by:
Individuals to check domain names for expiration dates
Authorities to check domain names when investigating criminal activity
Domain registrars to check domain names when transferring ownership
Simply type in the domain name and you'll see the owner's name, domain registration date, expiration date, and more. This is the same database where the Private Domain Registration service will hide your information.
Other Services Network Solutions has to Offer
We mentioned earlier that Network Solutions is a one-stop shop to setting up your website and we weren't kidding.
They go above and beyond domains and hosting plans to offer you an intuitive website builder, email accounts, and marketing tools.
The other services offered by Network Solutions include:
Website Builder: This is a DIY website builder that comes with 1 hour free design support. When you sign up, you'll get a free domain name as well. You can build your website in no time with professional website designs and tools that are easy to use. Added to that, if you want to set up an eCommerce site, there's a dedicated builder to create a mobile optimized online store where you can sell up to 100,000 products.
Email: Every hosting plan comes with free business email accounts. You can also buy this separately or add on more accounts to your plan. Every account has enhanced spam and virus protection to keep your data safe. The best part is that you can access your email and files from any device as long as it has internet access.
Security: Network Solutions is built on a robust infrastructure that has tight security protocols. Added to that, they scan their servers daily for malware to remove any malicious elements immediately. To protect your site on a local level, you can subscribe to Sitelock starting at $6.99 per month. This will protect your website against hackers and malware infections.
And one more thing, Network Solutions issues trust seals that you can display on your website to boost trust and confidence in your users.
SSL: Many hosting plans come with a free SSL certificate. You can also buy a premium SSL certificate starting at $50 per year. For more on this, you'll want to read: How to Get a Free SSL Certificate.
SEO: To get your site noticed, you need to optimize it for search engines. Network Solutions offers an SEO tool as well as SEO services to help you with this.
When you do business with Network Solutions, you'll find that they have just about everything you need for your site. And if you find yourself stuck, there's always a reliable support team you can reach out to.
Customer Support

Network Solutions has a team of experts that's available 24/7. You can chat with their sales and support staff to get answers right away.
You can also speak to the team via phone. This service is available between 7:00 am and 12:00 am ET.
Network Solutions also has tons of documentation in their Help Center. You'll find articles on domains, email, hosting, security, and much more.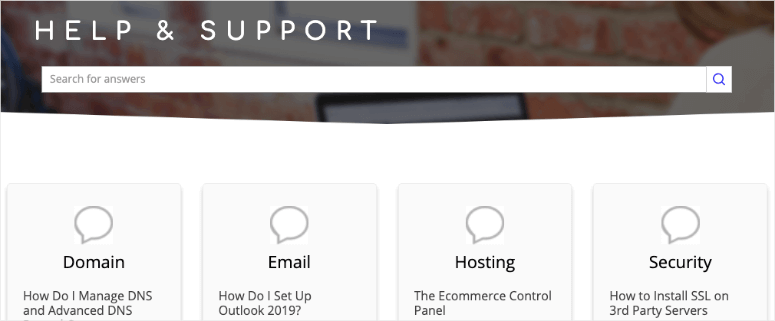 Now you can also make use of a special service called My Time Support. This is offered by web.com and is there to give you advanced help with your site.
This goes beyond regular customer support and helps you with setting up, completing technical tasks, and even giving you a remote walkthrough.
My Time Support starts at $15.99 per month (the first month is free).
Verdict: Should You Use Network Solutions?
Here's a quick recap of Network Solutions:
The oldest domain registrar in the world with an impressive portfolio of domain services
Simple and reliable hosting plans with transperant and affordable pricing
All in one solution for website including website building, growth, and optimization tools.
Top-notch customer support team
When you sign up for Network Solutions, you'll see that they are relentlessly dedicated to providing you with quality experience. That's the most important thing as it'll ensure you get great products and reliable service too!
Whether you want a hosting plan, domain, or their marketing services, with Network Solutions, you can rest assured you're in good hands.
That's all we have for you today. We hope you found this Network Solutions review helpful.
Next, you may also want to see similar reviews:
These reviews will give you in-depth insights into the most popular domain registrars and web hosts.
Keep reading the article at IsItWP – Free WordPress Theme Detector. The article was originally written by Editorial Team on 2022-09-06 12:16:00.

The article was hand-picked and curated for you by the Editorial Team of WP Archives.