Are you looking for the best CRM software for your business? CRM software, which stands for customer relationship management, is an all-in-one software solution that allows you to easily manage your business's prospects, leads, and customers.
You can store all of your prospects, leads, and customers' contact information, add notes, make calls, send emails, schedule appointments, manage your pipeline, create reports, and much more — all without having to leave the CRM software.
There is a lot of outstanding CRM software out there, as well as a lot of CRM software that's lacking the features you need to manage your business contacts. So, how do you know which CRM software is the best for your business?
In this article, we'll compare the best and most popular CRM software for business, so you can find the one that works for you.
Let's get started.
What is the Best CRM Software
HubSpot – Best CRM Software for Beginners
Constant Contact – Best CRM for Email Marketing
PipeDrive – Inexpensive Sales CRM
GreenRope – All-in-One CRM
Freshsales – CRM for Small Businesses
Drip – Best eCommerce CRM
SalesForce – Best Sales CRM
Streak – Free CRM in Your Inbox
Agile CRM – Yet Another Sales CRM
1. HubSpot – Best CRM Software for Beginners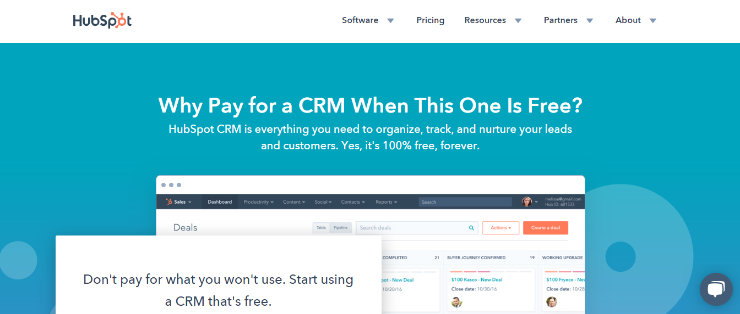 Arguably one of the most popular CRM software is HubSpot. HubSpot CRM is a simple, easy to use CRM software that's perfect for beginners, solopreneurs, and startups. The web-based CRM solution allows you to easily manage your contacts and recent contact activity.
With HubSpot, you can organize your contacts and get an up-to-the-minute view of your entire sales funnel with their clean, visual dashboard. You can easily sort your contacts by deals won and lost, appointment scheduled, specific time period, and more. You can even create your own customized filters to sort your contacts exactly to your needs.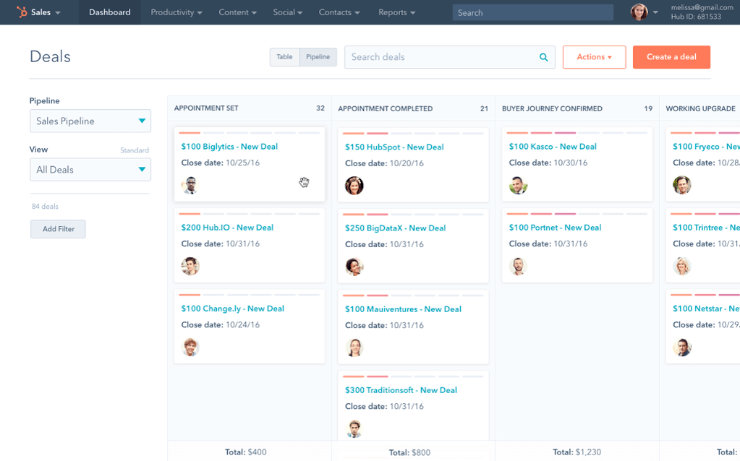 HubSpot CRM also comes with a number of features straight out of the box. Aside from contact management, HubSpot CRM offers email scheduling, tasks, deals, ticketing, team email, live chat, and more. You're also able to connect HubSpot with Gmail or Outlook in order to log every activity automatically. This means HubSpot CRM can capture every email as it happens.
HubSpot CRM is 100% free, with no time limit, which is great for small businesses trying to stay on budget. This CRM is free even if you have unlimited users and you can store as many as 1 million contacts and companies.
But, if you want more advanced CRM features such as calling, meetings, email tracking notifications, contact activity, and conversational bots, you'll have to upgrade to one of HubSpot's paid plans starting at $50/month.
The only problem with Hubspot is that as your company grows you might gradually want to opt-out because of its limited features for larger organizations. Another drawback of Hubspot is that the technical support they offer is a paid one. Besides many of its paid features are available elsewhere without paying a penny. And many of them aren't as advanced as offered by some of its competitors.
Get Started with HubSpot CRM Today »
2. Constant Contact – Best CRM for Email Marketing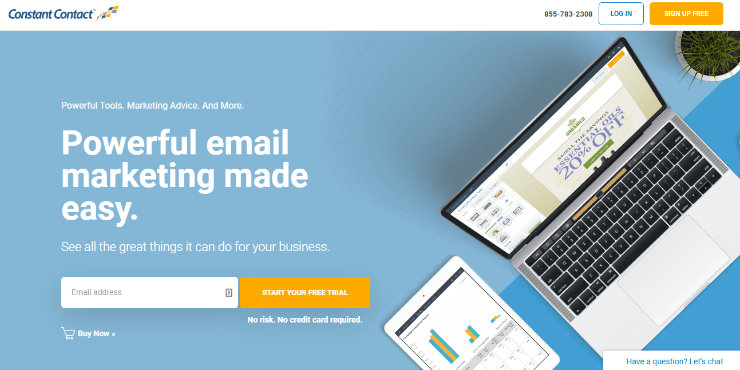 You might know Constant Contact as an email marketing service but this software can be used as a CRM as well. So, with Constant Contact not only can you easily send great-looking email campaigns to your subscribers, but you can manage all of your contacts too.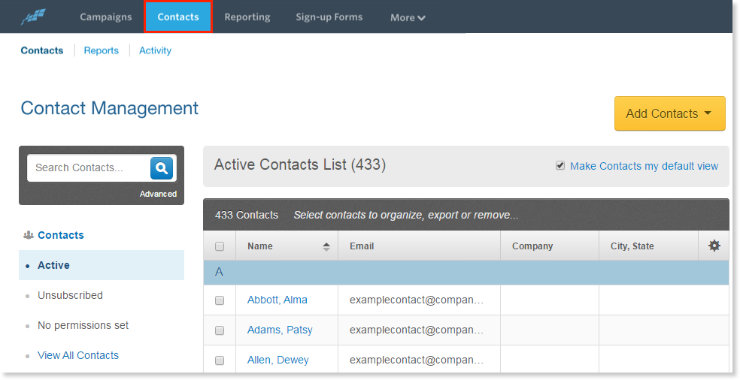 With Constant Contact, you can easily upload your current lists of contacts and use tags to categorize your contacts. For instance, you can create mailing list categories for contacts that are "VIP customers", "leads", or "Twitter follower". They also offer segmentation tools, list cleaning, email list building tools, and more. Plus, Constant Contact seamlessly integrates with numerous other popular CRM software.
Constant Contact offers a number of different pricing plans depending on how many email subscribers you have as well as what features you want access to. These plans range from $20/month to $335/month and you can get started with a free trial.
Constant Contact is a wonderful resource for business owners. But it has its own limitations too. For example, if you need advanced automation, this might not be your best choice. It doesn't let you identify duplicate individuals, so you have to screen them manually if you want to purge them. Besides if you want to embed videos to your emails, it can only be a YouTube link. It doesn't support any other video links.
Get Started with Constant Contact Today »
3. PipeDrive – Inexpensive Sales CRM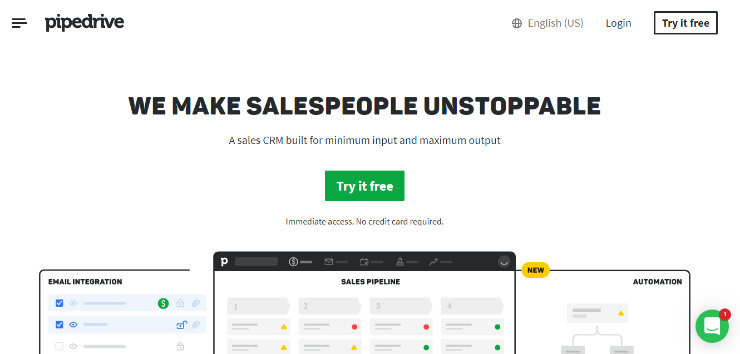 PipeDrive is a CRM software that's designed with simplicity in mind. They want to simplify the sales pipeline process so you can zero-in and double down on actions that will win you more sales. This CRM software is easy to use — just log in, fill up your pipeline, and start selling.
PipeDrive includes features such as pipeline management with a clear, visual interface, email integration, activities and goals, sales reporting, and sales forecasting. They also offer mobile apps so you can access your CRM from anywhere.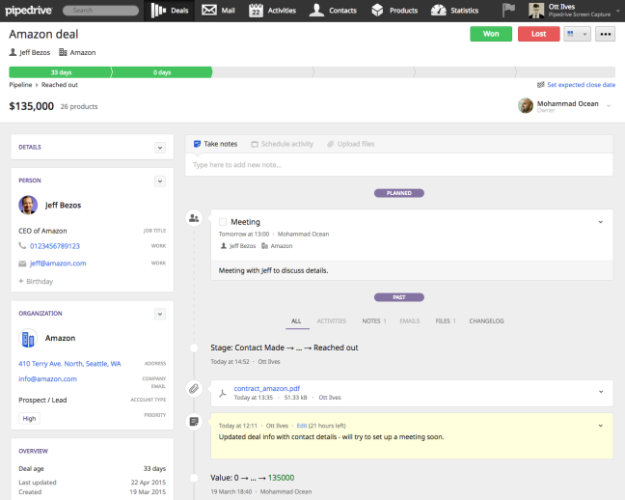 Compared to the other CRM software on this list, PipeDrive isn't as feature-rich. For instance, it doesn't offer any separation between lists of new leads and contacts. But, it's simplicity makes it easy to identify promising leads and maintain relationships.
PipeDrive offers 3 different pricing plans: Silver, Gold, and Platinum. The Silver plan is the least expensive plan at $12.50 per user, per month, billed annually. This plan includes basic features such as drag and drop calendar view, goals, smart email BBC, customizable dashboard, and chat and email support. If you want more advanced features like workflow automation, smart contact data, and scheduler, you'll need to upgrade to the Gold plan for $24.20/month. Lastly, the Platinum plan, which includes multiple dashboards, teams, and revenue forecast reports, will cost you $49.17/month.
However, PipeDrive does offer a free trial, so you can test out the CRM before you buy it. Overall it's a good option. But its extensive feature list might be a bit overwhelming for you if you're a beginner. You might also have issues if you try integrating it with Outlook. But it's just an occasional thing, so you can take a chance.
Get Started with PipeDrive Today »
4. GreenRope – All-in-One CRM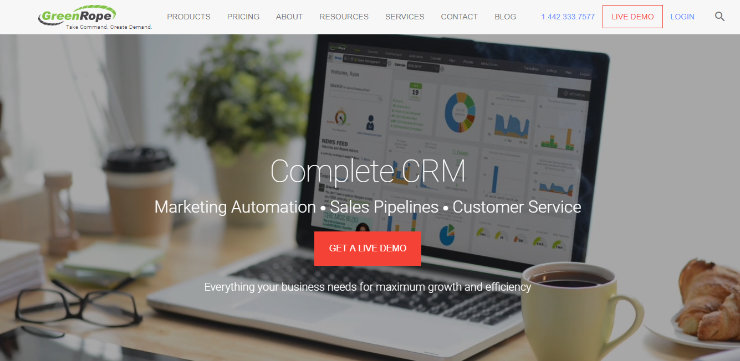 GreenRope is a complete CRM software that includes marketing automation, sales pipelines, and customer service. This CRM software allows you to manage your email marketing, social media, sales, events, and project management right from this cloud-based CRM platform.
GreenRope is broken down into 3 main sections: sales, marketing, and operations. Sales features include a complete CRM, workflow manager, booking calendar system, lead scoring tool, predictive analytics, and much more.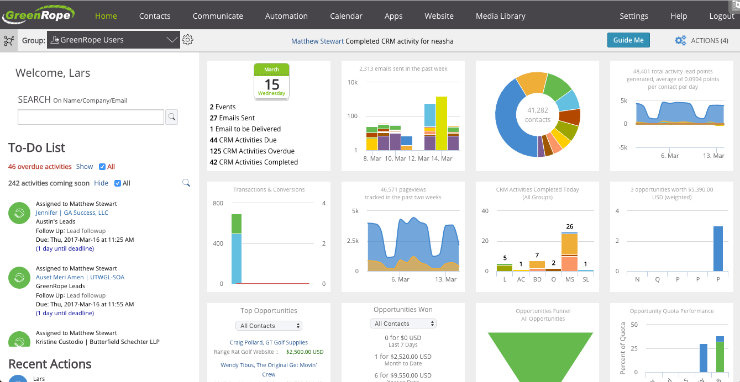 With their marketing suite, you get access to features such as email marketing software, customer journey mapping, landing page builder, email tracker, and more. Finally, their operations suite boasts features like project, event, and contact management, ticketing system, live chat, and more.
Since GreenRope is packed with so many features and capabilities, there's a slight learning curve involved. Once you find your way around though, this CRM software can handle all of your business needs.
GreenRope has 7 pricing plans available which range from $149/month to $699/month. The pricing plan you choose depends on how many contacts you have. For instance, the least expensive plan is for only 1000 contacts and the most expensive plan is for 50,000 contacts. So, as your business grows, you'll have to upgrade your plan. This is the most costly CRM software on the list, but you're paying for the all-in-one solution, not just a CRM.
But before purchasing GreenRope, you should know that it involves a learning curve. The software is not very user-friendly in terms of handling it. It also offers a lot more than just the basic features. So sometimes you won't even know that a feature exists.
Get Started with GreenRope Today »
5. Freshsales – CRM for Small Businesses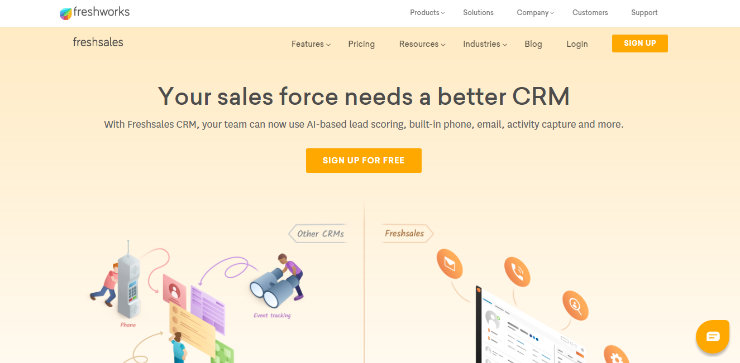 Freshsales by Freshworks is an easy-to-use CRM software that's built mainly for small businesses. This CRM solution allows you to automatically capture your website visitors as sales leads and group them based on their engagement with your site. Plus, their 360-degree customer view gives you access to customers' social profiles, identify customer touchpoints, and more, from a single screen.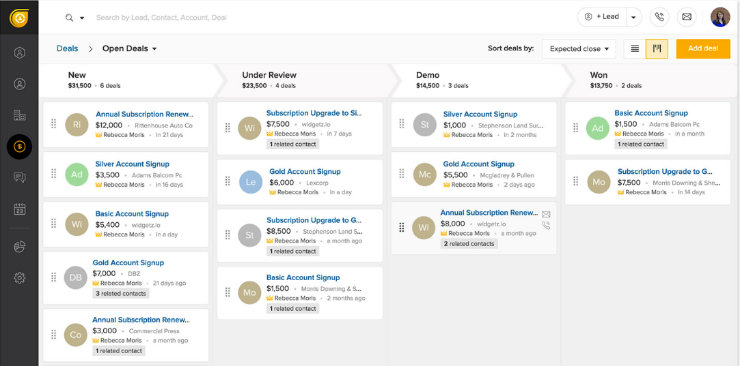 Some of their other standout features include lead scoring, auto profile enrichment, auto lead assignment, appointment booking, smart forms, and more. Freshsales also offers a number of event tracking features, built-in online phone service features, email features, etc. so you can manage and get to know your customers in a variety of ways.
They offer 4 different pricing plans: Blossom, Garden, Estate, and Forest. These plans range in price from $12/month to $79/month, per user and billed annually. Additionally, they also offer a free forever plan called Sprout. With the free Sprout plan, you get leads, contacts, deals, email, built-in phone, accounts, integrations, mobile apps, and more. Plus, that's all for unlimited users, contacts, and support. If you want access to their more advanced features, you'll have to choose one of their paid plans.
But if your database is heavily loaded, then the software might take some time to load. It also misses some key features like setting automatic alarms. And because of its advanced interface, you might need to spend some time learning how to use it.
Get Started with Freshsales Today »
6. Drip – Best eCommerce CRM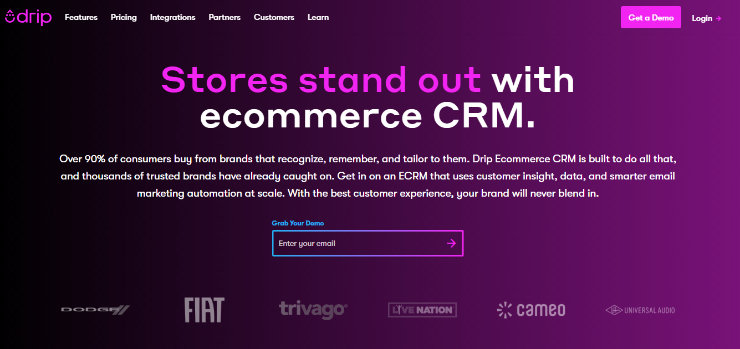 Drip is another company known for its email marketing service but Drip is also a powerful CRM tool you can use to manage your contacts and learn more about your customers. Drip CRM is built with eCommerce websites in mind, but many types of businesses with a website can take advantage of these tools.
This CRM software offers automation workflows, email builders, email campaigns, segmentation, content customization, custom conversion tracking, purchase intent marketing, and much more. Plus, with tags, custom fields, and events you can learn each of your customer's personal stories. You can apply custom tags to customers in order to keep track of all of their activities so that you can act on them as fast as possible.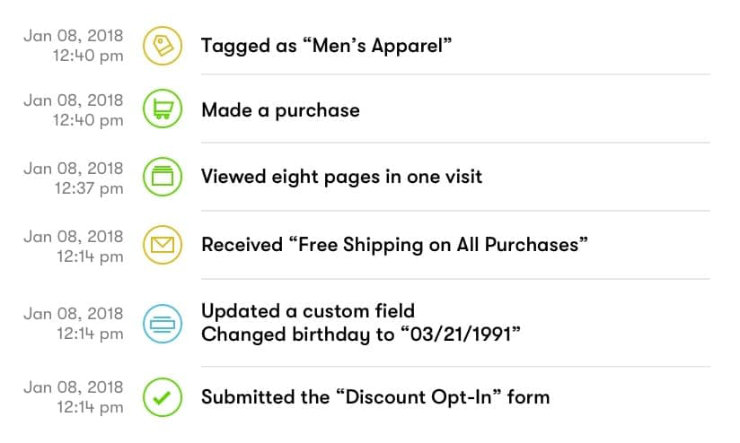 Drip offers 3 different pricing plans: basic, pro, and enterprise. The basic plan is $49/month for up to 2,500 contacts and unlimited email sends. The pro plan costs $122/month for up to 5000 contacts and if you have over 5000 contacts, you'll need an enterprise plan which varies in price. You can try out Drip for free for 14 days.
But just to let you know that the email templates of Drip are somewhat basic. So if you want to use some advanced templates you might be disappointed. You can bring in your own custom HTML responsive email templates. But with Drip, working with your own HTML codes is slightly difficult if you're not a programming expert.
Get Started with Drip Today »
7. SalesForce – Best Sales CRM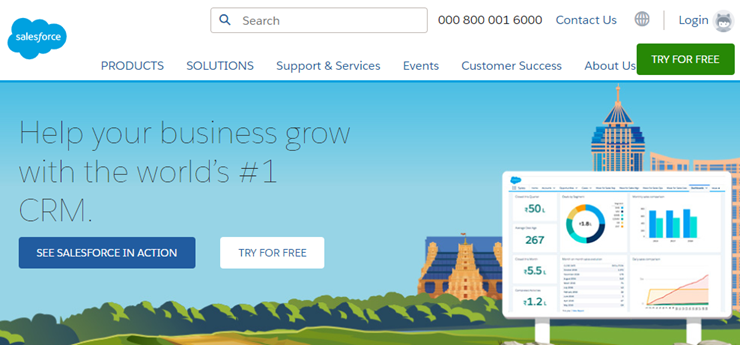 SalesForce is a very popular CRM software on the market, in fact, it's the #1 CRM platform worldwide. Since this CRM software has been around for such a long time it includes a ton of advanced features and offers solutions to manage everything from sales, customer service, marketing, commerce, productivity, engagement, and so on.
Focusing on the Sales Cloud, in particular, it offers features such as account and contact management, opportunity management, lead management, sales data, mobile, and more. These features will help you grow accounts faster, find new customers faster, and close deals faster.
SalesForce offers 4 different pricing plans ranging in price from $25/month to $300/month, per user, billed annually. The lowest-priced plan is very limited in terms of features. So, if you want access to advanced features such as Einstein artificial intelligence, you'll have to upgrade to a much pricier plan. SalesForce does offer a free 30-day trial, so you can test it out before making the commitment.
The only drawback of this software is that if you really want to get the most out of it, you need to purchase the addons. That way it becomes a little too expensive. Also, the configuration and setup are a bit complex and time-consuming. That's probably because of its cluttered interface that unnecessarily complicates things. The customer support too doesn't have a very good reputation, so if you're stuck somewhere, it might be a problem.
Get Started with SalesForce Today »
8. Streak – Free CRM in Your Inbox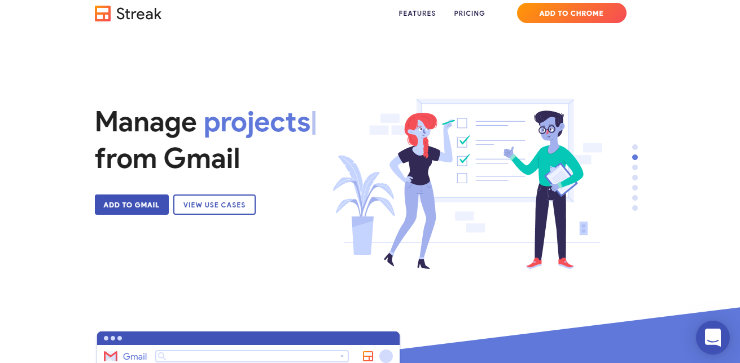 Streak is a CRM software that's built straight into Gmail, making it easy-to-use for even complete beginners. This tool allows you to automatically capture data from your contacts and emails, receive notifications as things progress through the pipeline, and set follow-up tasks and reminders. You can also automatically share emails, notes, and more with your team so that everyone is on the same page.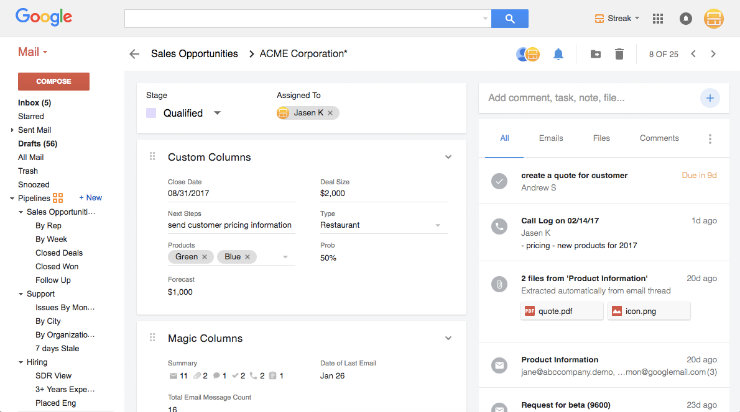 Streak comes with features to manage workflows such as sales, business development, hiring, support, project management, and more – or you can completely customize your exact needs. They also offer features to supercharge your inbox including view tracking, mail merge, send later, snippets, and more.
With this CRM software, you can choose from 3 pricing plans: personal, professional, and enterprise. The personal plan is free and comes with basic CRM features, unlimited personal pipelines, and email power tools. With the professional plan, which costs $49/month, you get access to unlimited shared pipelines, advanced reports, integrations, custom views, and more. The Enterprise plan comes in at $129/month with advanced features such as custom permissions, required fields, as well as a dedicated success manager and premium phone support.
Streak overall has nothing much on the negative side. But the only thing we don't like about it is that you can't have your emails in multiple boxes. You also don't have an option to merge the boxes. If you want all your mails to be at one place you'll have to delete the previous ones and then recreate them.
Get Started with Streak Today »
9. Agile CRM – Yet Another Sales CRM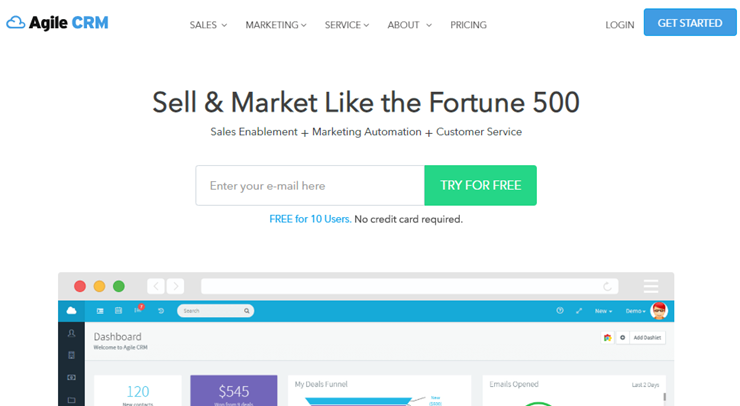 Agile CRM is another all-in-one CRM software that's easy to set up and use to automate your sales, marketing, and service.
They offer single-page contact management, deal tracking, 1-click calling, voicemail automation, appointment scheduling, project management, and much more — and that's just for sales. They also offer marketing features like a landing page builder, email tracking, and social suite. Service features include helpdesk, ticketing, and more.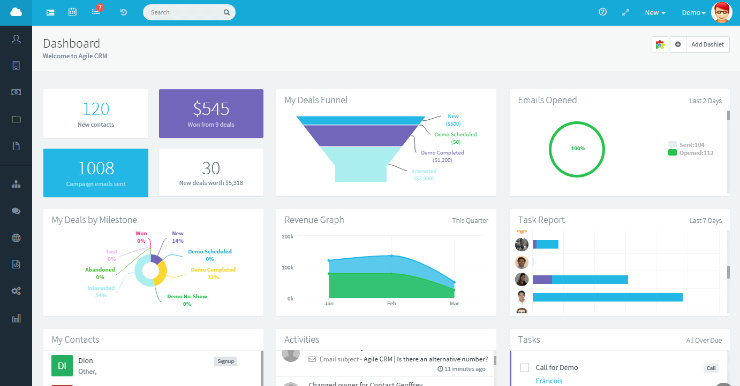 Agile CRM is free for up to 10 users, this includes sales features such as lead scoring, appointment scheduling, email tracking, etc. To get access to their marketing features, you need their starter pricing plan which comes in at an affordable $14.99/month. Their regular plan, costing $49.99/month, is what will get you service features and the Enterprise plan at $79.99/month gives you advanced features like plugins and integrations, email and phone support, as well as basic and email reports.
The only thing we don't like about Agile CRM is its customer support. If they try and improve that area, there won't be much that you can complain about Agile CRM.
Get Started with Agile CRM Today »
We hope this article helped you discover the best CRM software for your business. Now you can start managing your prospects, leads, and customers, as well as get to know them better, in order to boost your conversions. If you enjoyed this article, check out our other post on the Best Business Phone Services.
Keep reading the article at IsItWP – Free WordPress Theme Detector. The article was originally written by Editorial Team on 2019-12-12 02:31:55.

The article was hand-picked and curated for you by the Editorial Team of WP Archives.