Are you looking for alternatives to the Google AdWords Keyword Planner?
This post is exclusively for you, where you'll find a handpicked list of SEVEN excellent tools.
Google AdWords Keyword Planner is an excellent tool for researching keywords. But what if you're NOT happy with it and looking for alternatives? 
When it comes to finding keywords for your blog or website, the Google Keyword Planner is the first tool MOST people use. 
Why? It's free and developed by Google. 
However, there are many drawbacks with Google's Keyword Planner, including no broad or phrase searches, no device targeting, etc.
Fortunately, there are a few alternatives to Keyword Planner that you can use to get accurate data and better keyword suggestions.
In this post, you'll discover;
Best alternatives to AdWords keyword tool
Specific keyword features of each of those tools
Pricing of the tools and more
So are you ready to find them out? Let's get started.
7 BEST Google Keyword Planner Alternatives to Use in 2022
1. Semrush
Semrush is one of the MOST popular Google Keyword Planner alternatives used by over 7 million people worldwide. 
Semrush offers a wide range of features, including site audits, competitor analysis, keyword research, backlink analytics, etc., that can help you improve your website's search engine ranking and visibility.
If you're looking for an all-in-one SEO toolkit to boost your search rankings, Semrush is an excellent choice.
Keyword Magic Tool from Semrush
Semrush offers an exclusive keyword research tool called Keyword Magic tool, which has a database of over 20 billion keywords. No matter what industry you're in, you can use their keyword tool to find hundreds (if not thousands) of keyword suggestions. 
Once you're on the keyword magic tool on Semrush, enter any keyword, pick your country (where your target audiences are), and hit the search button. It instantly gives you a ton of keyword suggestions. 
Here's what it looks like;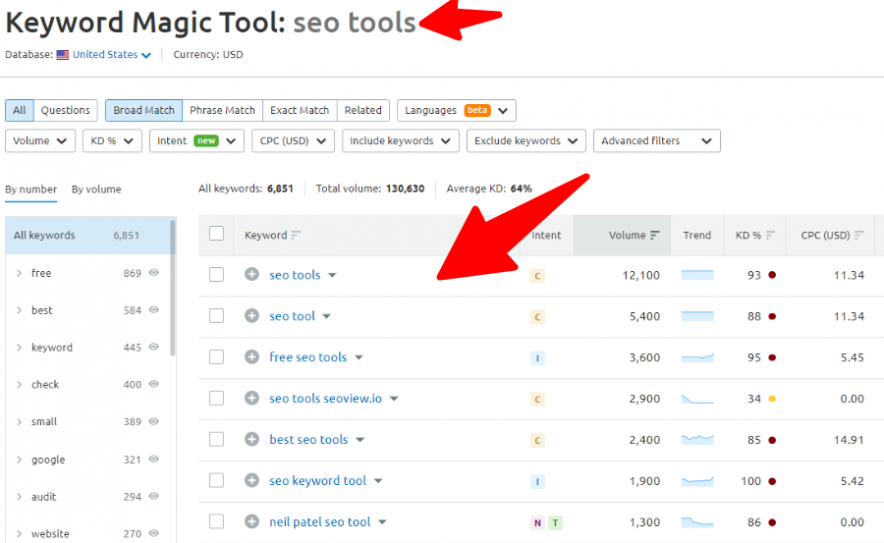 As you can see above, you'll get information like;
Related keywords (for the above example keyword "SEO tools," the tool is showing us over 6800 keyword suggestions)
Question-based keywords
Phrase
[…]
This article was written by Anil Agarwal and originally published on BloggersPassion: Learn Blogging & SEO from Anil Agarwal.