A
re you wondering how to rank for multiple keywords in a single blog post? It's not as overwhelming as it sounds.
In fact, it's pretty easy to rank for multiple keywords and explode your organic traffic.
Even if you've just started a blog, by including related keywords and synonyms in your content, instead of focusing on a single keyword, you can bring in loads of new traffic. 
In this guide, we'll show you exactly how to rank for multiple keywords, including how to find related keywords and how to add them in WordPress.
Ready? Let's get busy.
What Are Keywords?
Before we explain how to rank for multiple keywords, let's give you a crash course on what keywords are.
Keywords are phrases or search terms that users type into search engines like Google to find what they're looking for.
For example, if you're looking to buy a good pair of headphones, then you might search for "best headphones for music." Even though the phrase has more than one word, it's still a keyword.
And when people search for specific keywords, your blog can show up on SERPs (search engine results pages). This makes it easy for people to discover your blog online.
But this doesn't magically happen by itself. You need to optimize your blog posts with relevant search queries and synonyms.
For example, if you search for "how long should a blog post be," Blog Tyrant will appear at the top of search results because we optimized for that keyword.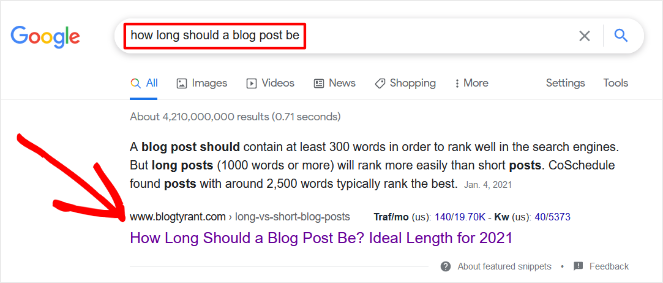 Ranking for your desired keywords won't be easy if you haven't done your keyword research. You need to spend a reasonable amount of time looking for keywords that have the potential to bring your blog lots of traffic.
Now that you know what keywords are and why they are important, let's talk about meta keywords and their role in modern-day search engine optimization. 
Spoiler alert: it's non-existent!
Back in the old days, SEO specialists used to spam content pages by adding keywords in the meta tags. 
You could add a meta keywords tag on a page and tell the search engines what the page is about. Back then, search engines weren't smart enough to understand the intent of the content. So, you were basically telling Google to rank your site for any keyword you added.
Here's what they would look like if we were in the 1990s: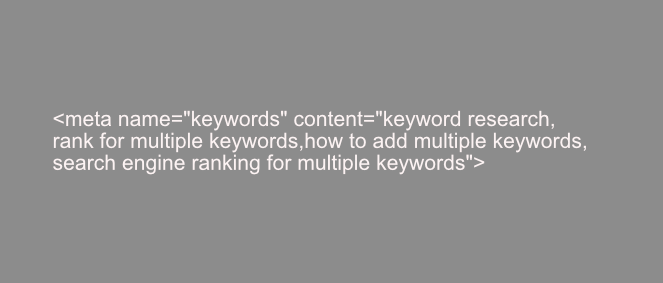 Sounds like a pretty easy way to rank for multiple keywords right?
But now, since people were spamming this keywords element, search engines are ignoring it completely.
[…]
This article was written by faizan and originally published on Blog Tyrant.