Informational intent
This is a generic type of intent, but it encompasses most of the search queries completed online. It's for people looking for information, or an answer to a question, like:
What's the Yankee's score?
How's the weather in San Diego?
How do you build a bookshelf?
Does Yosemite National Park allow dogs?
How do you make a bolognese sauce?
What's great about search engines is that their understanding of intent runs significantly deeper than the basic information given in the search phrase. For example, Google knows that most people looking for "bolognese sauce" are likely seeking out a recipe, not the history of bolognese sauce.
Navigational intent
Navigational intent has perhaps the most specific aim of all (besides some forms of shopping intent). The user just wants to visit a particular website like CodeinWP.com or Instagram.com.
This type of intent is the result of people using the search engine like an address bar in a browser.
Regardless, search engines tend to provide the most exact result. So, make sure you don't target any keywords that could overlap with this navigational intent. It's fine to write about Google Docs, but know that the vast majority of keywords will send people to the actual Google Docs website.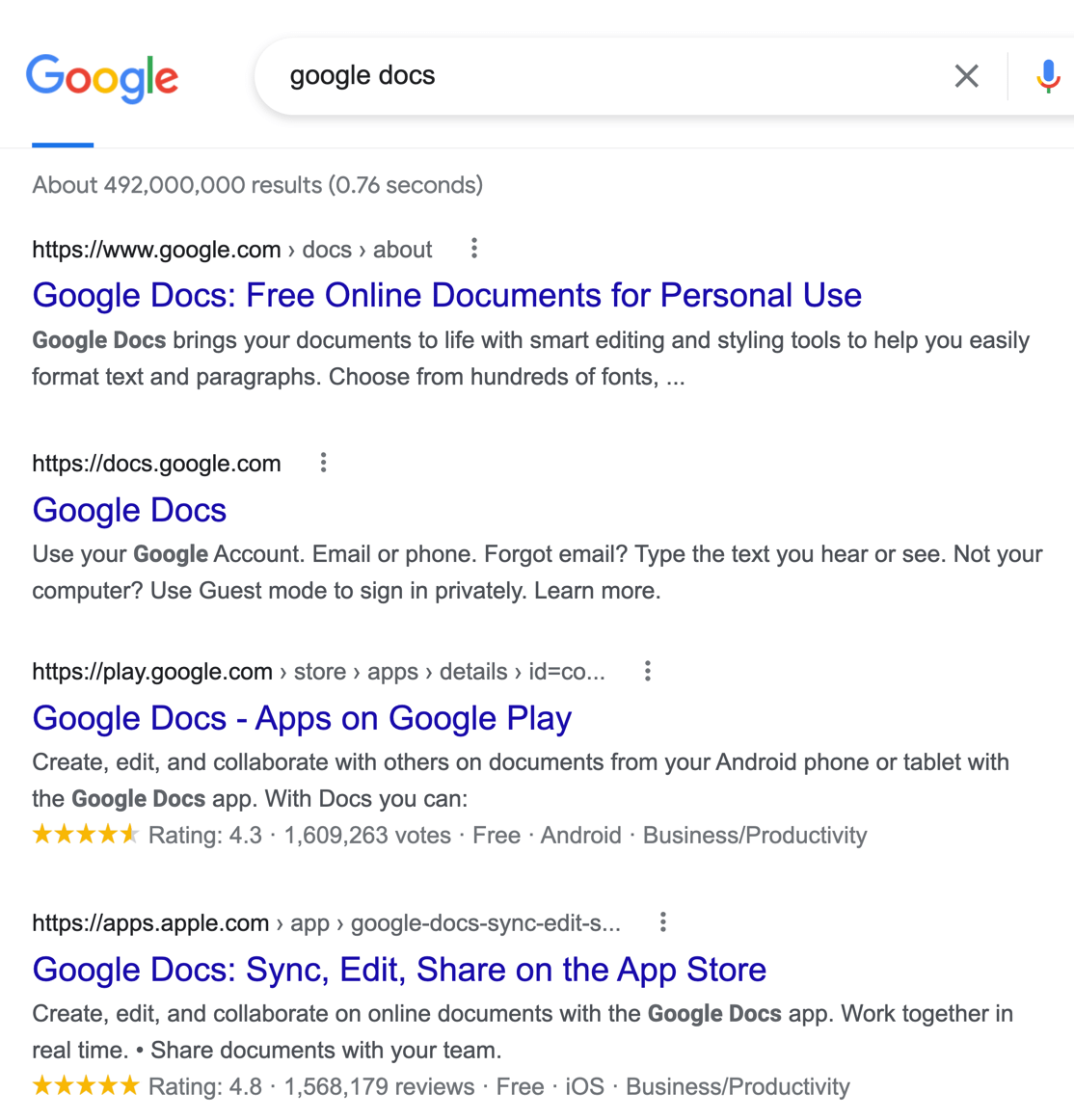 How to identify search intent so people want to click on your content
You now know how search intent works and why it's important. But all of that is pointless unless you put this knowledge into action.
If you target a keyword that's primarily showing product pages, you don't want to try to rank for an informational blog post. If you optimize for a keyword with more of a search intent for research, but you send them directly to a sales landing page, you may scare away people simply trying to complete product analysis, not make a purchase.
That's why you must examine the audience's general search intent after selecting a keyword, whether it's for a product page, comparison blog post, or tutorial on urban gardening.
Luckily, search engines are free, and they're the basic tools you need for researching audience search intent.
Here's the process:
Find a relevant keyword for your content that has low competition but decent volume potential. You can use the Google Keyword Planner for this.
Take the keyword(s) and type them into Google. Consider testing on
[…]
This article was written by Joe Warnimont and originally published on CodeinWP.