Creating a staging website for WordPress has many benefits. For instance, you can test any changes before pushing them to your live site. However, it can be challenging to clone your website if you've never done it before.
Fortunately, our ManageWP tool makes it super easy to create a staging website for WordPress. Using our dashboard, you can quickly clone your site in just three easy steps.
In this post, we'll explain what a staging website for WordPress is and why you might want to make one. Then, we'll show you how to create a cloned site with ManageWP. Let's get started!
Why you might want to use a staging website for WordPress
A staging website is a 'cloned' version of your existing site. It contains all of the same material, but readers won't be able to see updates until you push them onto your live website.
Essentially, you can use a staging website as a testing platform to simulate changes without affecting your live site. This setup can come in handy if you update your site design, add new functionalities, or upload significant amounts of content. During this process, you might make errors that affect your overall User Experience (UX) or even take down your site. Therefore, it's safer to trial your changes on the staging site to ensure that they won't cause any issues.
A staging website can also be handy if you're working with WordPress clients. Your customers can sign off on changes before you make them live. This way, you can offer a better customer experience and attract positive testimonials after the job is finished.
Finally, creating a staging website for WordPress is relatively easy. We'll show you how to do it in the next section.
How to make a staging website for WordPress with ManageWP (in 3 steps)
Now that you know why having a staging website can be useful, we'll explain how you can set one up. Our video below can walk you through the process:
However, if you prefer written instructions, we're going to cover them in this article. Note that before starting this tutorial, you'll need to install and set up our premium ManageWP tool.
Step 1: Add your live website to ManageWP
First, you'll need to add your site to ManageWP. Open your dashboard and navigate to Websites. Then, click on Add another website:
Next, you'll need to enter the URL and WordPress sign-in details for the website you want to clone. Fill out the information and then hit Add website: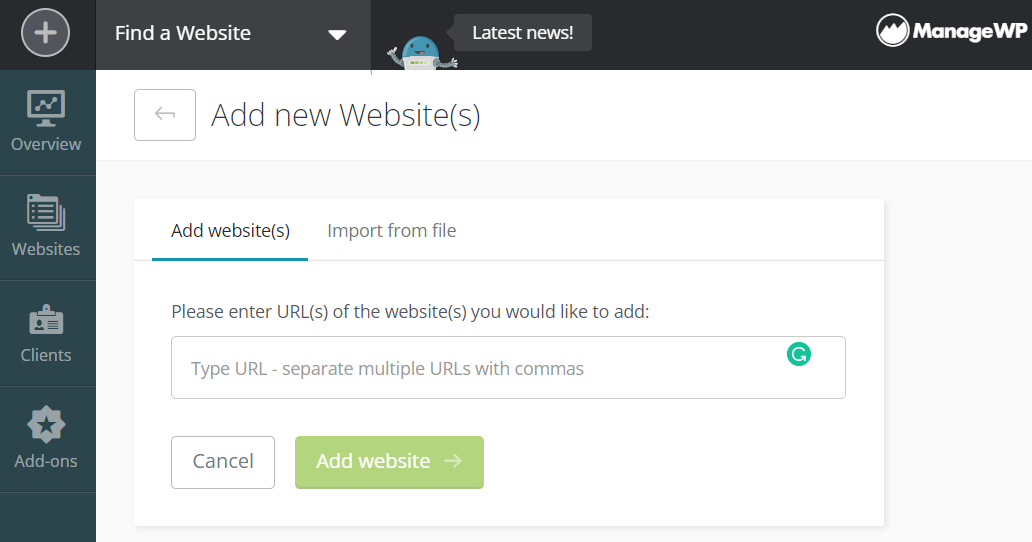 If you entered your credentials correctly, you should see a success message. You can now select Go to website dashboard.
In some cases, you might need to connect your website manually. You can do this with our ManageWP Worker plugin.
Navigate
[…]
This article was written by Will Morris and originally published on ManageWP.