Considering using Thrive Apprentice to create and monetize online courses on your WordPress site? In our hands-on Thrive Apprentice review, we'll help you decide if it's the best LMS plugin for your specific situation.
In general, Thrive Apprentice can be a good option for content creators who are looking to create courses, monetize them with payments, and market them efficiently. 
It can also go beyond courses – it's almost like a membership plugin and an LMS plugin got married. This also makes it great for people looking to monetize other content, as you can restrict access to other content beyond your courses.
However, Thrive Apprentice is not a good option for more academic-focused courses with graded quizzes and assignments, such as a certification program or an actual academic course. It lacks the more serious academic features that you would need for those use cases.
So if you fit in the marketing/content creator space, you'll definitely want to consider Thrive Apprentice. Otherwise, it might not be the right fit, but I still recommend reading our Thrive Apprentice review to learn more.
To help you decide, here's everything that I'm going to cover:
Thrive Apprentice Review: Looking at the Key Features
I'll go into more detail in the next section, but I want to start with a quick overview of some of the key features in Thrive Apprentice.
This is by no means a complete list – my goal is to just highlight some of the most distinct features.
Excellent User Experience
One of the standout features in Thrive Apprentice is that it offers an excellent user experience on both the frontend (for your students) and the backend (for creating and managing your courses).
While a lot of LMS plugins rely on the core WordPress designs, either by using the admin interface or inheriting styles from your theme, Thrive Apprentice uses its own custom interfaces on both the frontend and backend, which is how it's able to achieve such a uniquely good user experience.
This ties with my next point:
Full Visual Customization
This is a very important detail to understand about Thrive Apprentice:
Instead of inheriting your theme's styling, Thrive Apprentice comes with its own complete theme builder (that's based on Thrive Theme Builder, a full theme builder solution from the same developer). This lets you completely replace your entire theme design for your course content.
You'll be able to not just customize your course and lesson content, but you can also customize your header and footer.
However, it's important to note that these changes only apply to course content.
For example, here's what my site's homepage looks like using the default theme: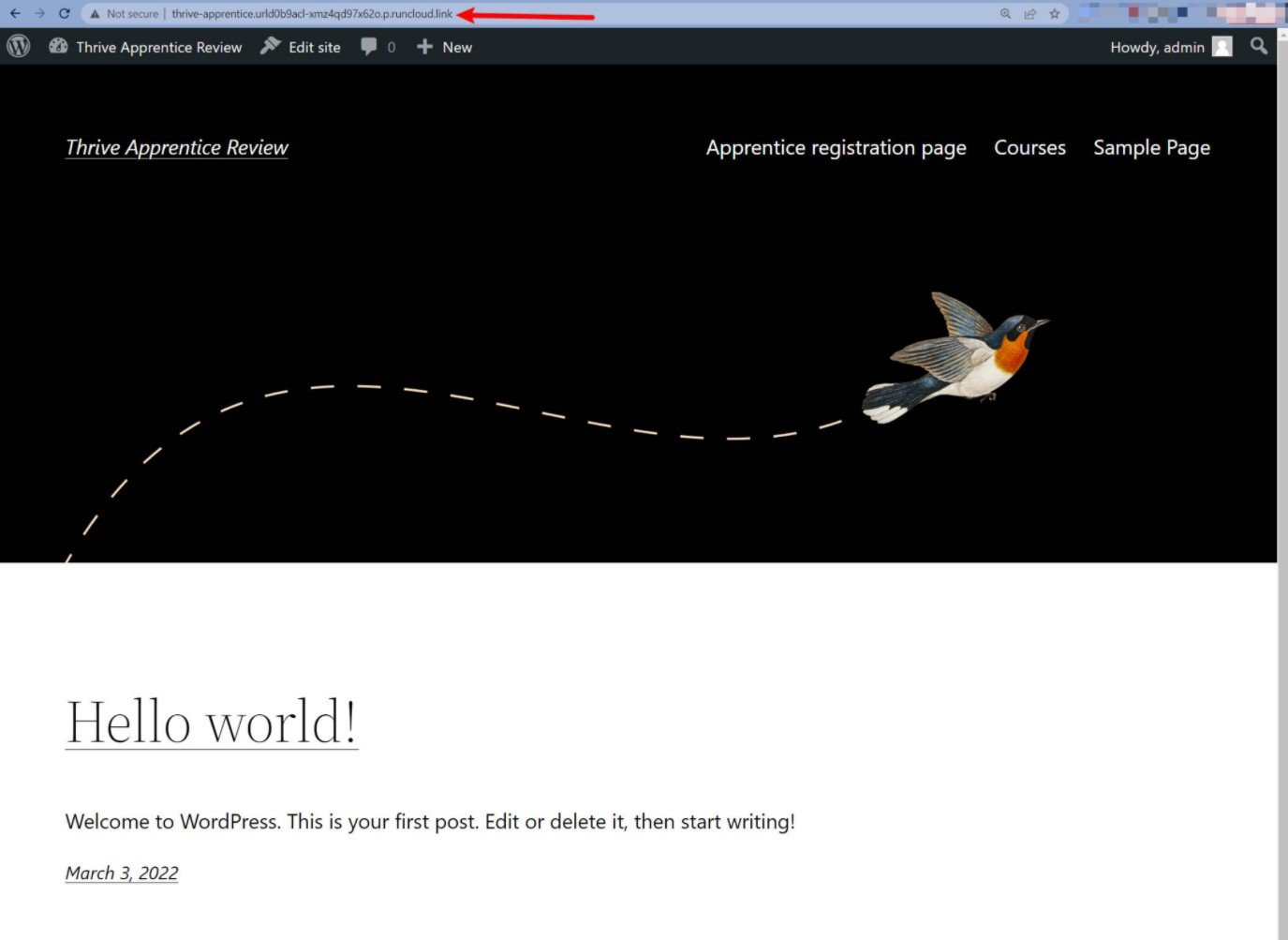 But if I switch to one of the course pages, it will use my custom design from Thrive Apprentice, including replacing the header and footer from my theme: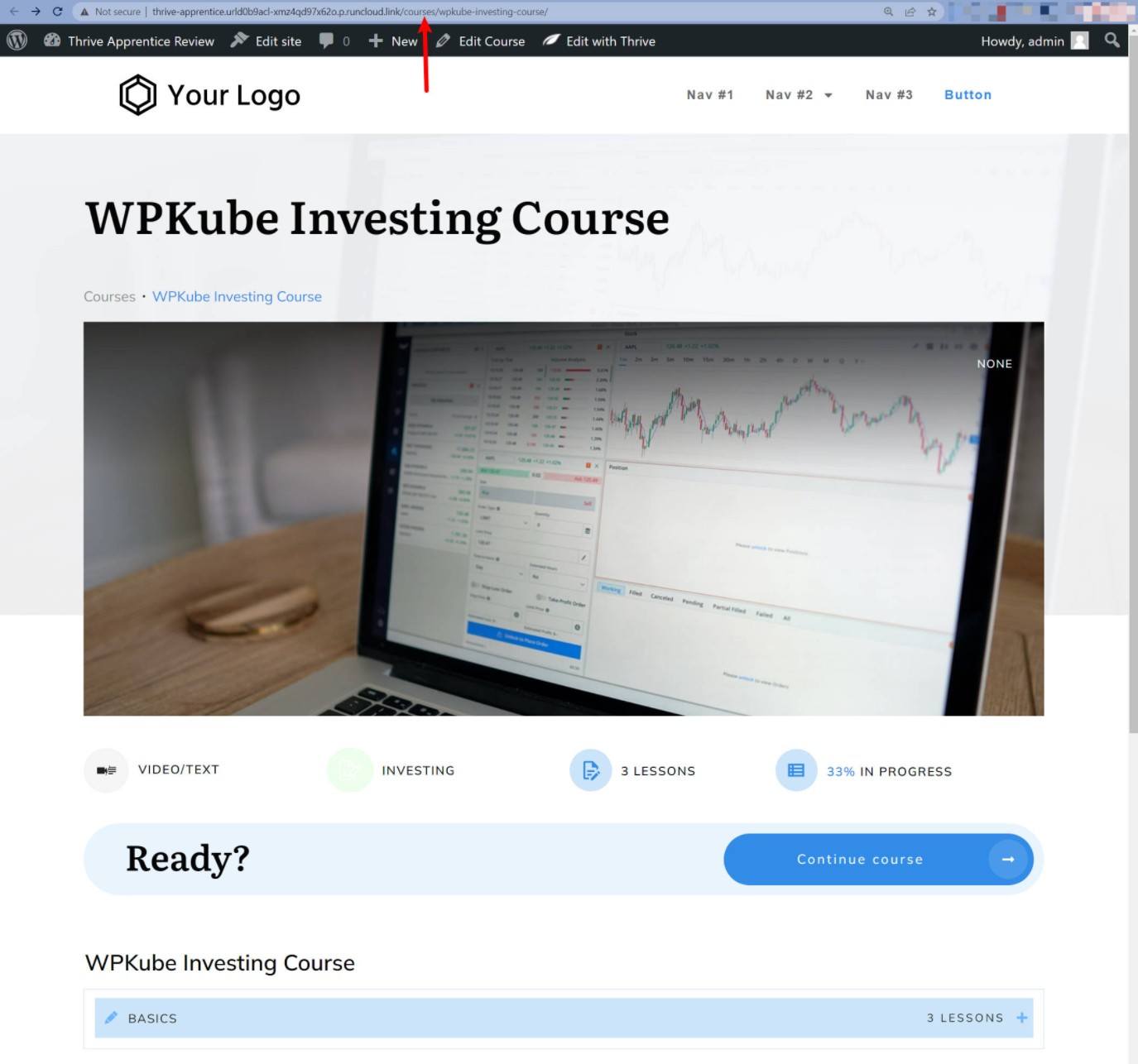 In a way, you're kind of creating a completely custom sub-site that's dedicated to your courses. This is on purpose – in the plugin's documentation, the developer says this:
An important part of building your online school using Thrive Suite is that you can create a different identity for it, that will be separate from the rest of your website.
I think this can be really good for some courses as it creates a distinct course experience. However, if you want your course to inherit styles from your existing theme, you might not like this.
Drag-and-Drop Course Builder
To control the content of your courses, Thrive Apprentice gives you a drag-and-drop course builder. You can use chapters and modules to organize an unlimited number of lessons: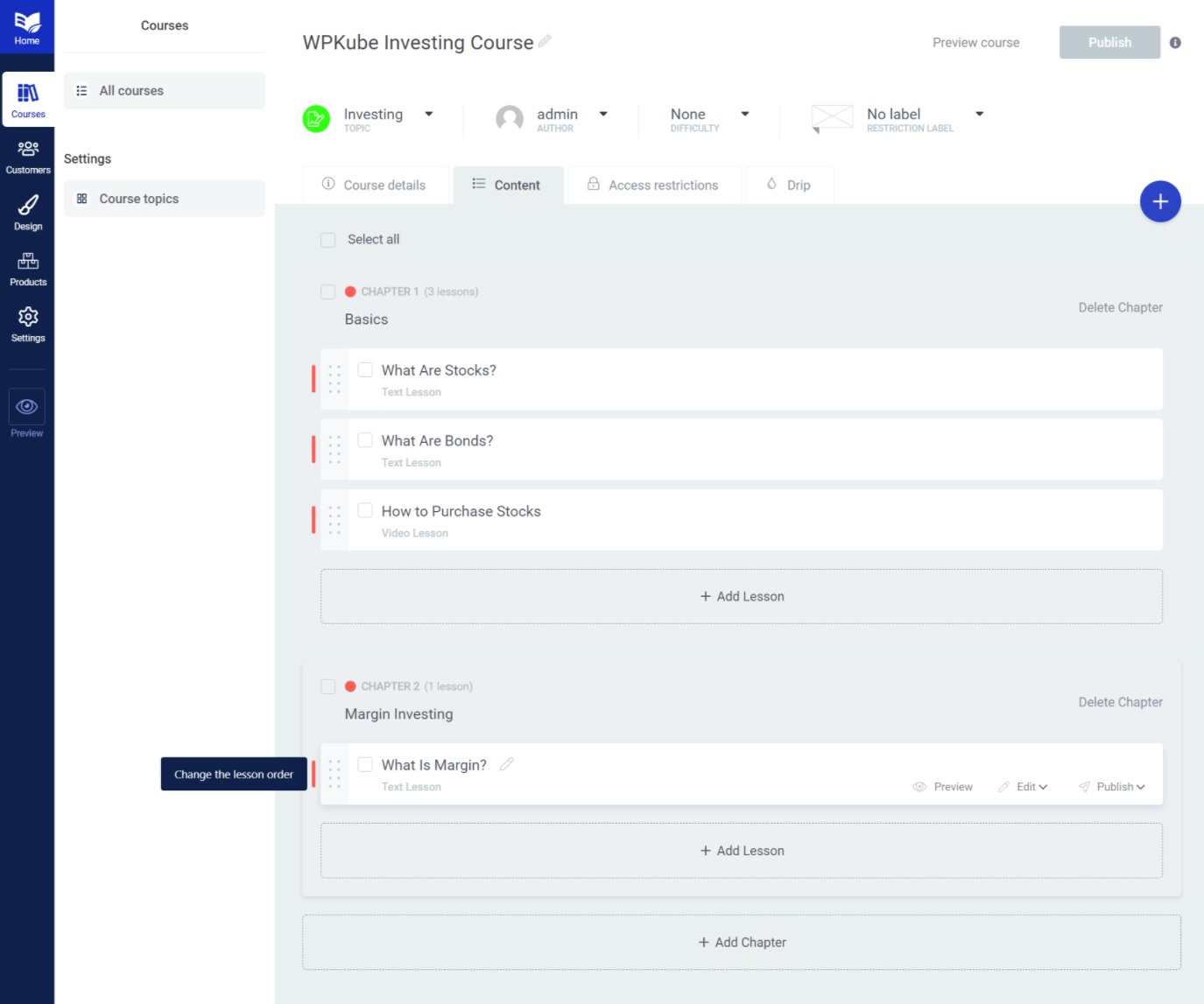 You can add different types of lessons such as text, video, or audio. You can also customize lesson content using a visual builder rather than the native WordPress editor. The builder is based on Thrive Architect, if you're familiar with that tool.
Flexible Content Restriction
Thrive Apprentice offers very strong content restriction functionality. In fact, it's almost like a hybrid of a membership plugin and an LMS plugin.
Why?
Because in addition to restricting access to courses, you can also restrict any other content on your site, including posts, pages, custom post types, and more.
This gives you some flexibility in setting up your courses and eliminates the need to use a separate membership plugin (though Thrive Apprentice does have dedicated integrations for MemberPress, WishList Member, and MemberMouse).
You also get exceptionally powerful content drip controls – more powerful than any other tool I've used: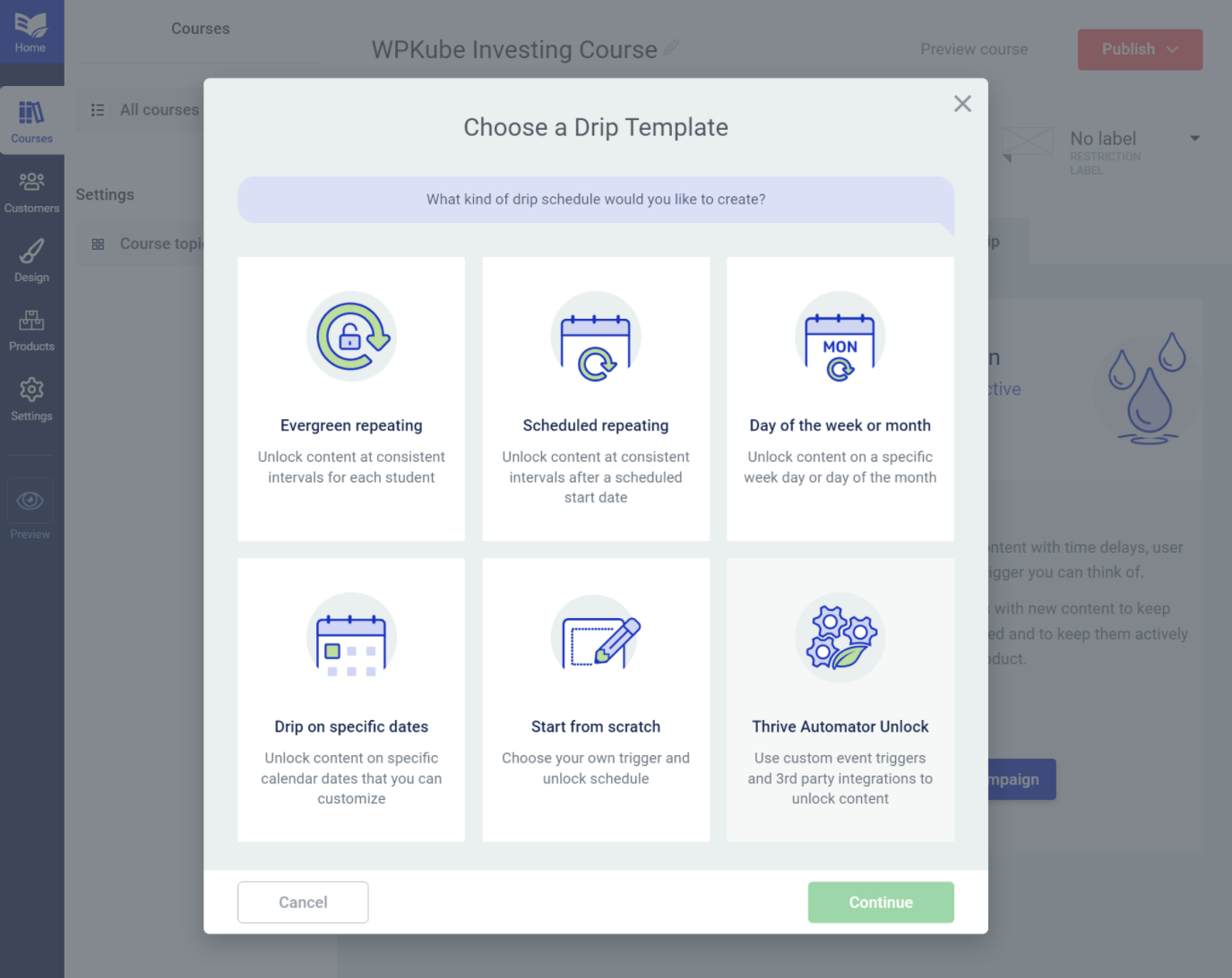 Flexible Monetization Options
Thrive Apprentice lets you sell direct access to specific courses or other content on your site. Or, you can also set up bundles that give access to multiple pieces of content for one price.
It doesn't include its own built-in payment processing, however. Instead, it relies on integrations for three services:
ThriveCart
Sendowl
You can use all of the features in those tools to set up one-time or recurring payments, offer free trials or signup fees, and so on.
While this does add a bit of complexity vs a plugin with built-in payments (like LearnDash or LifterLMS), I think it's worth the time because of the added flexibility that you get. For example, using these third-party providers makes it easy to set up your own affiliate program, which is a great way to grow your course.
How to Create a Course With Thrive Apprentice
Now that you know some of the key features, let's go over a quick step-by-step guide for what it's like to create a course with Thrive Apprentice.
This will help you understand the user experience, which should help you make your decision.
Basic Setup
When you first activate Thrive Apprentice, it will launch a short setup wizard to help you configure some important basics: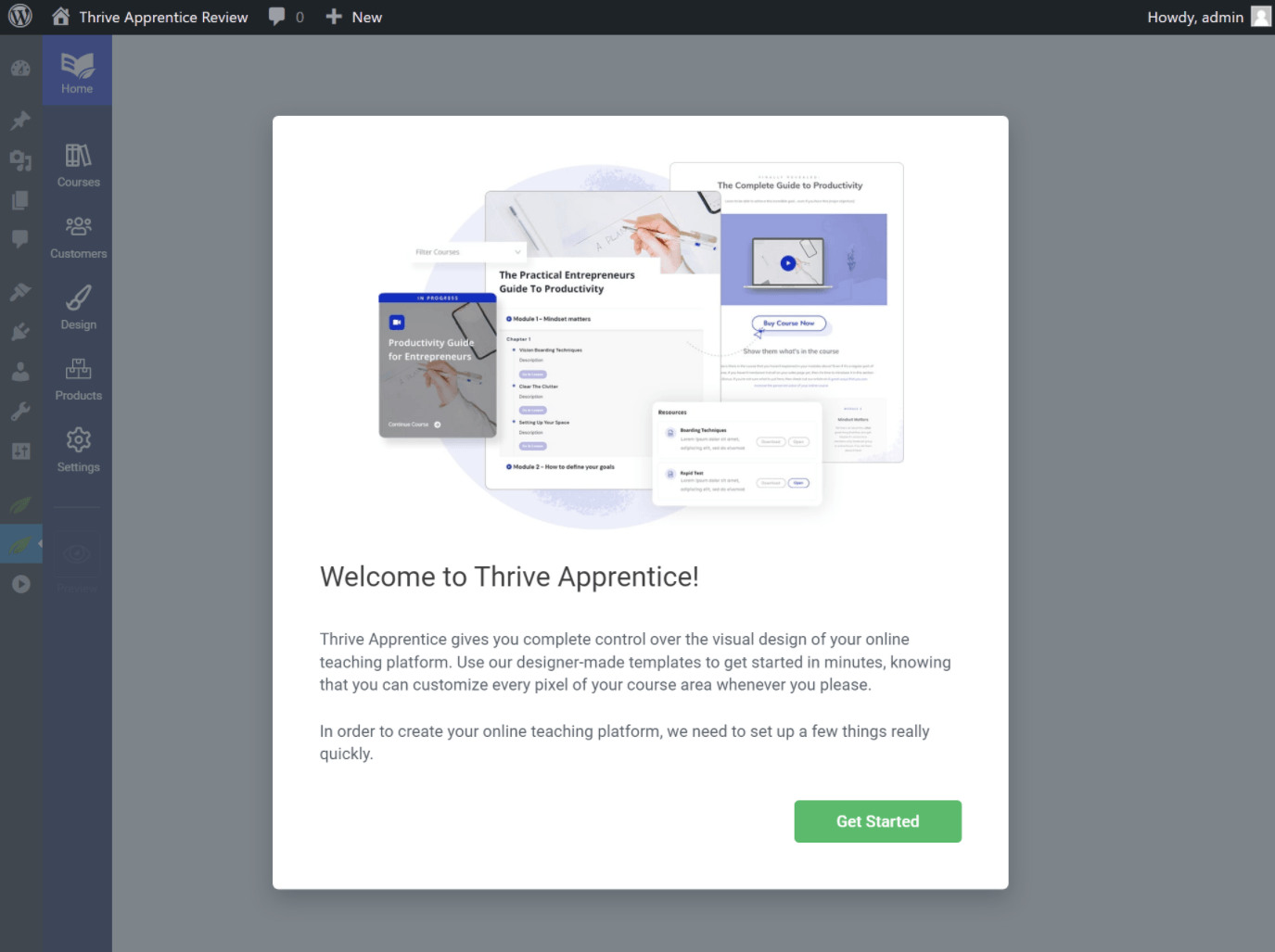 You'll first set up your course listing page: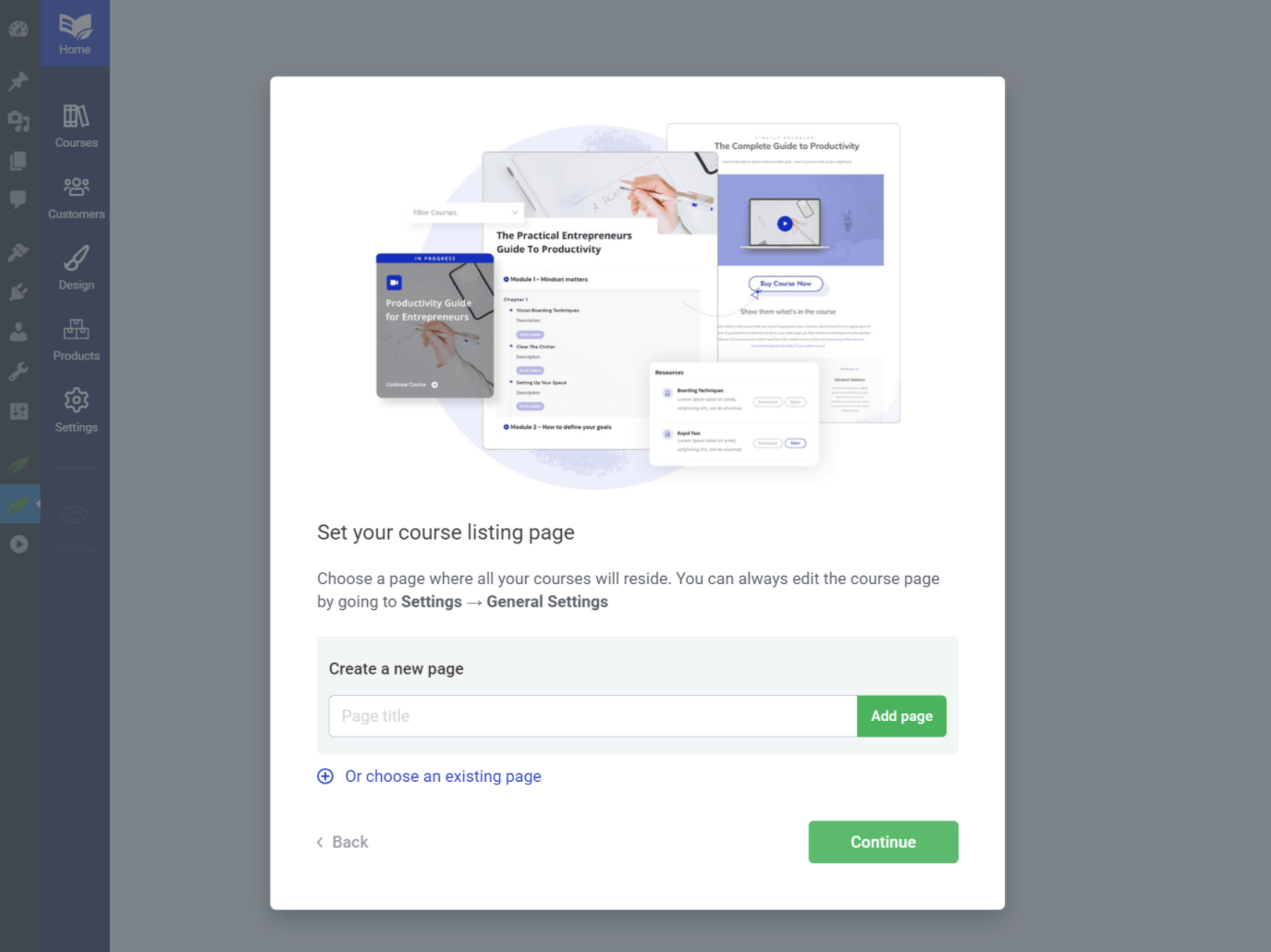 Then, you can create a "design", which helps you control the display of your course content. A design contains the following templates, which you'll customize in a second:
Active course homepage
Overview
Module
Lesson
Restricted access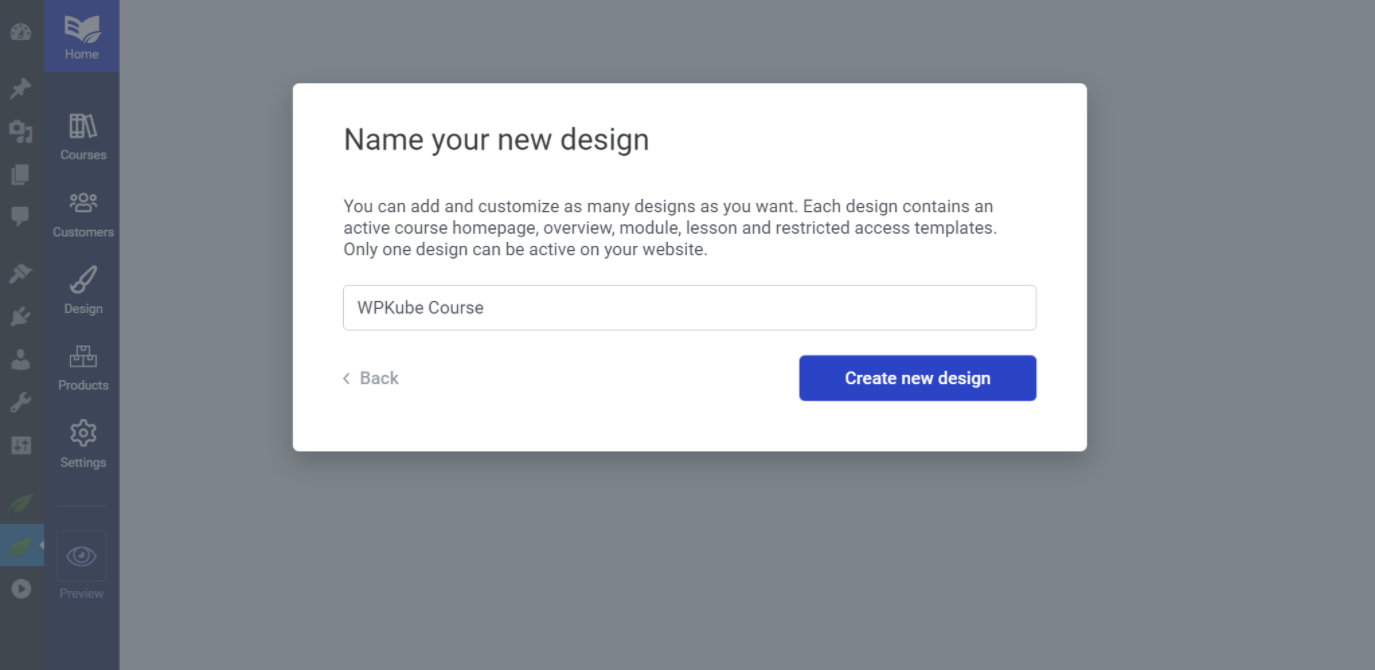 And that's it for the basic wizard – you're now dropped into the full school wizard, starting with the design.
Customizing the Design
Thrive Apprentice makes it super easy to customize the design of your course content, which is a big advantage over other LMS plugins. 
Most LMS plugins make you rely on your theme styling or custom CSS, but Thrive Apprentice gives you a whole visual interface to customize your course content and create a distinct design for your "school". I showed you an example of this earlier.
If you're familiar with Thrive Theme Builder, the interface is pretty much identical. You can see all of the steps in the sidebar: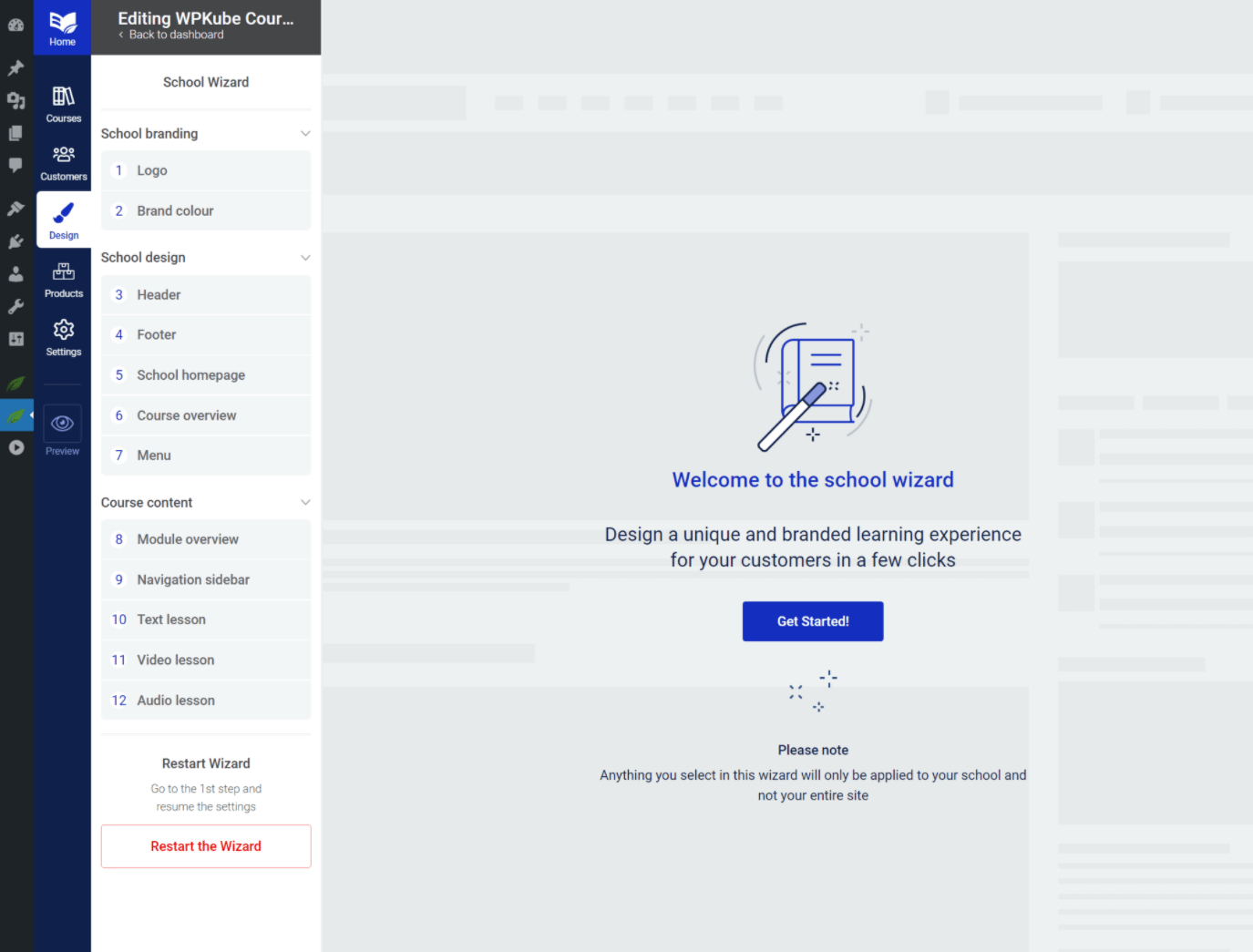 You'll start by adding your logo and choosing a main color. If you're also using Thrive Theme Builder, you can automatically share your brand color.
You can then choose the templates for your course content, starting with the header and footer: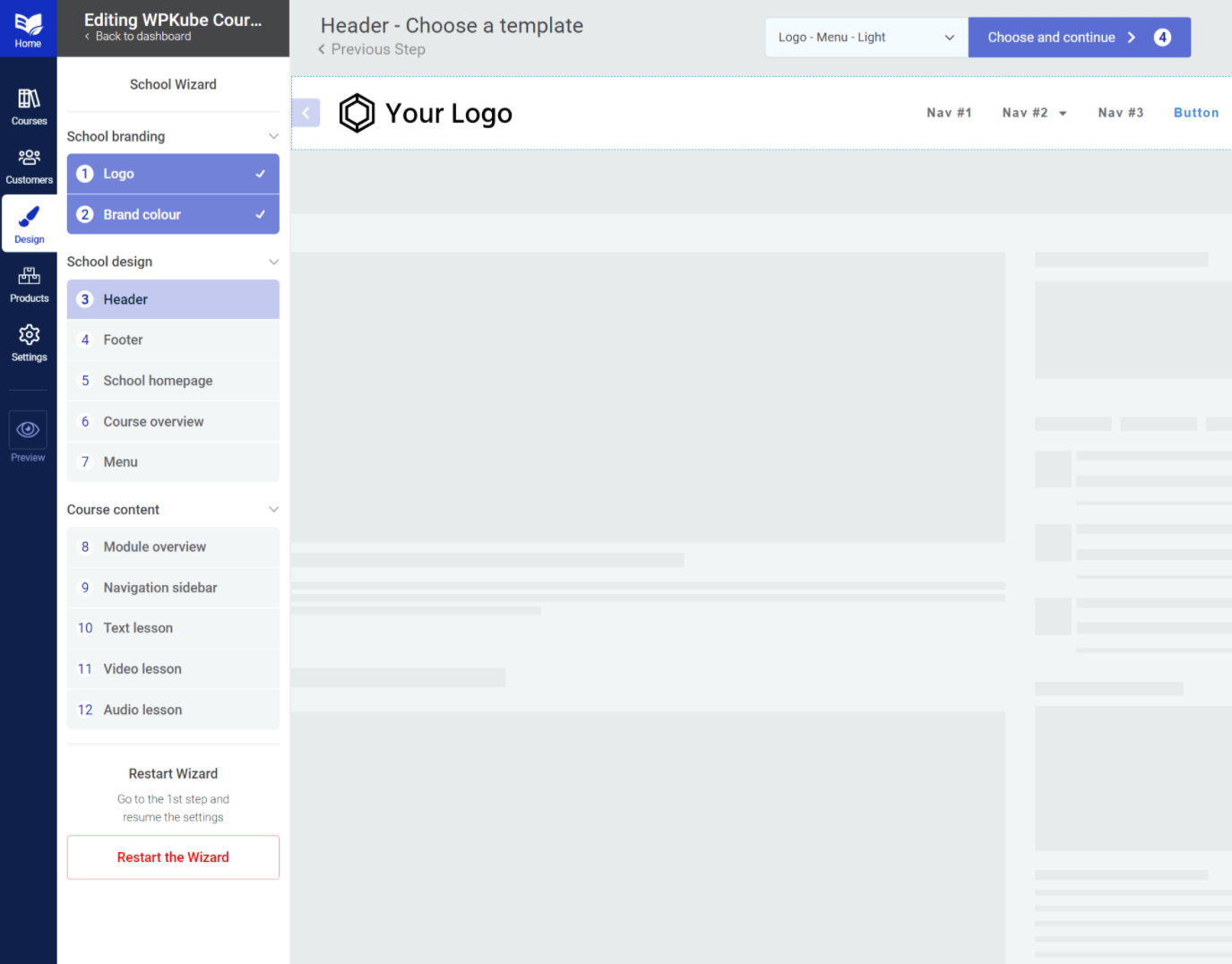 You can then choose the School Homepage template, which is your course listing page: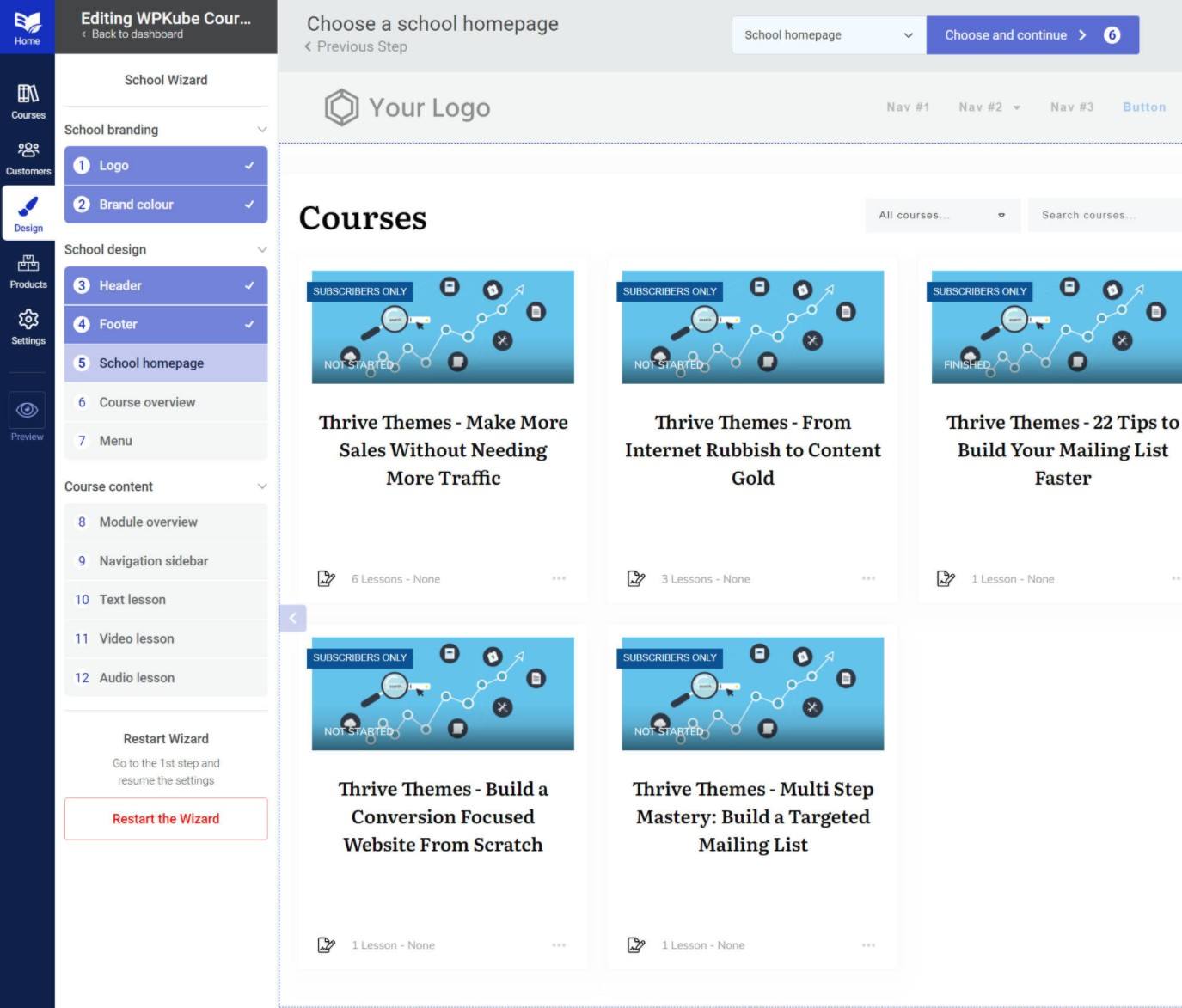 You'll also get other options for the course overview and menu.
Then, you'll be able to customize the actual lesson templates themselves, including dedicated templates for text, video, and audio lessons: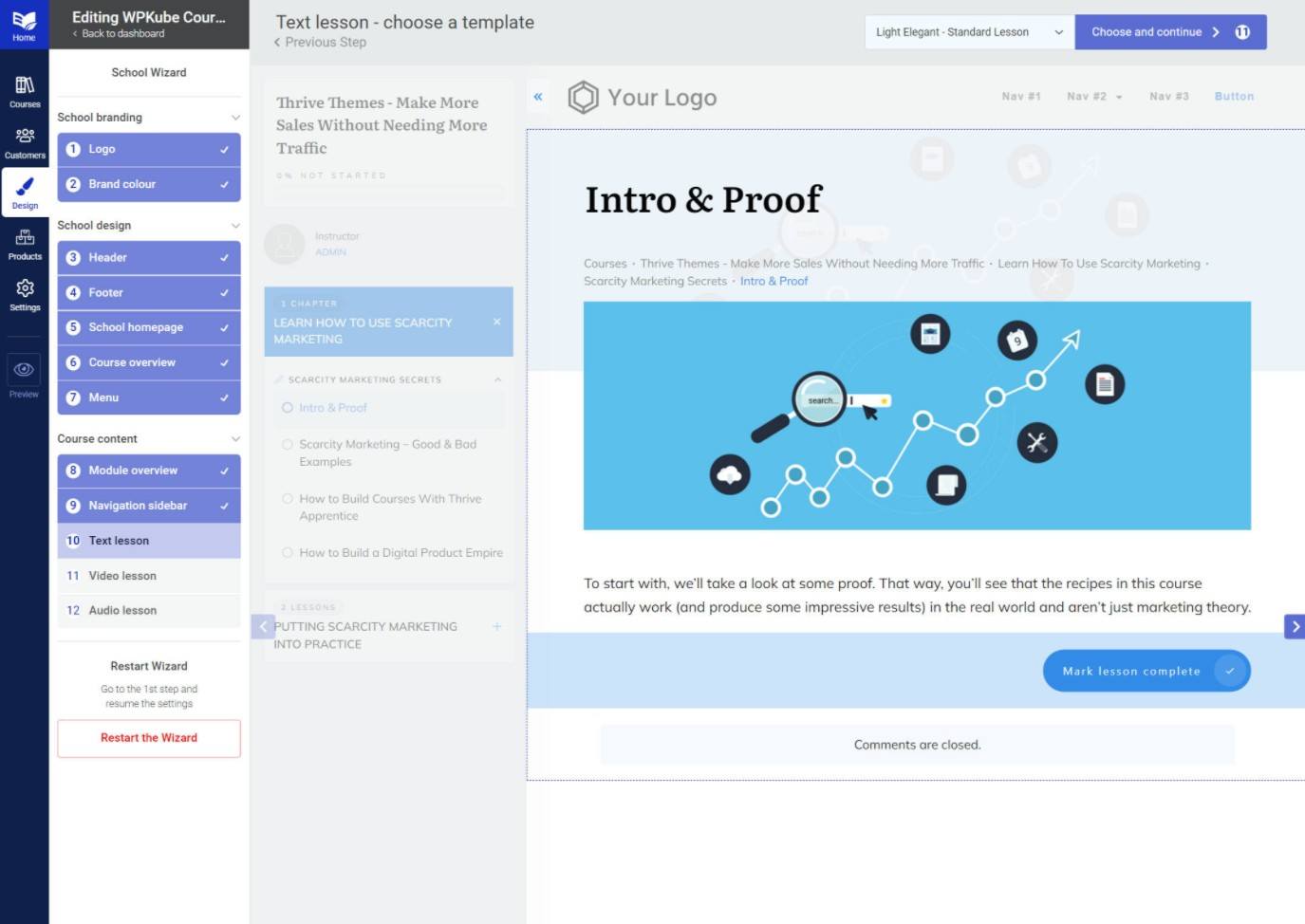 You can always change these later – so don't stress too much.
Adding Course Content
Now, you're ready to create your first course.
To do that, you head to the Courses tab and click Add Course: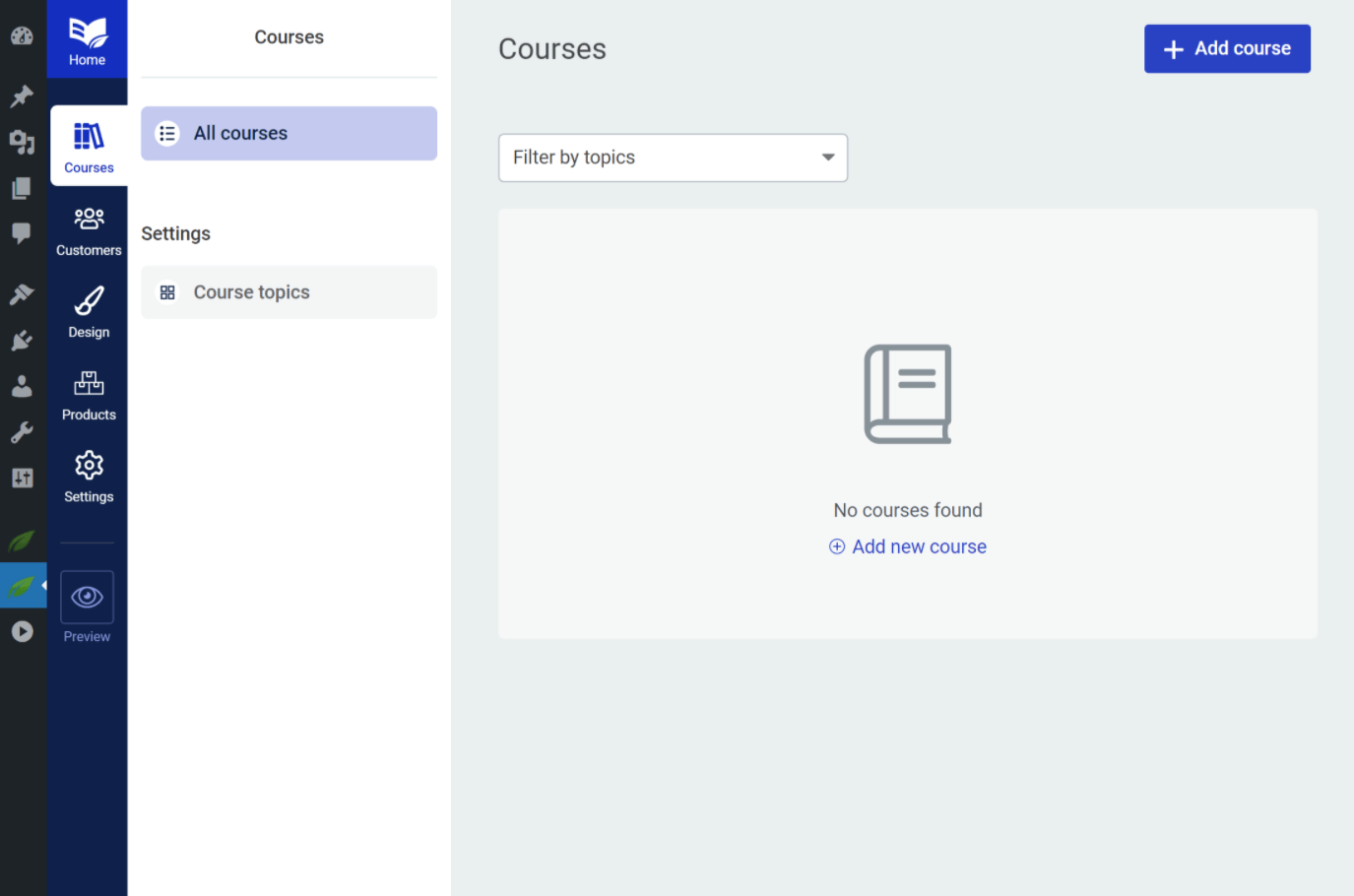 You'll start by entering some basic details for your course:
Topic
Difficulty
Restriction label
Course summary/overview
Cover image
Author information
Video description
Whether to allow comments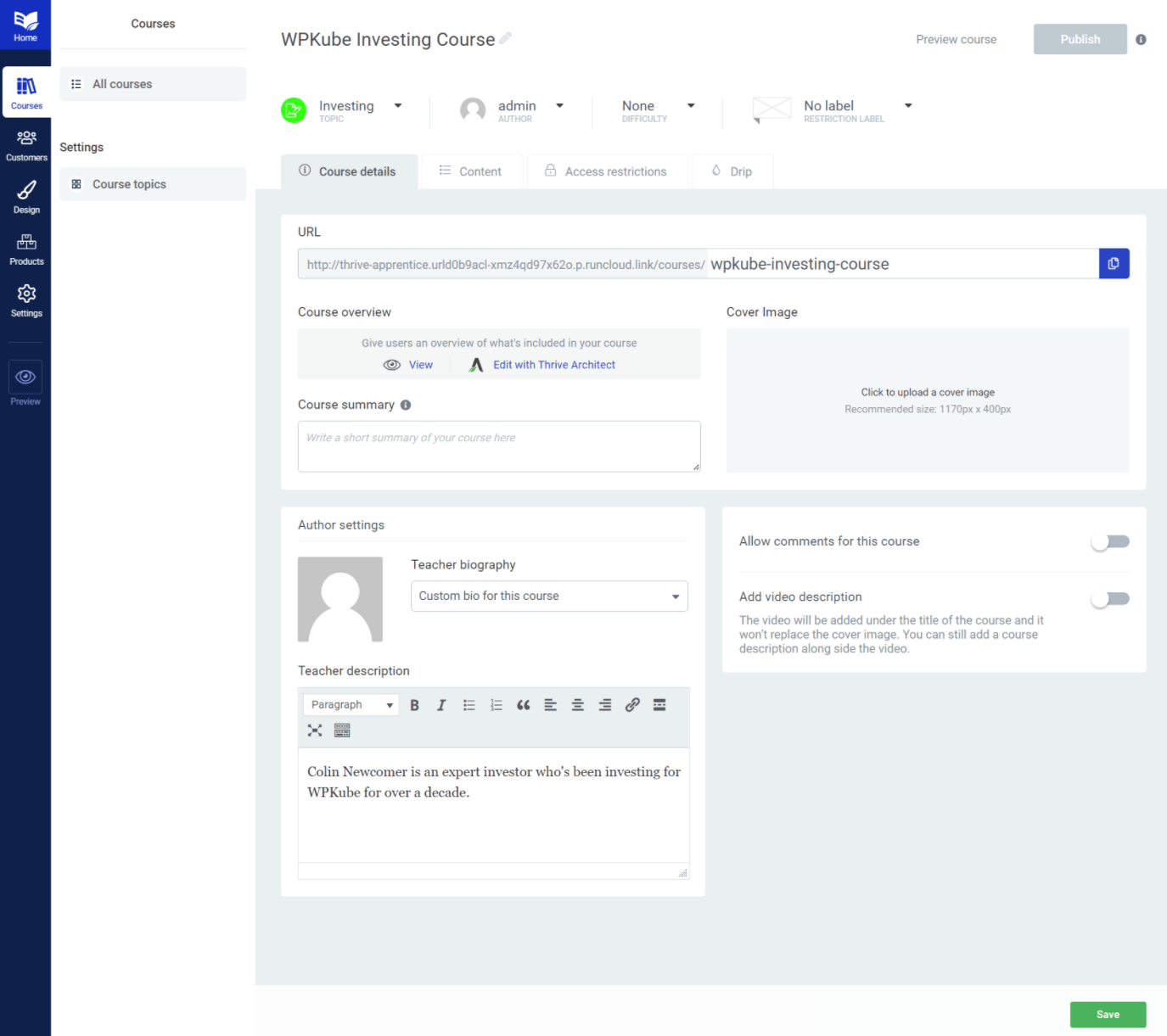 From there, you can go to the Content tab to set up your lessons. You can also use chapters and modules to organize your lessons into logical structures: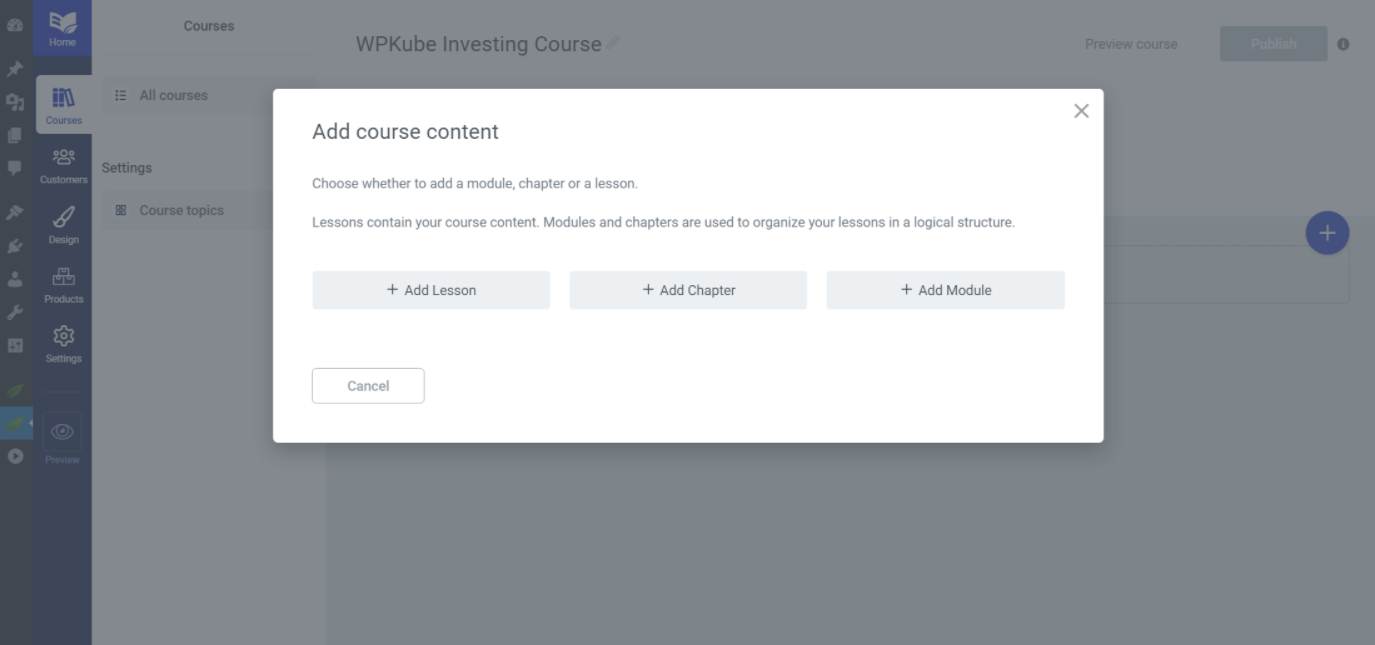 When you add a lesson, you'll be able to make a few key decisions:
Choose the type of lesson – text, video, or audio.
Decide whether to give free access to this lesson. You can use this to create sample lessons.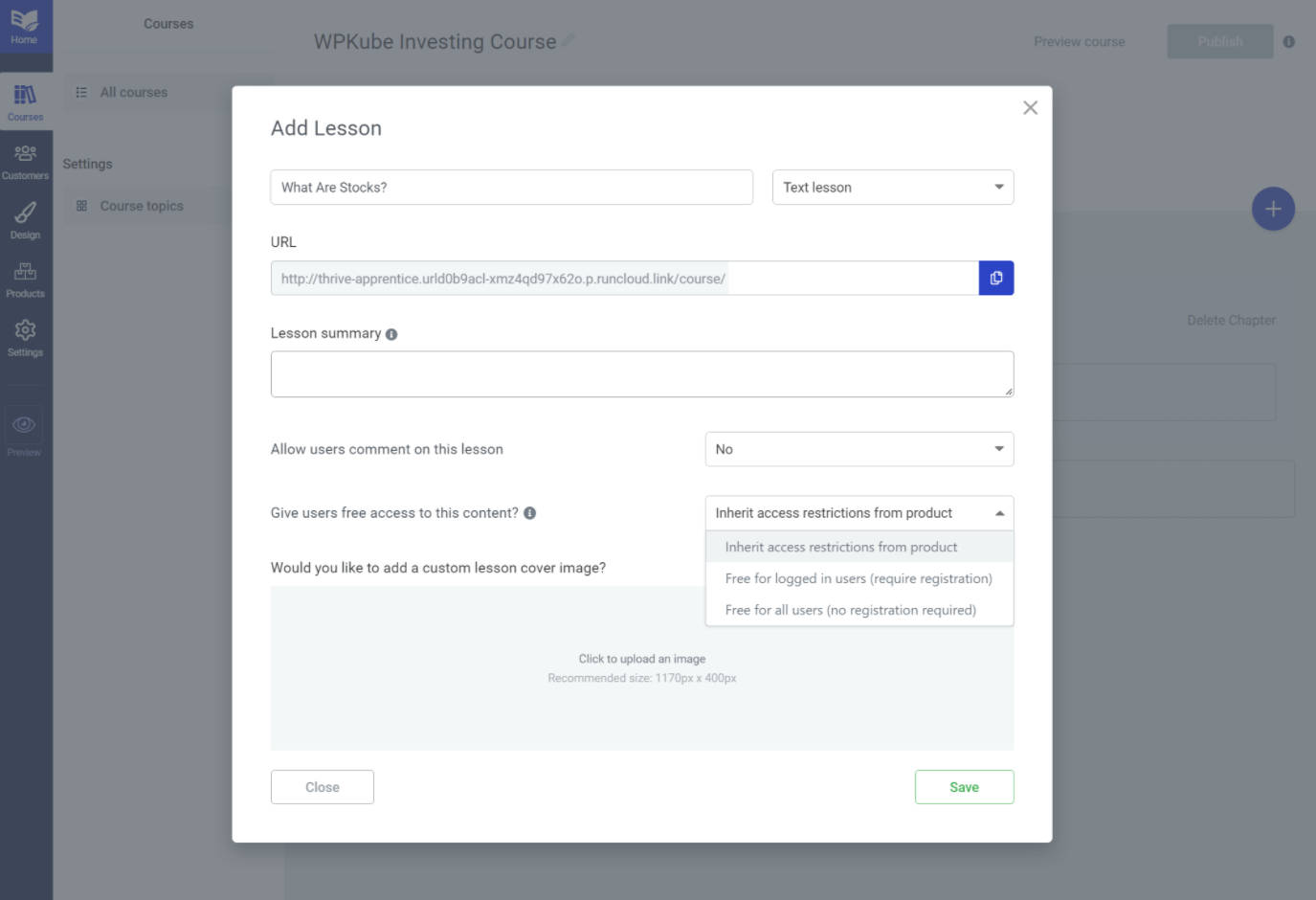 Different lesson types will have different options. For example, if you add a video lesson, you'll be able to embed videos from YouTube, Vimeo, Wistia, or a custom player. You can also configure how the video player functions: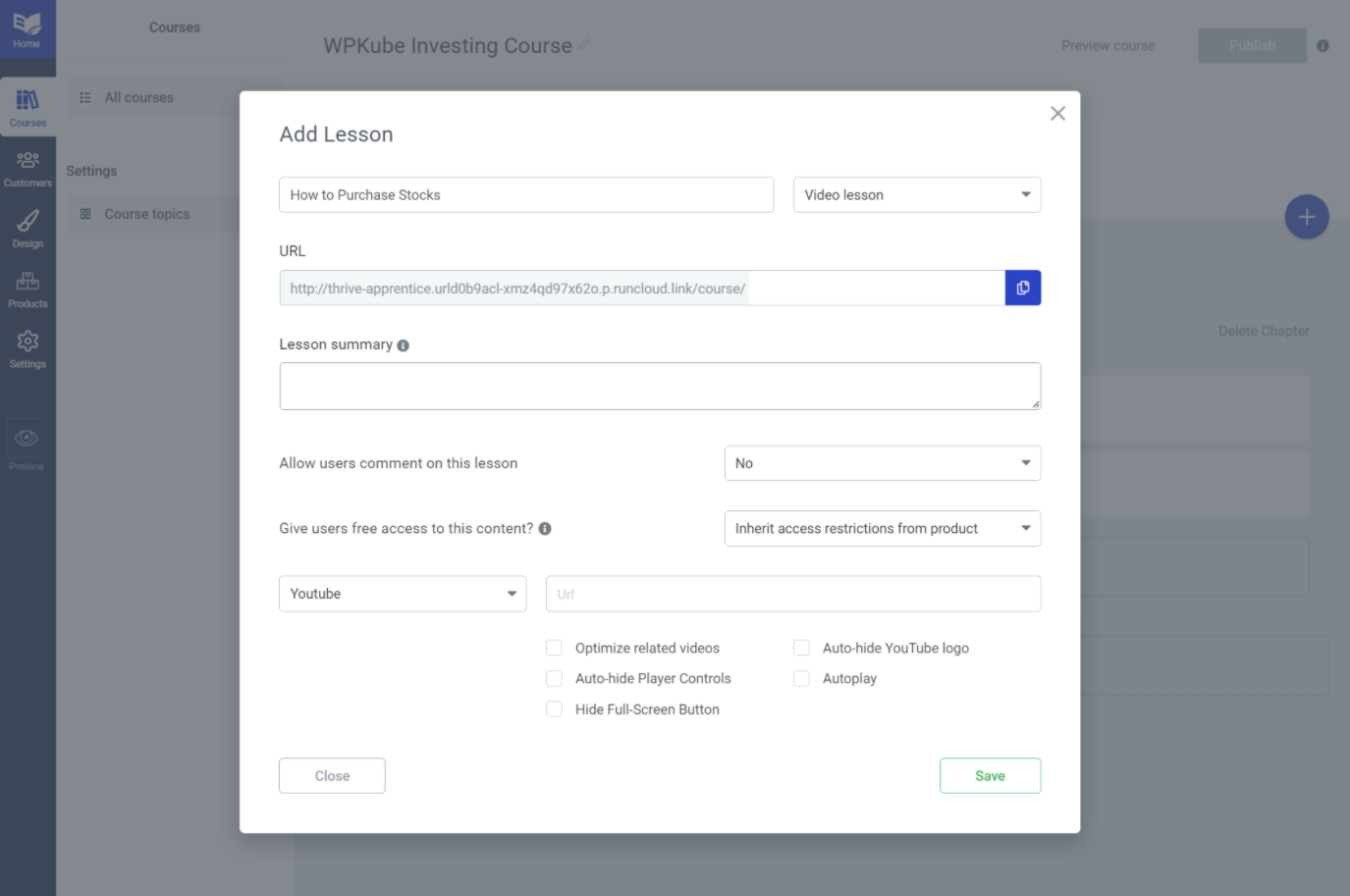 To help organize everything, you can use drag and drop to rearrange all of your chapters, modules, and lessons: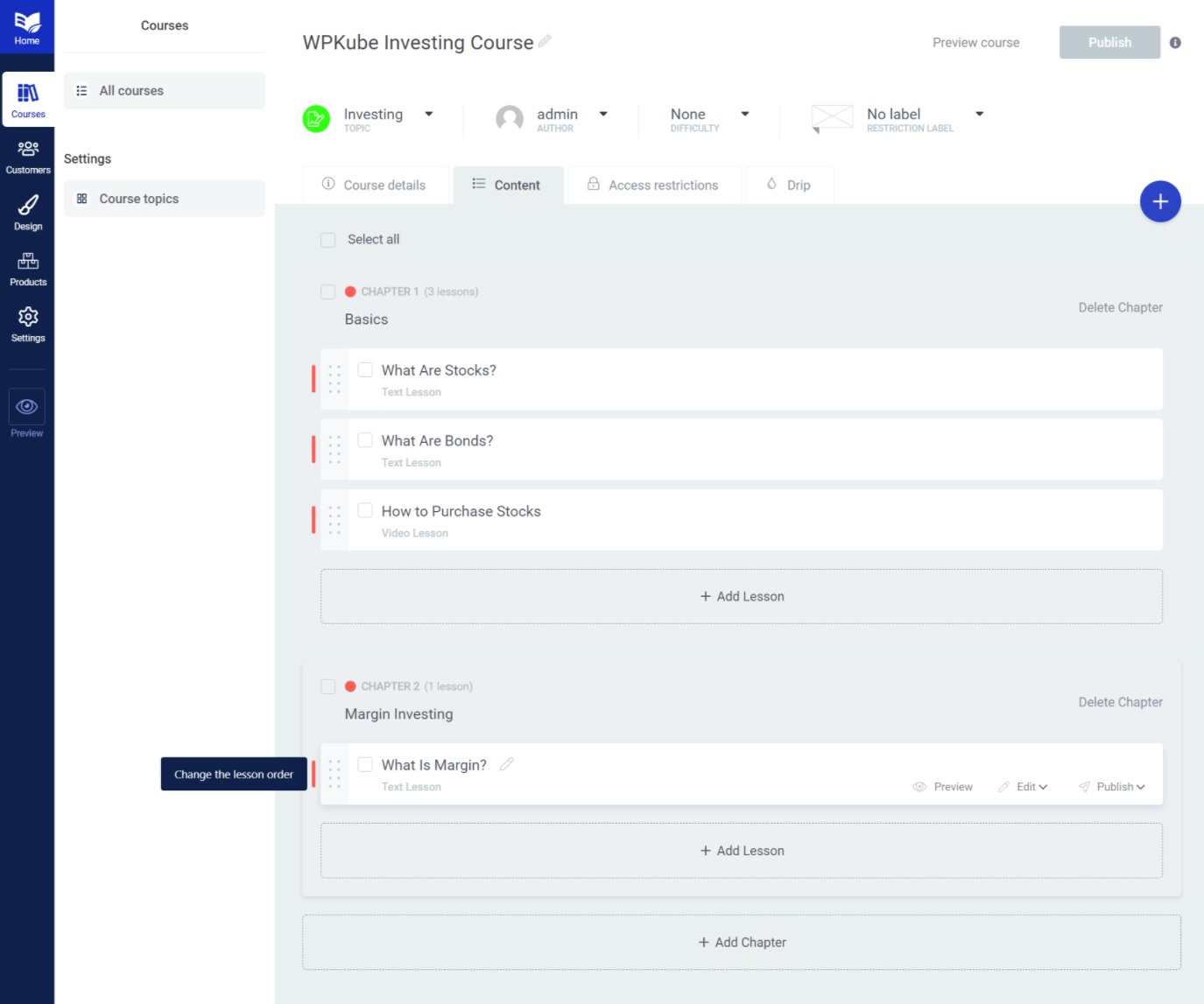 To add content to individual lessons, you can use what is essentially the Thrive Architect interface. This gives you a visual, drag-and-drop interface to control lesson content, which gives you more flexibility than most other LMS plugins.
However, it is a bit overkill if you just want to add some text-based lesson content, so there are pros and cons.
Adding text is still easy, though – you just click and type:
Dripping Course Content
By default, all of your course content will be available right away. If you don't like that approach, Thrive Apprentice also makes it super easy to drip your course content out over time.
You can set this up from the Drip tab of the course builder.
Here, Thrive Apprentice is very flexible – more flexible than most tools. You can choose from various schedules. Or, you can use Thrive Automator to unlock course content based on third-party integrations. For example, you could unlock course content when you apply a certain tag to a user in your email marketing software/CRM: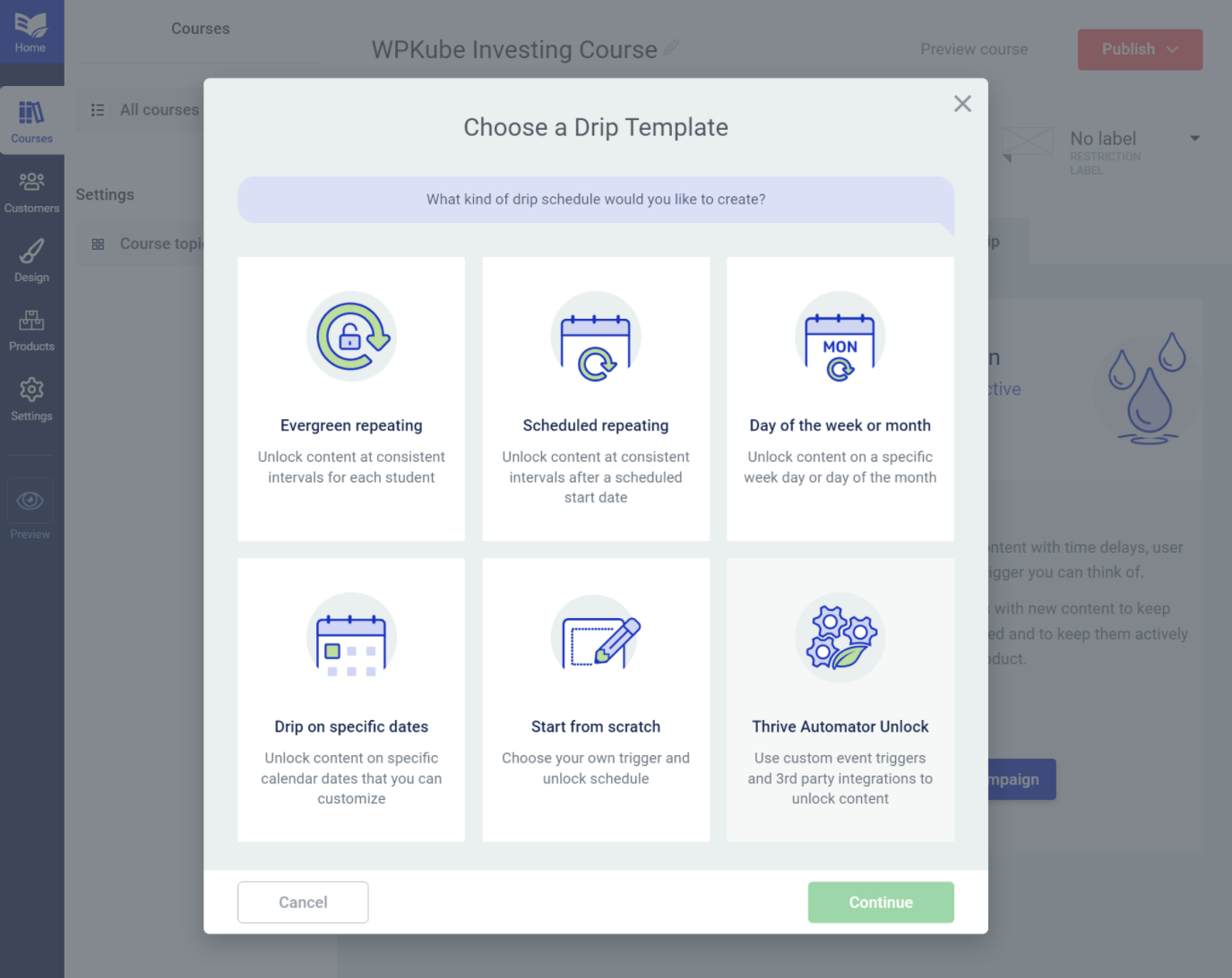 Once you choose the drip type, you'll get additional options to control how the drip works: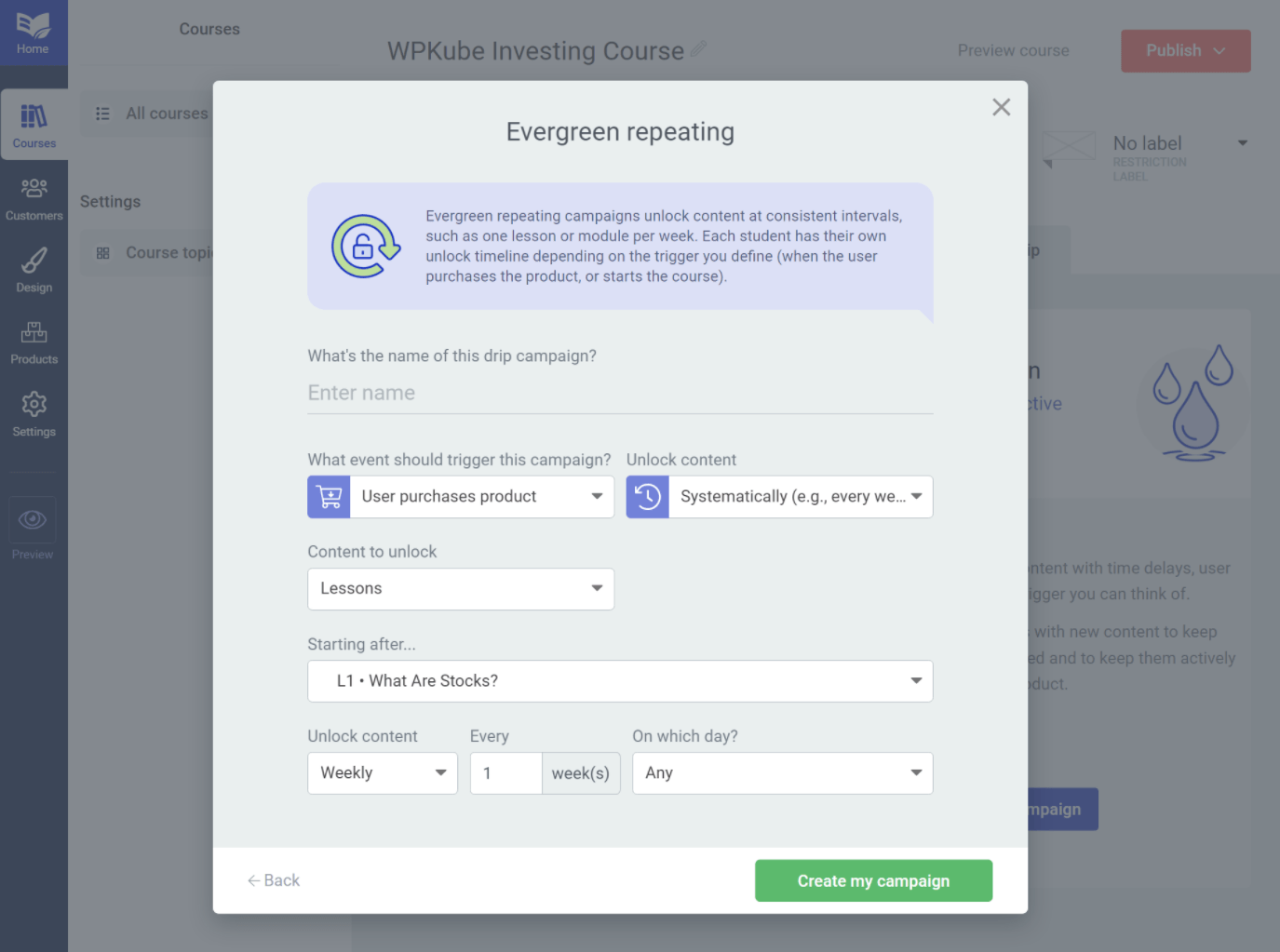 Creating Products
A "product" lets you turn your course content or website content into something that's monetizable. For example, you could create a product for the course that you just created in the previous section.
People would then need to purchase the product in order to access the course content.
When you create a product, you can have it restrict both courses and other content on your site, such as posts, pages, custom post types, and more. This lets you actually use Thrive Apprentice as a membership plugin in addition to an LMS.
You also have the option to add multiple courses and/or pieces of content, which lets you easily create bundles: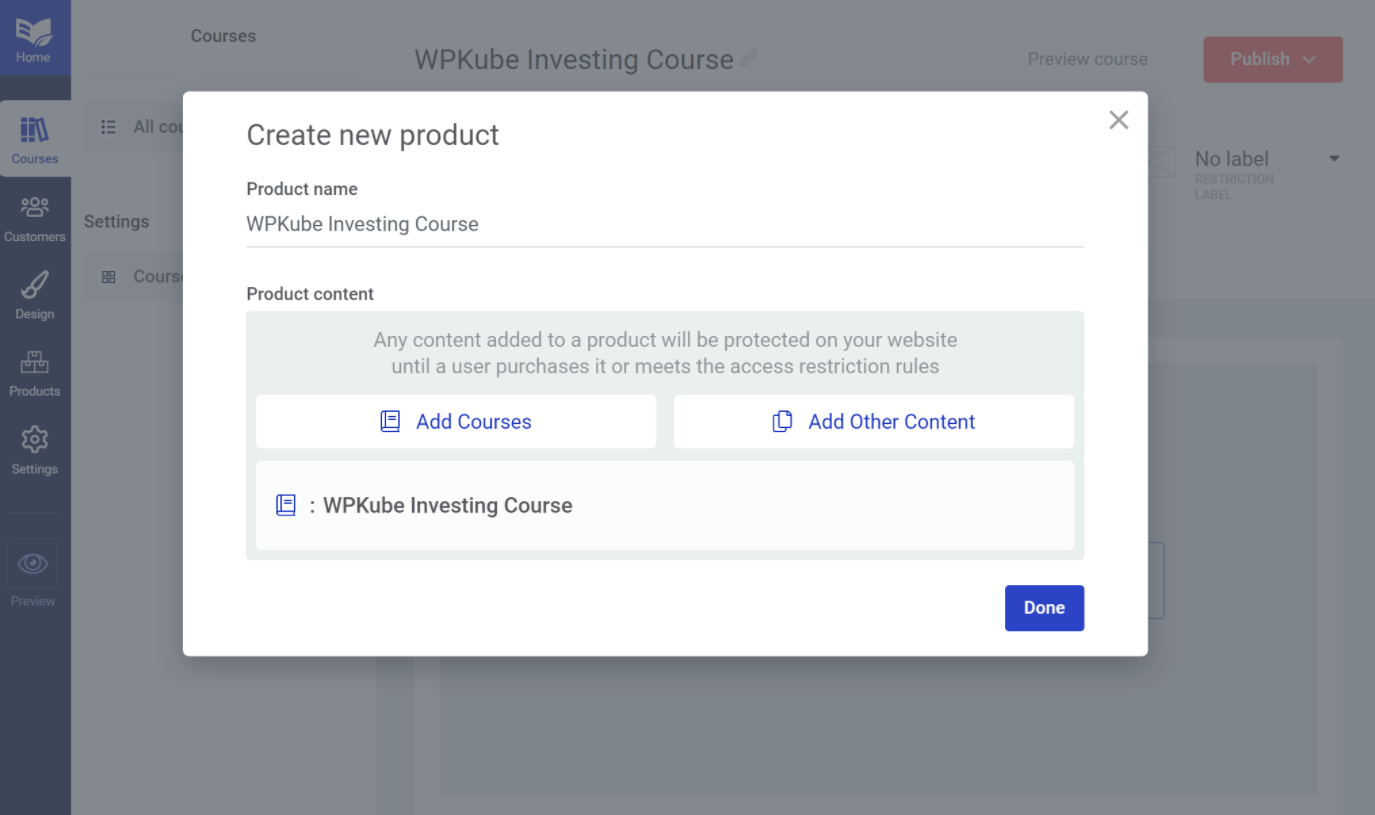 To control the pricing of a product, you'll need to set up access requirements. For paid content, this lets you connect access to the purchase of a product from ThriveCart, Sendowl, or WooCommerce.
That's important to understand – Thrive Apprentice doesn't include built-in payment functionality like LearnDash or LifterLMS. Instead, it relies on these third-party platforms.
The advantage of this approach, however, is that you can use all of the flexibility of those systems. For example, you can use WooCommerce coupons, WooCommerce Subscriptions, and so on. It's also easier to set up an affiliate program.
And that's pretty much it for the basic setup. Of course, there are other options, such as customizing the email templates that people receive. But if you follow just the steps above, you'll already have a fully functioning course platform.
Managing Customers
Once you start getting customers, you can manage them from the Customers area of the Thrive Apprentice dashboard.
This area isn't as detailed as some other LMS plugins, but it does let you view a list of all customers. If you click on a specific customer, you can see their enrolled courses and manually enroll them in a course if needed: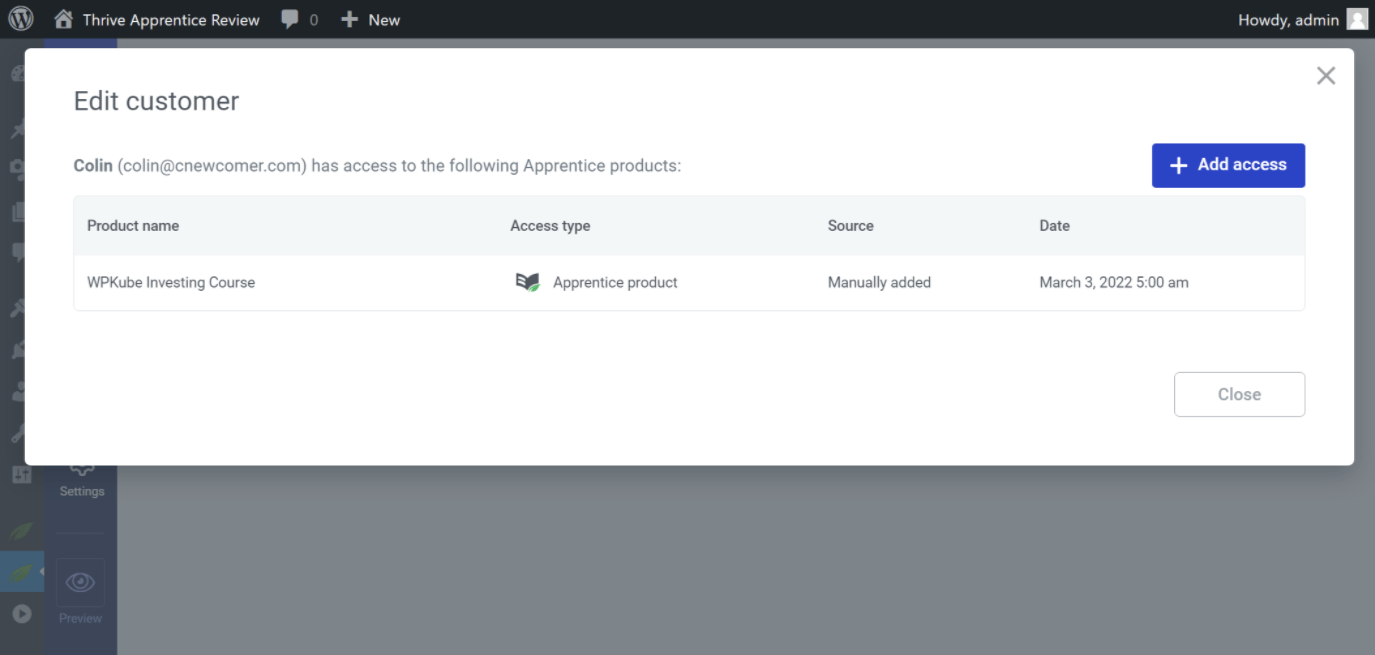 Thrive Apprentice Pricing
You now* have two options for purchasing Thrive Apprentice:
You can purchase just the Thrive Apprentice plugin.
You can purchase the full Thrive Suite membership, which gets you access to all of Thrive Themes' plugins and themes for one price.
*For a time, Thrive Themes only let people purchase the Thrive Suite membership. However, they've now returned to letting you purchase standalone plugins.
If you just want to purchase the course functionality, Thrive Apprentice costs $97 for use on a single website. That makes Thrive Apprentice one of the cheaper WordPress LMS plugins.
For example, LearnDash costs $199 for use on a single site (though LearnDash does have more academic-focused features).
If you're interested in Thrive Themes' other plugins and themes, the Thrive Suite membership offers excellent value. For one price, you get access to the following tools:
You also get the Thrive Theme Builder theme, which lets you fully customize your site using a similar interface to what you saw with Thrive Apprentice.
A lot of those tools can also be useful for your courses, so you probably would get added value from the membership. If you want to learn more, check out our full Thrive Themes membership review.
Thrive Suite costs $299 for access to everything and use on up to five websites.
Thrive Apprentice Pros and Cons
Now that we've covered the main content of our Thrive Apprentice review, let's highlight some of the pros and cons of using Thrive Apprentice.
Pros:
Excellent backend admin experience. I think Thrive Apprentice has one of the best backend admin experiences of any LMS plugin that I've used. Setting up courses is a really nice experience.
Excellent frontend course experience. The course frontend experience matches the backend and I think that your students will have an excellent user experience when engaging with your courses.
Full theme builder for course content. You can customize 100% of your course template, including the header and footer. It's essentially like you can build your own unique theme just for course content.
Integrated membership functionality. Thrive Apprentice includes its own membership functionality, which eliminates the need to use a separate membership plugin (though you still can if you want to).
Powerful content dripping. Thrive Apprentice has the best content dripping functionality of any LMS plugin that I've used.
Cons:
No academic-focused features such as gradable quizzes and assignments. If you're creating academic courses, I would definitely recommend LearnDash or LifterLMS instead. Thrive Apprentice is best for monetizing content courses.
Course content doesn't inherit theme styling. I definitely don't think this is a con for everyone. However, if you do want your course content to inherit your theme's styling, you might not like that Thrive Apprentice has its own design for all of its content (that you can customize using its built-in theme builder).
There's no free version. If you need a free LMS plugin, you could try LifterLMS or Tutor LMS.
Thrive Apprentice FAQs
As we finish out our Thrive Apprentice review, let's go over some common questions that you might have about the plugin.
Do you have to purchase Thrive Suite to use Thrive Apprentice?
No – you can now purchase just the standalone Thrive Apprentice plugin. You're no longer forced to buy the membership, though the membership does offer good value if you want to use the other plugins.
Does Thrive Apprentice work with other Thrive Themes plugins?
Yes – Thrive Apprentice pairs well with the other plugins. For example, you can use automations from Thrive Automator to control content dripping.
Do you need a membership plugin with Thrive Apprentice?
No – you do not need a membership plugin and Thrive Apprentice includes its own content restriction functionality for both courses and regular WordPress content.
However, you do have the option of using one as Thrive Apprentice has dedicated integrations for MemberPress, WishList Member, and MemberMouse.
Final Thoughts on Thrive Apprentice
Overall, if you're a content creator and/or marketer looking to create and monetize courses with your audience, I think Thrive Apprentice is definitely one of the best options.
Its tagline really does fit – "Don't Just Build Online Courses. Build a Business." That "business" part is where Thrive Apprentice makes sense.
It has a very polished experience that makes it easy to monetize content and deliver excellent experiences to your customers.
As I mentioned, it's almost more like a membership plugin and LMS plugin rolled into one, which is very useful if your main goal is monetization.
It's also very strong when it comes to content dripping, which is another great tool for people looking to boost monetization.
And finally, it essentially lets you create a separate sub-site for all of your course content, which can be a good strategy for monetization.
So if this fits your use case, then I definitely recommend adding Thrive Apprentice to your shortlist.
Go to Thrive Apprentice
On the other hand, if you're looking to create more academic-focused courses, I wouldn't recommend Thrive Apprentice. The whole feature set is definitely built more towards marketers and monetization than serious academic uses, which you can see in the fact that it's missing graded quizzes, assignments, gradebooks, etc.
If you need a more academic-focused solution, I would recommend LearnDash or LifterLMS instead – read our LearnDash vs LifterLMS comparison to choose the right one. We also have dedicated reviews of both plugins:
Do you still have any questions about Thrive Apprentice or our Thrive Apprentice review? Let us know in the comments!
Keep reading the article at WPKube. The article was originally written by Colin Newcomer on 2022-04-27 22:47:00.

The article was hand-picked and curated for you by the Editorial Team of WP Archives.