Do you find yourself struggling with creating interesting content, thinking that – maybe – you have a boring business or offer no one wants to hear and read about? Please… let me introduce you to the ultimate questionnaire that helps you come up with the on-point creating interesting content everyone will love engaging with!
Now, a quick backstory… We came up with this article based on Ivana Cirkovic's LinkedIn post and thought of making it into an interview with her. So, here's how it all started.
"This very tweet inspired me to come up with a said list of questions to use when you get stuck, not knowing what to talk about, or thinking you have a boring life/offer/brand. Haven't invented anything new, it's going back to basics, using angles we too often forget people like and want to know more of."
We asked Ivana to expand on the create interesting content list with more explanation and she did. So, here's the list of questions to answer whenever you need, to get bigger reach, impact, engagement, leads, and – sales, why not ☺️
1. What got you started on your business journey or made you create your offer? And how does that passion keep you going strong every day?
👉 Sharing your journey and the inspiration behind your brand connects emotionally with your audience, making them feel invested in your vision.
Simply put, introducing the backstory and motivation behind your business helps your audience understand what your genuine purpose and commitment are. It further establishes an emotional connection with them, making them feel more invested in your brand. Sharing your passion also conveys authenticity, which is crucial for building trust.
Example Context: "When I founded my cellulose straw business, I noticed a gap in the market for sustainable, eco-friendly products. And being an environmental enthusiast myself, I felt compelled to make a positive impact on our planet. Every day, knowing I'm making a difference in reducing plastic waste keeps me motivated to push forward and find innovative solutions."
When thinking about more concrete, non-imaginary example, couldn't miss the Notion's one: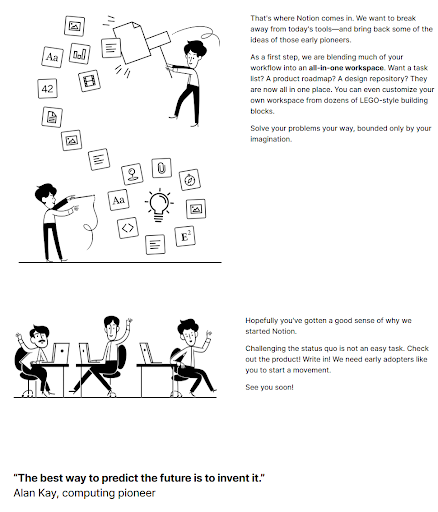 What's great about this is, that it shows us that creating interesting content can come in many shapes and forms. And cartoons as well! 😊
2. What is a tough challenge you faced and how you conquered it like a pro?
👉 Sharing stories of overcoming obstacles tends to build trust and credibility, showcasing your brand's resilience.
Talking about overcoming challenges demonstrates your brand's resilience and problem-solving abilities. It also helps build credibility and trust among your audience, as they see you can handle obstacles effectively.
Example Context: "Launching my product was a rollercoaster ride. From production delays to unexpected market shifts, it seemed like everything was against us. However, we refused to give up and instead, we pivoted our marketing strategy, engaged with our community, and turned the situation around. This experience taught me that determination and adaptability are key in the entrepreneurial journey."
A real-life example you can learn from is – believe it or not – Lego! Back in 2004., they were on the verge of bankruptcy and that same year they hired the first non-family CEO, Jorgen Vig Knudstorp who, singlehandedly turned things around. How? By going back to basics, core products – and – by partnering with huge movie franchises that rose them back to the top and reached an even wider pool of customers!
3. Has your business/brand/offer made a real impact on someone's life?
👉 It's success stories like these and testimonials of people that highlight the value of your offering, encouraging others to engage with your brand.
Highlighting success stories and testimonials showcases the positive impact your offering has on people's lives. It reinforces the value of your product or service (without you talking about it), encouraging others to engage with your brand.
Example Context: "Recently, a customer reached out to share how our financial planning services helped them achieve their long-term goals and secure their family's future. Hearing such heartwarming stories motivates our team to continue providing top-notch financial guidance to more individuals and families."
Or, in our case, like this WP Valet Case Study, where they shared how – by using our Manage WP – they managed to increase their efficiency by 30%! Now, that's impressive!
4. What's the secret ingredient that makes your brand extraordinary? Tell a story behind it.
👉 Highlighting your USP (unique selling points) sets your brand apart, attracting customers looking for something special.
Your unique selling points are what set your brand apart from the competition and make you more memorable and recognizable. By sharing the story behind it, you create intrigue and attract customers looking for something special.
Example Context: "Our secret ingredient is the genuine care we put into every product. It all started with my grandma's homemade recipe for skincare, which has been passed down through generations. We believe that natural, organic ingredients combined with a lot of love is what creates the best results for our customers' skin."
There can be only one real-life USP example here and it's WordPress. The very thing that sets this particular CMS from any other is – people. WordPress community is like no other in the world and it's thanks to all of us that WordPress is as strong as it is – being used by 43.2% of all the websites in the world! And that number is only rising, in big part, thanks to all of the people who are a part of this unique community.
5. What personal experiences shaped your brand's values and mission and why talk about it?
👉 Sharing your brand's values resonates with like-minded people which, as a result, fosters authentic connections, familiarity, and trust. And trust is where and when sales happen.
Sharing your personal experiences and how they influenced your brand's values creates a deeper, more meaningful emotional connection with your audience. It helps them understand the human side of your business and fosters authentic connections based on shared beliefs.
Example Context: "Growing up, I faced numerous challenges and struggles that shaped my resilience and determination. Those experiences were the fuel that led me to establish a brand centered around empowering young individuals to overcome obstacles and embrace their unique qualities. And by sharing my story, I hope to inspire and support others on their journeys."
For a non-fictional example, I'm looking no further than Semrush and its mission to create fair and transparent competition in the SEO field, with equal opportunities for everyone. This resulted in building such a tool that, nowadays, every business with a website – uses it to navigate the unpredictable SEO industry changes.
6. Tell us about a moment in your business that amazed and inspired you?
👉 Inspirational stories often create positive associations with your brand, inspiring your audience and prospects to learn but also taking action (getting to know you more, increasing interest and leads).
Inspirational stories create positive associations with your brand, leaving a lasting impact on your audience. They motivate your audience to learn more about your brand and potentially become loyal customers.
Example Context: "Last year, we hosted a charity event to support underprivileged children. Witnessing the overwhelming response and generosity from our community was truly awe-inspiring and reaffirmed our commitment to giving back and making a difference, not just as a business but as a force for good."
Take it to Duolingo to tell us their inspirational story of how they grew the company from loving to solve problems at first to just simply trying to get as many people as they can the opportunity to learn a new language.
7. What valuable lessons have you learned from a past failure?
👉 Transparency about past issues, challenges, and growth shows authenticity and vulnerability, which creates a sense of humanity and empathy with your audience. They relate, sympathize, and end up building trust in you and your business.
Example Context: "Early on in our journey, we launched a product that didn't resonate with our target audience which resulted in a total flop of our product. Although it was a humbling experience, we learned valuable lessons about market research and customer feedback. This taught us the importance of staying adaptable and continuously learning to better serve our customers."
Out of all these wonderful lesson-learned examples, I particularly liked the one that comes from Jim Belosic, ShortStack and it is to look at failures as mere mistakes. We all fail, sometimes daily. The key is not to be overwhelmed or taken back by them, but to use failure as tryouts and give more of ourselves the next time. Until we succeed.
8. What's the most valuable piece of advice you received on your entrepreneurial journey?
👉 Sharing valuable insights and advice from industry experts or mentors positions you as a credible authority in your field, attracting an audience seeking valuable knowledge.
When you open up share advice that helped you – you offer your audience a glimpse into the wisdom that has shaped your entrepreneurial path. By sharing specific insights or lessons that have had a profound impact on your approach to business, you are showing your willingness to learn and grow. This not only positions you as a credible authority in your field but also resonates with an audience seeking valuable knowledge and guidance.
Example Context: "One of the best pieces of advice I received was from my mentor, who said, 'Stay persistent and never lose sight of your vision, even in the face of challenges.' This very guidance has been the driving force behind the resilience and growth of my business."
Could this be the very advice that transformed and made WP Forms into what it is? While not quite sure about that, the advice "ditch perfectionism" was the very one that influenced Jared Atchinson's not only business but the personal side of life as well.
9. How do you go that extra mile to exceed your customers' expectations?
👉 Demonstrating your commitment to exceptional customer service and going above and beyond for your customers is what builds trust and loyalty, encouraging others to engage with your brand and perhaps become your clients and customers.
Going beyond the ordinary to provide exceptional customer experiences is, by far, a powerful way to build trust and loyalty with your audience. By sharing specific examples of how you've delighted customers through personalized services, surprise gifts, or timely support, you're showing just how committed you are to putting customers first. This fosters a sense of appreciation and reciprocity among your audience, encouraging them to engage with your brand and even become vocal advocates.
Example Context: "We believe in wowing our customers at every turn. Recently, we surprised one of our loyal customers with a hand-written 'Thank you' note and a personalized gift tailored to their preferences. It's these little gestures that make us stand out and create lasting relationships with our customers."
In another real-life example, take it to Spotify which even has @SpotifyCares X account (formerly known as Twitter) to be of even better service to its users. As you can see from the screenshot below, they sure go the extra mile for their people which, as a result, strengthens their brand and support.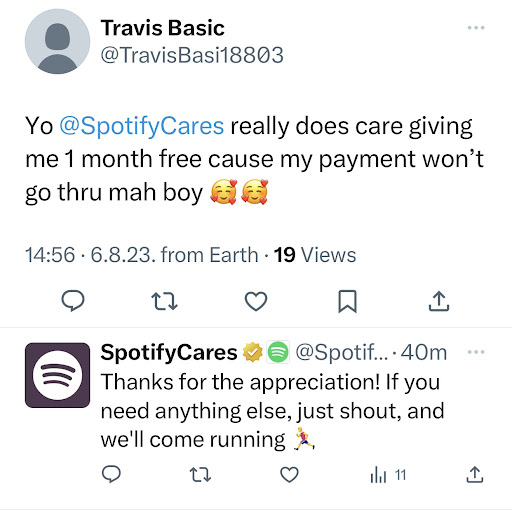 Conclusion
Use the power of storytelling to engage with your audience and build more meaningful (and useful!) connections, which will surely help you improve your business success. Remember, everyone has a story to tell, and sharing those stories in a way that resonates with your audience can make your brand more relatable and compelling.
People/businesses/brands are not boring – one just needs to know how to talk about it.
Hopefully, this interview with tips about creating interesting content helps 🙂 and if it does, pass this article on and add your interesting questions to answer down below 👇🏻
Keep reading the article at ManageWP. The article was originally written by Predrag Zdravkovic on 2023-08-25 11:56:47.

The article was hand-picked and curated for you by the Editorial Team of WP Archives.