Are you a day-to-day WordPress user looking to take your email marketing efforts to the next level? Look no further than these top 10 WordPress plugins for email marketing. Whether you're looking for a free or premium plugin, these options will help you create and send effective email campaigns, grow your subscriber list, track your results, and have more sales.
But first thing first…
Isn't email marketing long gone..?
It's not and won't be any time soon, according to Statista. Just in 2022, the number of worldwide email users was around 4.3 billion, a number that is expected to grow to 4.6 billion by 2025! So, if you want to stay in the game, stay current, and stay connected to your audience, now is the time.
Take a look at our suggestion list, study it, and choose the one email marketing plugin that best suits your needs.
5 WordPress Plugins for Email Marketing – free edition
MailPoet – This plugin offers a range of features to help you create professional-looking newsletters and email campaigns. It comes with drag-and-drop email templates, automated email campaigns, and newsletter analytics, making sure you'll have everything you need to get started. On top of that, you can smoothly integrate it with WooCommerce and use it with your eCommerce sites.
Newsletter – If you're looking for a plugin specifically designed for newsletter creation and management, Newsletter is a great option. It offers:
·       customizable subscription forms,
·       newsletter templates, and email tracking,
·       unlimited subscribers with statistics
·       advanced targeting, and more
making it easy to grow your list and track your results.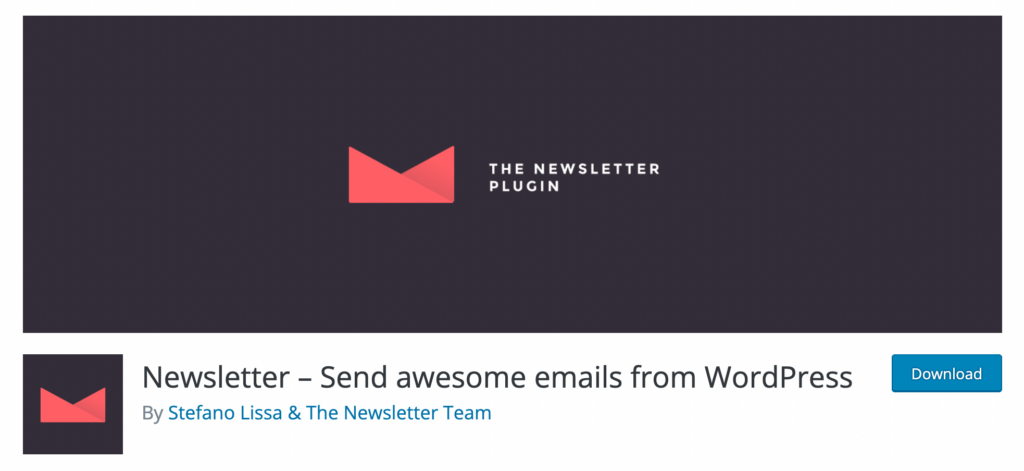 Hustle – Hustle is another popular email marketing plugin for WordPress that is worth considering for your email marketing needs. As an all-in-one email marketing solution, it offers you to easily create opt-in forms, slide-ins, and more to capture your target audience's email addresses and grow your list. Hustle also includes integration s with MailChimp, Aweber, and similar email marketing platforms, to sync your email list and automate your campaigns.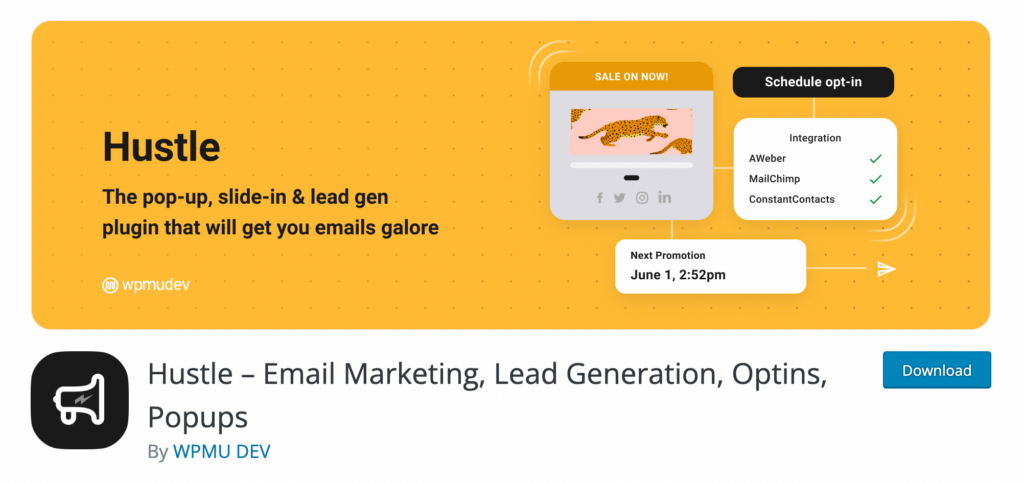 Sendinblue – This plugin allows you to create and send email campaigns directly from your WordPress dashboard. Sendinblue has features that help you create custom subscription forms, manage contact lists, track statistics with real-time reporting, and more. It also includes marketing automation features like triggered emails and leads scoring, making sending targeted messages to your subscribers easy.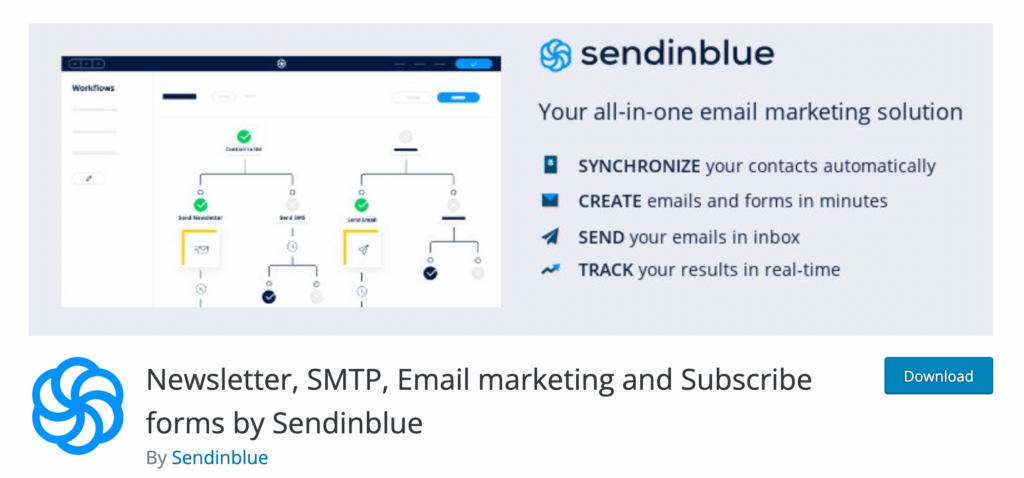 Sumo – Sumo includes a range of marketing tools, including customizable opt-in forms, timed popups, email templates, eCommerce integrations – to name a few. With Sumo, you can easily grow your email list with high-converting opt-in forms and engage with your subscribers through targeted campaigns.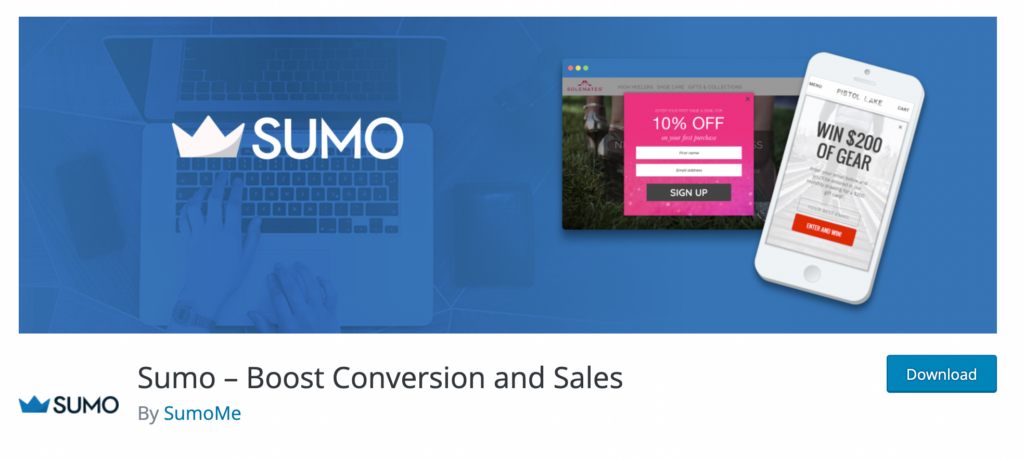 5 WordPress Plugins for Email Marketing – premium edition
OptinMonster – An all-in-one email marketing solution that comes with a wide range of plans that fits your every need. OptinMonster includes extensive email marketing features that help you instantly grow your email list, improve conversions, and have more sales. Some of them include:
·       customizable opt-in forms,
·       targeted campaigns,
·       exit-intent popups,
·       gamified wheels
·       100+ templates, and more,
helping you convert more visitors into subscribers.
The price starts at $9/month for a single site use.
Thrive Leads – Designed specifically for lead generation, Thrive Leads combines every type of opt-in form you need in one single plugin and gives you a simple drag-and-drop editor to create the perfect design every time. It includes features like A/B testing, customizable opt-in forms, advanced targeting, and exit-intent popups. With it, you can easily create effective customizable lead magnets and grow your email list.
The price is (currently) $99/year for a standalone email marketing plugin or $299/year for a Thrive Suite, which is full access to their entire list of integrated plugins.
Mailster – This plugin is designed to automate your email campaigns and have highly customizable targeted campaigns for welcome emails, newsletters, auto-responders, trigger campaigns, follow-ups, special occasion emails, and more. It works from within the same interface aka WordPress dashboard, giving you effortless email marketing tasks with pretty amazing detailed analytics.
The price starts at $49/1 site which includes one year of support and updates.
SendPress – SendPress allows you to easily create and send newsletters, automated emails, and transactional emails directly from your WordPress dashboard. With it, you can create beautiful email templates using a drag-and-drop editor, and customize them to match your branding and style. SandPress also comes with features like an easy-to-use editor, advanced reporting and analytics, list management and segmentation options, and built-in automation.
The price starts at $39/year for a single site use.
OmniSend for WordPress – one of the best email marketing solutions when it comes to eCommerce websites. Turn more visitors into subscribers, and subscribers into buyers, with Omnisend's popups and email marketing plugin that's made for WooCommerce. With its drag-and-drop builders, premade templates, and ready-made automation, you'll be handling email marketing campaigns in no time and with ease.
Pricing starts at $16/month for a single site use.
General email marketing tips
We couldn't finish this article without sharing some general ideas and useful tips on how to create and run successful email marketing campaigns. So, here they are:
1.     Build your email list
Your email list is one of your most valuable marketing assets, so make sure you're actively working to grow it. Use lead magnets on your site or social media, to entice visitors to subscribe to your list. It can be specific ebooks or whitepapers, useful lists, or how-to tutorials. Whatever you make and give out, make sure you're including subscription forms in prominent locations on your website.
2.     Choose the right email marketing software and/or plugin
There's a wide variety of email marketing tools available, so make sure you choose one that's right for your business needs. Consider factors like pricing, features, and integrations when making your decision.
3.     Segment your email list
Not all subscribers are created equal, so make sure you're segmenting your email list based on factors like interests, behavior, and demographics. This will allow you to send more targeted, relevant messages to your subscribers, improving your open and click-through rates.
4.     Use A/B testing
A/B testing, also known as split testing, allows you to test different email elements, like subject lines or calls to action, to see what resonates best with your subscribers. Use this technique to optimize your email campaigns for maximum engagement.
5.     Keep it mobile-friendly
More and more people are checking their email on mobile devices, so make sure your email campaigns are optimized for mobile. Use a responsive email design, keep your email content concise, and make sure your call to action is prominently displayed. You'd be surprised how many people and businesses miss this step. In 2023!
6.     Analyze and adjust
Finally, make sure you're tracking your email marketing metrics, like open rates and click-through rates, and adjusting your campaigns accordingly. Use this data to optimize your campaigns over time and drive better results.
To conclude
As you see, there are a variety of WordPress plugins available to help you take your email marketing efforts to the next level. Whether you're looking for a free or premium plugin, there's an option that will work for your business. So why wait? Start exploring our top 10 WordPress plugins for email marketing today and start growing your email list! And be sure to check out our ManageWP features to elevate your management and conversions that much better!
Keep reading the article at ManageWP. The article was originally written by Ivana Cirkovic on 2023-05-23 04:22:14.

The article was hand-picked and curated for you by the Editorial Team of WP Archives.