A
re you looking to increase your blog engagement? Then you've come to the right place! In this article, we'll share 11 actionable tips to show you how to increase your blog engagement.
Bloggers put so much effort into writing great content and generating traffic for their new blog, but it still doesn't get the engagement it deserves.
Website engagement is an important metric for any website's success. Even if you attract a considerable amount of traffic, this won't mean much unless you're able to engage visitors.
Because engaged readers are more likely to:
Stay on your website longer
Interact with your blog by commenting or sharing your posts
Sign up for your email newsletter
And return to your blog again and again
Now that you know the importance of getting good engagement on your blog, let's discuss how you can improve it.
Ready? Let's go!
1. Reduce Page Load Time
Running a website with a slow loading time can hurt your efforts to engage with your audience.
Imagine that you stumble upon a website that takes forever to load. You probably won't stick around because it's frustrating to wait and wait. The same can be said for your readers; they won't stick around either if your blog takes forever to load.
Various studies show that a 1 second delay in page load time can lead to 7% loss in conversions, 11% fewer page views, and 16% decrease in customer satisfaction.
As you can see, having a fast-loading site is important if you want your visitors to stick around and interact with your blog.
If you want to check your website's page speed, you can use Blog Tyrant's Free Website Speed Test Tool.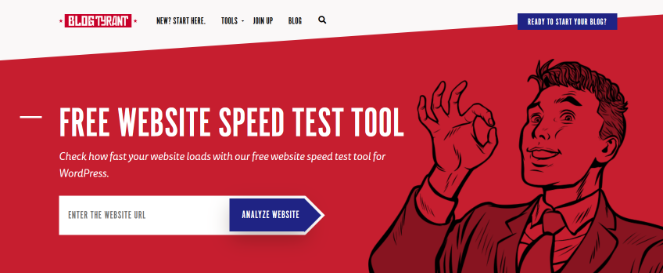 All you have to do is enter the URL of the website and our tool will analyze the website for you.
Once it's done analyzing, it will show you your speed test overview and give suggestions to improve your website speed.
You can also check out our guide on how to speed up your website for more details.
2. Use a Responsive Design
52% of the global population use their mobile devices to access the internet and this figure is expected to rise by the end of 2021. This means that bloggers must build a website that works well for both mobile and desktop users.
If not, you'll be losing 52% of your potential readers and engagement, and as a blogger, you wouldn't want that to happen if you want to be successful.
Ensure that navigating your blog on a mobile phone is just as smooth as when navigating it on a desktop.
You can easily make your WordPress blog mobile-friendly by installing a responsive WordPress theme.
Responsive
[…]
This article was written by faizan and originally published on Blog Tyrant.