Finding the right person for any job is easier said than done. Thankfully, there are multiple quality tools that you can use to make the task a lot simpler. Chiefly, you can check out what's out there in the realm of applicant tracking software.
Today, we list 10+ of the top such tools, discuss their features, and pricing.
Features to look for in applicant tracking software
Applicant tracking software can help you cut through a large list of candidates sourced from multiple channels and shortlist the most desirable profiles. But the benefits of using such software don't stop there. The best solutions let you also handle a lot of tasks related to the candidate hiring process.
Depending on your specific requirements, here's what your applicant tracking software should be capable of:
Automated posting, filtering and streamlining job applications
Sharing postings on Facebook, LinkedIn, Twitter, etc.
Job board management
Parsing resumes, profiles and job applications
Selecting candidates from a database, matching criteria specified in the job opening
Sourcing candidates from professional recruiters, social media, job search websites and platforms like LinkedIn
Analyzing performance and efficiency of candidates, comparing them
Providing automated checks and verification of candidates
Communication features between members of the hiring team and candidates
Scheduling interviews and managing offer letters
Conducting video interviews, collecting and accessing pre-recorded interviews
Overseeing candidate progression and hiring team activity
Collecting candidate feedback
Analytics and reporting
Integration with other HR software
Ideally, you don't want to pick a tool that you'll need to change in a couple of years anyway. It's best to use applicant tracking software that your business can grow with. When picking your ideal tool, focus on must-have features. Avoid being overwhelmed by the extra or add-on features.
When it comes to the pricing of these things, this can be a difficult topic since not every software shares prices openly. Most of the time, you'll have to contact the sales department and ask for a quote.
Generally, though, the pricing is based on the number of employees, users, and active positions you want to keep. It's also quite common to see a flat monthly or annual fee. Further, some companies offer a free trial or a simplified free package that can handle basic data processing and communicate with your applicants.
10+ of the best applicant tracking software
Breezy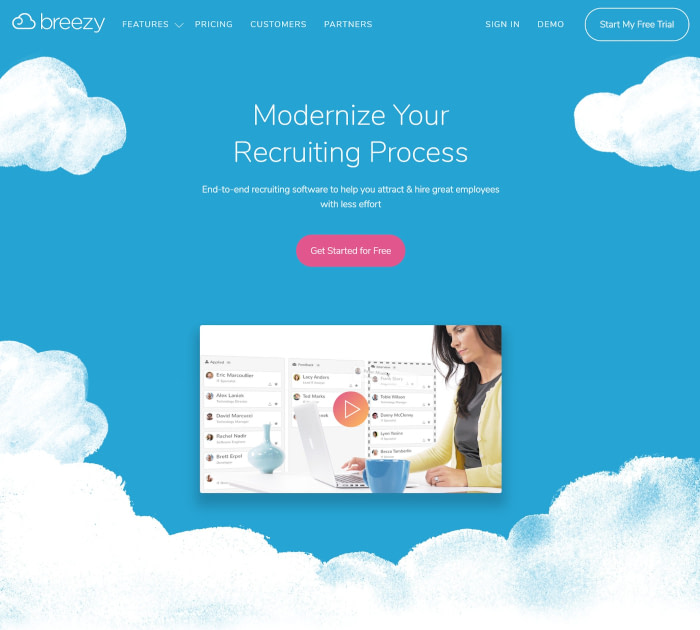 […]
This article was written by Priya and originally published on CodeinWP.