Are you looking for the best solution to add wholesale features to your WooCommerce site?
WooCommerce has great features to set up an online store but it mostly caters to retailers. Wholesalers don't find options to add bulk-purchase prices and minimum quantity requirements.
Luckily, the Wholesale Suite has innovative features that make it easy to be an online wholesaler. It even lets you create a separate product catalog that only wholesale customers can view.
In this Wholesale Suite review, we look at everything it has to offer along with its pros and cons to see why it's the best WooCommerce wholesale solution.
Wholesale Suite Overview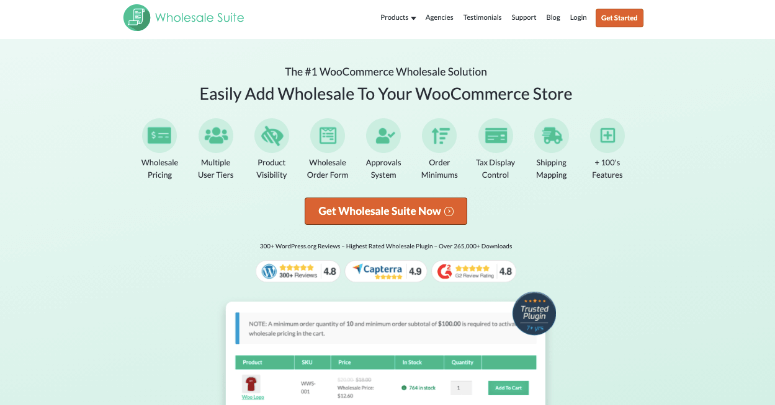 Wholesale Suite is a dedicated wholesale solution for WooCommerce sites. The tool has helped 20,000+ stores grow their wholesale business.
Wholesale Suite was created by Rymera Web Co that specializes in WooCommerce extensions. They identified the pain points faced by wholesalers as well as their customers and created solutions to make it easier.
They also created the Advanced Coupons plugin and Inventoroo, a WooCommerce inventory management plugin.
Wholesale Suite Review: What is It?
The Wholesale Suite is a complete wholesale solution that combines three plugins:
Wholesale Prices – Lets you set wholesale pricing and minimum order amounts. You can add discount levels and control the shipping and tax rates separately.
Wholesale Order Form – Create responsive AJAX ordering forms that are searchable and categorizable.
Wholesale Lead Capture – Lets you add all the necessary registration, login, and wholesale signup sequences so that you can eliminate the admin work of your store.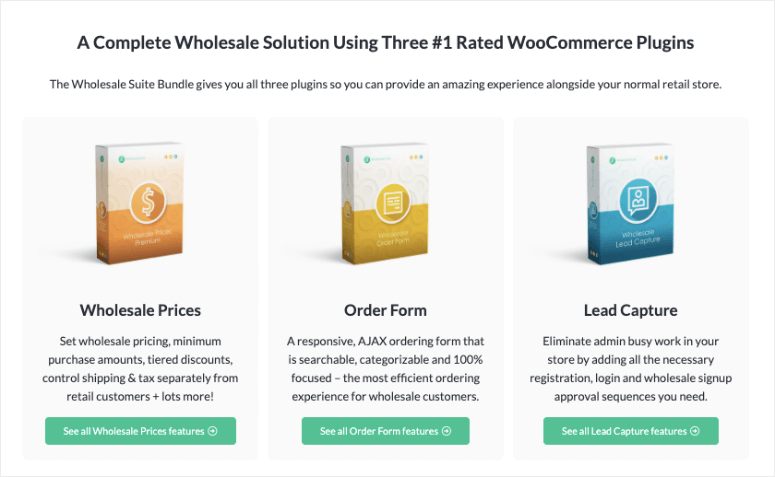 To fully understand what Wholesale Suite has to offer, we need to look at each plugin in-depth.
1. Wholesale Prices Plugin
WooCommerce lets you add retail prices to your products, but there's no option to add a wholesale price in the same product listing.

If you want to add wholesale pricing, you most likely have to duplicate your product pages and create separate prices. This can confuse buyers, inflate your catalog, and the products could get lost in the mix.
The Wholesale Prices plugin makes it easy to add wholesale rates at the click of a button.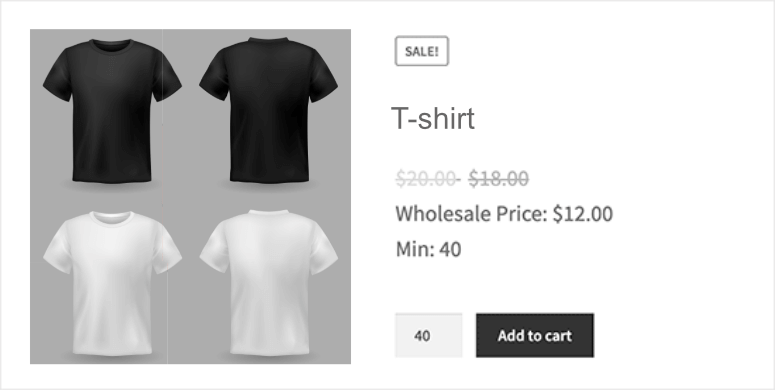 You can set up minimum quantity requirements and also set multiple levels of pricing based on the quantity ordered.
So, for example, you can charge $15 if a buyer purchases 1 t-shirt. But if they purchase 40 t-shirts, then the price per unit is only $12. And if they order 150 t-shirts or more, then the price drops to $8 per unit.
Here's what you'll absolutely love about the Wholesale Prices plugin:
Easily manage wholesale pricing over multiple user roles
Flexible configurations to suit your business model
Apply percentage discounts across your site
Abide by your country's tax requirements
Set preferred shipping methods for wholesale purchases
Select which products are 'Wholesale Only' and hide retail products from wholesalers
Apply minimum order rules and pricing tiers
Integrate with multi-currency solutions to display prices in currencies of the respective country of the user
The plugin works great for dedicated wholesale stores as well as retailers who want to offer wholesale prices only on select products.
It adds tons of functionality and improves the wholesale shopping experience. Plus, the plugin is really simple to use. Once you activate it on your site, and you'll see wholesale pricing options available in the product page editor.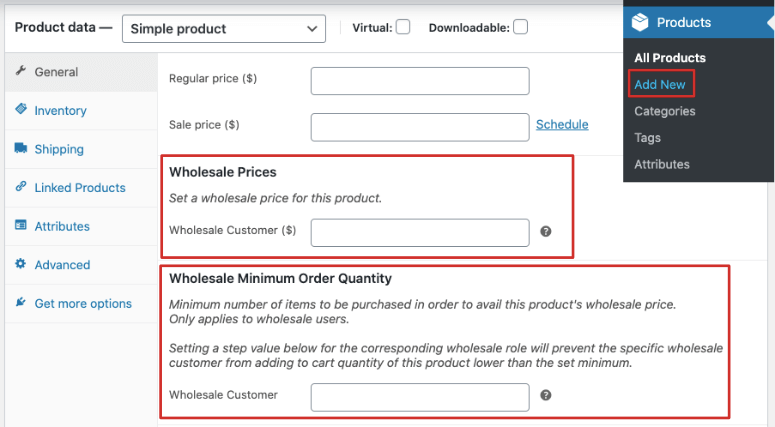 You'll find all the options you need for wholesale pricing here. If you need more detailed instructions on this, check out our guide on setting up WooCommerce wholesale pricing.
2. Wholesale Order Form plugin
The Wholesale Order Form plugin by WholeSale Suite lets you create beautiful and responsive wholesale catalogs.
You can display your whole catalog on one page so there's no need for the user to load a new page to browse through more products.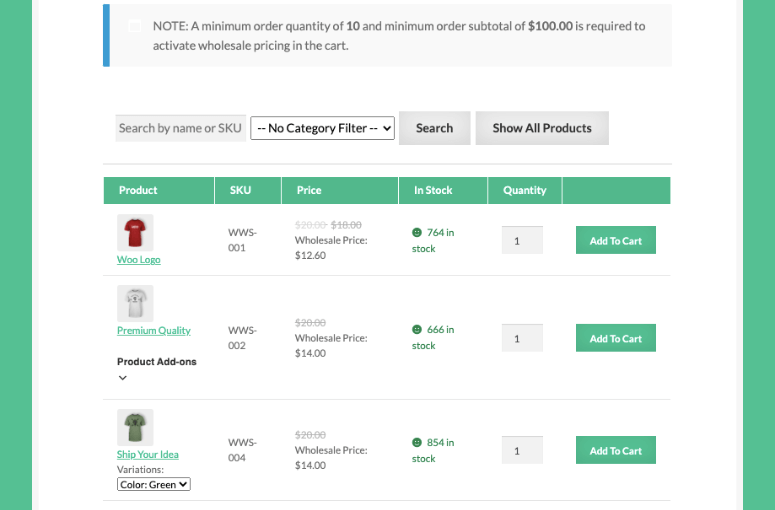 Users can easily search for products or filter by category to find what they want easily.
Here are some of the best features of this plugin.
Create stunning order form pages that can be viewed on any device
Responsive wildcard search box so users can find exactly what they're looking for
Saves users countless clicks and time by loading the products as they scroll
Control who can see the wholesale catalog through user role permissions
Customize the 'access denied' and 'sign up' messages for non-wholesale users
Show/hide product thumbnails, details, and stock information
Integrate with popular WooCommerce addons to extend functionality
Switch to user's local currency for international sales
The Wholesale Order Form plugin is also developer-friendly and it comes packed with code comments, hooks, and filters.
It works great with most WordPress themes and plugins. And should you face any incompatibility issues, there's a dedicated support team that's ready to help you across any hurdle.
3. Wholesale Lead Capture Plugin
The Wholesale Lead Capture plugin is designed to automate the recruiting and registering process of wholesale customers.
It automatically creates a wholesale registration form with built-in honeypot spam protection to ensure only authentic users sign up.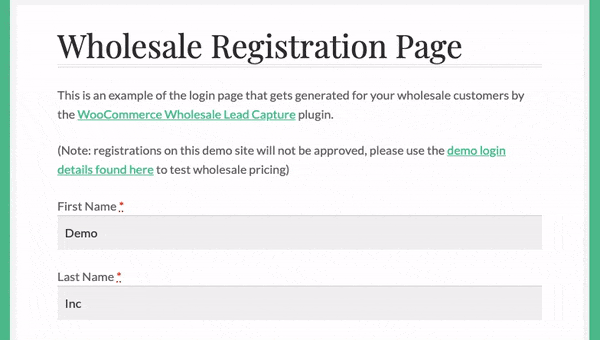 When a user registers, it adds them to the wholesale user role by default. However, you can enable manual approvals and role assignments as well.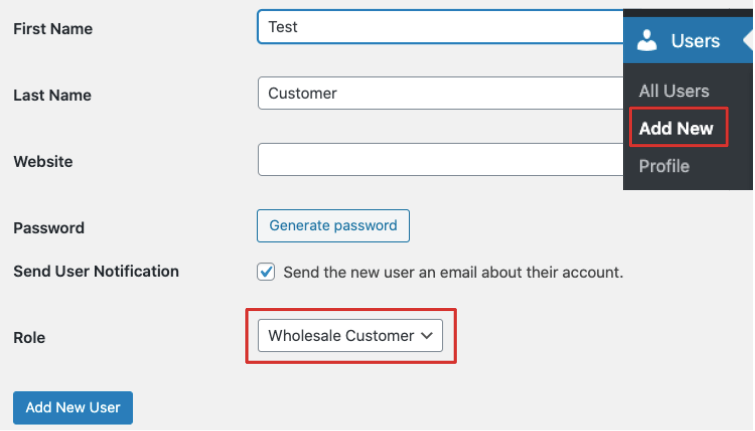 It lets you create customized emails and notifications that will automatically be sent to registered users. And it also creates a login page for wholesale customers.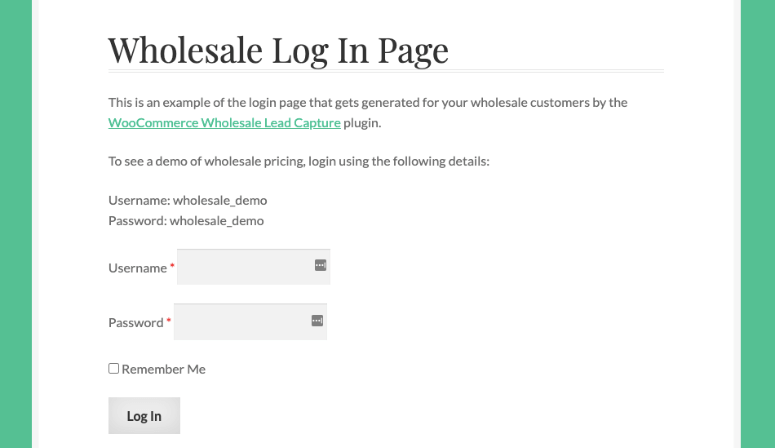 Registered wholesale users can enter their credentials and enter your wholesale store where you can display only wholesale products and hide retail options.
Here's what stands out about the Wholesale Lead Capture plugin.
Adds a WooCommerce registration form to capture important information from wholesale customers
Automate 100% of user approval process to reduce admin work
Plenty of templates to create custom emails and notifications to send to wholesale customers
Customers can submit files through the form such as business documentation proof
Spam submissions are automatically blocked
The form is compatible with Google's Recaptcha service
Captured information is used to prefill the checkout form
With the Wholesale Suite, you have pretty much everything you need to run a successful wholesale store in WordPress.
Wholesale Suite Pricing and Support
You can buy the plugins in the Wholesale Suite separately or purchase all three together as a bundle. Each plugin starts at $49.50 per year. If you opt for the bundle, there are two pricing options.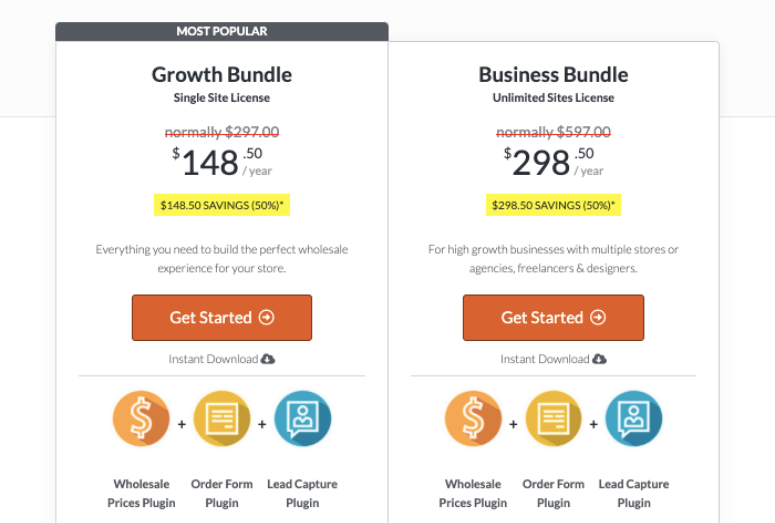 Growth Bundle: Costs $148.50 per year for a single site license. You get access to all three plugins along with expert email support and automatic updates.
Business Bundle: Costs $298.50 per year and can be used on unlimited websites. This plan is ideal for high-growth businesses, agencies, freelancers, and designers.
How Does Wholesale Suite Perform Against the Competition?
There are a number of wholesale plugins for WooCommerce stores available in the market. We checked them out to see how well Wholesale Suite stacks up against them.
Here's where Wholesale Suite excels compared to its competitors.
User friendly and developer friendly
Wholesale Suite is designed for anyone to use. You don't need to know any coding to set up and use these plugins to run a wholesale store.
At the same time, it comes with lots of code comments and developer-friendly hooks and filters. It's also built with strict WordPress standards so any developer or development team will know exactly how to work with these plugins.
The plugins are built keeping your customers in mind. Wholesale Suite has had plenty of experience with wholesale stores and customers. Plus, they're constantly innovating and adding new features to improve user experience.
High Level of Compatiblity
The plugins work great out of the box with most themes and setups. It's tested with many common themes and plugins to ensure they are compatible.
Wholesale Suite has a dedicated team of support engineers. They know the products inside and out and can help you with any issue you might face. The team is friendly, responsive, and efficient.
All the plugins in the Wholesale suite come with 1 year of automatic updates along with 1 year of premium email support.
Plus, they have a 14-day refund policy. So if you're unsatisfied with the product, you can get your money back, no questions asked
The Wholesale Suite bundle grants you access to all three plugins to set up a full-fledged wholesale store for just $148.50 per year.
The plugins can be purchased separately as well. So businesses who need limited functionality can opt for a lower-cost plan.
You can also find a free version of the Wholesale Prices plugin in the WordPress repository that lets you add wholesale prices to your products.
So, the Wholesale Suite works well if you're just starting out with creating your online store. It's also easy to integrate into an existing setup.
Our Verdict: Is Wholesale Suite Really the Best Wholesale Plugin?
After analyzing everything the Wholesale Suite has to offer, we can confidently say that it's the best wholesale plugin in the market!
Not only does it have everything you need to run a wholesale store, but it also has additional features to help you grow your business.
It automates much of the process so that you can put your store on autopilot while you focus on other aspects of your business.
You may also want to see our review of the best WooCommerce hosting companies.
We give Wholesale Suite 5 stars and here's the breakdown of our score.
Get Wholesale Suite Now »
Keep reading the article at IsItWP – Free WordPress Theme Detector. The article was originally written by Melinda Bartley on 2021-01-29 21:37:19.

The article was hand-picked and curated for you by the Editorial Team of WP Archives.