If you are looking for a solution to manage multiple WordPress sites, you are in the right place!
We're excited to introduce WP Umbrella, a superpowered WordPress management tool. WP Umbrella facilitates the management of multiple WordPress sites. You can streamline your workflow with this tool and save a lot of time.
This plugin brings something new to the market of WordPress management plugins. In this article, we go through WP Umbrella's features and pricing. You'll learn why WP Umbrella is a must-have tool to manage multiple WordPress sites.
Let's get started!
TLDR: " With very attractive pricing (only 1.49$/month per site, all features included), a clean interface, and all that you need to manage multiple WordPress Sites effortlessly, WP Umbrella is the best WordPress management tool for freelancers and agencies. "
What Is WP Umbrella
WP Umbrella is an all-in-one solution for managing multiple WordPress sites from a single location. The solution is ideal for digital agencies and freelancers who do WordPress maintenance for their clients.
WP Umbrella includes all the features you need to run your operations smoothly: automatic backup, uptime monitoring, safe update, automated maintenance report, etc.
WP Umbrella is a premium software with a flat pay-as-you-go pricing: $1.49/month by the website.
WP Umbrella's features
 Automatic Backups

Backup is the backbone of WordPress maintenance. With WP Umbrella, it is possible to schedule backups: every hour, every day, every week, or every month.
The backups are incremental and stored on the Google Cloud Platform in Europe for 60 days. It's also possible to make a manual backup if you need to.
You can retrieve the backups by selecting a date on the calendar.
Plugin & Theme Update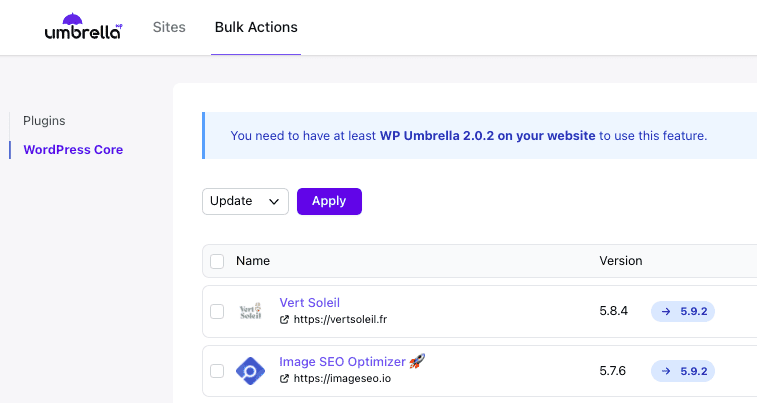 WP Umbrella stands out from the competition with its safe update technology. The plugin monitors the status of the update. In case of a problem, it automatically rolls back the plugin or the WordPress core.
Another unique feature is the ability to automatically clear the cache of your website after an update. Of course, it is also possible to do bulk updates with a single click. WP Umbrella really makes update management a breeze!
Uptime & Performance Monitoring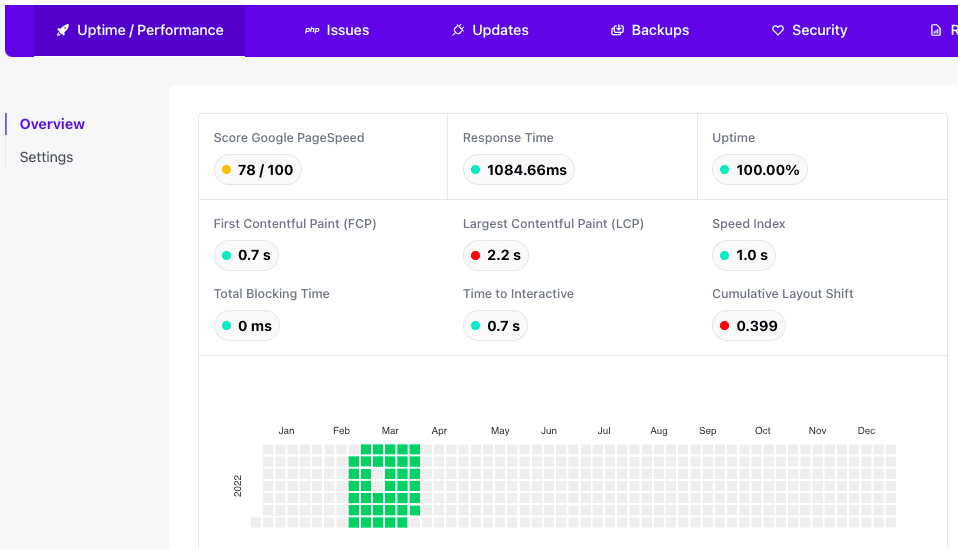 There is nothing worse than downtime and slow loading pages. Time and money are lost if your website is down or takes too long to load. Not to mention how negatively it impacts brand reputation and SEO.
It is for this reason that WP Umbrella has powerful tools for monitoring your website's performance and availability. You are notified immediately by Slack or email if any site goes down, so you can take action before your customers start shouting at you.
Your performance is tracked from multiple locations around the globe, allowing you to see your page speed and performance from any location.
Downtime is more common than you might think. Monitoring downtime will allow you to troubleshoot issues before your customers discover them. You can also monitor your Google Page Speed score with WP Umbrella.
PHP Errors Monitoring
Some PHP plugins and applications can cause various kinds of errors to occur during execution. When this happens, developers must be able to identify and resolve the issue as soon as possible.
Often, developers don't discover broken scripts until it's too late. With WP Umbrella, you can monitor and debug WP error logs. It will tremendously speed up your maintenance workflow.
Client Reports
WP Umbrella offers you the possibility to send maintenance reports to your clients. Communicating effectively with clients is crucial when you run a WordPress maintenance business. This is why it is critical to keep your clients updated at all times.
Your clients will appreciate the white-labeled PDF reports that you can create with WP Umbrella. White-labeled client reports are a great way to build customer trust. You can inform your clients about all the operations you performed on their websites (updates, backups, etc.) and send it automatically to them.
Pricing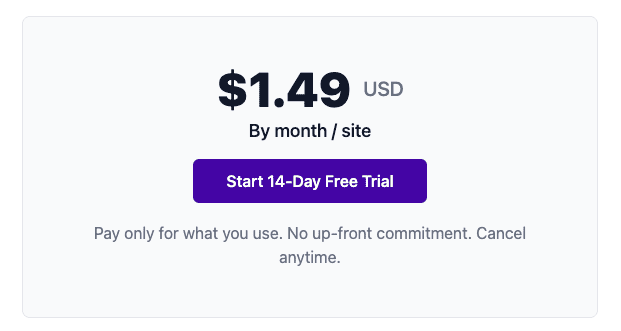 There is no free version of WP Umbrella. It is, however, possible to sign up for a 14-day free trial. You will enjoy all the features, and be able to add up to 10 websites. No credit card is required.
WP Umbrella's price will depend on how many sites you add to your account. All the features will be included in your plan. The pricing is pay-as-you-go, so you will be charged for what you are using, and only what you are using!
Conclusion: WP Umbrella Is the Best Alternative to ManageWP
Managing, monitoring, and maintaining multiple WordPress without a good all-in-one solution is a real hell.
With its clean interface, feature set, and affordable pricing, WP Umbrella brings a breath of fresh air to the WordPress management tools market.
WP Umbrella is the best alternative to ManageWP and if you are using this software owned by GoDaddy, you should give it a try! It will be worth your time!
Pros & Cons About WP Umbrella
Pros:
The most elegant dashboard to manage multiple WordPress sites and an amazing user experience
All in one solution that covers all your needs
Clear pricing with no hidden fees: $1.49/month pay as you go
White label for plugin and maintenance report
Reactive and friendly customer service
Cons:
Only 2k active installations on org
No free features, only 14 days of trial


Latest posts by Editorial Staff (see all)
Where Should We Send
Your WordPress Deals & Discounts?
Subscribe to Our Newsletter and Get Your First Deal Delivered Instant to Your Email Inbox.
Thank you for subscribing.
Something went wrong.
Keep reading the article at WP Newsify. The article was originally written by Editorial Staff on 2022-04-08 10:35:06.

The article was hand-picked and curated for you by the Editorial Team of WP Archives.