E
ver wondered how to write compelling blog post titles consistently? It's one of the most important skills to have as a blogger.
An enticing and eye-catching title can help a blog post that might otherwise have gone unnoticed, get thousands of social shares, hundreds of comments, and a boost in Google search rankings.
Write a boring title, however, and even the best blog post will get skipped.
In this guide, you'll learn the secrets behind writing highly effective blog post titles. 
There's no magic fill in the blanks formula here. Just a few proven steps you can follow each time to help your post get noticed.
Let's dive in!
What Makes for an Effective Blog Post Title?
There are a few things we can talk about here, each one slightly more challenging than the last. A compelling blog post title should:
#1 – Catch their eye
The first thing a blog title needs to do is catch someone's eye, whether they see it in a Google search, an email, their Facebook feed, or Twitter timeline. Cutting through the noise is hard.
#2 – Get a click 
The next thing you need to do is get them to click through to read it. This is much more difficult than it sounds – some formats only have 0.5 to 1% click-through rates.
#3 – Cause an engagement or action
Some people will share or like an article simply based on whether they think their friends will like the article's title. More likely, however, is that your title encourages someone to read your excellent content.
#4 – Assist your long-term Google rankings 
A good title not only gets people interested in the article but also helps it rank well on Google.
You might write a title that you really love and think is clever, but unless it's achieving these types of reactions, you'll be wasting your time.
Back to the top
5 Types of Blog Post Titles That Get Clicked
Now you know what makes an effective blog title, let's take a look at some popular types of blog post titles that get clicked.
Conductor analyzed different headline types to find out which readers prefer:
36% preferred headlines with numbers
21% liked reader-addressing headlines
17% preferred how-to headlines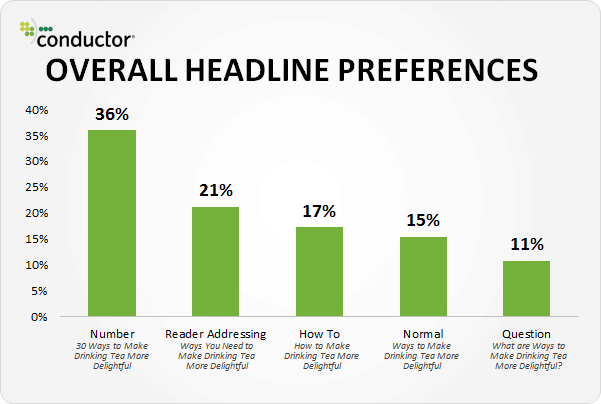 Titles with Numbers 
Turns out, we're fascinated with numbers.
[…]
This article was written by David and originally published on Blog Tyrant.