👉 These tools cover a range of different use cases, including the following:
Free on-page SEO tools.
Premium on-page SEO software.
All-inclusive SEO platforms.
On-page site audit SEO tools.
Domain analysis tools.
On site content optimization tools.
On-page heat mapping tools.
Let's dig in…
Top on-page SEO tools for higher search rankings in 2022
Here are the tools that we've decided to feature in this comparison:
1. SEMrush – Best all-inclusive on-page SEO platform
If you're in the market for a versatile on-page SEO tool suite that is flexible enough to cover all the basic website parameters, then you shouldn't look any further than SEMrush.
This all-in-one SEO platform is a favorite for many webmasters and digital marketers, because of its incredibly robust software suite. In total, you get to switch between over 50 intelligent data-driven tools for both on-page and off-page SEO – along with PPC advertising, social media management, plus market research.
The on-page SEO tools will help you with keyword research, site audit, domain analysis, content optimization, and log file analysis.
You should, for instance, be able to generate great keyword and content ideas, scan your site for over 130 technical errors, flag up major SEO issues, as well as get actionable tips for improving your SEO health.
⚙️ SEMrush on-page SEO features:
Keyword analytics
Site audit
Position tracking
Log file analyzer
SEO content template
Content audit
Content writing assistant
User experience analysis
💵 SEMrush pricing:
SEMrush offers a free package, but with heavy restrictions – making it only practical for light SEO on a small website. If you want more capabilities, the premium subscriptions here start at $119.95 per month.
2. Google Search Console – Best free on-page SEO tool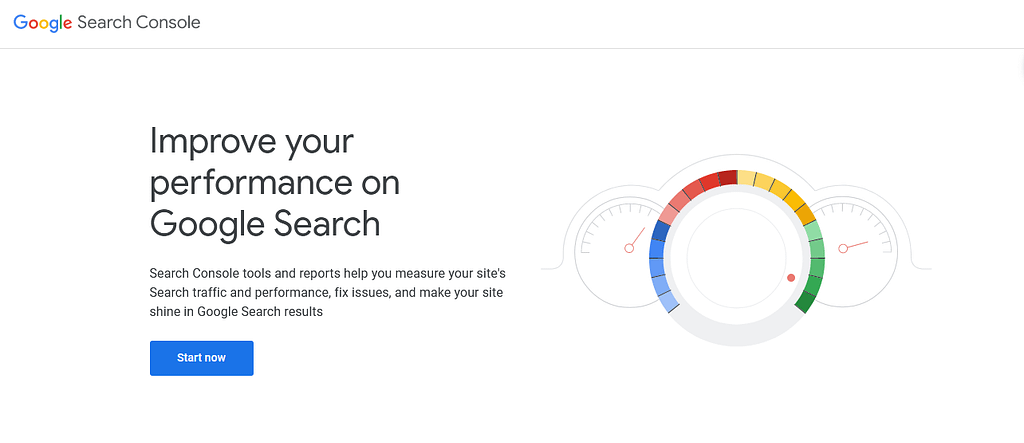 In the subcategory of free on-page SEO tools, nothing comes close to the Google Search Console in terms of value. What you'll be getting here is best summarized by the platform's former name, "Webmaster Tools." Google essentially built it to serve as a bridge between webmasters and the search engine.
What that means is, this is where you go when you need to draw on-page SEO metrics straight from the horse's mouth. The Search Console essentially provides the most basic SEO insights from Google's perspective.
It reveals how the search engine has indexed your web pages, how you've been performing in the SERPs, as well as any technical SEO problems that might hold you back.
You can examine and edit your sitemaps, track the number of search impressions, view your overall CTR metrics and traffic demographics, plus generate a log of site errors that need to be resolved.
⚙️ Google Search Console on-page SEO features:
Sitemap submission
Identification of errors and non-indexable pages
Submitting pages for indexing
Site coverage
Page positioning in search results
Assessment of user interaction
Keyword analysis through the search queries
💵 Google Search Console pricing:
Google Search Console is 100% free.
3. Screaming Frog – Best on-page SEO audit tool

While the likes of SEMrush are capable of performing SEO audits, they are not as thorough as dedicated website crawlers. This is why webmasters and marketers in need of deep site health checkups often turn to advanced on-page SEO audit tools such as Screaming Frog SEO Spider.
The "SEO spider" is built to crawl through small and large sites in real-time, during which it fetches data from all URLs and examines their technical SEO elements. This deep analysis uncovers problems in site links, content, robots.txt, metadata, site maps, page titles, and URLs.
For instance, you get to discover broken links, duplicate content, restricted URLs, temporary and permanent redirects, plus spelling and grammar errors.
What's more, you can count on Screaming Frog when it comes to forms-based authentication, custom source code search, AMP validation, XML sitemap generation, log file analysis, and JavaScript rendering checks.
⚙️ Screaming Frog on-page SEO features:
Forms-based authentication
Search Console integration
Custom source code search
Spelling and grammar checks
Structured data and validation
AMP crawling and validation
Duplicate content detection
JavaScript rendering metrics
Generating XML sitemaps
Reviewing meta robots and directives
Analysis of page titles and meta data
Finding broken links, errors, and redirects
💵 Screaming Frog pricing:
If you're okay with a crawl limit of 500 URLs and basic site analysis, you could go ahead and leverage Screaming Frog as a free on-page SEO tool. Then, to unlock the full set of functionalities, you'll be required to pay $209 per year.
4. GTmetrix – Best page speed test tool
With page loading speeds being a critical search ranking factor, your SEO arsenal could also use a tool with accurate performance stats. The best in this category is GTmetrix, which is built on Google's own performance analysis service, Google Lighthouse.
At first, GTmetrix might come off as a regular page speed testing tool. But, once you proceed with a test, you'll notice that it goes much deeper than that. It even offers user experience metrics, plus performance optimization pointers.
Paid users get to choose from 82 test servers across 22 locations, each offering both mobile and PC simulations (free test options are a bit more limited). The test itself should take only a couple of seconds, after which you'll view the page's analytics across a standardized set of Google-recommended metrics called "Web Vitals." They include Cumulative Layout Shift (CLS), Total Blocking Time (TBT), and Largest Content Painful (LCP).
GTmetrix further tops that off with information on any structural issues negatively affecting your site performance.
⚙️ GTmetrix on-page SEO features:
Assessment of your page on mobile devices and PC.
Testing site from 82 servers in 22 different locations.
Setting up alerts to notify you when your page performs poorly.
Keeping track of page performance with scheduled monitoring.
Page performance insights based on key indicators of page load speed.
💵 GTmetrix pricing:
Most GTmetrix users are comfortable with its free package, which offers core performance insights and technical audits for 50 test instances per week.
Premium users, on the other hand, pay $13, $25, or $50 per month to access additional test locations, auto-monitoring capabilities, plus hundreds of weekly on-demand tests.
5. Copyscape – Best plagiarism checker
Of all the off-page and on-page ranking factors that are considered by Google, site content happens to be the most important. And to be specific, the search engine algorithms are built to check content relevance, flow, context, and originality, among other quality attributes.
Now, originality can be difficult to ascertain from your end – unless, of course, you have the backing of an advanced on-page plagiarism checker like Copyscape.
The platform is widely renowned for its real-time analysis and accurate plagiarism detection. You just need to paste your content or page URLs, and the system will automatically scan through the web to identify any similarities with existing text.
Other than that, Copyscape monitors the web to warn you of any instances of content plagiarized from your site by other publishers.
⚙️ Copyscape on-page SEO features:
Check for duplication within your own content.
Perform automated Copyscape queries using the Premium API.
Filter out results from other sites.
Track multiple cases of plagiarism.
Check up to 10,000 pages in a single operation with Batch Search.
Check offline content.
💵 Copyscape pricing:
Copyscape charges its users based on their content length – starting at three cents for the first 200 words, followed by a cent for each additional 100 words.
6. Ahrefs – Best link checker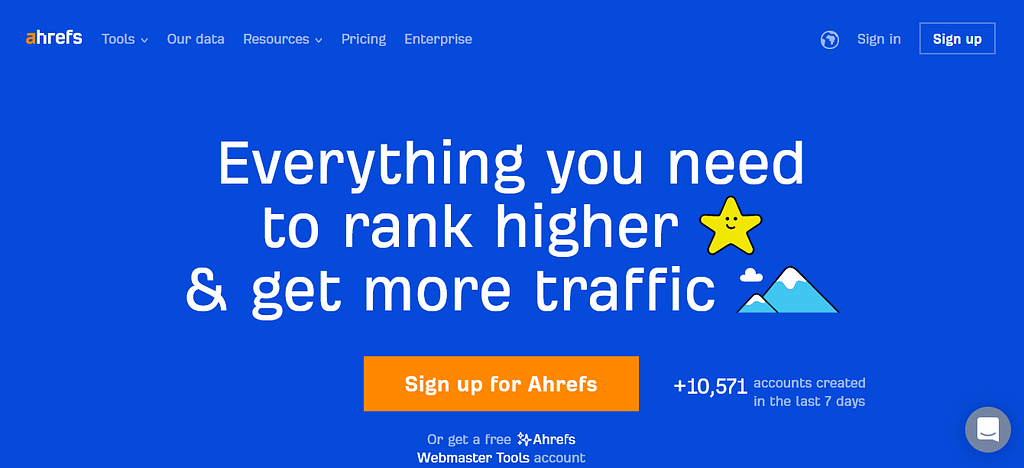 Just like SEMrush, Ahrefs is an all-inclusive SEO platform offering a suite of marketing tools. It can be pretty handy in rank tracking, keyword research, content optimization, competitor analysis, site audits, and so forth.
That notwithstanding, the one area where Ahrefs truly stands out happens to be link analysis and tracking. This is thanks to its powerful link checker, which is ranked as the second most active web crawler after Google. It has, so far, built up a database of more than 30.39 trillion links across over 170 million domains and counting – the crawler now scans 5.83 billion web pages per day.
This extensive database powers both off-page and on-page link analysis. That means that in addition to performing reviews of your SEO backlink profile, you should be able to examine even the state of your internal links.
Overall, Ahrefs is one of the best on-page SEO tools for discovering and fixing broken internal links, internal link redirects, deep-linked important pages, as well as poor internal link structures.
⚙️ Ahrefs link checker features:
Analyze orphan pages (without any incoming internal links).
Review deep-linked important pages.
Discover redirected pages (3XX) on your site.
Find all broken internal pages on your site.
💵 Ahrefs link checker pricing:
Ahrefs' free package offers limited site audit capabilities, which can only support basic link checking. You could, otherwise, upgrade to the Lite package for $99 per month, or maybe pay at least $199 to start accessing a full suite of on-page SEO tools.
7. Moz – Best domain analysis tool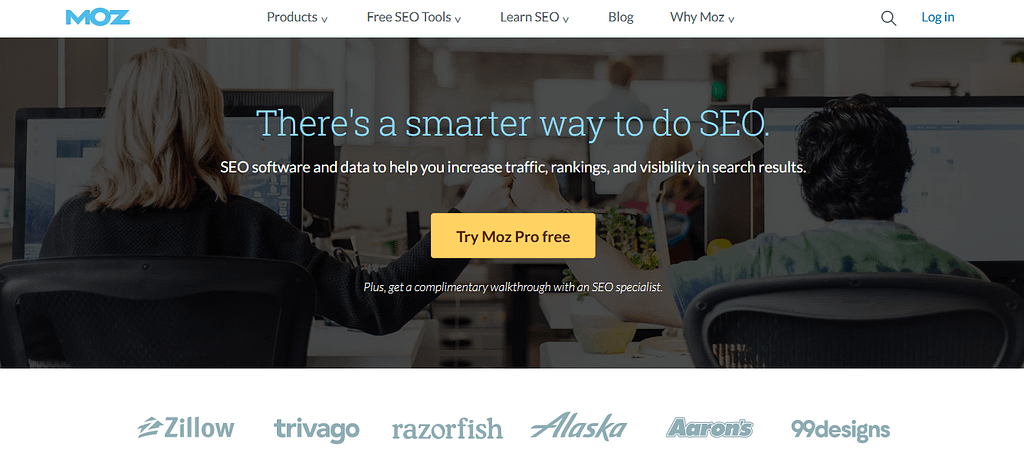 Next in our list of the best on-page SEO tools is Moz – yet another platform that comes in the form of an all-inclusive SEO tool suite.
While it's capable of many things, Moz is particularly renowned for its domain analysis capabilities. The tool rides on a rich database of info drawn from over 8.01 trillion web pages, 743 keywords, and 43.8 trillion links. This gives Moz the power to review and compare domains with remarkable precision.
You just need to enter your URL, and the system will provide valuable SEO metrics for the domain. You get to view your Domain Authority score, top ranking keywords, top featured snippets, best-performing keywords by CTR, plus the spam score.
The Domain Authority (DA) score is particularly critical here, as it uses a scale of 0-100 to reveal how well you stand to rank on Google's SERPs. This is more or less the same type of indicator you'll, otherwise, find on Ahrefs as "Domain Rating," or maybe on Majestic SEO as "Trust Flow."
That said, we'd advise you not to limit yourself to one specific "authority" scoring system. You could, instead, use a free SEO tool like Loganix DA Checker for a parallel comparison of all three forms of domain analysis ratings.
⚙️ Moz domain analysis features:
Domain Authority score.
The number of keywords ranking in the search results within selected ranges.
Keywords your site ranks for with a featured snippet.
Sorting your top keywords by ranking position.
Estimated clicks for top keywords, based on volume and CTR.
The site's most important pages based on Page Authority (PA) score.
💵 Moz domain analysis pricing:
Moz's web-based domain analysis tool happens to be yet another free on-page SEO tool. The only problem is, the subsequent reports reveal only a handful of insights across each parameter.
The premium packages, on the other hand, start at $99 per month. This will give you access to the full index of domain metrics.
8. Clearscope.io – Best content optimization tool

Whereas both SEMrush and Ahrefs offer neat AI-powered content optimization tools, Clearscope.io is fast emerging as the leader in this category – thanks to its more intuitive approach.
Launched in 2016, this platform hit the ground running with its very innovative way of optimizing content. You just need to enter your target keyword and Clearscope will help you build highly competitive content pieces from the ground up.
The AI engine here analyzes search engine data and then generates a list of relevant SEO terms to include in your text. You also get to find out the optimal number of appearances for each term, the most appropriate phrases for the headings, plus the relevant themes for the topic.
The process of writing is a breeze too, as Clearscope checks the text in real-time, and then assigns a score based on your keyword usage, search metrics, readability, word count, plus competitor analytics.
⚙️ Clearscope.io on-page SEO features:
Competitor analysis.
Keyword research.
Content scoring.
Content editor.
AI-driven content generation.
💵 Clearscope.io pricing:
Unfortunately, Clearscope.io doesn't offer a free package. The plans here start at $170 per month for 20 content reports.
9. Crazy Egg – Best on-page SEO heatmapping tool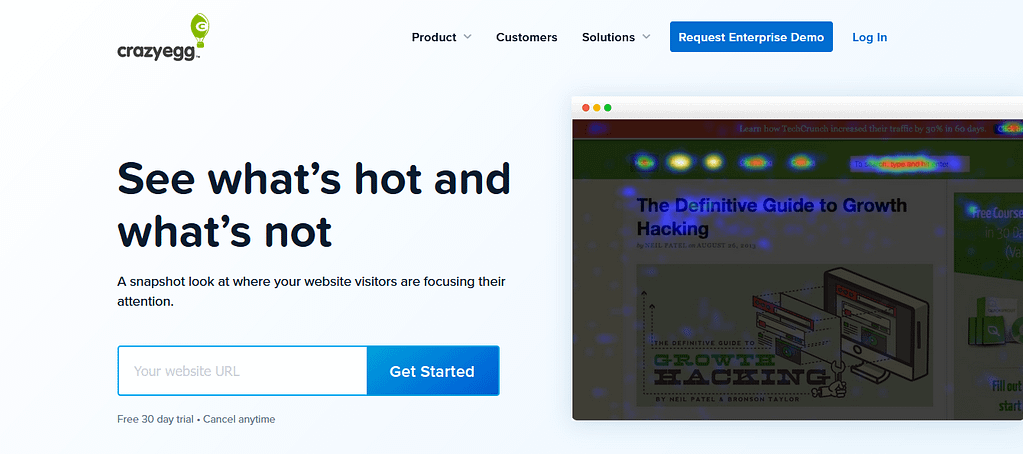 If you ever need to improve on-page user experience, you might want to consider bringing in Crazy Egg for visitor behavior analytics.
Although it's not a dedicated SEO software solution, Crazy Egg's heat mapping capabilities have earned it the right to be featured among the best on-page SEO tools. The type of insights you'll get here could go a long way towards reducing your churn rate and increasing CTR – both of which would positively influence your search rankings.
You see, heat-mapping entails tracking users as they interact with your website to find out their reactions to various on-page elements. CrazyEgg makes the analysis particularly seamless, as it presents the resultant user patterns in intuitive graphical reports.
You should be able to point out what site visitors are clicking on, what they're ignoring, how they're responding to various on-site campaigns, and so forth.
⚙️ Crazy Egg heat-mapping features:
Discover data-backed conversion opportunities.
Figure out why people are leaving your website.
Get click data from your website visitors.
See color-coded dots that represent individual clicks.
Get a scrollmap report showing the most popular scroll-depth of your webpage.
💵 Crazy Egg pricing:
Crazy Egg starts at $29 for 30,000 tracked page views per month.
Over to you – Getting the best out of these on-page SEO software 🖱️
As you embark on your onsite campaigns, keep in mind that these leading on-page SEO tools are only meant to give you a head start. How your search rankings subsequently pan out over time depends on what you choose to do with the insights.
So, in addition to choosing the best on-page SEO tools, you need to know what to check, how to interpret the resultant analytics, what to prioritize, how to integrate them with your digital marketing ecosystem, and so forth.
👉 Otherwise, if you're struggling to find a good balance of on-page SEO tools, we'd advise you to try out as many as you can. Trial and error is the most reliable way to confirm what works for you and what doesn't.
While you're at it, though, bear in mind that the on-page optimization efforts won't generate instant results. It might take you weeks, months, or even years to see a significant improvement in the SERPs.
And if you finally manage to hack the top rankings, don't make the common mistake of easing off on the tools and campaigns. On-page SEO is a continuous never-ending journey.
Do you still have any questions about how to choose the best on-page SEO tools for your specific needs? Let us know in the comments!
Keep reading the article at CodeinWP. The article was originally written by Davis Porter on 2022-08-11 08:31:23.

The article was hand-picked and curated for you by the Editorial Team of WP Archives.