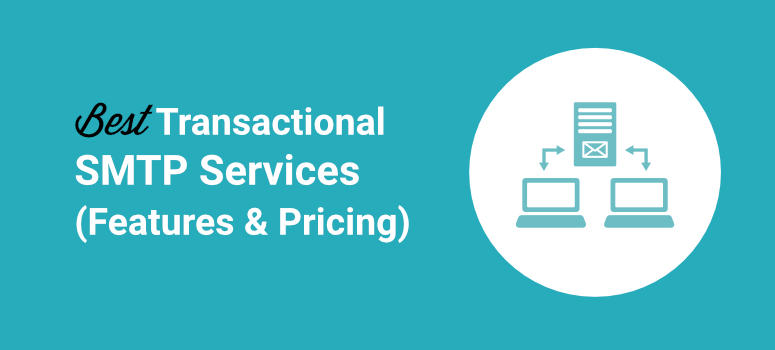 Are you looking for the best SMTP transactional email services?
SMTP (Simple Mail Transfer Protocol) ensures the deliverability of your transactional emails. You can also automate the emails depending on the actions and behavior of your users. There are many email services on the market, so it may be difficult for you to select the perfect option to send transactional emails.
In this article, we'll share some of the best SMTP email services for marketing and automation.
1. SMTP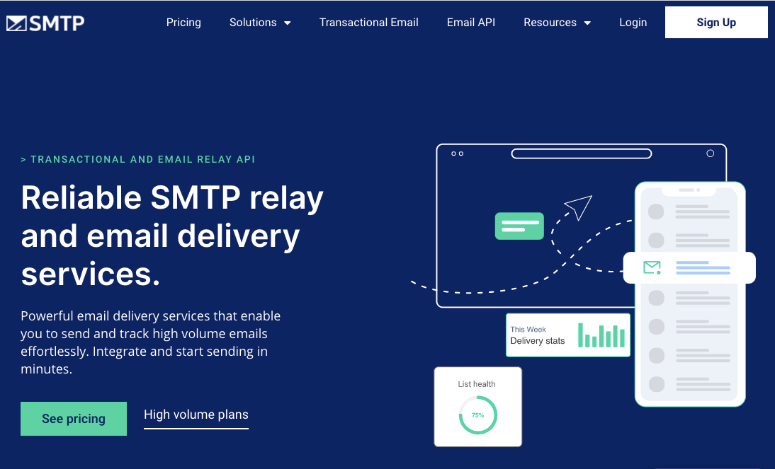 SMTP is the most powerful email delivery service on the market. It lets you send and track high volumes of emails.
It has a highly responsive infrastructure that ensures speedy deliveries without any delays.
SMTP lets you send all types of transactional emails as well as marketing emails. This includes automated emails like order confirmations, shipping notifications, order status updates, user authentication, and password resets.
It helps make your process smooth and seamless to improve user experience on your site.
The setup and integration process is quick and straightforward so you can start sending emails immediately. Plus, it gives you access to comprehensive reports on your email delivery and engagement performance.
SMTP suits all kinds and sizes of business and it lets you can scale your email volume as your business grows. It's hands down the best SMTP relay and email delivery service worldwide.
Price: The basic plan lets you send 50,000 emails a month and costs $25 per month.
2. SendinBlue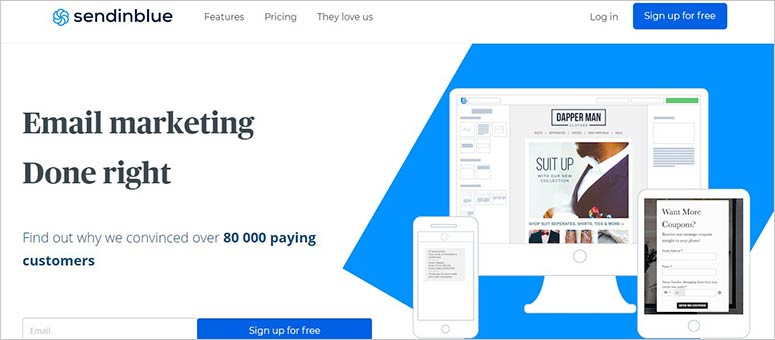 SendinBlue is a popular email marketing service. With SendinBlue, you can send transactional emails to your subscribers' lists and track the emails to find out open rate, bounce rate, click rate, etc. SendinBlue also offers SMS marketing service to send promotional and transactional messages.
One thing that stands out about SendinBlue is that they manage SPF (Sender Policy Framework) and DKIM (DomainKeys Identified Mail) signatures through their domain names. This is a technical standard that helps protect email senders and recipients from spam, spoofing, and phishing.
Other notable features include drag and drop email builder, welcome emails, confirmation emails, A/B testing for emails, and advanced reporting for an optimized email marketing campaign.
Price: 300 emails/day with unlimited contacts are free. Starting cost for the basic plan is $25 per month.
3. Mailgun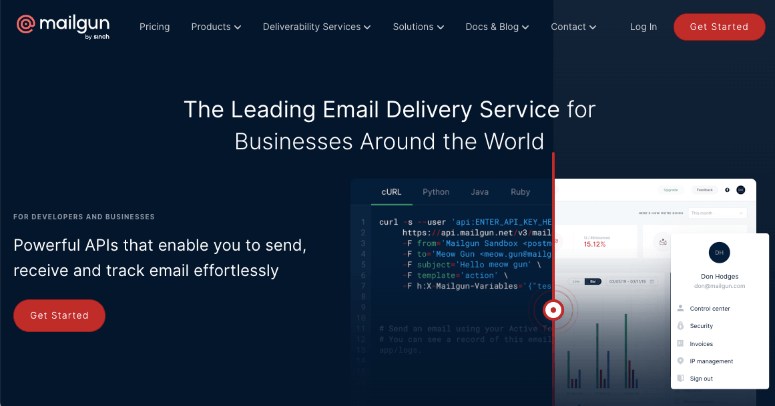 Mailgun is a powerful email service provider for professional developers. It offers high email deliverability. And with its powerful APIs, you can send, receive and track transactional emails easily.
Mailgun even has advanced email validation to increase your conversions.
It features a robust sending infrastructure with SMTP integration and a simple RESTful API to send bulk emails to your users.
When you sign up for Mailgun, you get access to responsive templates that are ready to edit and use. You can use the drag and drop editor to quickly create stunning emails without using HTML and CSS.
Price: It's a pay-as-you-go service. 10,000 emails and 100 email validations per month are free. For 20,000 emails and 500 email validations per month, it costs $9 per month.
4. SendGrid
SendGrid is a cloud-based SMTP email transactional service that comes with a reliable platform to send and receive bulk emails with high delivery rates.
Aside from sending transactional emails, they also allow you to create email marketing campaigns. You can create an exceptional email program using the email API option to deliver emails at scale.
It comes with a variety of integration options for you to start sending emails. You can get a complete analytics and metrics report and real-time feedback on every email you sent.
If you're looking to use a dedicated IP address for email sending, SendGrid offers this under their Pro Email API plan or an Advanced Marketing Campaigns plan.
Price: In the first month, you can send 40,000 emails for free. After that, it offers 100 emails/day free of cost forever. The essential plan starts with $14.95 per month, which includes 100,000 emails/month.
5. Amazon SES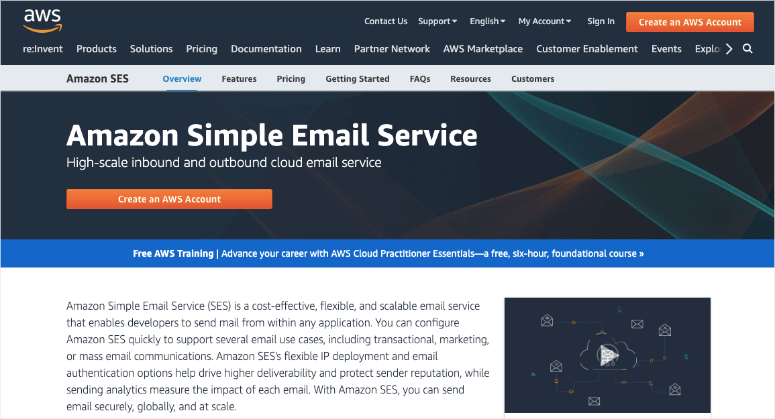 Amazon SES is a flexible and scalable SMTP transactional email service, which is primarily geared towards application developers and digital marketers. Amazon SES helps you easily send notifications and transactional emails to your users. It allows you to use the SMTP interface or an Amazon SES API to integrate Amazon SES directly into your application.
It comes with a robust system and functionality that makes sure your emails ignore the spam filters. You can track the email delivery, bounce rate, and rejections through their smart mechanism.
Price: It's a pay-as-you-go service, which means you'll need to pay for what you use. It allows you to send 62,000 emails per month for free. After the free limit, you'll need to pay $0.10 for every 1,000 emails. If your emails include attachments, then you'll have to pay $0.12 per GB.
6. Postmark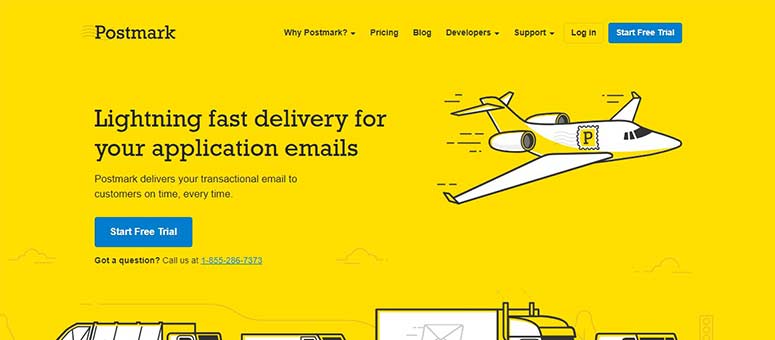 Postmark is one of the best SMTP transactional email services that offer lightning-fast delivery for your application and transactional emails. Postmark has SMTP servers distributed around the world to ensure fast email delivery.
It has an excellent tracking system that allows you to monitor how many emails are opened and how much time is spent on the email you sent.
Price: The basic plan costs $10 per month for 10,000 emails. For additional emails, you'll need to pay $1.25 per 1,000 emails.
7. Moosend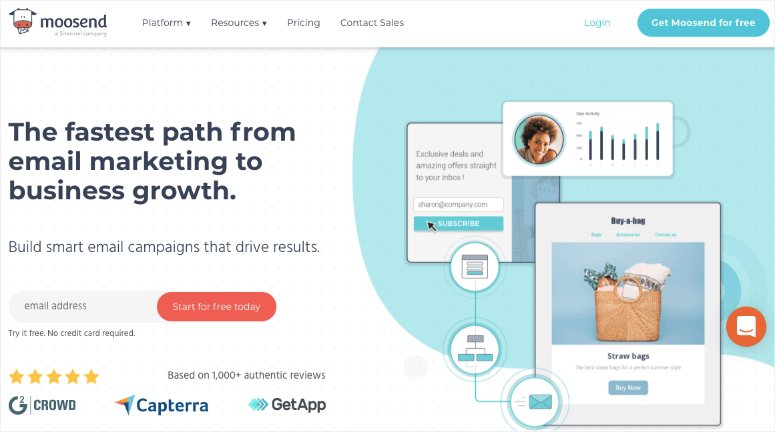 Moosend is an affordable SMTP transactional email service that comes with a drag and drop email builder to design your transactional emails instantly. It has a whopping deliverability rate of 98%, which means it can combat spam filters.
It allows you to create an email blast and tracks the emails in real-time. You can also get advanced analytics reports for your transactional emails.
One thing to keep in mind is that Moosend only has a form to get in touch with the support team. There's no phone, email, or chat support.
Price: It's free for up to 1,000 subscribers. For the next 1,000 subscribers, you'll need to pay $8 per month if billed annually. All plans offer unlimited emails and campaigns each month.
8. Mailchimp Transactional Email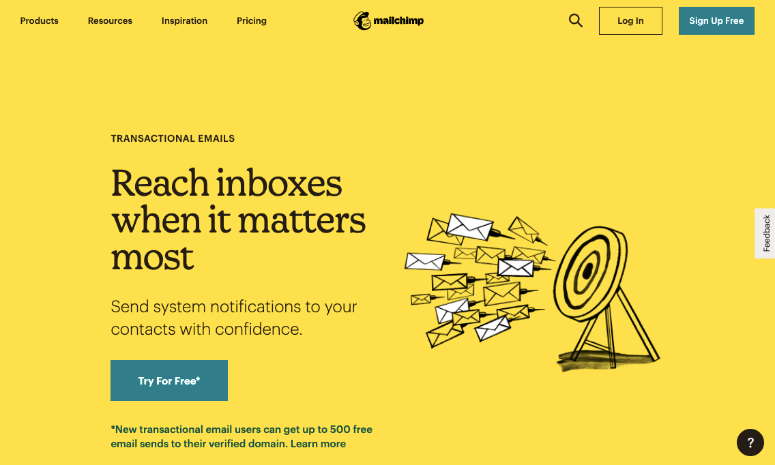 Transactional Email, formerly called Mandrill, is an SMTP transactional email service by MailChimp. It's a secure and efficient platform to send transactional emails without any delivery issues. You can use Transactional Email to send data-driven, targeted, personalized, and eCommerce emails to your users.
With its advanced tracking, you can monitor the open rate, bounce rate, and click rate for your emails. Added to that, the Mailchimp platform gives you access to email templates and email campaigns for better marketing strategies.
Price: It costs $20 for 25,000 emails/month. You can also calculate the cost by adding the number of emails in their price calculator.
That's our list of the best SMTP services. Since this is a long list, you may still be wondering which is the best one. We give you our verdict below.
What is the best service for managing transactional emails?
Every SMTP service has something unique to offer, but the one that comes out on top is SMTP.com. They have everything you need in an SMTP service including a robust setup, high delivery rates, and a reliable support team.
We hope this article helped you find the best SMTP transactional email services.
Up next, you may want to see the best CRM software for small businesses.
You'll also want to check out these related resources:
These posts will help you create an email marketing strategy that works wonders for your online business.
Keep reading the article at IsItWP – Free WordPress Theme Detector. The article was originally written by Editorial Team on 2022-01-21 00:30:00.

The article was hand-picked and curated for you by the Editorial Team of WP Archives.