Driving engagement is key to keeping users on your site and encouraging conversions. Interactive elements can capture your audience's attention and increase their interest in your brand. Fortunately, there are many WordPress quiz plugins out there that make it easy to add intriguing personality tests or even surveys and polls to your site.
In this post, we'll share some of the benefits and use cases of quizzes for your WordPress site. Then we'll round up ten of the top plugins that provide this functionality.
Let's dive in!
The Advantages of Incorporating Quizzes into Your WordPress Website
The most important reason to include quizzes on your WordPress site is to increase visitor engagement. As sites such as BuzzFeed have demonstrated, online personality tests and even trivia-based games can have an almost addictive quality to them:
A quiz may tempt otherwise lukewarm visitors into spending more time on your website. It may also increase social sharing activity, spreading the word about your site even further. In this way, entertainment value can turn into monetary value, by increasing brand recognition and revenue-boosting conversions down the line.
However, online quizzes have many other uses these days as well. For instance, they can improve your online store's User Experience (UX) by helping shoppers find the product or service that is best suited to their needs. A prime example of this is Warby Parker's frames style quiz: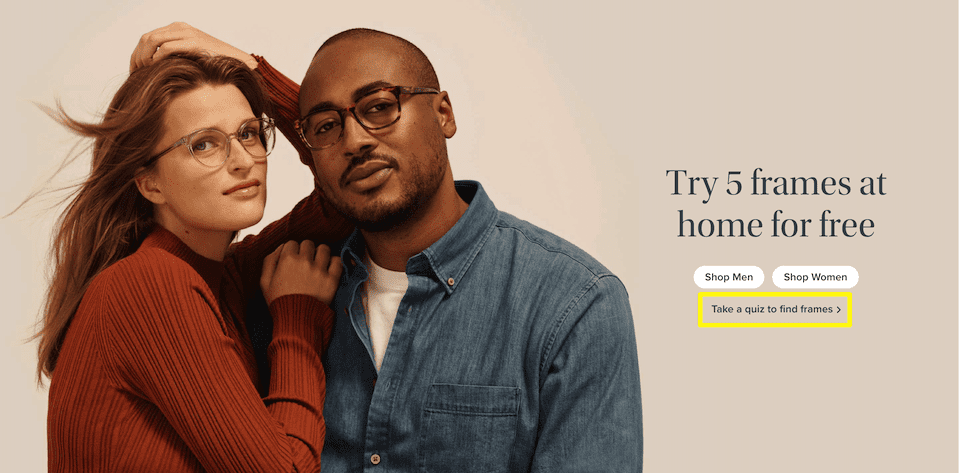 By sharing a few key preferences, customers can view a list of the eyeglass frames that are most likely to appeal to their tastes.
Additionally, quizzes can provide you with valuable visitor data that you can use to refine your offers as well as your marketing strategy. For example, say you sell software, and you have a quiz that assesses how tech-savvy participants are.
If you find that most of them only have beginner-level skills, you may adjust your content accordingly and provide more introductory tutorials and documentation. Similarly, quiz answers can tell you about your site visitors' demographics, which of your products or services they're most interested in, and much more.
On top of all of this, you can use quizzes to drive micro-conversions, such as by growing your email list. Many online tests require users to enter their contact information to receive their results. This can offer you the opportunity to reach out with future marketing campaigns and drive sales or other actions.
10 Best WordPress Quiz Plugins
WordPress developers know the value of online quizzes. As such, there's a WordPress quiz plugin for every niche, need, and budget. Below, we've rounded up ten of the top contenders. All receive regular updates and have high user ratings.
1.
[…]
This article was written by Will Morris and originally published on Elegant Themes Blog.