Are you looking for a good YouTube video gallery plugin for your website? By default, adding a YouTube video to your blog post is as easy as copying the video URL.
But when you want to add multiple videos to a single page or post, you may want to organize them in the form of a gallery. That's where a WordPress video gallery plugin comes into the picture. These plugins help you display your videos neatly in the form of a gallery without writing a single line of code and compromising on loading speed.
In this article, we listed down some of the best WordPress YouTube Gallery plugins that'll let you add beautiful video galleries to your site within minutes. All the plugins listed below are super easy to handle and offer great features. But before we take a look at these plugins, let's understand how a video gallery plugin can be helpful for your site.
1. Envira Gallery

Envira Gallery is one of the most popular images and video gallery plugins that lets you display your YouTube videos in a gallery form. It comes with a robust drag and drop builder, which makes it easy for you to build a WordPress gallery. With its pre-built templates, you can quickly customize your galleries and give them the perfect look it deserves.
To make your galleries more engaging, you can add the slideshow option or enable a fullscreen lightbox mode. With Envira, embedding videos from YouTube, Vimeo, Wistia, etc is super easy. You can also add a share button so that your users can share your videos with their family and friends on social media. With many other amazing features, Envira is one of the best options you can go for.
2. uTubeVideo Gallery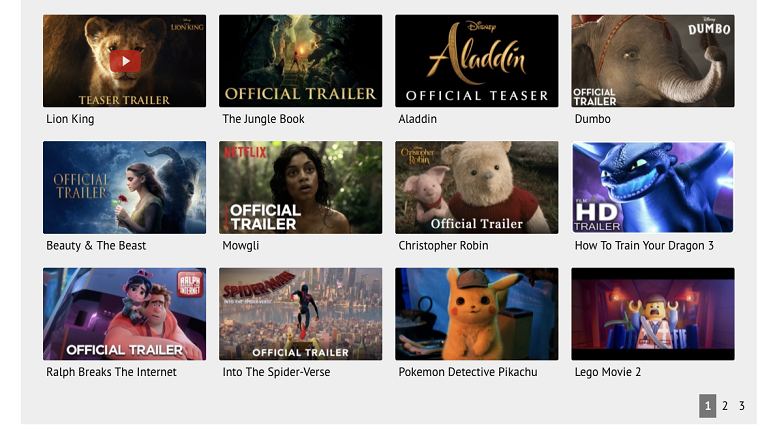 uTubeVideo Gallery is another great WordPress YouTube plugin that lets you add your YouTube videos in the form of a gallery right within your WordPress site.
The plugin has several options for you to customize your videos. For example, you can add a progress bar for your users to know when the videos are about to end, add the starting resolution of your videos, set the size of the video player, etc. The plugin offers built-in support for YouTube and Vimeo. So it's easy to get videos embedded from these two platforms.
3. YourChannel

YourChannel is another brilliant WordPress YouTube gallery plugin that lets your users watch your YouTube videos right from your website. All you need to do is enter your YouTube username and channel ID and it will instantly set up a video gallery for you on your website. You can play your videos either within your post or in the form of a lightbox.
To make your videos more appealing, use one of the 7 beautiful thumbnails that it offers. You can also add a smooth transition option if you want. The plugin is translation ready and supports RTL too. The cache system helps your videos load faster so you don't have to compromise on your website's performance.
4. Youtube Gallery

YouTube Gallery is another amazing YouTube gallery plugin that lets you display all your YouTube videos in the form of a grid or a gallery right within your website. You don't have to do anything to insert these videos. Just enter your YouTube video ID and the video page will be automatically created for you. You can then work on the video thumbnail dimensions too. For example, instead of the default 16:9 ratio, you can set a 4:3 ratio if you want.
If you're displaying your videos in a grid form, you can add up to 4 different columns. In each page, 8 videos are shown but you can also adjust the number of videos displayed. The plugin is responsive, meaning your website works well on desktop, tablet, and mobile devices. If your gallery is viewed on a phone, the thumbnail navigation is replaced with two large sizes Prev and Next icons.
5. Photo Gallery by 10Web

With Photo Gallery, you don't need to spend hours working on your photo galleries. You can have a beautiful and mobile responsive gallery of your images and videos within minutes. These galleries look stunning across devices so you'll never have to worry about its appearance.
Photo Gallery is integrated with eCommerce plugins and payment gateways like PayPal and Stripe. This makes it easier for you to sell your products or services if you want to, right from within your videos. You also have full flexibility over the design of your galleries. You can style it exactly like the way you want with all its customization options.
6. Video Gallery – YouTube Gallery

Video Gallery is another amazing WordPress YouTube video gallery plugin that makes it easy for you to create a video gallery without writing a single line of code. If you want to display your videos in a neat and clear manner, then Video Gallery is the plugin that you need. It offers a user-friendly editor that makes it quick and easy to create your galleries. You also have the option to choose from 9 different gallery layouts, add hover effects, add the zoom feature and more.
The plugin has built-in support for Vimeo, YouTube, Wistia, and MP4. Depending on your requirements, you can easily add your videos from any of these platforms. You can also take control of the description text color, size, and alignment.
7. WP YouTube Gallery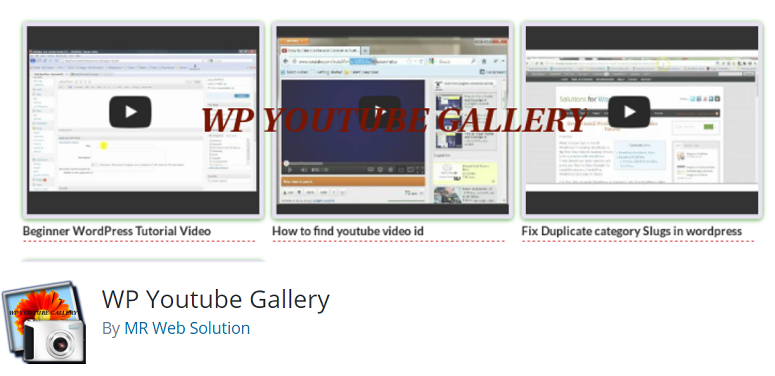 With WP YouTube, you can create some of the most appealing video galleries within a matter of minutes. You can then customize it as you like. It lets you add a title and define the content limit as well. You even have the option to hide your title, disable related videos and more.
So that's it. These are some of the best WordPress YouTube video gallery plugins that you should definitely try. We hope you found this article helpful. You might also want to know how to create an image gallery in WordPress.
Keep reading the article at IsItWP – Free WordPress Theme Detector. The article was originally written by Editorial Team on 2019-12-23 05:08:52.

The article was hand-picked and curated for you by the Editorial Team of WP Archives.