A
re you wondering: Why do people blog? Is blogging really worth it? In this article, we'll dive into all the reasons and potential rewards, so you can decide if starting a blog is right for you.
Before you dive in to starting a blog, you probably want to find out if it's worth the effort in the first place. After all, you wouldn't want to invest a ton of time into something that doesn't give you anything in return.
So, is blogging worth it? The short answer is YES…
…IF you do it the right way.
Let's take a closer look at why blogging is worth it – and how you can make sure it pays off.
Why Do People Blog?
The real answer to "is blogging worth it" all depends on your goals.
So first you need to ask yourself: why do you want to start a blog? What are you hoping to accomplish?
The 3 most common reasons for starting a blog are:
To make money online
To promote your business
Just for fun!
Let's take a look at each one.
1. Make Money Online
Blogging is a dream job for many people. You get to be your own boss, you can work from home, and you can generate passive income. That's why so many people start a blog with the goal of making money online.
You've probably heard about a lot of success stories of bloggers that are bringing in big bucks.
For example, Lindsay Ostrom started the blog Pinch of Yum as a casual hobby. Then the former teacher grew her blog into a full time business.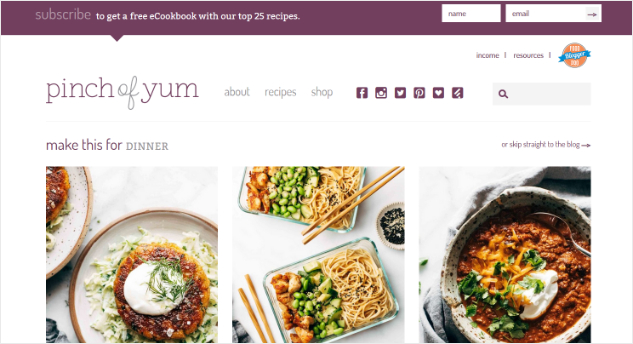 Pinch of Yum generated over $95,000 in income in November 2016 according to their income report!
While bringing in money like this doesn't happen for everyone, you could reach this level of success if you put in a lot of work. 
Plus, even if you're not able to make 6 figures and quit your day job, starting a blog is still a great way to bring in extra money on the side.
As long as you monetize your blog, you can make money online. And there are a number of ways to monetize your blog from affiliate marketing and advertising, to selling digital products and services.
Any extra cash you bring in is a win, so starting a blog is definitely worth it if that's your goal. 
2. Promote Your Business
If you have an existing business, blogging is a great way to promote it. By publishing regular blog posts, you can get more traffic to your website and introduce
[…]
This article was written by Ramsay and originally published on Blog Tyrant.