W
ant to learn how to check your blog ranking? In this article, we'll share tips and tools to help you find out how well your blog posts are ranking in search engines. 
When you start a blog, getting your blog posts to rank in search engines like Google is important. Because the better your blog ranks for your targeted keywords, the more traffic you can get to your site. 
If you're not sure how to check if your blog posts are ranking for the right keywords, don't worry. 
In this article, we'll show you how to check your blog ranking using a few different tools. 
Ready? Let's get to it. 
Why You Need to Check Your Blog Ranking
First, in order to understand why you should check your blog post rankings, we need to talk about keyword optimization. 
When you write a blog post, you should be optimizing your content for a specific keyword or multiple keywords. 
For example, if you have a food blog, you might write a post about how to make homemade pizza dough. The main keyword you would be targeting is "how to make homemade pizza dough" or something similar. 
When you use that keyword throughout your blog post, it'll be more likely to come up in the search engine results pages (SERPS) when a user searches for it online.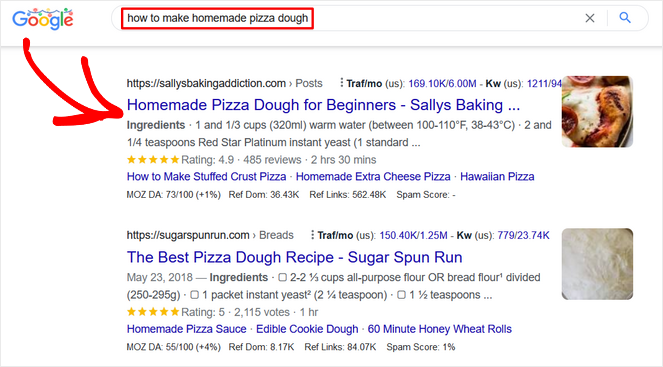 With your post being at the top of search results, you can get a ton of traffic to your blog. 
If you need help learning how to optimize your blog posts for keywords, check out our guide on SEO for bloggers.
Now, to find out if your keyword strategy is working, you need to use a keyword rank checker or SEO ranking checker tool. 
These types of tools will be able to show what keywords your blog posts are ranking for and how well they're ranking. And you can use this valuable information to make improvements and tweak your strategy to unlock maximum traffic. 
You might be wondering, can't I just search in Google to see if my blog posts are ranking? 
You can, but the problem is that if your blog posts are ranking way below the first couple pages, they'll be difficult to find. Also, your posts may not be ranking for the keyword that you want, so you won't know what to search for in the first place. 
That's why you need a proper tool. Otherwise, you'll be missing out on the important information you need to boost your SEO rankings, increase traffic, and grow your blog.
So, let's take a look at some helpful tools for checking your blog ranking. 
1. SEMRush