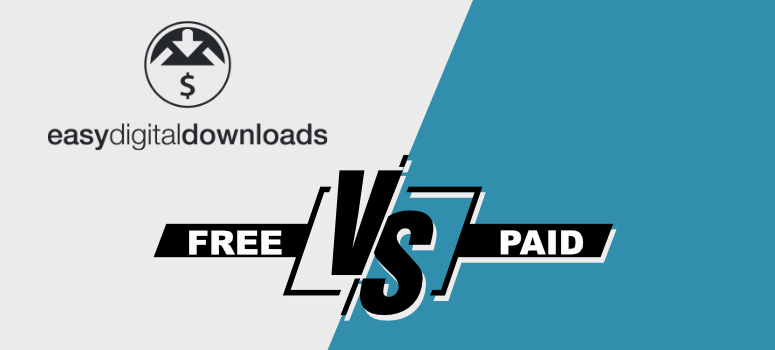 Do you want to know if upgrading to the premium version of Easy Digital Downloads is worth it?
Easy Digital Downloads is a forever free WordPress plugin to sell digital products online. And it is so feature-rich, it's unbelievable. If you want more features, there are hundreds of extensions that you can buy. This lets you upgrade only for what you need so you can grow the way you want.
But if you're not familiar with their packages, then you might be wondering what the benefits really are. In this guide, we'll clear up the differences between the free plan and the paid subscriptions. That way, you'll know whether you should upgrade or not.
First, to make sure we cover all bases, we'll give you a brief overview of Easy Digital Downloads.
What is Easy Digital Downloads?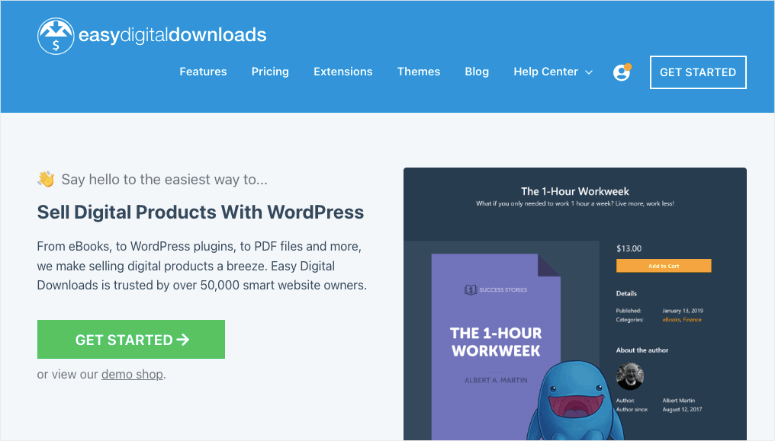 Easy Digital Downloads (EDD) is a complete solution for eCommerce vendors who want to sell digital products on their WordPress sites. You can sell all kinds of digital files like software, documents, photography, eBooks, music, digital artwork, videos, spreadsheets, and more.
With EDD, you can set up an eCommerce site with a shopping cart, 'Buy now' buttons, payment gateways, and more.
Most eCommerce solutions are expensive so business owners have to make do with basic features in free or affordable tools. But Easy Digital Downloads is one plugin that's an exception.
It's free yet powerful. We'll discuss its features next.
EDD Free Features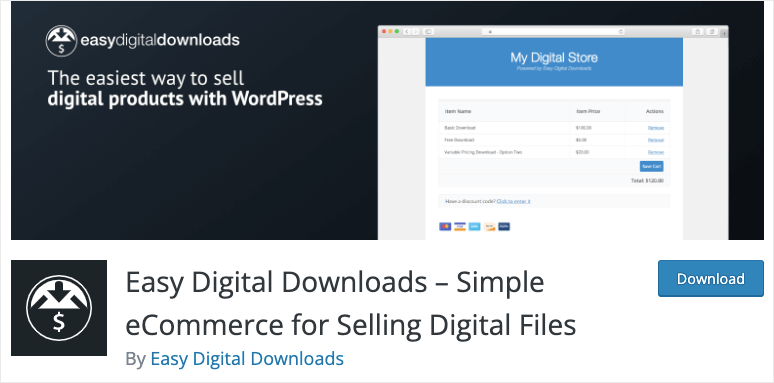 As we said earlier, the free EDD plugin is packed with features, you'll ask yourself if you ever need to upgrade?
The answer here is you can upgrade if you need to. The best thing to do is get started for free (unless you're absolutely sure you need a certain extension, payment gateway, or pro feature.)
Then as you grow, you can enhance your website's experience by subscribing to an EDD package or opting for addons as you need them.
Here's what you'll get when you download and install the free plugin:
Unlimited Products – You can create as many products as you want. There are no listing fees and no expiry dates on your listing. You control all of that.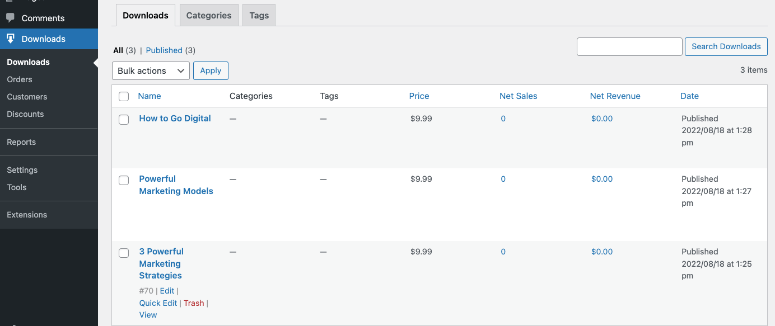 Complete shopping cart – You can add a product catalogue with options for users to add items to their cart and checkout when they are ready. They can even skip the cart and make an instant purchase using Buy Now buttons.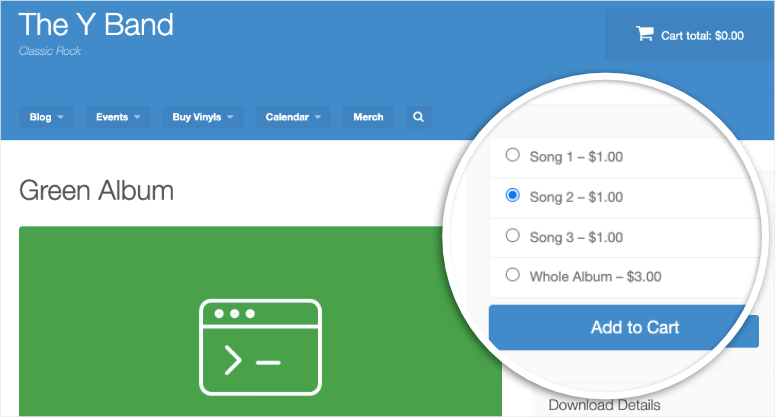 Highly customizable and clean checkout – You can customize your checkout and confirmation page including action buttons.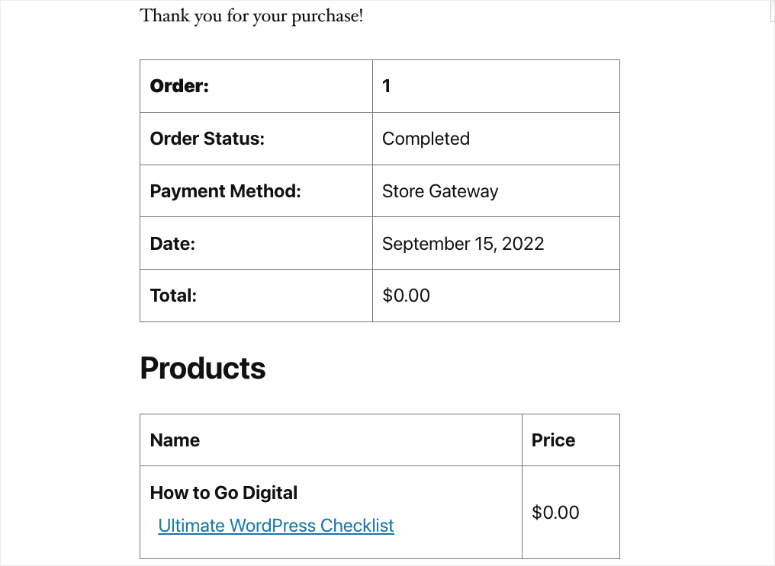 You can choose to add an option to agree to terms before purchase.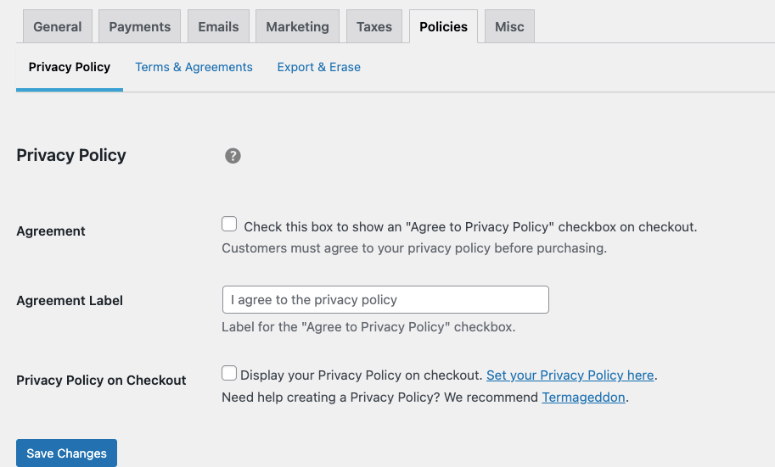 The plugin supports registered user and guest checkout giving the customer a choice whether they want to sign up or not.
Payment Gateways – Accept credit card payments using Stripe, PayPal, and Amazon Payments. Apple Pay and Google Pay are also included via Stripe's Payment Request Buttons.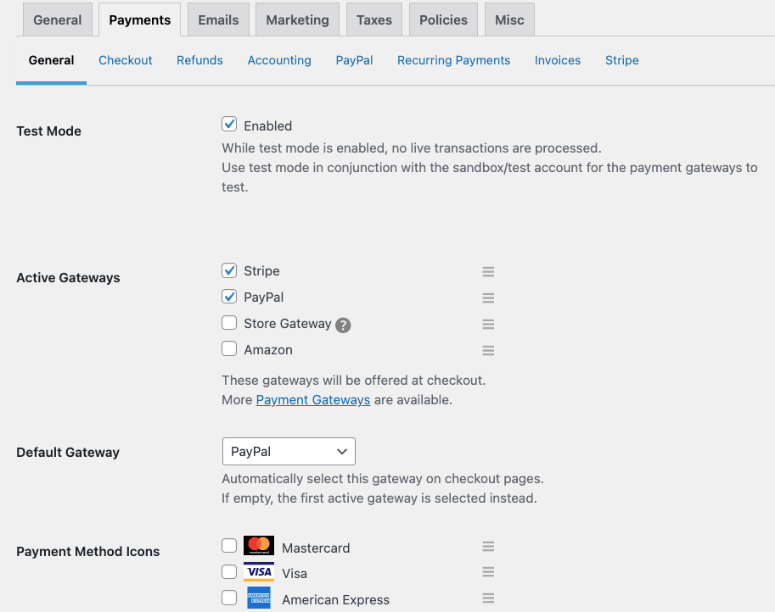 Order Management – It's easy to manage order status, reassign customer details, and add role-based capabilities.
Customer management – You can create customer account pages to make it easier for them to shop on your site. On the admin side, you can view and manage detailed records of all customers and their purchase history. You can keep a separate record for each customer. EDD even lets you track customers lifetime value and activity.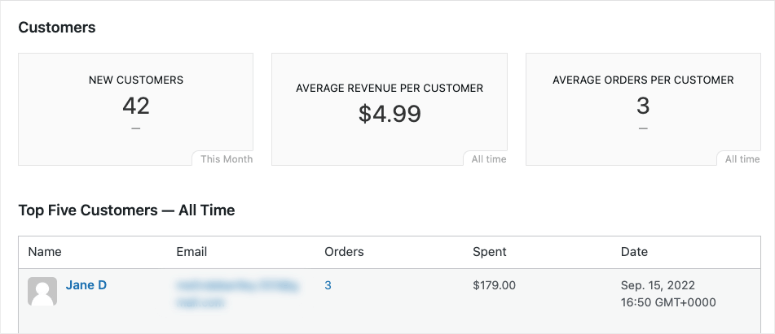 Detailed eCommerce reports – There's a built-in tracker of your earnings, refunds, sales, and more. You can monitor every aspect of your online store and get actionable insights into your business.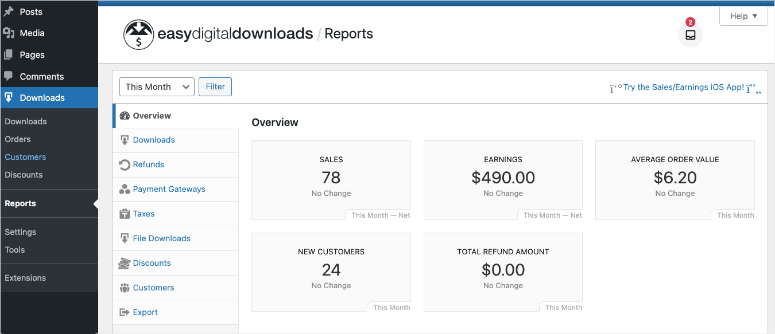 Easy Digital Downloads also connects to MonsterInsights for detailed eCommerce reporting right inside your dashboard. Learn more about MonsterInsights here: How to Set Up Google Analytics eCommerce Tracking.
Secure file protection – Prevent unauthorized visitors from accessing your product files without paying.
Discount codes – Offer customers coupons or discount codes that can be applied at checkout.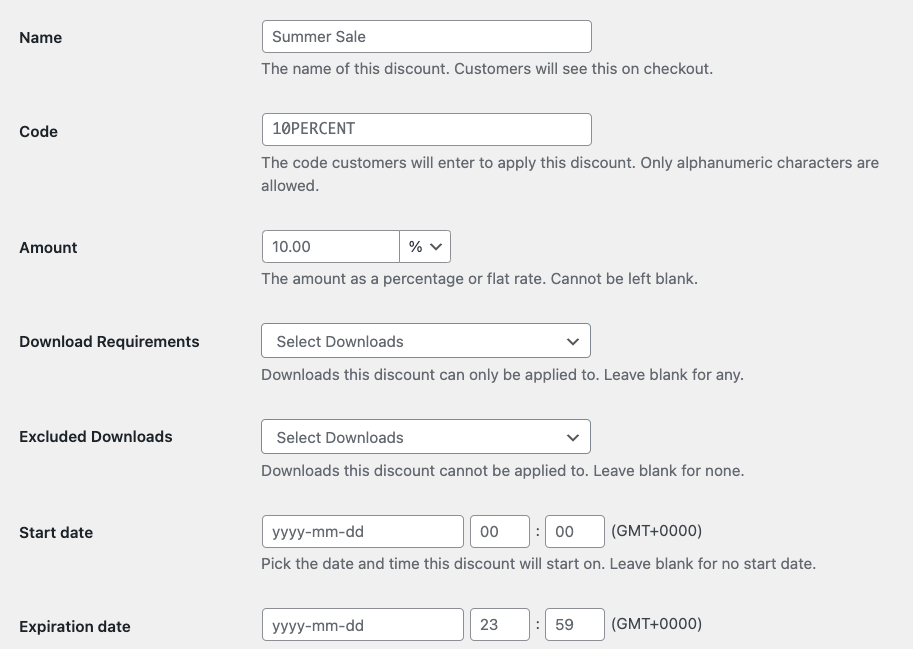 Works with any theme – EDD will sync with your WordPress theme automatically.
Added to all this, Easy Digital Downloads has been translated into over 24 languages with new ones being added. So you'll be able to serve your store in multiple languages or your local language.
Now let's take a look at what's under the paid version of EDD.
Easy Digital Downloads Paid Extensions
Easy Digital Downloads only charges for extensions that you can choose a la carte or you could get all of them by subscribing to a plan.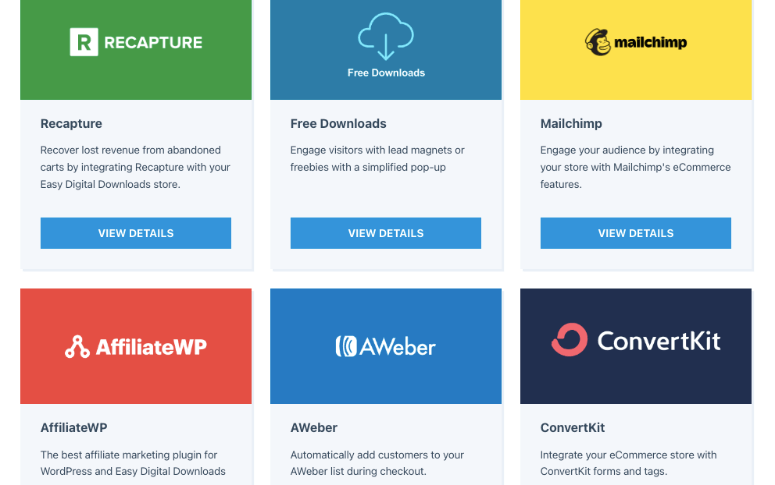 Here are the main extensions:
Stripe Pro is an addon that removes the additional 2% processing fee. You'll also be able to accept pre-approved payments.
PayPal Commerce Pro enables customers to pay by debit or credit card as well as alternative payments. This includes Sofort, Bancontact, iDEAL, and Giropay.
Frontend Submissions can be activated to make your site a full-featured multi-vendor marketplace.
Commissions lets store owners track earnings for every product vendor on their platform.
Reviews gives customers the chance to leave reviews and feedback on the products they have purchased.
Recommended Products helps you increase sales and revenue by displaying similar product recommendations to users based on real sales data.
Free Downloads makes it easy for users to bypass the standard checkout form and download the file instantly.
Zapier makes it super easy to automate your store by connecting with 5,000+ web services and products.
Software Licensing lets you easily sell software license keys and distribute software updates to customers.
Recurring Payments allows store owners to sell recurring subscriptions for digital products using payment gateways like Stripe and PayPal.
Content Restriction lets you restrict access to content and allow only paid users to view it.
Dropbox File Store lets you securely host files in your Dropbox account.
Amazon S3 lets you securely host files on Amazon S3 for more reliable and secure file delivery.
Mailchimp connects your store to your Mailchimp account where you can add customers to email lists based on their purchased.
AWeber connects your store to your AWeber email account.
They also have extensions to integrate with tons of third-party tools for just about anything you need. This includes tools for:
admins
accounting
checkout
payment gateways
marketing
CRM (customer relationship management)
email
help desk
LMS (online courses)
memberships
taxes
and more.
Find all third-party extensions here: 3rd-Party Extensions for Easy Digital Downloads.
EDD Free vs. Paid Payment Gateways
Payment gateways supported in the free Easy Digital Downloads plugin:
Stripe
PayPal
Amazon Payments
Payment gateways supported through paid extensions include Stripe Pro (reduced fees and preapproved payments functionality), PayPal Commerce Pro (unbranded card payments and additional payment methods), Braintree, Authorize.net, and SOFORT Banking.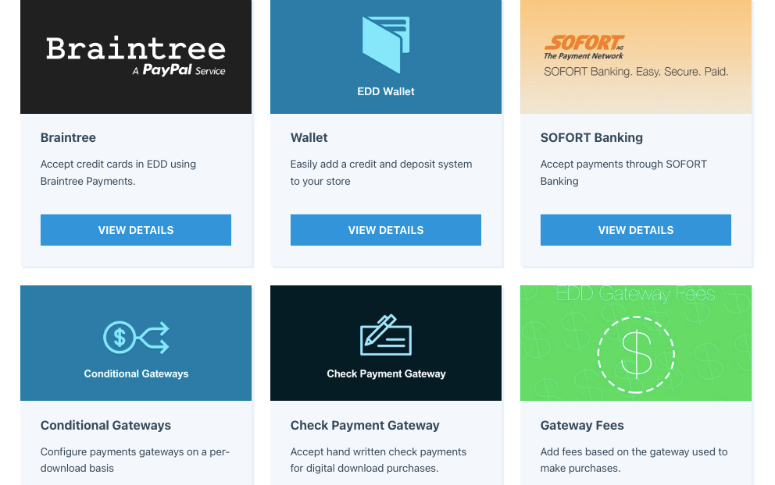 So how much does it cost to upgrade? We discuss pricing plans next.
Easy Digital Downloads Pricing Plans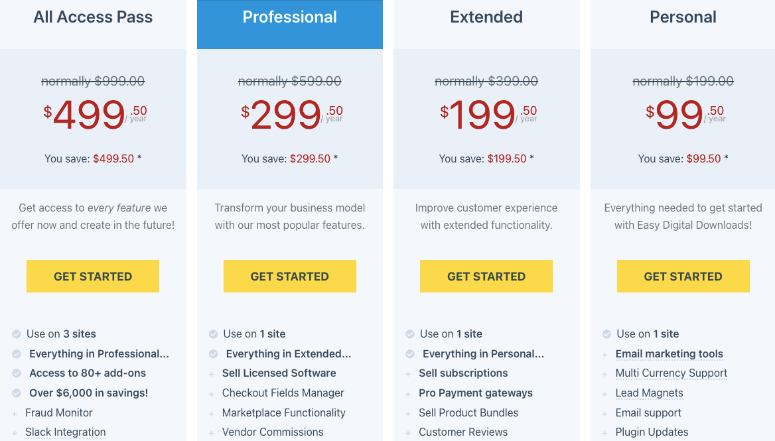 Every extension is priced differently. You can get some of them for free while others can cost a few dollars to a few hundred dollars.
If you want to buy an extension, we feel subscribing to a premium plan gives you more value.
There's a 14-day no-risk money back guarantee on all plans. You'll get a 100% refund if you're not happy.
Personal – $99.50 per year
You can use this license on 1 website. You'll get features like
Extended – $199.50 per year
You can use this license on 1 website. You'll get all the features of the Personal plan plus:
Sell subscriptions
Pro Payment gateways
Sell Product Bundles
Customer Reviews
Professional – $299.50 per year
You can use this license on 1 website. You'll get all the features of the Extended plan plus:
Sell Licensed Software
Checkout Fields Manager
Marketplace Functionality
Vendor Commissions
Custom Deliverables
Wish Lists
Recommended Products
All Access Pass – $499.50 per year
You can use this license on 3 websites. You'll get all the features of the Extended plan plus:
Access to 80+ add-ons
Over $6,000 in savings!
Fraud Monitor
Slack Integration
Product Comparison
Purchase Rewards
Email Attachments
Conditional Emails
CRM Capabilities
EDD Free vs. Paid Customer Support
Easy Digital Downloads support is free for all users. You can open a support ticket at any time you need.
They also offer Extension support. This requires a valid extension license key. License keys are issued at the time of purchase.
Verdict: Should You Upgrade to Easy Digital Downloads Pro?
It totally depends on what you need for your website. We love the free version as it truly lets you set up a proper online store for digital products.
They're so transparent with what they offer and for a free plugin, you get a lot more than other paid platforms.
With their pro extensions, you'll be able to:
Add more payment options
Boost your marketing and promotions
Add more functionality to your store
Track performance and get deeper insights
Set up membership plans and online courses
Grab more revenue opportunities
Enhance user experience
Whichever plan you pick, Easy Digital Downloads is definitely worth it.
Ready to get started? Get Easy Digital Downloads Now »
That's all we have for you today. We hope you found this guide helpful. Up next, we've handpicked these resources for you:
These posts will help you further your online business with the right tools and methods.
Keep reading the article at IsItWP – Free WordPress Theme Detector. The article was originally written by Editorial Team on 2022-09-28 03:40:00.

The article was hand-picked and curated for you by the Editorial Team of WP Archives.