Do you want to run fundraiser campaigns on your website? Wondering if GiveWP is right for you?
GiveWP is a popular and powerful donation plugin for WordPress sites. It makes it easy to accept donations online from anywhere in the world.

We've checked out what GiveWP has to offer and how it actually performs when it's in use.
In this review, we'll walk you through GiveWP in detail and give you alternative options so that you can decide which is the right plugin for you.
About GiveWP
GiveWP makes it easy for anyone to raise funds for a cause using secure and optimized configurations.
The platform is flexible so it can be used for a wide range of purposes like charities, religious or political campaigns, crowdsourced projects, and more.
GiveWP also has a user-friendly so you can raise funds online even if you have no prior experience.
The best part is that GiveWP lets you get started for free. There's no upfront fee.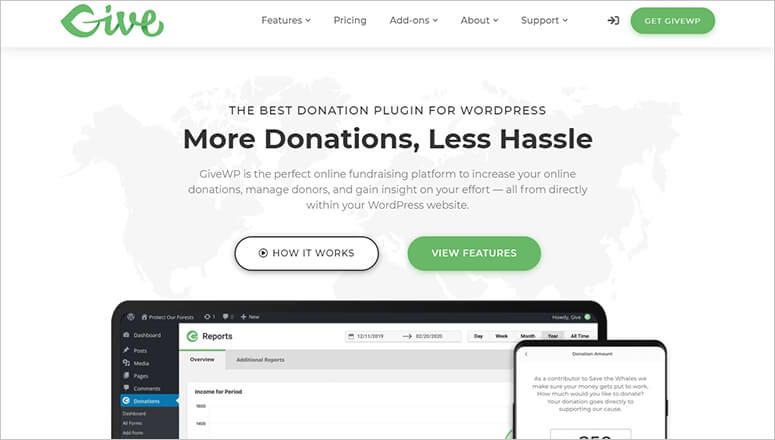 But though it has a lot of great features, the platform can be quite complicated for many. If you simply want to accept donations in the form of online payments, there are better options like WP Simple Pay and WPForms.
But first, is GiveWP right for you? Let's dive into the plugin details.
To make it easy for you to navigate this review, we've broken it down into sections. Here's a table of contents so you can skip ahead to what interests you the most:
GiveWP Features
GiveWP is packed with features that you'll love. When you sign up for an account, here's what you'll get:
1. Customizable Donation Forms
You can create beautiful forms to give donors the best user experience. At the same time, you can collect critical donor information such as their contact info and reason for donating.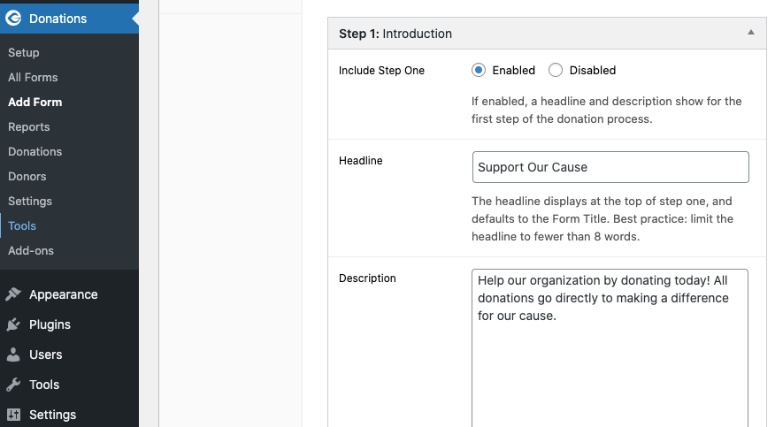 The forms come in a variety of styles along with pages, buttons, modal popups, and more.
2. Custom Campaign Goals
A great way to boost donations is by showing users fundraising targets along with the amount raised so far.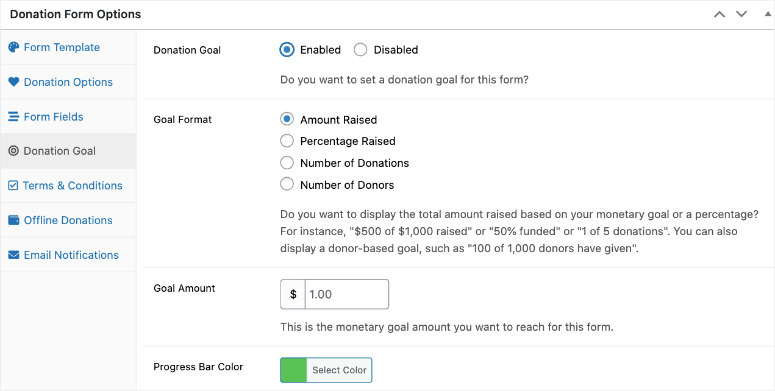 GiveWP lets you show goal bars with custom colors. You can track and display the amount donated, number of donors, or number of donations made.
3. 18+ Payment Gateways
GiveWP lets you accept payment through Stripe, PayPal, Authorize.Net, Square, and many more platforms.
Your users can choose their preferred payment method to make a donation. So you won't lose out on funds just because the donor doesn't have the right payment option.
The best part is that GiveWP is backed by a team that's constantly innovating. They continually add new payment gateways to accommodate users from around the world.
Once you setup a gateway, you get full control over donation options, amounts, and more.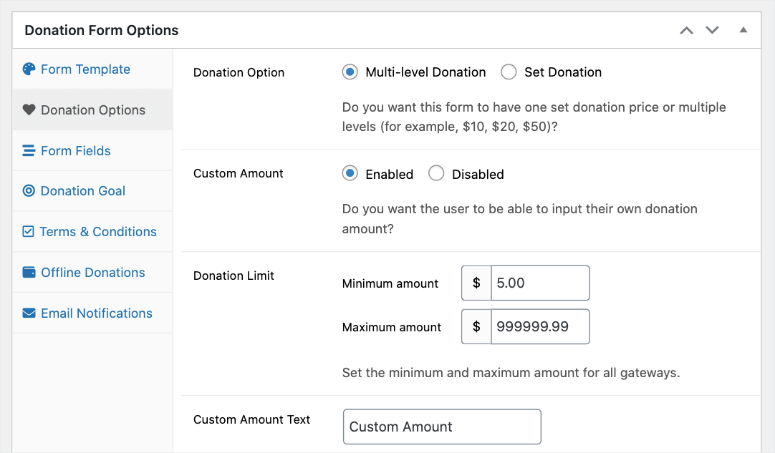 You can also set limits for the minimum and maximum amount a user can donate.
4. Recurring Donations
Allow donors to set up recurring payments to donate towards causes that need funds on a regular basis.
Donors can also choose their preferred frequency such as weekly, monthly, or annually. They can customize the amount they want to contribute as well.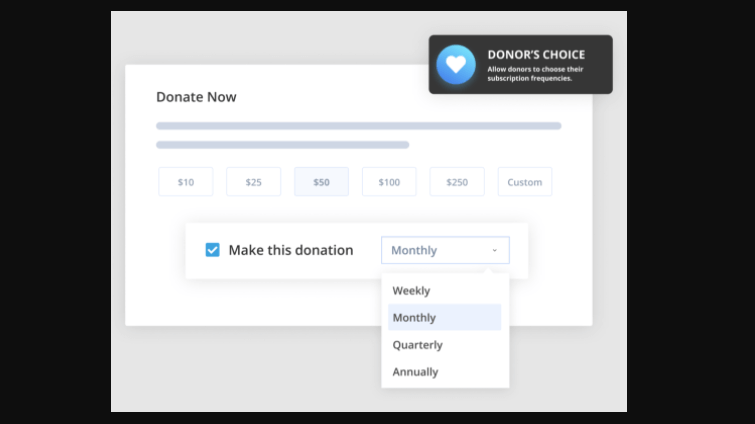 You can give your donors full control over how often they give or they can decide on preset time periods and amounts.
5. Text-to-Give
Text-to-Give is an addon that lets donors send you money directly from their mobile phones. The addon is powered by Twilio and Stripe. So you will need to connect your GiveWP account to Twilio.
Then you can create and customize text donation forms along with a dedicated donation number.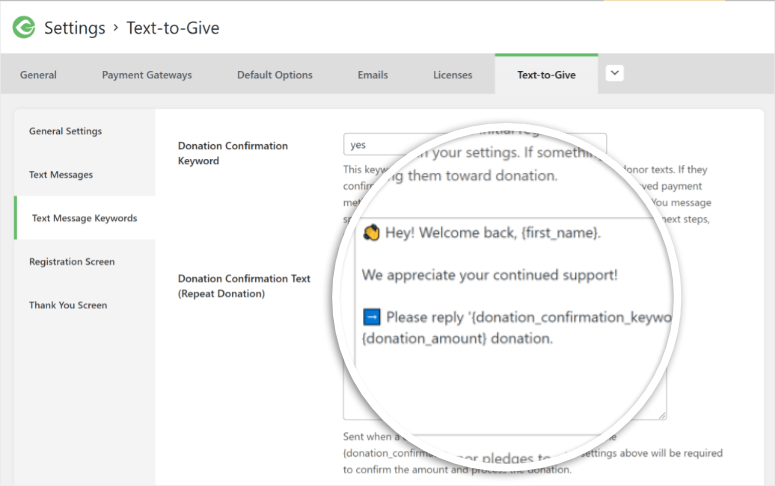 All users have to do is send a text message with the amount they want to donate. They'll receive a confirmation message and a thank you text as well.
This is a paid service and costs around $1/month for every phone number you register. And every SMS you send or receive costs $0.0075. The cost may vary depending on the volume of donors and SMSes.
6. Powerful Donor Management
Track and manage your website donors to see the top and regular donors. You can also see complete donor history such as registration and payments.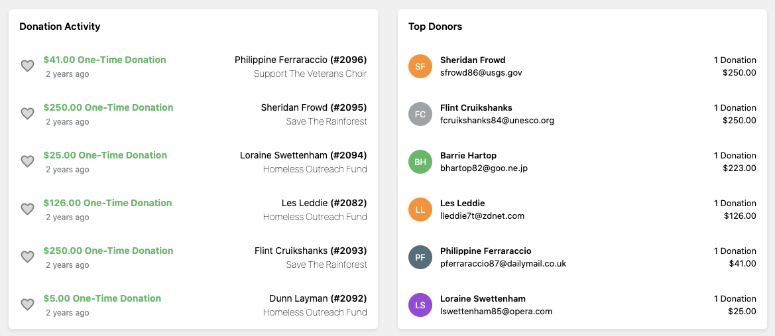 You can even import/export your campaign and donor data to use for offsite reporting and other purposes.
7. Full Featured Reporting
Get valuable data and insights into fundraiser performance with key indicators. It even supports eCommerce tracking and shows you traffic behavior.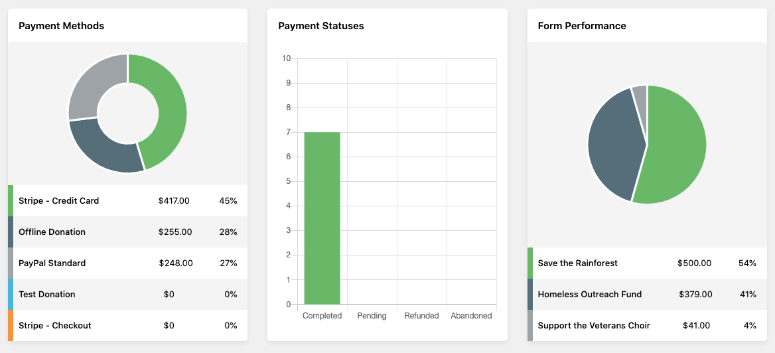 And if you want deeper insights, you can sync your GiveWP account with Google Analytics.
7. Integrations and Addons
With GiveWP, you can connect to powerful email marketing platforms like Constant Contact and Mailchimp. It also integrates with Salesforce Nonprofit Success Pack (NPSP).
Want to add upsells and cross-promote campaigns on your WordPress site? GiveWP connects to WooCommerce so you can maximize the success of your campaigns.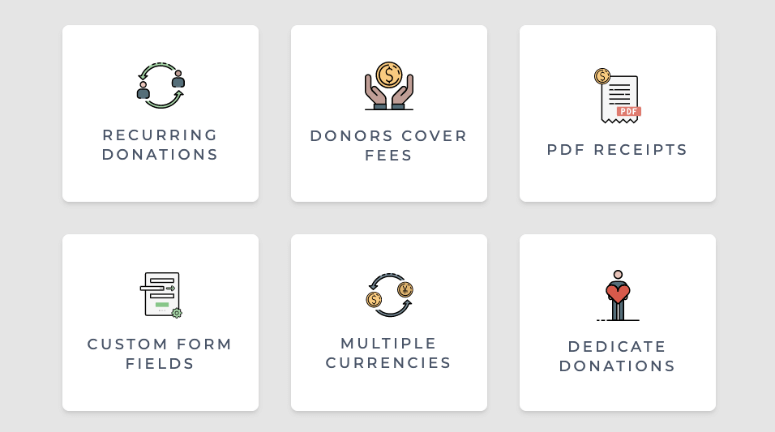 GiveWP lets you extend the functionality of your platform through addons and integrations. Some of the addons include:
Fee Recovery
Currency Switcher
Tributes
Annual Receipts
Gift Aid
…and that's just to name a few!
8. Multiple Campaigns
GiveWP lets you set up multiple campaigns together so you can raise funds for different causes or projects simultaneously.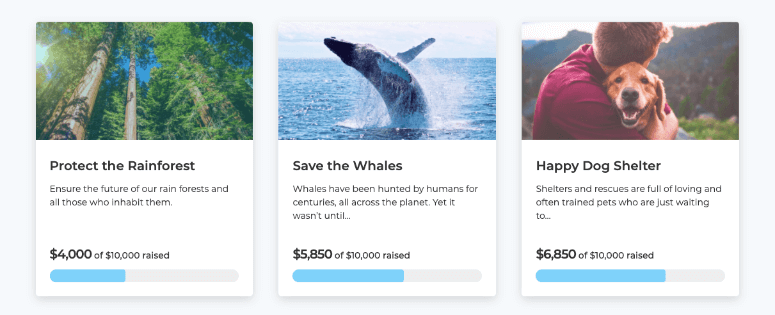 You can also make use of their peer-to-peer fundraising service. This allows your users to create donation campaigns similar t GoFundMe, Indiegogo, and Kickstarter.
GiveWP Pros: The Good Stuff
First off, what we really love about GiveWP is that you can get started for FREE! Seriously, it costs you zero dollars to download the plugin and set up your campaign.
Next, they have a 100% zero risk money-back guarantee. If you aren't satisfied with the plugin, you can get in touch with the support team and get a full refund. The only condition is that you need to cancel within 30 days of your purchase.
To top it off, you'll get access to plenty of addons and extensions. So the chances of not having a particular feature are really low.
They make it easy for you to set up and easy for the donor to make their payment. It's a win on both sides.
GiveWP's simple interface makes it a great choice for beginners. There's an easy setup wizard that you can use to configure the donation form and other settings.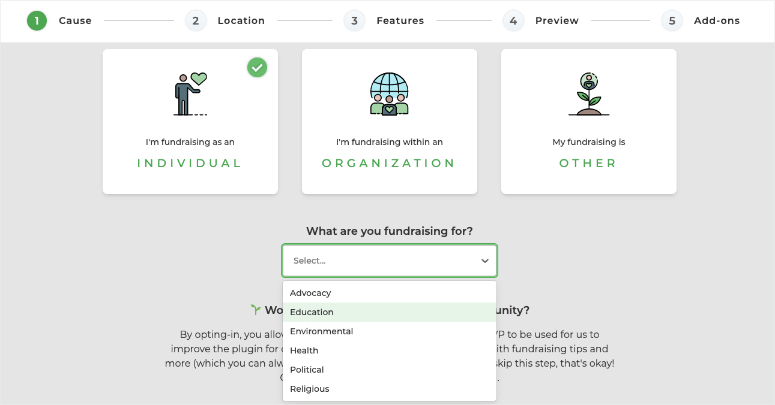 At the same time, the platform is designed to be developer-friendly. The frontend and backend uses WordPress hooks, so if you're code-savvy, you can customize its functionality however you want.
GiveWP Cons: What To Look Out For
The free plan is quite limited in what it offers. You can accept payments through Stripe and PayPal. You'll also get features like donor management and reporting but that's about it.
As for support, you can expect a wait time of 2 business days. So if something goes wrong, your fundraising campaigns can be on hold for days!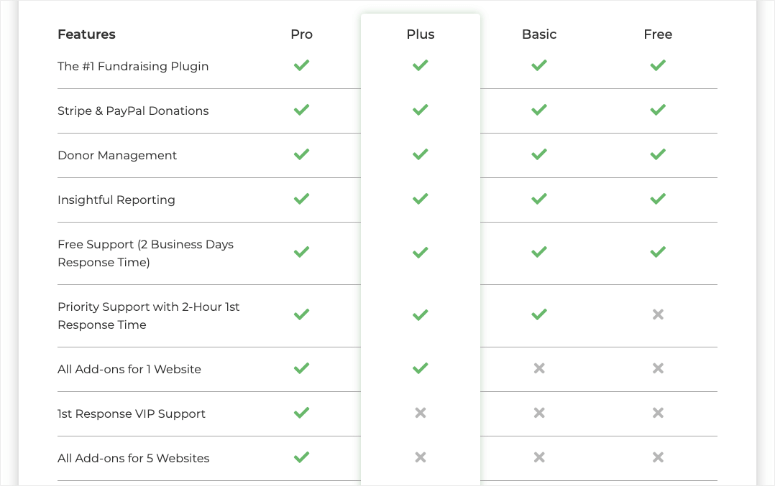 We must mention here that GiveWP has thorough documentation on basic setup to advanced customizations. So if you're really on a tight budget, you can stick to the free plan and find the answers on your own.
If you're looking for better features and priority support, you'll need to upgrade, and that comes at a high price.
Though GiveWP has tons of addons on extensions, they're bundled into the pricing plans. This means you cannot purchase addons individually. You're forced to subscribe to a higher plan to get these features.
But is the premium GiveWP plugin worth it? More on GiveWP's premium plans next.
The Cost of Using GiveWP
GiveWP has 2 types of fundraising services to offer.
The first one is the WordPress donation plugin. You can get started for free and upgrade as your website grows.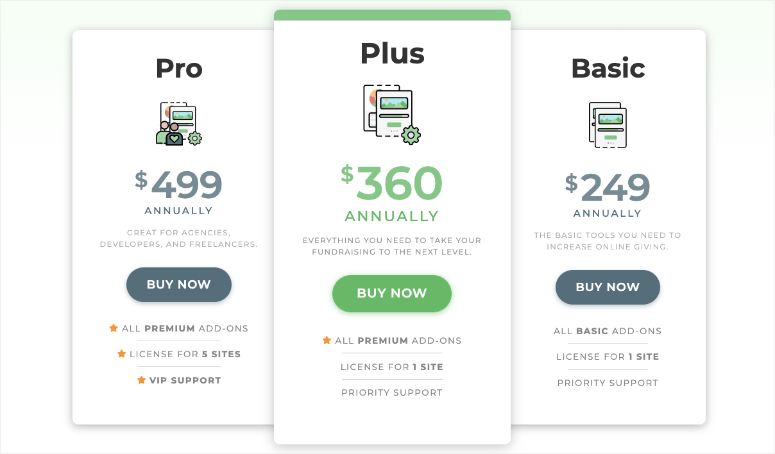 Paid plans include:
Basic: $249 per year for a single site license. This gives you access to basic tools and addons. You'll also get priority support with a 2-hour response time.
Plus: $360 per year. The license is valid for 1 website. You'll get access to everything in the basic plan along with premium addons.
Pro: $499 annually. This plan is designed for freelancers, developers, and agencies. It grants you a 5-site license with all premium addons and VIP support.
There isn't much difference between the Plus and Pro plan. The Plus plan is a single site license while the Pro plan gives you a license for 5 websites along with 1st response support.
Now GiveWP also has a Peer-to-Peer fundraising suite. With this, you can allow users to create their own fundraiser campaigns.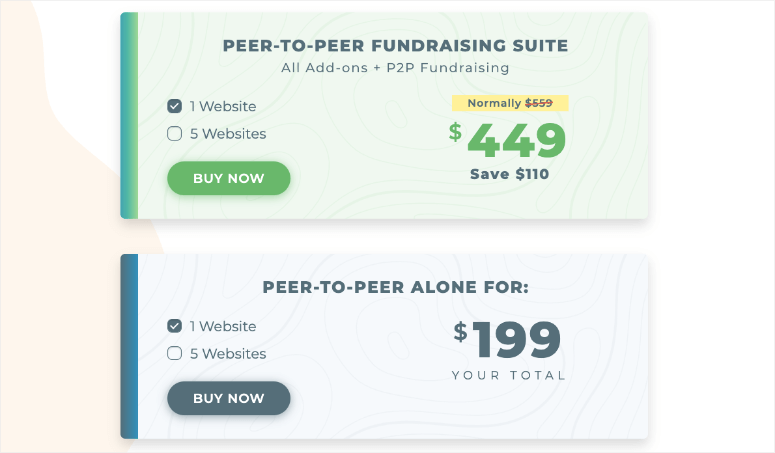 The suite starts at $199 for a single site license. It goes up to $599 for a 5-site license with all addons included.
GiveWP Alternatives
GiveWP is quite a good donation platform to help you raise funds for just about any cause, project, or campaign.
However, if you feel it lacks certain features or the price is too high, you'll want to see our pick of the top GiveWP alternatives.
1. WP Simple Pay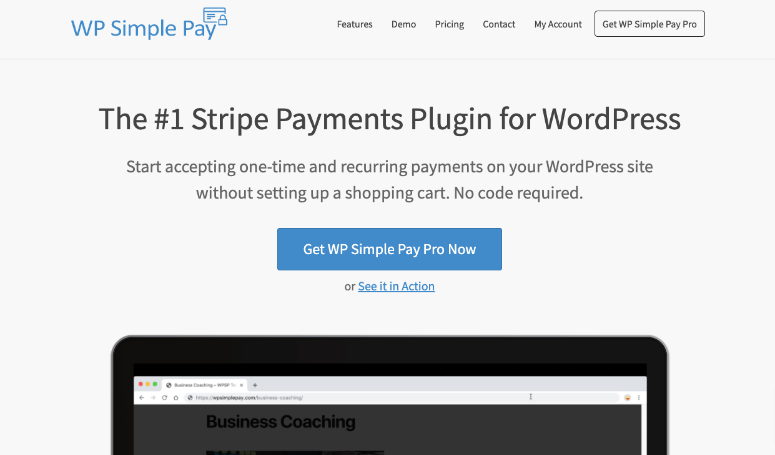 WP Simple Pay is the best payments plugin for WordPress. You can accept online payments for donations, fundraisers, products, merchandize, and much more.
WP Simple Pay is a better solution for those that want a simple setup.
You can create payment forms, add subscription options, offer installment plans, and charge initial fees.
Once you install this plugin, you can accept secure modes of payments like Stripe, Google Pay, and Apple Pay.
Donors can also choose to donate a set amount or enter a custom amount they wish to contribute.
The plugin is also optimized to work seamlessly on mobile, tablet, and desktop. So you can be sure donors have a good experience no matter which device they're using.
Key features
One-time and recurring payments
Simple yet completely secure payment processing
Customizable payment form
Supports Stripe, Apple Pay, Google Pay, non-card payments, and more
Multi-language and local curreny support
Pricing
Starts at $99.50 per year.
Get WP Simple Pay!
2. WPForms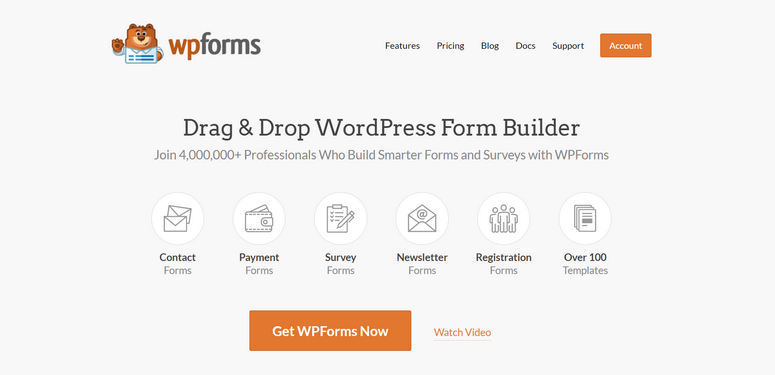 WPForms is hands down the best form builder for WordPress. You can create donation and fundraiser forms in a matter of minutes.
WPForms is a great alternative to GiveWP because it has everything you need to collect donations online.
First, you'll find donation form templates that are prefilled with the form fields you'll need to get started with fundraising.
Then you can customize the form using its drag and drop builder.
To collect donations, you can integrate with payment options like PayPal, Stripe, and Authorize.Net. WPForms makes it incredibly easy to do so with just a few clicks.
WPForms also lets you set up automated email confirmations and other custom notifications.
Added to that, if you have long donation forms, you'll likely see abandoned and incomplete forms. WPForms has features designed to overcome this. First, there's conditional logic that lets you display questions dynamically based on the user's response.
You'll also find advanced features like distraction-free form mode, conversational forms, and captcha protection to improve form completion rates.
Key features
One-time and recurring payment
Secure payment options
Easy to use interface (front end and backend)
Multi-purpose form builder with plenty of addons
Integrates with email marketing services
Built-in spam protection
Pricing
Free version available. Paid plans start at $39.50 per year. WPForms offers a special discount for nonprofit organizations.
Get WPForms!
For more alternatives, you'll want to see our complete list of the best WordPress crowdfunding plugins.
That's all we have for you today! We hope you found this review helpful in deciding whether GiveWP is the right one for you.
If not, we've also given you 2 great alternatives: WP Simple Pay and WPForms!
Once you've selected a donation plugin, you'll want to see these resources:
We've picked these posts for you as they'll help you set up a professional fundraising website and donation form. The last one there will help you automate processes to streamline your workflow and user experience.
Get GiveWP Now »
Keep reading the article at IsItWP – Free WordPress Theme Detector. The article was originally written by Melinda Bartley on 2021-11-04 06:23:09.

The article was hand-picked and curated for you by the Editorial Team of WP Archives.