Choosing your domain name is important. Without the perfect .com, traffic will be hard to come by. Though, it's just as vital to choose the right domain registrar. While there are lots of services available, there's one that on paper has a big edge – Google Domains.
Of course, the registrar has a big tech company at the head – the biggest priority for Alphabet Inc., Google. As such, there's a tempting lure for the registrar. After all, who better than Google to provide you with your own domain name? The answer is complex though, and there is tough competition within the marketplace.
Over the next few sections, we're going to look at Google Domains, and find out how it works. We're also going to look at where it sits compared to other registrars, and sum up to give up a definitive answer.
Introducing Google Domains
The concept of Google Domains is straightforward. It's a domain registrar much like any other service, such as Namecheap, GoDaddy, and more.
The core offering is – of course – domain names. There are a few reasons to opt for Google Domains in this instance:
There are 300 Top-Level Domain (TLD) extensions available, some exclusive to Google.
Your chosen domains will run within Google's infrastructure.
You'll find some nice extras included, such as privacy protection, Two-Factor Authentication (2FA), and more.
Domains will use state-of-the-art data security technology, such as Domain Name System Security Extensions (DNSSEC).
In the same way other registrars offer related services, so does Google Domains. Though, because your domain comes from the search giant, you have more analytics and data to play with. For example, you can configure your Time-To-Live (TTL) settings, alongside other tools.
You will also find a bunch of integrated solutions for email registration, picking a domain name, Google Ads, and plenty more. In fact, the entire Google Workspace ecosystem is at your fingertips through using the domain registrar.
How Google Domains Works
If you're new to choosing a domain name, it's good to know that the process is straightforward. Type your desired domain name into the large search box, and click through to see your results: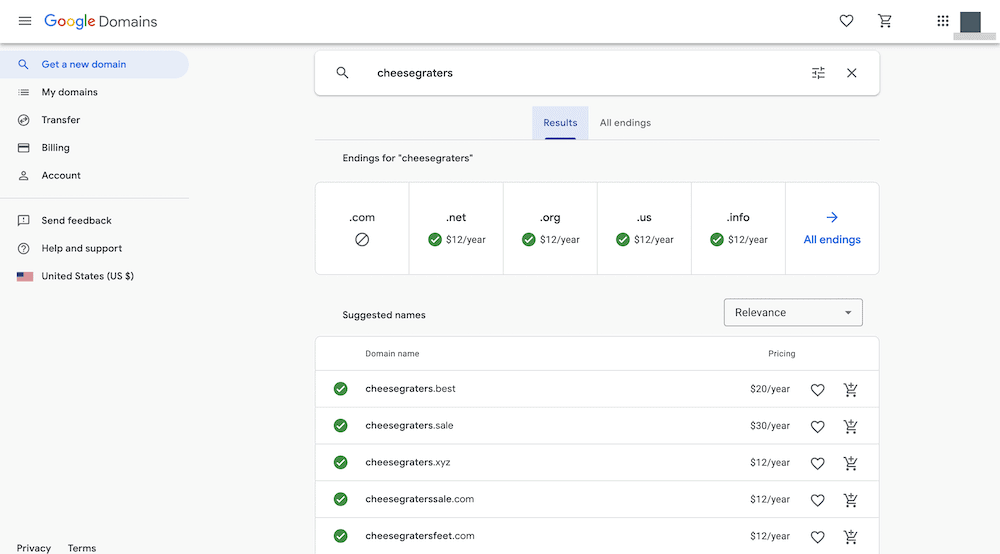 There are a couple of tabs here – Results and All Endings – that do the same thing, but the former gives you some suggested popular extensions to choose from.
You can sort the list by a few different attributes, and use the icons next to the list to perform various actions, including adding the domain name to your cart.
One fantastic feature here is the Insights panel for each domain in the list. If you click on
[…]
This article was written by Tom Rankin and originally published on WPKube.