Gaming has been a big industry for years now, but the rise of e-sports has really seen it take off. Whether you're a passionate gamer who wants to contribute or an entrepreneur looking for new markets to tap, you might be wondering how making a gaming website works.
With your own gaming site, you can create content to tap into this huge market. You could even set up your own private server so you can host multiplayer games.
In this article, we'll explore the world of gaming websites and why they're so popular. Then we'll look at how you can set up your own gaming site in five simple steps. Let's get started!
? Skip directly to the tutorial
An introduction to gaming websites
Gaming is a huge market. As of 2020, there were as many as 2.7 billion gamers[1] around the world, and the industry as a whole was expected to be worth nearly $160 billion[2]. For website owners, that represents an enormous opportunity to capture a highly engaged audience and a lot of potential traffic.
The sheer amount of people interested in this niche means lots of potential for advertising impressions (and revenue). There's also the possibility of affiliate marketing if you're looking for more revenue streams – gamers love their gear.
Finally, you can also use your site to host your own dedicated gaming server. This can offer a number of advantages over using a public server, including improved performance and a more private experience. Your server can be an additional feature of a site with a wider focus, or it can be the main offering – either way, it's sure to make fans happy.
Making a gaming website (tutorial in five steps)
At this point, you're probably wondering how to go about making a gaming website. The following five steps should get you started. Note that we're assuming you want to use WordPress as the backbone of your site (here are some reasons why), and this process reflects that.
1. Create a plan for your gaming site
Before you start making a gaming website, it's smart to have a plan in place for what type of site you want to operate. There are a number of paths you can take:
A gaming blog. Your gaming blog could cover a lot of ground – anything from industry news and game studio coverage to new releases of games and hardware. A blog is a fantastic way to drive traffic to a website, which opens the door for several monetization strategies. These include affiliate marketing, subscription-only content, and ad revenue.
A game review site. Game reviews and comparisons can be invaluable for consumers who need help deciding where to spend their hard-earned money. As such, this type of site offers a lot of potential. There's also a fair bit of overlap with a more generalized gaming blog, so you could combine the two if that better suits your audience.
A website dedicated to professional gaming. Pro gaming (also known as e-sports) has experienced an explosion in popularity over the last few years. It's now a billion-dollar industry[3] with fans all over the world. A site focused on e-sports could cover matches and tournaments, player rankings, and upcoming special events, as well as offering commentary and opinions.
A site that hosts a game server. Hosting a private server for your favorite game can be both a rewarding personal hobby and a potential revenue stream. These private setups avoid many of the pitfalls of public servers, such as overcrowding, performance bottlenecks, and rude individuals.
It's important to know what direction you want to take your site because this can inform other choices down the line, including your hosting needs and marketing strategy.
2. Sign up for the right hosting plan
Once you have your website planned out, it's time to start building it. The first step in this process is to choose a web host and plan that fits your needs (and budget).
For a generalized gaming site, or one focused primarily on a blog, nearly any hosting plan can work (although some will naturally be better suited than others). However, if you're going to host a gaming server, you'll likely want to look into a more specialized package that offers better performance and more control than a typical plan.
For a gaming blog or news site, a shared hosting plan from a reputable provider (we recommend Bluehost) should provide everything you need. Depending on the host and specific plan, you can pay as little as $2.95 per month, leaving plenty of funds to invest in other aspects of your website. Bluehost is recommended by WordPress.org, so you can expect top-notch support for the platform.
If you want to set up a game server on your site, you may need something more powerful and reliable than a basic shared hosting plan. Dedicated hosting or a virtual private server (VPS) are both solid options. Since you'll be the only one using the server (whether it's physical or virtual), you'll generally get more control over it as well. This means you can optimize it for gaming traffic and potentially achieve better performance.
3. Choose and register your domain
Once your hosting plan is set up, you'll need to choose and register a domain name in order to get your site online. Your domain name is your site's permanent address on the internet and enables users to find and access it.
The domain you choose is largely up to preference, provided that it's available. However, you'll want to keep in mind a few things when making your selection:
A unique and memorable domain helps users remember your site, which can encourage repeat visitors.
Domain names have an impact on search engine optimization (SEO), so you'll want to incorporate keywords if possible.
Your domain also plays a part in branding and is often the first impression a potential visitor has of your site.
For these reasons, it's worth putting some thought and research into choosing your domain name. We recommend starting with keyword research using tools such as Google Keyword Planner: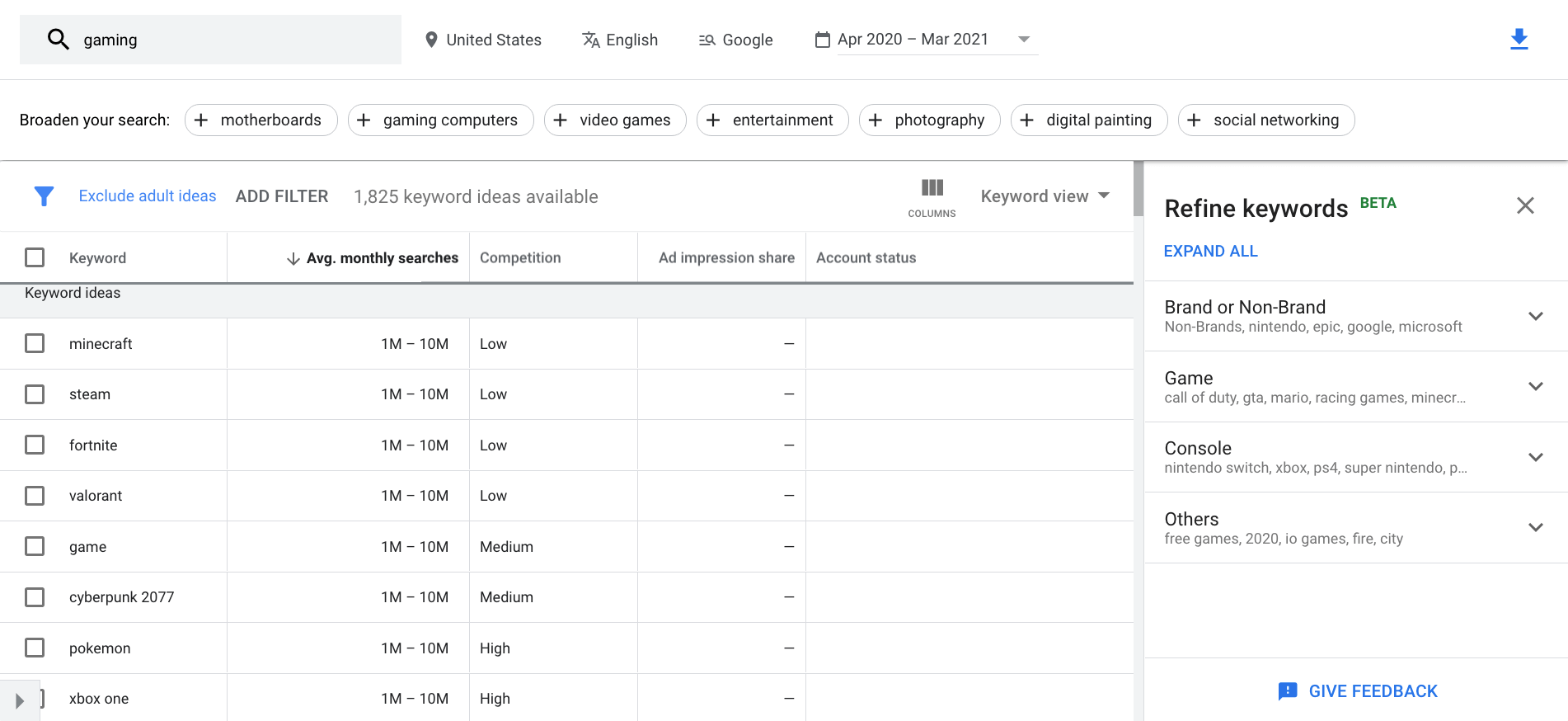 Then you can consider branding, and how you want to present your site to the public based on those keywords. Ensure that whatever you choose is clear, concise, and memorable, and you should be in good shape.
When it comes to actually registering your domain, you have two options:
Many hosting providers offer domain registration as a part of your hosting plan. Some even cover the cost of the domain for up to a year. This is usually the simplest choice since it's bundled with your web hosting. If you use Bluehost, they'll give you a free domain name for the first year.
Domain registrars are third-party sites not affiliated with a hosting provider, which enable you to purchase a domain name. You can then connect that domain to your site through your web host.
Either option works, although using your hosting provider is generally simpler. Once you have your domain registered, it's time to start making a gaming website.
4. Customize your gaming website
The first step in building your website is to install WordPress. Many hosting providers either install WordPress for you during registration or offer a one-click install, which makes the process simple. You'll usually find these options in your web host's administration panel.
Once WordPress is set up, you can start customizing your site. That begins with choosing the right theme. Your theme controls how nearly every element on the site is displayed, so picking one carefully is important.
There are thousands of WordPress themes available, and many are free – you don't necessarily need to spend a lot of money to get a great-looking site. While you can opt for a gaming-specific theme, a multipurpose theme is likely to be more flexible and offer a larger feature set.
For example, Neve offers an expanding library of starter sites and plenty of customization options to help match your site's branding (plus, it's free):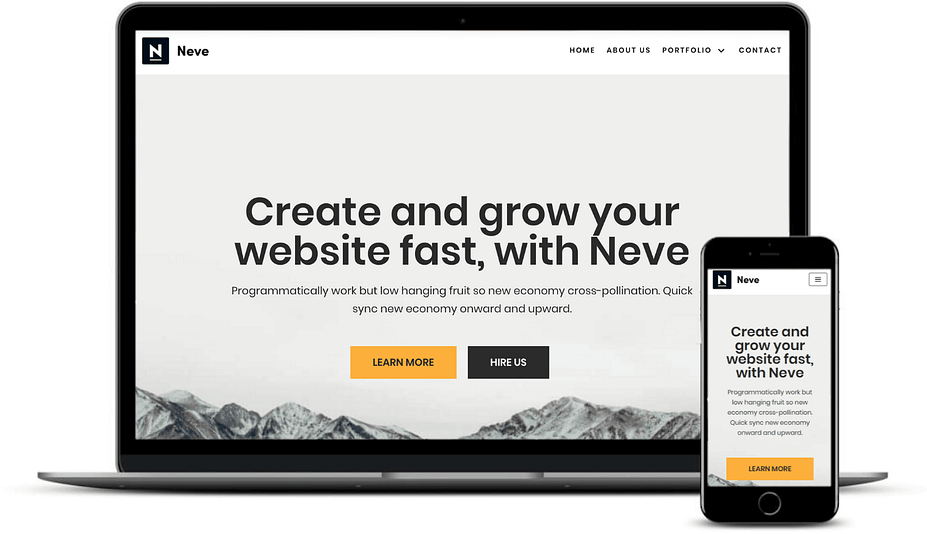 Once you have a theme and know what you want your site to look like, you can start adding additional functionality. WordPress offers a massive selection of plugins to extend your site's features.
Exactly what plugins you opt for will depend on the type of gaming site you're building. If it's a game or hardware review site, for example, you may be interested in a dedicated review plugin.
No matter what, you'll want to install some must-have WordPress plugins for all sites.
5. Make a game server
Finally, as we mentioned earlier, you may want to set up a game server for your website. This probably sounds difficult, but the process is actually relatively straightforward. Additionally, most games offer detailed instructions to walk you through it.
In a nutshell, once you have hosting in place for the server, you'll need to install any dependencies the game requires, and then configure the server for the game you're installing.
The exact process varies depending on the game and your specific goals for the server. To get you started, here are the configuration instructions for a few popular games:
The process can be a bit involved, so it's important to follow the instructions from the game developer carefully. Many games also have dedicated communities where you can find additional help if you need it.
Make a gaming website today
Whether you're a gamer yourself or are looking to tap into new markets for an online business, gaming is where it's at. Making a gaming website offers enormous traffic potential and several avenues for monetization, from simple ad revenue to affiliate sales and private servers.
To get started with your gaming website, just follow these five steps:
Decide what type of gaming site you'll create.
Sign up for an appropriate hosting plan.
Register a domain name for your site.
Choose a theme and customize your gaming website.
Optionally, make a dedicated game server.
For a more general (and detailed) look at getting started with WordPress, you can check out our guides on how to make a website or how to start a blog.
Do you have any questions about creating a gaming website? Let us know in the comments section below!
Free guide
5 Essential Tips to Speed Up
Your WordPress Site
Reduce your loading time by even 50-80%
just by following simple tips.
* This post contains affiliate links, which means that if you click on one of the product links and then purchase the product, we'll receive a commission. No worries though, you'll still pay the standard amount so there's no cost on your part.
Keep reading the article at ThemeIsle Blog. The article was originally written by John Hughes on 2021-04-29 07:00:31.

The article was hand-picked and curated for you by the Editorial Team of WP Archives.