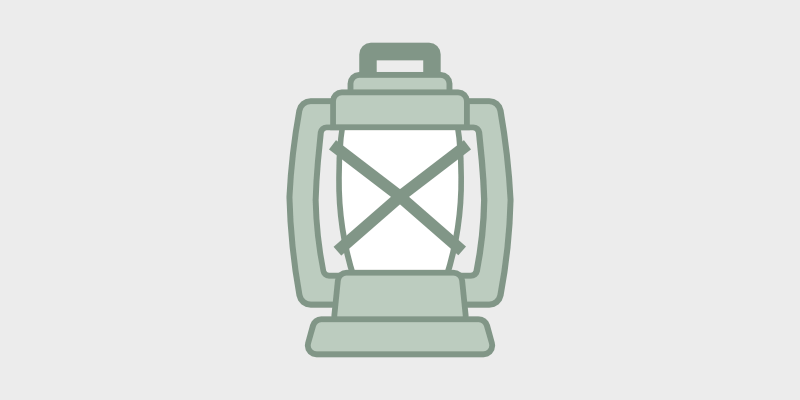 D
o you want to make your blog searchable? In this review, we're going to see if SearchWP is the best search plugin out there to add a Google-like search engine to your blog.
SearchWP makes it easy for readers to find blog posts, comments, and even products on your site. It can help improve user experience and keep visitors coming back for more.
With this plugin, you get complete control over how your site's search engine works. You'll also be able to see what your visitors are searching for and NOT searching for so you can tailor your content accordingly.
We'll explore everything SearchWP has to offer for bloggers so that you can improve how your visitors find what they're looking for on your blog.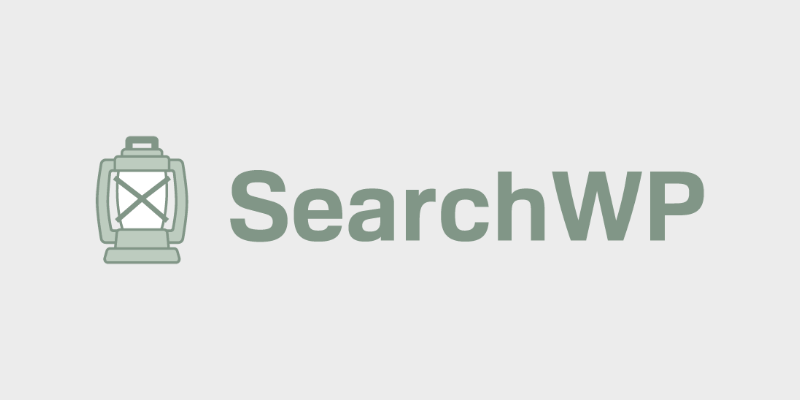 Pros:
Search everything
Auto-integration with theme
Multiple search engines
Full control
Easy customization
Powerful statistics
Third-party integrations
Helpful extensions
Reliable support
14-day refund
Cons:
SearchWP is the best custom search plugin for WordPress. It's beginner-friendly as it doesn't require any complex coding. You can set up a powerful search engine on your site with just a few clicks.
Then visitors can search everything on your site including posts, pages, products, media, and more.
The best part is that you control the search. You can tailor the results to include/exclude certain things. This lets you show users what you want them to find on your site.
On top of that, SearchWP comes with built-in metrics that gives you really useful data. It shows you what users are searching for and even what they are NOT searching for. This gives you deeper insights into your audience so you can create content that they'll be more likely to engage with.
Get SearchWP today!
SearchWP Overview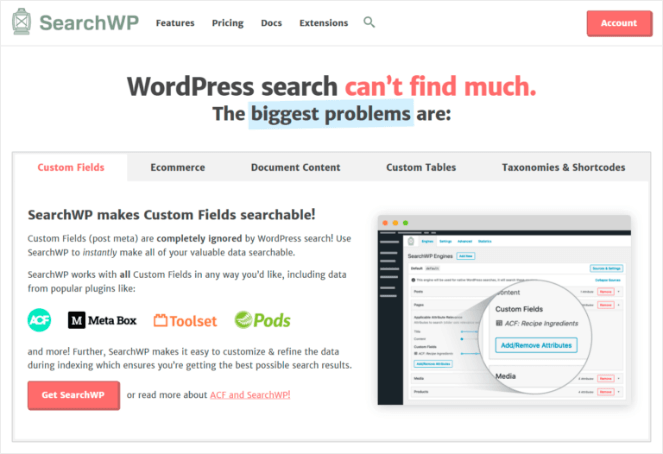 SearchWP is a powerful search plugin for WordPress. It's used by thousands of websites to improve site search and deliver more relevant results to visitors.
Once you install this plugin, you can make everything on your site searchable. So instead of readers spending forever trying to find a relevant blog post or tutorial on your site, they can just do a search and get there faster.
SearchWP lets you search posts, pages, custom fields, tags, categories, shortcodes, and even PDF docs!
What customers really love is that it integrates seamlessly with the existing WordPress site theme so it looks and feels like it belongs on your site.
Added to that, there are extensions you can use to display related content or redirect users automatically when they search for certain things.
Like this, the plugin has a ton of really cool features that we'll explore. First, let's take a look at whether SearchWP is better than the native WordPress search function and other search plugins.
SearchWP vs Free Site Search
SearchWP is a powerful tool with really advanced features so it's no wonder that it's a premium plugin. This means there's no free version, however, you can try the plugin for 14 days and if you're not satisfied, they'll give you a full refund as per their money-back guarantee.
But since it's quite an investment, it's natural to look for a free alternative first.
For WordPress.org websites, there's a default search option. You can enable it with a bit of coding and it will make your site searchable. But the thing is, it's too basic.
If you have a large blog, the default WordPress search simply isn't built to index all of it so your search results won't be relevant.
It also looks outdated and could stick out from the rest of your WordPress website's design. So while it serves the basic function of "search", it's just not a great option for any blog.
Then there are free search plugins like Better Search that let you save money when you're starting out. But the interface is more technical and requires you to already know terms like "Boolean search" and "mySQL fulltext search" modes.
What's worse is that if you come across a roadblock, there's no customer support at all. If you need help (which you most likely will) you'll have to donate at least $100 to connect to the developer.
That's pretty much the same cost of SearchWP where you'll get a super advanced plugin that's easy to use, powerful, and customizable.
Aside from that, the free plugins aren't designed to be easy to use so non-technical users and blogging beginners will find it hard to set them up.
Here too, free plugins are basic. Visitors may be able to search for things on your site but that's about it.
Instead, you could put the same investment right from the start into a plugin that will give you multiple benefits:
Let you set up in minutes
Help users navigate through your content faster
Grant you full control over your search results
Add a search bar that looks beautiful on your site
Optimize your site for mobile users
Give you insights to understand your audience
Reduce bounce rate
Boost conversions and sales
There are just too many benefits that make the plugin worth the investment.
SearchWP Features
SearchWP helps you optimize your site so that users can find things faster. This will help you reduce bounce rates and increase conversions and page views.
Automated Indexing
When you install SearchWP on your site, it will automatically start indexing it. You won't have to do anything.
You can track its progress or let it run in the background. Once it's done, you'll see the Index status that includes the last activity and the number of indexed items.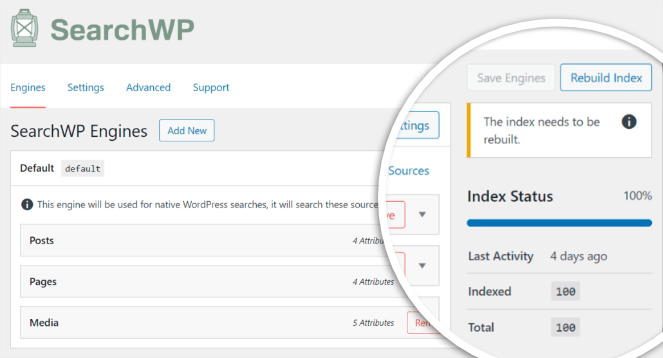 You can rebuild the index at any time by simply clicking a button.
Search EVERYTHING on your site
SearchWP really is the most powerful search plugin out there. It lets you create a custom search engine for your site that searches everything:
Posts and pages
Custom post types
Media
Comments
Taxonomy terms
Shortcode content
Products, details, and descriptions
PDF and office documents, including the content
and more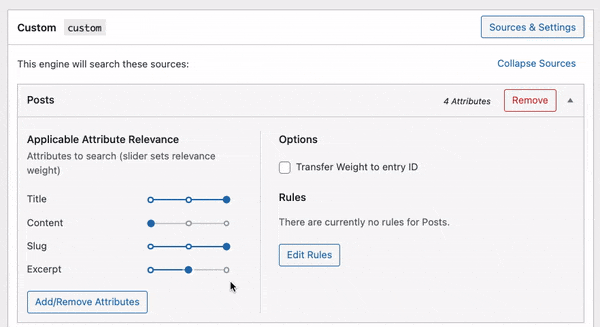 If you have old content types that have faded into the background, SearchWP will help get it exposure through searches.
Search Engine Control
With SearchWP, you control what results appear for search queries. You can choose whether to search posts, pages, media files, comments, and users.
You can also tell SearchWP to give more importance to certain attributes such as the title, content, slug, or excerpt. It even lets you add/edit rules to prioritize taxonomies (categories and tags).

So for instance, if you want the user to be able to search through blog titles (and not the content), you simply need to drag the 'Title' slider all the way to the right. Then drag all the other sliders to the left to give them zero importance.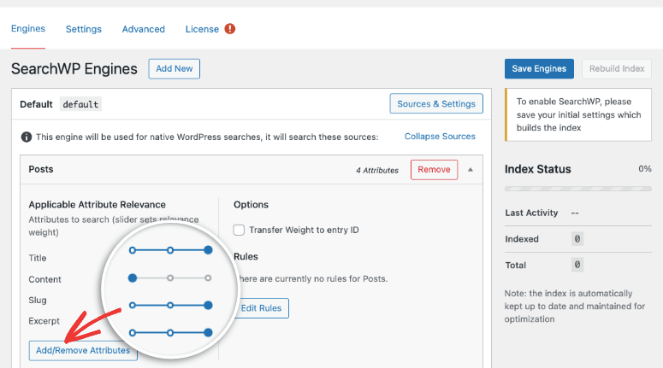 So now when a user searches for something on your WordPress site, the search engine will only look through blog titles and display the results.
Like this, if you want users to be able to search inside the post content, then you need to give the 'Content' attribute full weightage.
You can even highlight the keyword in the search results so users can see where their search query is mentioned. This helps them find the result that's most relevant to them.
Smart Search Settings
Most search solutions show results for exact matches. But there's a big problem here because sometimes users will type in a word in the search bar and get no result because they've used a synonym like "trip" instead of "tour".
SearchWP doesn't just return exact matches. It's a smart search engine so it can understand what the user means when they're trying to search for something.
For example, if the user searches for 'manage', the keyword stemming feature will make sure to include managing, managed, manager, and similar words.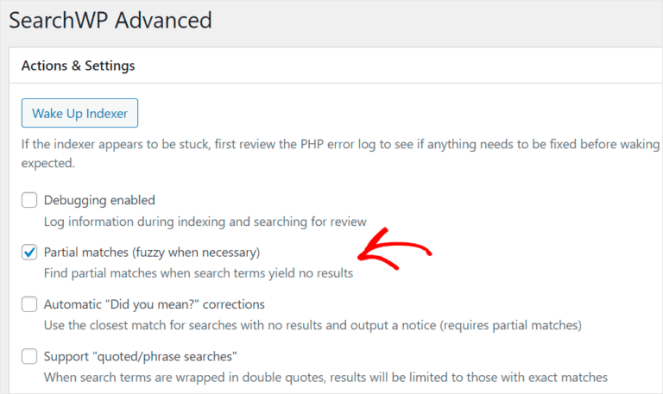 You can control what level of partial matching you find acceptable on your site. There are even advanced settings to add synonyms for your search results.
Multiple Search Engines
If one search engine isn't enough, you can create multiple search engines for your website. Each one can have its own set of rules and configurations.
Why would you need multiple search engines? Well, this will let you have a targeted search engine on your blog page that searches only through blog post titles. Then you could create a supplemental engine that's displayed on the homepage to search your entire site.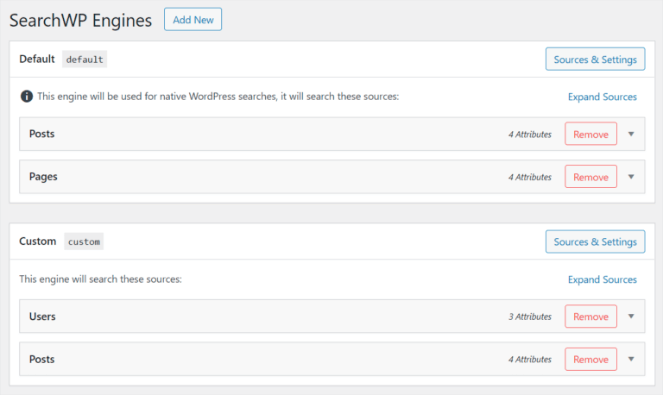 You could even create a completely separate engine to search through the comments section of your blog. If you have WooCommerce products, then you could also use the search feature for product titles and product details.
Easy Setup and Customization
SearchWP is as simple as installing and tweaking a few settings. Everything else happens in the background.
The dashboard is easy to use and you'll find everything neatly explained so it's easy for beginners to understand what each setting means.
The plugin also seamlessly integrates with WordPress and its default search function and search templates. In most cases, your theme will already have a search bar enabled. If your site doesn't have it, all you have to do is edit your homepage in the WordPress Block editor (Gutenberg).
Then add a new block and search for the 'Search' widget.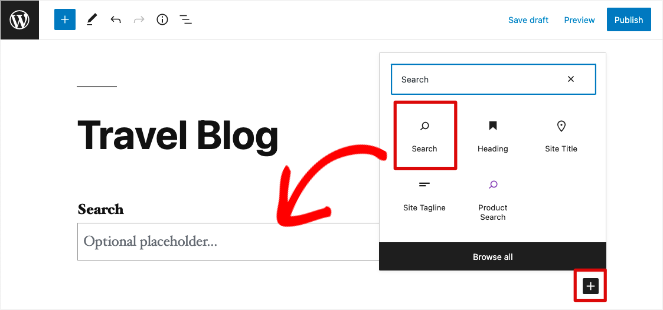 Once you've added it to your page, SearchWP will automatically override the default search engine and insert the custom one.
The plugin works with default as well as custom themes you might have enabled on your site. Added to that, it also works perfectly well with popular page builders like Elementor, Divi, Avada, and Beaver Builder.
Powerful Integrations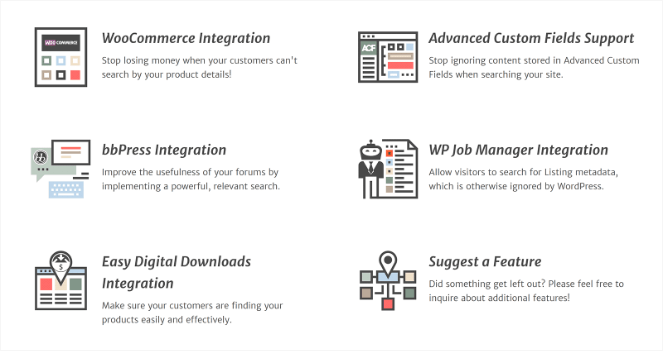 The most notable integration for bloggers is the bbPress integration. bbPress is the most popular plugin to create a forum for your blog. It's a lightweight solution so it won't slow down your site.
It lets your blog readers join a sort of social network where they can discuss topics, send private messages, join groups, and even create a detailed member profile.
With the SearchWP integration, members can easily search through forum profiles, discussions, groups, and more.
SearchWP also integrates with popular plugins like WooCommerce and Easy Digital Downloads.
WooCommerce is the go-to WordPress eCommerce plugin. Easy Digital Downloads lets you list, sell, and deliver digital products like eBooks, PDF guides, media files, and more.
Other integrations include:
Search Statistics and Insights
With most search plugins, you can enable the search function and that's it. Using SearchWP, you can actually use the search engine to learn more about your audience.
SearchWP has a Metrics Extension that analyzes your search traffic. Then it shows you what your visitors are looking for, what they find, and what they don't find.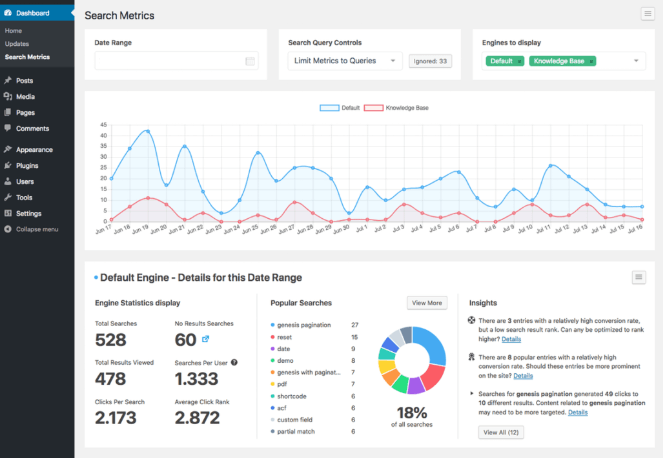 So if you see a lot of visitors looking for 'Philippines' on your travel blog, then you could create more content around the Philippines.
With this onsite search activity, you can use these metrics as an SEO topic research tool and find areas to improve on your blog. You can even use it to find out which affiliate search terms are performing better than others.
What we love is that the metrics dashboard is user-friendly and looks a bit similar to Google Analytics. So most bloggers won't have an issue navigating to find the right data they need.
Helpful Extensions
The most powerful extension of SearchWP has to be Live Search. It's a free live ajax search plugin that you can download from WordPress.org and it doesn't need the SearchWP plugin to work.
If you do have SearchWP installed, then the plugins will sync automatically. Live Search lets you see autocomplete search results without redirecting to a results page. So your search experience will be faster and more efficient.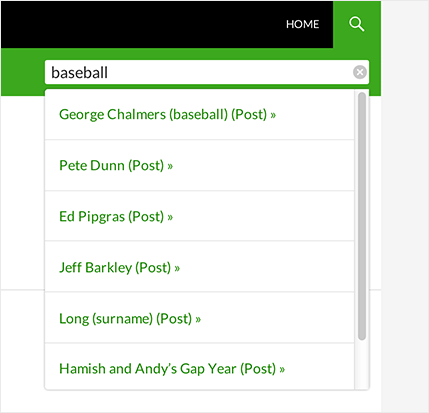 SearchWP has 2 more cool extensions that come with the Pro license: Related and Redirects.
The Related extension lets you show visitors related content to keep them engaged.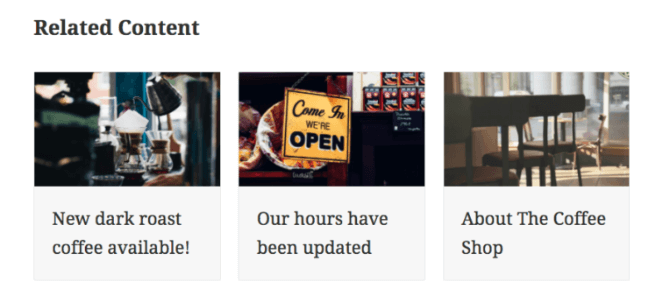 The Redirects extension lets you send visitors to a specific page when they search for certain keywords.

So instead of displaying a results page, you can take them directly to the page they're looking for.
Take for instance, a user types in "summer festival 2023" in your search bar. You can take them directly to a dedicated page for the Summer Festival 2023 instead of showing them any search results.
SearchWP Pricing Plans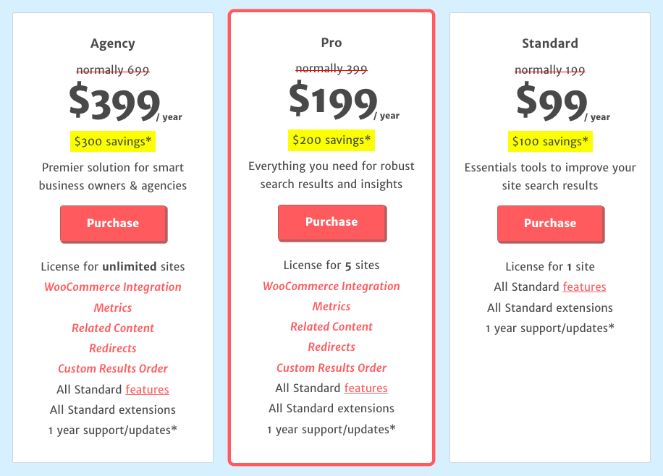 SearchWP offers 3 pricing plans depending on the number of websites for which you want to use the same license.
Standard plan: Starts at $99 per year for 1 site. You'll get all the essential tools and standard extensions.
Pro plan: Starts at $199 per year for up to 5 sites. This is the most popular plan gives you access to more advanced features, integrations and pro extensions.
Agency plan: Starts at $399 per year for unlimited sites. You'll get access to everything included in the Pro plan.
Worried about making such a big commitment to a whole year? SearchWP doesn't have a free version of the plugin but there's a 14-day full refund policy on all plans. If you aren't satisfied, you can get your money back.
If you're looking for a free option, then try SearchWP's Live Search plugin. You can download it from the WordPress plugin repository.
SearchWP Customer Support
SearchWP has one of the best customer support teams you can rely on. You can connect with them from inside your WordPress dashboard. Inside the Help tab of the SearchWP plugin, you can access a ticket system.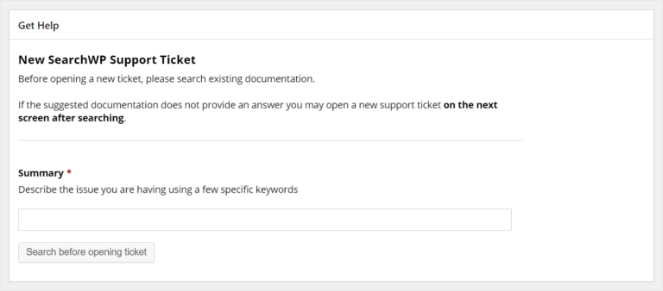 You can also email them with your query at [email protected]. Be sure to mention your license key so that they know which account is yours.
Aside from support channels, they also have an extensive knowledge base. You can find documentation about everything you need from setup to debugging. You'll even find tutorials on how to set up the SearchWP plugin with specific website builders like Divi, Elementor, and Oxygen.
SearchWP is also developer-friendly, so you'll find plenty of guides on advanced usage of the plugin.
Our Verdict: Should You Get SearchWP?
Here's a quick recap of what we've learned about SearchWP:
It makes your blog much easier to navigate
It helps users find what they're searching for faster
It gives you full control over the search engine and results
It's easy to setup, customize, and manage
It gives you detailed insights and stats
It easily integrates with your site and other popular plugins
Overall, it helps reduce bounce rate and increase engagement, session time, and conversions. So we say yes, your blog will benefit a great deal from SearchWP.
It's the best WordPress search plugin and is definitely worth the investment as it delivers on the features and functionality it promises.
We hope you found this SearchWP review helpful.
Next, you'll want to check out our 12 Easy Ways to Make Your Blog Posts More Interactive. It has everything you need to know about keeping your readers engaged.
Lastly, don't forget to sign up for our email newsletter so you can get useful content like this delivered straight to your inbox!
Keep reading the article at Blog Tyrant. The article was originally written by Melinda Bartley on 2022-08-22 08:20:00.

The article was hand-picked and curated for you by the Editorial Team of WP Archives.